Sean Hannity is currently unmarried but was previously married to Jill Rhodes from 1993–2019. While they were married, they had a son and a daughter named Sean Patrick Hannity and Merri Kelly Hannity. 
Sean Hannity, born Sean Patrick Hannity, is a renowned American television presenter, multi-talented actor, conservative political commentator, prolific writer, and author. His stint in the media industry began in 1989. So far, he has worked with different brands, written three New York Times bestsellers, and also won several awards.
Sean's syndicated radio show 'The Sean Hannity Show' discusses trendy issues and politics on several radio stations in America. He also hosts a highly-rated eponymous show on Fox News.
Hannity, today, is a celebrated personality both within and outside the media dynasty. Many have long become interested in his life beyond his career. Hannity was for over two decades married to Jill Rhodes, however, their marriage ended in 2019.
Sean Hannity and Jill Rhodes Met and Married Before His Fox News Career
The couple first met in 1991 at WVNN radio in Huntsville Alabama while Sean was working at WVNN radio and Jill at the Huntsville Times as a political columnist. Sean revealed that at the time, he would call Jill up to brainstorm on ideas and would also leave her funny voicemails.
They immediately hit it off and after a couple of years of dating, were married in 1993. After their marriage, the former flame split their times between Oyster Bay, Long Island, and Naples, Florida.
Sean Hannity's Wife Was His Rock In The Times They Were Married
Though she largely keeps a private lifestyle, Rhodes was obviously supportive of her husband in the times they were married, as she was said to be one of those who contributed to the growth and success of his popular radio show. Sean famously referred to her as the love of his life in his 2002 bestselling book Let Freedom Ring: Winning the War of Liberty over Liberalism. He dedicated the book to her.
Like Sean, Rhode graduated with a degree in journalism from Alabama University, she was born in Montgomery of the state of Alabama on 27th August 1962. She also studied theology and pastoral counseling at conservative hotbed Liberty University. She once worked in Manhattan, New York as a book editor.
She is said to have moved with Sean to Atlanta, Georgia where the TV host played important roles in launching Fox News. She reportedly stopped working in 2002 to focus on her family and raising her kids. It was around this time that she welcomed a second child with the famed journalist. People Magazine referred to her at the time as a homemaker.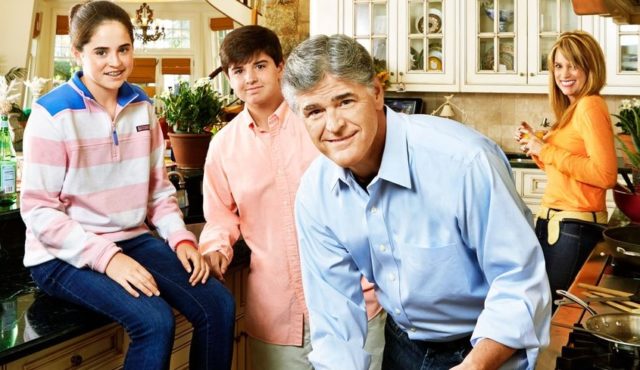 Sean Hannity and His Wife Divorced After 20 Years of Marriage
In June 2020, it was widely reported that Sean Hannity was divorced from Jill Rhodes, bringing an end to their marriage of over 20 years.
The couple managed to keep their split off the media's knowledge for a long time as the details made it to the media light about a year after they had officially signed the divorce papers. The reports also revealed that the duo had been separated for several years.
Divorce Was Reportedly Amicable
In their joint statement to PEOPLE, the former couple stated that they entered into an amicable agreement more than four years ago. The couple also revealed that they would maintain a close relationship with their children and that they are committed to working together for the best interest of their children.
In their statement, the former couple added that they would not make further comments to protect their privacy for the sake of their kids.
Sources told Page Six that the couple remains very active in their children's life, attending dinner together and supporting them at their respective sporting events. While the couple gave no reason for their split, the source also added that infidelity was not responsible for the split.
Sources to the Daily Mail said a close friend revealed that Hannity's hectic career contributed to the divorce as the couple barely spent quality time together.
Who Are Sean Hannity's Kids?
Sean Patrick Hannity is Sean Hannity's Son
Born: 3rd November 1998
Known For: Tennis Player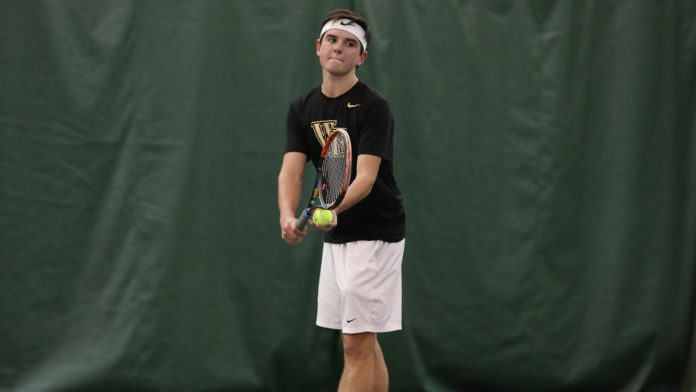 The name of Hannity's oldest child and only son is Sean Patrick Hannity. The young man was born in the United States of America on 3rd November 1998. He is a table tennis player and Laurel Springs School alumnus.
A redshirt sophomore at Wake Forest University, he was ranked No. 114 at his high school and also emerged as a New York State doubles finalist in the year 2015. The 5 feet 10 inches tall athlete is, no doubt, already on his way to greatness – many thanks to his supportive parents and sister.
Merri Kelly Hannity is Sean Hannity's Daughter and Second Child
Born: 2001
Known For: Tennis Player
Sean's second child and only daughter is called Merri Kelly Hannity. She is also a tennis player with a fast-growing career. She arrived in the family in 2001 but the specific date and month she was born are yet to be disclosed publicly. Raised in a staunch Catholic family, Merri started investing her time and energy in her favourite sports from her childhood.
Merri Kelly Hannity (Cold Spring Harbor) def. Courtney Kowalsky (Oyster Bay) 6-3, 1-6, 6-4 to win the Nassau County Singles Title. pic.twitter.com/a2LexztUDA

— New York Tennis Mag (@NYTennisMag) October 16, 2016
In October 2016, she made it to the tennis finals in Nassau as team Cold Spring Harbor representative in the singles championships. She played the final match against her best friend Courtney Kowalsky who plays for Oyster Bay.
The two who reportedly met for the first time on the court have battled out on the court on many occasions as they quickly built a stronger relationship.
As of 2019, she has an estimated net worth of $1 million. As regards her presence on social media, the young lady is not active on any of the social media platforms, this is perhaps a way of protecting herself from the numerous criticisms that plague her father due to the nature of his career.
Who is Sean Hannity Dating?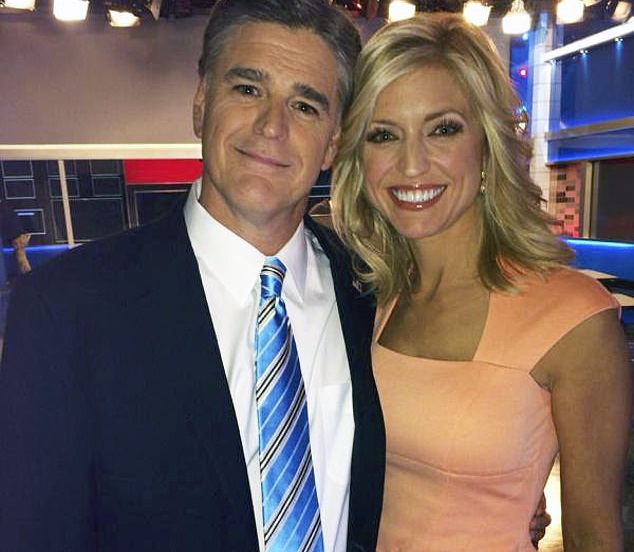 As the couple had entered into an amicable agreement to separate at least around 2017, they've had enough time to move on with their love lives. While not many details have surfaced on Rhode's new love interest due to her private life, the more popular Hannity has already been linked with someone. According to PEOPLE, the ace journalist has been dating fellow Fox News host, Ainsley Earhardt.
"He's very private because he's very famous and he's very controversial, but it's been an open secret that they have been seeing each other,"
according to the source
When Vanity first reported that they were an item, each of the journalists was quick to debunk the claims with Earhardt saying that she was only focused on raising her daughter and not seeing anyone while Hannity simply said he does not discuss his private life in public.
The source who is said to be in their circle said that they had been secretly seeing for a while and that their relationship was an open secret.
FAQs 
Is Sean Hannity Married Now?
Sean Hannity is currently unmarried but he has reportedly been dating fellow Fox News host Ainsley Earhardt since 2019.
Who Was Sean Hannity's Wife?
Sean Hannity was married to a journalist named Jill Rhodes. They first met in 1991 at WVNN radio in Huntsville Alabama while Sean was working at WVNN radio and Jill at the Huntsville Times as a political columnist. They hit things off immediately and after a couple of years of dating, they tied the knot in 1993. Sadly, their union ended in divorce in 2019.
Is Sean Hannity Gay?
The talk show host and conservative political commentator is straight and has never given off any reason for one to assume that he is gay. He was married to his first wife for more than twenty years and is currently rumored to be dating another woman, fellow Fox News host Ainsley Earhardt.
Who Is Sean Hannity's Girlfriend?
It is rumored that Sean Hannity is dating fellow Fox News host Ainsley Earhardt. Reports have it that the duo began dating in 2019 and seemingly made their relationship public in 2020 when they showed up at a party together via helicopter. However, Ainsley denied the rumors saying in a statement that she is currently focused on raising her daughter. "As anyone at Fox News will tell you, Sean is a wonderful person and whomever he chooses to date will be extremely fortunate. I am not dating anyone."
Is Ainsley Earnhardt Engaged to Sean Hannity?
Ainsley Earhardt is not engaged to Sean Hannity. Although they are rumored to be a couple, Ainsley expressly denied it saying "As anyone at Fox News will tell you, Sean is a wonderful person and whomever he chooses to date will be extremely fortunate. I am not dating anyone."
Meanwhile, she has been married twice, first to her college sweetheart Kevin McKinney from 2005 to 2009, and then to Will Proctor, a former starting quarterback for Clemson from 2012 to 2015. Her failed marriage notwithstanding, the host is still  open to getting married again.
How Long Has Sean Hannity and Ainsley Earnhardt's Relationship Been?
Sean Hannity and Ainsley are yet to admit to being in a relationship but according to several online reports, they have been dating since 2019.
How Old is Sean Hannity's Son Now?
Sean Hannity's son named Sean Patrick Hannity is 25 years old. He was born on 3rd November 1998.
How Old is Sean Hannity's Daughter Now?
Sean Hannity's daughter named Merri Kelly Hannity is 22 years old. It is known that she was born in 2001, but other details about her date of birth are unknown.