In our world today, many people find themselves in show business through many conventional means, Such means include being groomed from childhood in acting schools or taking up roles in stage productions and eventually finding their way to the big screen. Others who already know they have an innate ability to act take a bold step into acting despite having spent a considerable amount of time pursuing a different career. For Paul Hogan, none of these aptly describes how he rose to become an actor and a good one at that. The paragraphs below will lead you through his life as we unveil the events thereof.
Bio of Paul Hogan
Paul Hogan is an Australian actor who was born on the 8th day of October 1939 in Lightning Ridge, New South Wales, Australia. His full name is Paul Nolan Hogan and in the course of his life, he has come to be recognized as an Australian comedian, television presenter, and actor.
There are no concrete records of who Logan's parents and siblings are, in addition, his childhood life has not been revealed, however, the earliest records we have about his pre-acting career has it that he moved to Granville in Western Sydney to work on the Sydney Harbour Bridge as a rigger and painter at a young age.
While in Sydney in 1971, on a certain day after work hours, Paul Hogan was relaxing with his workmates watching Nine Network's amateur talent program 'New Faces' where The judges on the show were often the center of attention as they criticized and ridiculed performers who came on the talent hunt show, and he suggested to his friends that the judges deserved a similar treatment. For this reason, he wrote to the show's producers to give him a spot to perform on the show as a knife thrower. His request was granted and once on the show, Hogan made fun of the judges which turned out to be a thing of delight to viewers. The producers invited him for a second appearance to which he didn't disappoint. New Faces steadily grew to become a popular show in Australia and even in South Africa where it also had a huge following.
In the course of time, Paul Hogan met Mike Willesee, an Australian television journalist and presenter who offered him a spot to regularly appear on his Nine's news magazine program 'A Current Affair'. Not long after, his comedic skills earned him his own show 'The Paul Hogan Show' in 1977 which was a huge success in the continent down under and around the world. Hogan then ventured into acting with credits in Crocodile Dundee (1986) which he wrote, Crocodile Dundee II (1988) which he also wrote and executive producer, Flipper (1996), Crocodile Dundee in Los Angeles (2001) also as producer and writer, Charlie & Boots (2009) and many others.
Net Worth
Paul Hogan, the former Sydney Harbour Bridge rigger and painter who blossomed in television presenting and acting all thanks to his comedic skills has a net worth reportedly at a whopping $28 million. He earned this from his career as an actor, comedian, writer, and television presenter.
Who is The Wife or Spouse – Linda Kozlowski? Children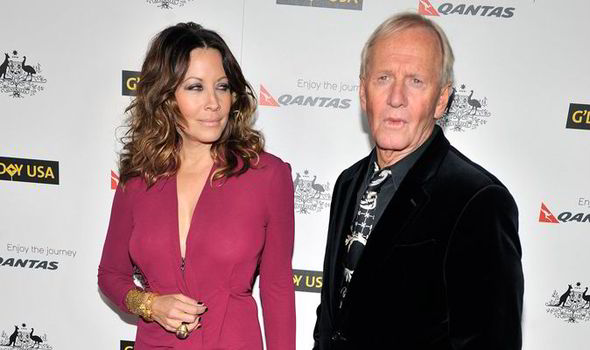 Paul Hogan was first married in 1958 to Noelene Edwards, however, after 23 years of their marriage, the couple divorced in 1981 but soon got back again in 1981. Sadly by 1986, a divorce ensued between them which ultimately ended their marriage. On the 5th of May 1990, Hogan married Linda Kozlowski who was his Crocodile Dundee co-star with whom he shares one son. In all, Hogan has 6 children: 5 from his first wife and 1 from Linda. His kids are Lauren (daughter), Bret, Todd, Scott, Chance (with Linda Kozlowski) and Clay all boys.
Linda Kozlowski is a former American actress who was born on the 7th of January 1958 in Fairfield, Connecticut to Helen E. and Stanley M. Kozlowski. She studied and graduated from Andrew Warde High School (1976) after which she enrolled and finished off from the Juilliard School's drama division in 1981.
She made her acting debut in How It All Began, a 1981–1982 off-Broadway production while her big break came in Crocodile Dundee (1986) when she was cast alongside Paul Hogan. Their on-screen romance spilled into a relationship that led up to their marriage. Other film credits she has include Crocodile Dundee II, Pass the Ammo, Favorite Son (all in 1988), Almost an Angel (1990), Backstreet Justice (1994), Village of the Damned (1995) and her last being Crocodile Dundee in Los Angeles in 2001.
See Also: Nicole Da Silva Partner, Gay, Husband, Tattoo, Boyfriend, Dating
Linda Kozlowski filed for divorce from Paul Hogan in October 2013 citing irreconcilable differences as the reason for opting out of the union. By 2014, the divorce was completed. Since becoming single again, Hogan reportedly began dating his first wife Noelene Edwards since February 2017.
Is Paul Hogan Dead?
Earlier in January 2019, Paul Hogan was the victim of an online death hoax, an 'R.I.P. Paul Hogan Facebook page surfaced claiming that the actor died by 11 a.m. ET on Sunday (January 20, 2019) and at the same time asked his fans to express their condolences by commenting and liking the page.
However, on Monday, January 21, 2019, Hogan's representative came out to debunk the rumors and state categorically that the actor is still alive. As it stands, Paul Hogan is still very much alive and not dead.