Finn Wolfhard is a Canadian actor, voice actor and musician. With an impressive acting talent and a smile that has won many hearts, Finn has had a meteoric rise to stardom.
Being cast as Mike Wheeler in Stranger Things made Wolfhard one of the most famous middle schoolers in the world and earned Wolfhard and other members of the Stranger Things cast a Screen Actor's Guild Award for Outstanding Performance by an Ensemble in a Drama Series.
Finn Wolfhard made his acting debut in the 2013 independent film Aftermath and his TV debut as Zoran in The 100. His first major motion picture came in his portrayal of Richie Tozier in the 2017 theatrical adaptation of Stephen King's It.
Spiderman is the first movie he ever saw and the experience left a lasting impression such that he resolved to become an actor and started working towards that dream even before he turned 10.
Wiki and Acting Career
Finn Wolfhard is a Canadian actor who went viral after he portrayed Mike Wheeler in the Netflix original television series Stranger Things and Richie Tozier in the 2017 film adaptation of Stephen King's novel It. Wolfhard auditioned for the movie It around the same time that he auditioned for Stranger Things. He was able to star in both because the latter movie was pushed back.
Both roles have cemented the young actor's status as one of Hollywood's most promising young talents. Before Stranger, Wolfhard had appeared in guest spots in Supernatural and The 100. He also appeared in the music videos for the rock songs 'Guilt Trip' and 'Sleep in the Heat' by Canadian indie-punk-rock band.
See Also: Is Daniel Radcliffe Gay Or Does He Have A Girlfriend?
He enjoys playing the bass and the guitar. He is the leader of a four-piece rock band Calpurnia whose Instagram handle has garnered over 700 000 followers. The group's cover of Twin Peak's Wanted You has over 2million YouTube views for which the band got a positive response from Twin Peaks.
The band signed a record deal with Canadian label Royal Mountain Records in 2017 and is due to release an EP in early 2018. Obviously, the actor is geared to take his music career to the next level as he has revealed his desire to release a full album or an EP. In addition to acting and making music, Finn is also involved in many photo shoots for fashion magazine clothing, his face has graced the covers of the i-D magazine and Status. Finn dresses with taste, which also makes him stand out from other teenagers.
His love for movies isn't limited to acting, Finn has also hinted that he would love to write and direct movies too. We should definitely expect more from this rising star cause there's no slowing down for him.
The 15-year old actor is 5ft 6″ in height and weighs about 62kg. Taking part in some really successful projects has definitely paid off for Finn as his estimated net worth is put at $2 million! That's not easy to come by for one whose acting career just took off.
Finn Wolfhard's Girlfriend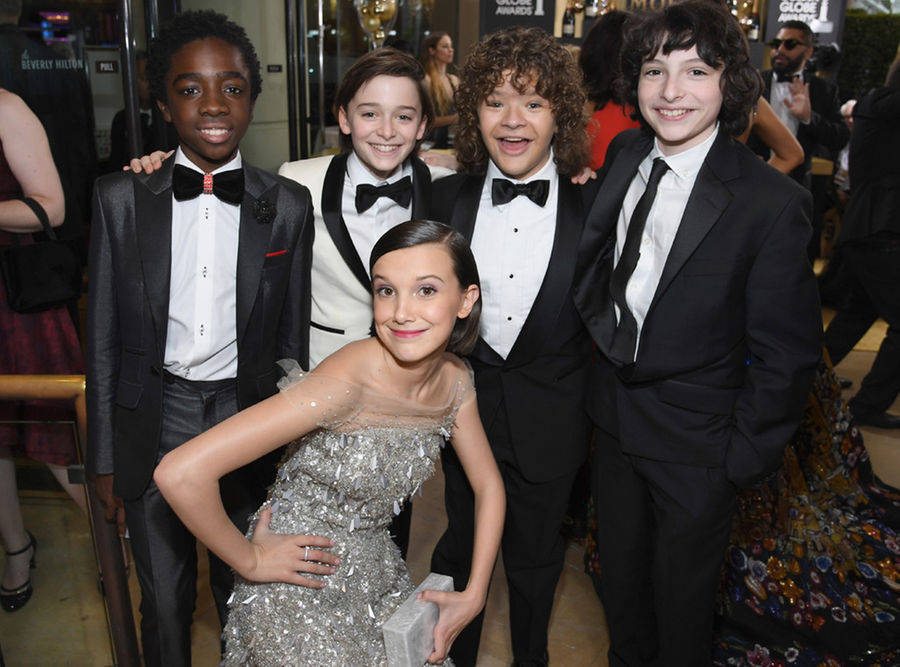 In 2016, Finn stated that he was single in a tweet. Even though hardcore Strange Things fans are still hung up on his fictional relationship with co-star Millie, their relationship has remained platonic and professional.
In a 2017 interview, the young actor reiterated that he was single and too young for another kind of personal life and that girls do not interest him. We can safely say that the movie star is currently single.
See Also: Zayn Malik's Girlfriend And The Other Women In His Life
Parents
Finn Wolfhard was born on December 23, 2002, in Vancouver, Canada, to a family of French, German and Jewish descent. He describes his bloodline as 'weird'. His dad Eric Wolfhard is a screenwriter so Finn got exposed to the world of cinema quite early as he watched movies with his dad.
He attends a Catholic school in Vancouver. His hometown middle school serves as an oasis and a route of escape which helps the young actor stay sane. When Finn is not balancing his education with his career, he enjoys hanging out with family and friends or playing with his pets.
Wolfhard's Relationship With Millie Bobby Brown
Millie Bobby Brown is a Spanish-born British actress. She was Wolfhard's co-star in the TV series Stranger Things in which their characters Eleven and Mike had a romantic relationship. Some fans were optimistic that the onscreen romance would translate to a real-life relationship.
However, that didn't happen and the fans wouldn't back down either. After several questions on whether she was dating her Canadian co-star, Millie went live in an Instagram video stating that they were just friends in hopes of getting the enthusiastic fans off her back.