Jerry Seinfeld's family is quite closely-knitted. The funnyman and his wife Jessica have been married for two decades and counting, and they have 3 kids to show for it
You would expect that anyone who likens a toddler to a blender without a cover would not have much interest in raising kids but if those words came from the mouth of Jerry Seinfeld, which they actually did, then you should know better than to take them seriously…
The funnyman endured through not one or two, but three blenders without covers. With his breakthrough with Seinfeld and continued success affixing him in the spotlight, it has been adorable watching the comedian advance through life alongside his wife and kids.
We take you through the family life of a man whose idea of being a great dad is taking care of his kids in "ways they would not understand" until the day he dies.
How Jerry Seinfeld Met His Wife and What We Know About Her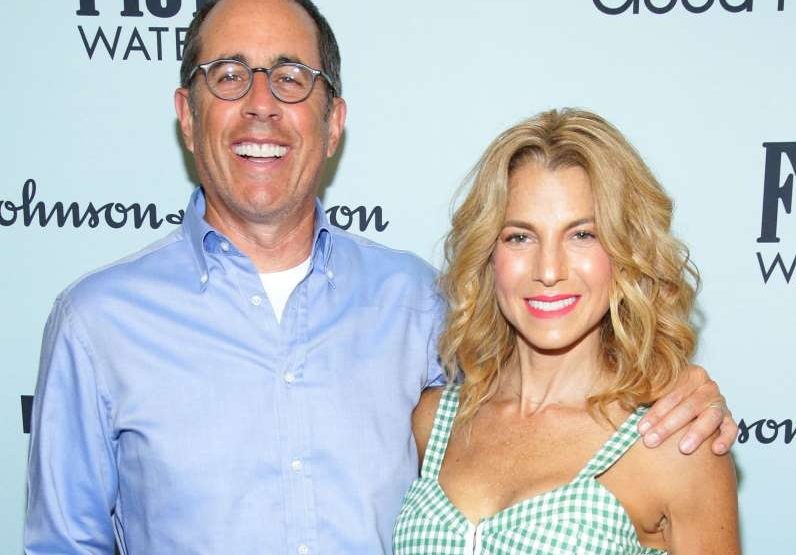 Much like his character in Seinfeld, Jerry Seinfeld at the time was a bachelor in his forties but whether or not he was in and out of relationships IRL like his TV character was unknown. His singleness ended shortly after he met a certain Jessica Sklar at a Reebok Sports Club. Their meeting came months after Jessica wedded theatrical producer, Eric Nederlander a man she'd been dating since she was 21 years old.
Jessica's marriage to Nederlander became short-lived as they divorced barely four months later in October 1998, they had gone through a couple's therapy session but could not salvage their union. The theatrical producer filed for divorce from Jessica and barely a year later, in November 1999, she was engaged to Seinfeld, on Christmas Day of the same year, they got married.
Criticisms soon poured out but the pair each defended themselves, giving an account of what transpired regarding Jessica's first marriage and judging by how long Jessica and Seinfeld have stayed married, one can only help but believe their story.
They have been married for two decades and counting. Seinfeld has frequently been asked about their secret to a lasting union and in one interview with MR PORTER, the funnyman said that lending her a helping hand around the house is key, especially with regards to parenting.
In the couple's interview with People, they mentioned travel as another major reason they've stayed bonded for so long, not necessarily traveling together but each one traveling to do their respective work. The time apart serves as a healthy break that helps the couple appreciate each other, be deliberate about communication and value each other even more when they reunite.
Jessica Seinfeld who was born as Nina Danielle Sklar on September 12th, 1971 is known for writing cookbooks where she details food recipes for families. Additionally, she dedicates the bulk of her time to GOOD+ Foundation, a charity organization she founded in New York City in 2001 to donate basic necessities to impoverished New York families.
In the past, before meeting Seinfeld, she'd worked for Tommy Hilfiger and Golden Books Entertainment as a public relations person. She was raised by a computer engineer father and mother who worked for decades as a Victims Service Advocate in a middle-class neighborhood in Oyster Bay, New York. She graduated with a Bachelor's degree from the University of Vermont.
Who are Jerry Seinfeld's Kids?
Jerry Seinfeld and his wife Jessica share three kids. Their first child is a daughter named Sascha Seinfeld who was born on November 7, 2000. Their sons Julian Kal Seinfeld and Shepherd Kellen Seinfeld were born on March 1, 2003, and August 22, 2005, respectively.
Seinfeld and his wife occasionally post photos of them on social media and it is clear to see that the family is a closely-knitted one.
Jessica's Instagram page is awash with photos of family vacation trips as well as those celebrating their kids' achievements like when Sascha graduated from high school in 2019 and when she was off to college later the same year.
Of his parenting style, Jerry Seinfeld told MR PORTER that he tries as much as possible not to lose his temper in front of his kids. He noted an exception which was when he saw his daughter watching KUWTK. Seinfeld is appalled by reality TV and definitely doesn't want his kids to be influenced by their lifestyle.
Meet Other Members of His Family
Seinfeld's father was named Kálmán Seinfeld, he passed away in 1985 aged 67. He was a World War II veteran who reportedly spent his time in the war collecting jokes, clearly, Jerry got his funny side from him.
Senior Seinfeld was Hungarian-Jewish. Seinfeld's mom, on the other hand, Betty (née Hosni) passed away in 2014 at the age of 97, she had roots from Syria.
Jerry Seinfeld has a somewhat famous family member – his second cousin Evan Seinfeld who is a musician, actor, and photographer. He has played for several bands including Biohazard, Damnocracy, and Attika7.
How Did Jerry Seinfeld Become So Famous?
Jerry Seinfeld became famous by taking the world of American sitcom by storm, joining forces with fellow comedian Larry David to create his eponymous show Seinfeld for NBC. His journey to fame was, however, not without its fair share of bumps.
Developing a keen interest for comedy after appearing in some college productions, Seinfeld performed stand-up throughout his days at Queens College.
After graduation, he scored his first televised gig – a role in a sitcom titled Benson – a gig he was later fired from. Undeterred, Seinfeld kept chasing his dreams and by 1981, he became a regular fixture on The Tonight Show Starring Johnny Carson after Carson was impressed by his initial performance.
Fast forward 7 years later and Seinfeld wrote Seinfeld which soon became a hit show running for a whopping 9 seasons, propelling him to long-lasting stardom. The show won him an Emmy in 1993 and a Golden Globe the next year.
Years after Seinfeld ended, Jerry Seinfeld has continued to remain relevant in the industry – he returned to performing stand-up gigs, recording huge success. These days, he is known for his Netflix show, Comedians in Cars Getting Coffee.
Celebritynetworth ranks him the world's richest comedian with a net worth of $950 million – a bulk of that fortune comes from his syndication paychecks for Seinfeld, thanks to a lucrative deal he struck with Hulu.