Bill Murray has been married and divorced twice. His first wife was Margaret Kelly whom he married from 1981 to 1996; while his second marriage was to Jennifer Butler, how spouse from 1997 to 2008. Murray welcomed six children (all boys) from his two marriages. Kelly gave birth to Homer and Luke, while Bill Murray's second wife, Butler, is the mother of Caleb, Jackson, Cooper, and Lincoln. 
Since the end of his second marriage, Bill Murray has maintained a low profile with regard to his love life. On the professional side of things, he continues to take on roles, with his latest ones being reprising his role as Peter Venkman in Ghostbusters: Afterlife (2021) and appearing in Ant-Man and the Wasp: Quantumania (2021), and The Greatest Beer Run Ever (2022).
What We Know About Bill Murray's Wives
Bill is currently not married but he has been married before and divorced twice. His first attempt at marriage with Margaret Kelly crumbled due to a supposed affair he had with a costume designer, Jennifer Butler. The marriage lasted for 15 years (1981-1996) and they had two sons together.
The alleged affair with Butler went beyond a mere rumour as he tied the knots with her just a year after separating from his first wife. The couple was married from 1997 to 2008 when Butler filed for divorce on allegations of sex and drug addiction, adultery, as well as domestic violence.
Butler claimed the Lost in Translation star hit her in the face sometime in 2007 – she added that she was lucky not to have been killed by him. It was also alleged that his adulterous lifestyle, drug/alcohol addiction got so bad that Jennifer had to move out with her sons to South Carolina two years before they were officially divorced.
Butler, born on May 11, 1966, is now a writer and transformation coach. Drawing from her own divorce experience, she dedicates her time and works to support others who are going through the same as a community leader for DivorceForce.
How Many Kids Does Bill Murray Have?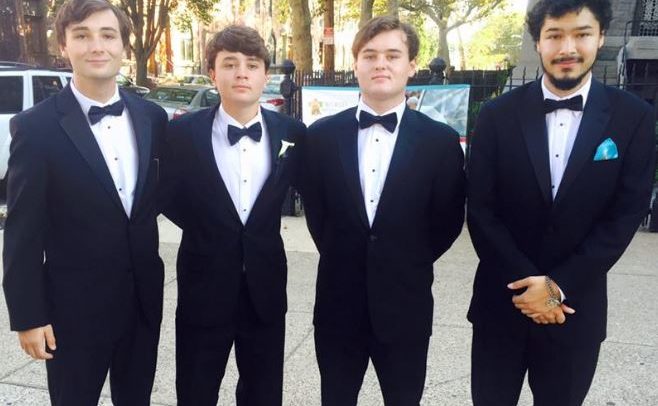 Bill Murray's kids are six sons from his two failed marriages. In a past interview, the actor admitted that while he was hard hit by his divorces, the fallout of it has been really great. He said he ended up much closer to his squad (sons) after the divorce than he ever would have been.
His first son, Homer was born in 1982 and chose a completely different path from his father. With a bachelor's degree in photography, he now owns a bar and restaurant named 21 Greenpoint in Brooklyn, New York. He also tried his hands at acting with his only credit seen in Broken Flowers (2005). Bill's second son from his first marriage, Luke, like his elder brother, also followed his own passion.
Luke works as an assistant coach at the University of Louisville men's basketball team. He graduated with a Sociology degree from Fairfield University in 2007 and a Master's degree in Educational Psychology from the University of Arizona in 2010. He acted briefly with such credits as Naked Frailties (1998) and The Lost World (2001). Luke and his wife Kara whom he married in 2015 has two sons: Luke, Jr. (2017) and Cash William (2019).
Bill's second attempt at marriage with Butler yielded four sons – Caleb (January 11, 1993), Jackson (October 6, 1995), Cooper (January 27, 1997), and Lincoln (May 30, 2001).
Caleb, while he got his father's entertainment gene, is seeking his own path in music. He has released an album, Homemade (2017) and is also a member of the band named Caleb Murray and the Blue Horizon.
His younger brother, Jackson, is a Clemson University alum who loves travelling and fighting for animal rights. Cooper, on the other hand, took after his famous father. He is an actor known for Moonrise Kingdom (2012).
What Is Bill Murray Up To Now?
The Ghostbuster actor has since passed a mere celebrity status to become an icon. From his wisecracking rumpled cynic role in his early comedy acts such as Stripes and Tootsie to his well-hewn 80s comedy persona and pitch-perfect performances in 90s classics Groundhog Day and Rushmore, Bill Murray is one of the most delightful dramatic actors the acting industry has ever seen.
His eccentric style of comedy, both on-screen and in personal life, including his frequent appearances in public has caused him to be seen as a folk hero. Additionally, many have made him into a significant meme in various media while his public appearances have been reported on the internet with the excitement of sightings of the messiah.
Be it on the screen or just showing up in unexpected places (a karaoke bar, parties and more), Bill Murray continues in what he knows to do best, entertaining his fans around the globe. Who knows, the actor may decide to add another twist to his already interesting life, like working in a restaurant (after all, he bartended at his son's restaurant) or singing and that wouldn't be surprising. Meanwhile, we await his highly anticipated 2020 film Ghostbuster: Afterlife.
Bill Murray Is More Than Just an Actor
Raised in Wilmette, Illinois, a northern suburb of Chicago, alongside his eight siblings, three of whom are also actors, Bill Murray has become an entertainment symbol of some sort.
In a career that has spanned over four decades, Murray has starred in a number of highly successful films and comedies, including Ghostbusters, Caddyshack, Tootsie, Lost In Translation, and Groundhog Day. He was born on the 21st of September 1950 to Edward Joseph Murray II, a lumber salesman, and Lucille, a mailroom clerk.
A perfect cocktail, Bill Murray worked as a golf caddy in his teen years, was the lead singer of a rock band known as Dutch Master and also participated in his high school and community theatre.
He attended Loyola Academy. More than 45 years into his career, 67 years into life, Murray still seems to find being Murray absolutely hilarious. He could be called a comic god and not be mistaken. He was first a comedian, then an actor, a writer, and a filmmaker.
The entertainer debuted, albeit, informally, as a comedian at age 20. In 1970, he was arrested at Chicago's O'Hare Airport for trying to smuggle 10 lb (4.5 kg) of cannabis, which he had allegedly intended to sell.
The drugs were discovered when he joked to the passenger next to him that he was smuggling. Consequently, he was convicted and sentenced to probation.
After dropping out of college, Bill ultimately found his way to comedy through Second City where he studied under Del Close, and then Saturday Night Live.
He struck a deal with fame with a series of performances on the ABC variety show, which also gave him his first Emmy Award. Following his rise to fame on SNL, he established a career in both comedy and feature film acting.
His first movie role came in 1979 on the set of Meatballs. His role as Dr. Peter Venkmanin in the supernatural comedy, Ghostbuster in 1984 transported him to the top of the Hollywood Olympus, granting his character a cult status.
His other movie roles were in Caddyshack, Stripes, Tootsie, Scrooged, among many others. Bill Murray is known for his improvisation,  deadpan comedy delivery and the wide variety of memorable characters he has brought to life.
Career Achievements
He has won the Golden Globe and BAFTA Awards' Best Actor for his role in Lost in Translation; as well as an Oscar nomination in the same category. He has also received several Golden Globe nominations for his roles in Ghostbusters, Rushmore, Hyde Park on Hudson, St. Vincent. He won his second Emmy Award for his role in HBO miniseries Olive Kitteridge and the Mark Twain Prize for American Humor in 2016.
His comedy, TV, and film industry involvement have earned him a whopping net worth of $140 million. Outside the show business, he also earns from his joint investments with his brothers, a restaurant named Murray Bros. Caddy Shack, and is also a co-owner of the Charleston RiverDogs minor league baseball team.