Corey Feldman has been married to Courtney Anne Mitchell since 2016. Before Courtney, Corey was married to Susie Feldman (with whom he has a son, Zen Scott Feldman) from 2002 to 2014, and Vanessa Marcil from 1989 to 1993.
The actor is the son of Bob and Sheila Feldman, a musician and former Playboy model respectively. He has four siblings: Eden Feldman, Mindy Feldman, Devin Feldman, and Brittnie Feldman.
There is a lineup of people in Hollywood who started off as child actors, however, there are just a handful, if any at all, who have the same kind of resume as Corey Feldman. The actor, who began appearing on our screens at the early age of three, went on to have an amazing career as a teen, gracing iconic 80s movies like The Lost Boys, Gremlins, and the cult classic, The Goonies, among many others.
Born to celebrity parents, Corey has confessed that he never really had a childhood. This is because he was thrust into his Hollywood career very early by his parents.
He later admitted in an interview that this wasn't his decision and would have never been as his early exposure to the entertainment industry also exposed him to drugs and sexual abuse as a child.
Corey Feldman's Fact Card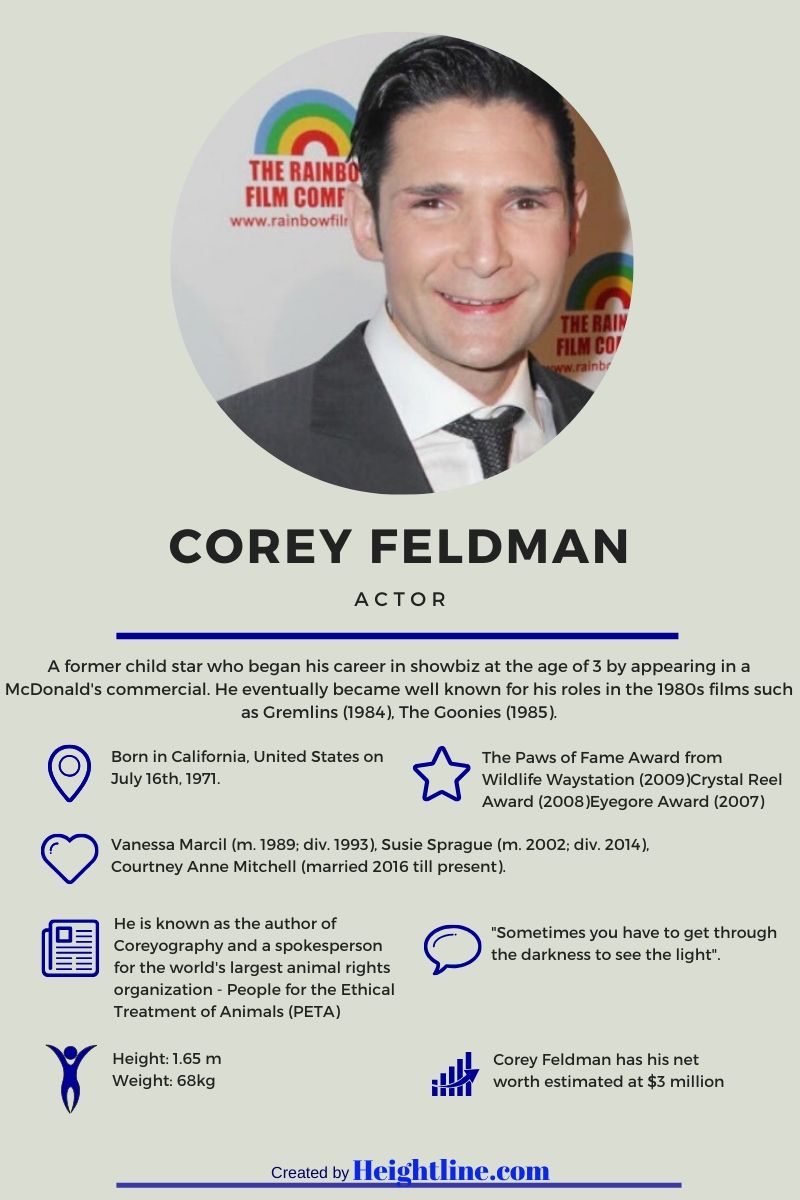 Corey Feldman's Childhood Was Unpleasant Growing Up
The child actor was the envy of all the kids his age in the late 1970s and 80s as many did not realize that he was just living his parents' dream and not his own. If he had the chance to choose a profession by himself, he may probably not have ended up as an actor but who knows.
Corey Feldman began appearing on the screen when he was just three years old. His first role in front of the camera was in a McDonald's commercial before he went on to appear in other commercials and take on other roles in various television series.
He made his film acting debut in the late 70s and had some brief appearances in movies such as The Fox and the Hound and Time After Time. Perhaps the most memorable of his roles from his child acting days was the one in NBC's musical comedy children's special, How to Eat Like a Child.
Interestingly, as the actor was becoming famous for his talent, he became a victim of Hollywood child sexual abuse right under his parents' roof. He wrote about this in his 2013 memoir but opted to not reveal the identity of the said persons.
He further got the courage to talk about these incidents as a way of honouring his longtime friend and fellow child actor, Corey Haim, who passed away in 2010 after suffering from pneumonia although he was initially thought to have overdosed on prescription drugs.
In 2017, at the height of the Harvey Weinstein sexual abuse allegations that rocked Hollywood, Corey Feldman appeared on The Dr. Oz Show and revealed the identity of all those that had abused him. He said that the first person to have abused him was his father's assistant, Cloyd Jon Grissom.
The actor later revealed that it was Grissom who also facilitated his initiation into drug use. Other people to have also abused him include child agent Marty Weiss, and former talent agent, Alphy Hoffman, who ran the Soda Pop Club.
As a result of his experiences and all the revelations of sexual abuse in Hollywood, Feldman launched a crowdfunding campaign to finance a film about his life where he would expose child sexual abuse which he claims is very common in the film industry.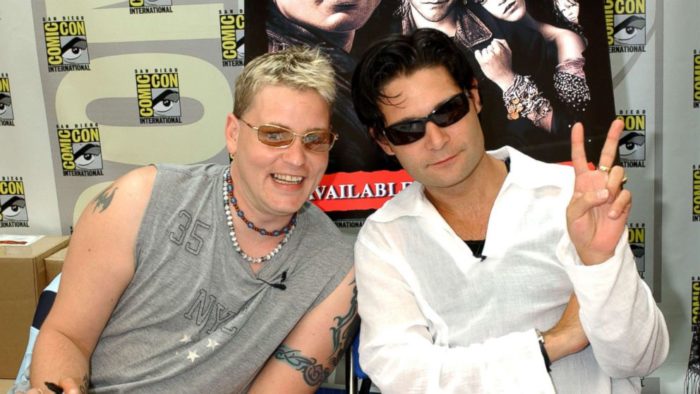 What We Know About Corey Feldman's Family
Corey Feldman is the son of Bob and Sheila Feldman. His father was a musician who was famously a part of the band, The Strangeloves. His mother, on the other hand, was a former Playboy model who also made a living as a cocktail waitress.
Following the release of Corey Feldman's book where he made various allegations against his parents, particularly his mother who he said gave him diet pills to keep his weight down and beat him with a curtain rod, she hit back with her own version of how it all began for the child actor.
According to her, her son went into the business because he was "a natural" and not because she was looking for time in the limelight or using him as a source of income. One fact that, however, does not back up this claim is that when her son was 15 years of age, he was granted emancipation from his parents. Feldman stated that by that time, he was worth well over a million dollars but, however, only had about $40,000 in his bank accounts.
Who Is Corey Feldman's Wife and How Many Times Has He Been Married?
Corey Feldman is in his third marriage. His first marriage was to Vanessa Marcil in 1989 and it lasted for only four years as the couple went their separate ways in 1993. The actor remained single until 2002 when he met and married model and actress Susie Sprague.
The duo met in a nightclub in January and by October that year, they were married. They had a son together before deciding to go their separate ways in October 2009 after the actress filed for a divorce citing irreconcilable differences.
Divorce proceedings were eventually settled in 2014 after a lengthy court battle. Two years later, Corey tied the knot for the third time with longtime girlfriend, Courtney Anne Mitchelle.
Highlights of His Acting Career
The 1980s was the highlight of Corey Feldman's career as he became a force to reckon with. In 1987, he starred in the movie The Lost Boys with Corey Haim. The two became best of friends and worked together on a string of movies following the success of the 1987 classic. Other big projects in the 1980s that starred Feldman include 1984's Friday the 13th: The Final Chapter and 1986's Stand By Me.
In addition to his acting, Feldman was also a skilled voice actor. He famously voiced the character of Donatello in the original live-action Teenage Mutant Ninja Turtles (1990) movie.
Following a brief hiatus where he launched a musical career with the release of a solo album in 1992 titled Love Left, the actor returned in 1993 to reprise his role of Donatello in Teenage Mutant Ninja Turtles III. He then appeared opposite Dennis Miller and Angie Everhart in the horror-comedy film, Tales From The Crypt Presents: Bordello of Blood (1996) and alongside Haim who played the lead role in the comedy, Busted (1996).