Janis Oliver is the ex-wife of Vince Gill, the famous country musician. Oliver and Gill were married for about 17 years before divorcing in 1997. They have a daughter together.
Beyond just being the ex-spouse of a famous musician, Janis Oliver herself is also a famous country singer. In fact, she gained fame before Gill. She is part of a country music duo named Sweethearts of the Rodeo, with her sister Kristine. They made waves in the 80s and 90s before things slowed down. The two sisters have made a comeback in recent years, but Janis majorly focuses on her life as a mother, grandma, as well as a horse owner.
Summary of Janis Oliver's Biography
Full name: Janis Oliver
Gender: Female
Date of birth: 1st of March 1954
Janis Oliver's Age: 69
Ethnicity: Caucasian
Nationality: American
Zodiac Sign: Pisces
Sexual Orientation: straight
Religion: Christianity
Marital Status: divorced
Janis Oliver's ex-Husband: Vince Gill (1980 – 1997), Roy Cummins (2000 – 2010)
Janis Oliver's Children: Jenny Gill
Janis Oliver's Parents: Mr. and Mrs. Oliver
Siblings: three, including younger sister Kristine Arnold nee Oliver
Janis Oliver's Height in Inches: 5 feet 6 inches
Janis Oliver's Height in Centimeters: 168
Janis Oliver's Weight: 57 kg
Janis Oliver's Net worth: $5 million
Famous for: Vince Gill's ex-wife
Janis Oliver's Instagram: @janisoliver
Facebook: @janisoliver
How Old Is Janis Oliver?
Janis Oliver is 69 years old. She was born on the 1st day of March 1954 in Los Angeles, California. She hails from a family of six which includes three siblings, one of which is her younger sister named Kristine Arnold nee Oliver. Her father was an executive in a telephone company, while her mother was a homemaker.
Janis Oliver and her sister attended Mira Costa High School. Blessed with a natural singing talent, Janis loved and explored music as a child. Her first interest was classical music but it soon shifted to and settled on bluegrass music, country music as well as other genres.
Janis' partner in crime on this musical journey was her younger sister. Their voices completely complemented each other, and they spent their teenage years singing at local cafes such as Straw Hat Pizza in Manhattan Beach and Sweetwater Café in King Habor. They later set up their first band when Janis was 19 years old. It was named Sweethearts of the Rodeo.
Janis Oliver Became Vince Gill's Wife in 1980
Janis Oliver got married to Vince Gill on the 12th of April 1980 in California. She was 26 years old at the time, while he was 23 years old. Oliver and Gill first crossed paths with each other while performing with different groups at the Sweetwater Café in 1976. They later started dating and remained together for a few years before tying the knot in 1980.
In the early days, things were quite tough for the couple , as they were trying to break through in their respective careers. They didn't have much money to their name and had to live humbly. Things became a bit more complicated when they welcomed their daughter, Jenny, in 1982, but they never despaired. They continued to live within their means and forwent the finer things of life.
Janis and Vince also continued to work hard in their careers. Things later improved for the couple after Janis gained fame with her sister as one-half of the Sweethearts of the Rodeo in 1986. The proceeds from her music career helped them pay for their first house. Their overall lives also improved tremendously. As fate would have it, Vince Gill also got his own breakthrough in 1989. The couple thus suddenly went from aspiring musicians to popular celebrities in Tennessee. They lived a life that anyone would envy.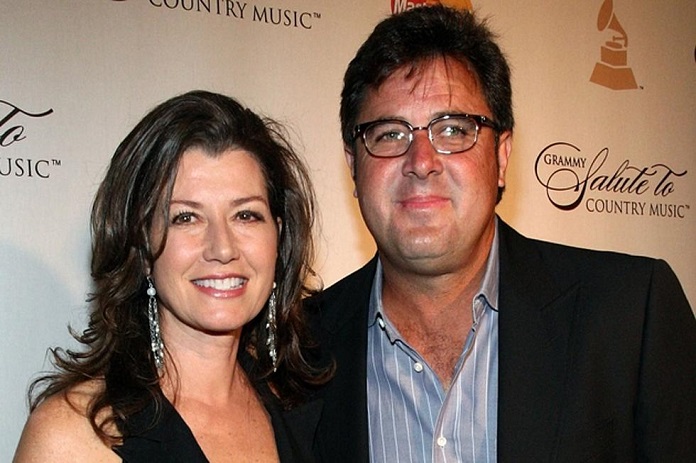 They Divorced in 1997 After 17 Years Together
After Gill landed his breakthrough, Janis Oliver decided to scale back her own music career so that she could take care of their kid. The arrangement worked for the couple and they lived harmoniously and blissfully for years. Things, however, soured in 1996 when Janis Oliver found out that Vince Gill had developed a deep emotional connection and close friendship with Amy Grant, a Christian musician.
That friendship had subsisted for about three years before then, and many tabloids had started speculating that Amy and Gill were having an affair (Amy and Gill have maintained that there was no infidelity during this period). The rumors eventually reached Oliver's ears but she refused to believe it until she discovered a note from Amy to her husband saying "I love you."
Janis was predictably devastated by this but tried to salvage her marriage. She asked Gill to cut off his ties with Amy, but he stated that he couldn't do that and that he wanted out of their marriage. Janis was devastated all over again. The whole thing left her depressed, and her self-esteem suffered. She withdrew from people, and this affected her friendships as well as her relationships.
Janis later filed for divorce in 1996, and it was finalized in 1997. She was given the rights to 38% of any future royalties derived from songs that Gill wrote or recorded during their marriage. It is estimated that she got more than $10 million in the settlement.
She Got Married The Second Time to Roy Cummins in 2000 But They Divorced in 2010
Following her divorce, Janis Oliver was quite rich but still unhappy. The way in which her marriage and divorce panned out left her depressed. She became a shadow of herself and withdrew into her shell. Amidst the whole turmoil, she found happiness in hanging out with her horses.
Janis Oliver also found love again in the arms of a horse trainer named Roy Cummings. They began dating casually in 1997, and things progressed quite well between them. They later tied the knot on 0ctober 30, 2000, in Maui. Janis' marriage to Roy Cummins lasted for about ten years, and they divorced in 2010.
Janis Oliver's Daughter, Jenny, is also a Musician
Janis Oliver has one child, a daughter named Jenny, born on 5th May 1982. Jenny is currently 41 years old and is a musician, just like her parents. She dropped her debut EP, House Sessions, in 2017. It has six tracks, including Lonely Lost Me. Her father produced the album. Jenny is also involved in movie-making.
Jenny is married to a man named Josh. They tied the knot on May 8, 2010. They remain together till date and have two kids together. Janis loves hanging out with her grandkids and often shares their pictures on her social media. She also loves hanging out with her horses. She currently lives in Franklin, Tennessee.
She is One-Half of The Music Duo – Sweethearts of the Rodeo
Janis Oliver and her sister spent the early days of their career performing at small venues and opening for other musicians. They got their breakthrough when they won a country music talent contest in 1985. Their exploits helped them land a recording deal with Columbia Records, and they put forth their debut eponymous album in 1986. It spurned multiple hit songs, such as Since I Found You, Midnight Girl/Sunset Town, and Chains of Gold.
The group's second album, One Time, One Night (1988), was also quite successful and contained hit singles such as Satisfy You and Blue to the Bone. Sweethearts of the Rodeo remained a popular group in the 90s, but they suffered a lull after that.
The group did release their 8th studio album, Restless, in 2012. They still perform on special occasions, but for the most part, Janis is focused on living a normal life, hanging out with her horses, and being a loving mom and grandmother. She presently lives in Franklin, Tennessee.