Kevin Durant is one of the most active NBA stars who are active in the dating scene. Durant has been spotted severally with a plethora of women throughout his career. However, he got engaged to WNBA star Monica Wright at some point, but later called it off before being spotted with the former adult actress Lana Rhoades recently. Albeit, he is still searching for true love.
Despite being in several relationships and even being engaged at some point, Kevin Durant is still unmarried and has never been married. From Teyana Taylor, Apryl Jones, Monica Wright to Lana Rhoades, learn more about Kevin Durant's relationships history below.
Who Is Kevin Durant Dating At The Moment?
Given his age and the fact that he has a successful career, one can understand why people assume that the NBA star is a family man. For a long time, his multitude of fans and those who follow professional basketball have been searching for his wife, but Kevin Durant isn't married and has never been.
Apart from the family, he was born into, he has no other family and isn't a father to anyone. If anything, this has only made people very curious about who he's dating. Unfortunately, Kevin has increasingly embraced keeping his private life private.
Much isn't known about his love life in recent times which has made celebrity gossip platforms conclude that he is single. For all we know, he might be dating someone but keeping it quiet. Although he is not known to be in a relationship with anyone at the moment, it is no secret that he has dated several women over the years.
Meet All The Women The NBA Star Has Dated 
1. Lana Rhoades (2021)
Lana Rhoades is an American former pornstar and a social media influencer. She is popular as one of the stars of the 3 Girls 1 Kitchen show, a podcast that discusses everything from dating and sex to trendy topics and celebrity gossip. Lana co-presents the show where she has talked about her career as a pornstar with Alexa Adams and Olivia Davis.
It was in an episode of the show that the divorcee related a story that had people believe she briefly dated Kevin Durant in 2021. The former pornstar disclosed that she went on a date with an NBA player who plays for the Brooklyn Nets. While she refrained from specifying the name of the basketball player, she disclosed that his astrological sign is Libra.
It was only a matter of time before people concluded that she was talking about Kevin Durant. This is so because the small forward is said to be the only Libra on the Brooklyn Nets team. If Kevin and Lana had something, it was a brief romance that ended before it started. According to Lana, the NBA player was boring and not spicy enough for her. Also, he brought another woman on their date.
Before the NBA player, Lana dated Mike Majlak whom she met through Logan Paul. When the former pornstar disclosed that she was pregnant in June 2021, people started speculating that Kevin Durant is the father of the unborn child; especially as Mike Majlak stated that he is not the father.
2. Apryl Jones (2017)
Apryl Jones is an American singer-songwriter from Chicago. The 36 years old of African, Taiwanese, and Chinese heritage was born on the 15th of December 1986 and she rose to fame as the girlfriend of Omarion, an American singer, and songwriter who doubles as a dancer and actor. Apryl attained a new level of fame after she became one of the original eight cast members of the VH1 reality series, Love & Hip Hop: Hollywood.
Apart from her baby daddy Omarion, Apryl Jones has been romantically linked with other famous men in entertainment, including The Game and Lil' Fizz. It circulated sometime in 2017 that she was in a relationship with Kevin. If that is true, the relationship only lasted for a few months.
3. Jasmine Shine (2014 – 2016)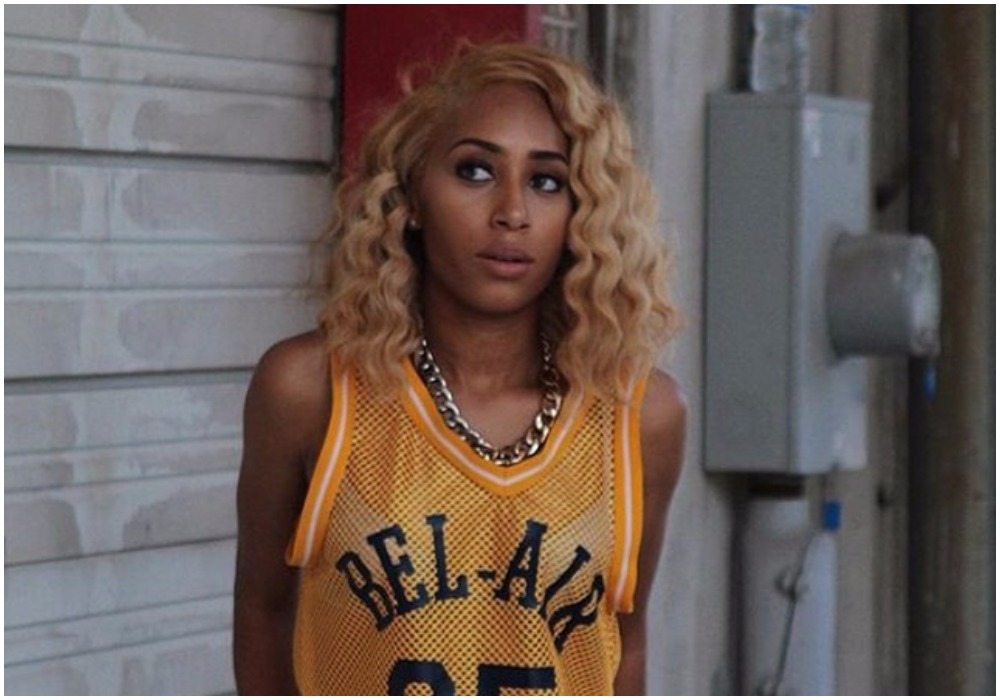 Jasmine Shine is an Instagram model known to many as the ex-girlfriend of Kevin Durant. Apart from these facts, it is hard to tell anything else about her. Jasmine and Kevin had known each other for a while before they started dating, this was after the NBA star and his ex-fiancee Monica Wright called off their engagement.
If one must believe everything that has been reported about what the two had, they dated on and off until sometime in 2016 when Kevin ended the relationship for good. It is said that they got serious at some point that the NBA Star started randomly referring to Jasmine Shine as his "wifey."
That didn't amount to anything as the basketball player reportedly asked the model to leave his house in 2016 so that he can focus on the NBA playoffs.
4. Crystal Renee (2014 – 2016)
https://www.instagram.com/p/CYpcaDtFljK/?utm_source=ig_web_copy_link
Based on what several platforms have reported, it wouldn't be out of place for one to conclude that Kevin Durant dated Crystal Renee at the same time he dated Jasmine Shine. Renee is an American model, singer, actress, and costume designer from Martin, Tennessee.
In the motion pictures industry, she is known for works like Nobody's Fool (2018), Sistas (2019), and Young Dylan (2020). Details of what transpired between her and the NBA star; how they met and what led to their breakup, are hard to come by. It is only known that they dated from late 2014 to 2016.
5. Joie Chavis (2015)
Joie Chavis is an American Instagram influencer famed as the baby mama of the famous hip-hip artist, Bow Wow. The 35 years old California native born on the 27th of September 1988 is a popular face among entertainers as she has performed as a backup dancer with several popular artists.
Also, an entrepreneur who runs a health and fitness brand, Joie, apart from Bow Wow, has dated several famous men. Most recently, she has sparked relationship rumors with Diddy after the two were seen together being all cozy.
Back in 2015, around the time Kevin Durant was having his on and off relationship with Jasmine Shine, Joie Chavis was romantically linked with the NBA player. Much isn't known about what they had because there is nothing to tell apart from the fact that they reportedly hooked up a few times in 2015.
6. Rachel Demita (2014)
Rachel Demita is an American model and television personality who rose to fame for hosting a TV show based on the basketball video game, NBA 2K. The 33 years old Ohio native was born on the 14th of June 1990 and grew up loving sporting activities.
She schooled at Wadsworth High School where she was a cheerleader and also played basketball. Demita was good at the sport so she was offered a full scholarship to Dominion University. She would later transfer to American University where she bagged a degree in Journalism and Performing Arts.
After she graduated from college, Demita settled on building a career as a YouTuber but was soon approached by NBA 2KTV to host the show. Rachel, who has also worked with other media outlets over the years, started dating Andre Roberson, a professional basketball player in 2018.
But before Andre and around the time she began hosting the NBA 2KTV show, it was rumored that she was dating Kevin Durant. It was said that they two were seen kissing in New York and Demita interviewed the NBA star for her show. Neither of the two ever confirmed or debunked the rumors about them being lovers.
7. Monica Wright (2013 – 2014)
What Kevin Durant had with Monica Wright is his most publicized relationship yet and this is so because they got engaged, and were both professional basketball players. Monica Ashante Wright is a San Antonio, Texas native born on the 15th of July 1988. The 35 years old is a two-time WNBA champion and a member of the 2010 WNBA All-Rookie Team.
Apart from the WNBA, she played basketball overseas with multiple teams in countries like Iceland, Poland, Turkey, South Korea, and Australia. She also represented the USA Women's U19 team at the FIBA U19 World Championship in Slovakia. Monica is now a basketball coach married to a fellow basketball coach and a former player named Michael Rogers.
Before Rogers, she was in a publicized relationship with Kevin Durant whom she met back in 2006 while they were in high school. Nevertheless, they only started dating in January 2013, even though they claimed they were just friends until it started circulating that they were engaged. Sometime in July that year, Monica confirmed that they were engaged during a post-game interview.
Kevin also confirmed it, disclosing that he abruptly asked Monica to become his wife because he wanted to spend the rest of his life with her. While their respective fans eagerly waited for the two to announce their wedding date, it emerged sometime in July 2014 that they had called off the engagement.
Kevin later divulged that they went their separate ways because he didn't know how to love her. However, Wright said she walked out of the engagement because she felt she was compromising herself as a woman. According to her, people expressed it was crazy of her to leave the relationship and she was criticized for the decision.
8. Letoya Luckett (2011 – 2012) 
LeToya Luckett is one of the first popular women believed to have dated the NBA star. The American singer-songwriter and actress rose to fame in the late 1990s as one of the members of the popular girl group, Destiny's Child. Her solo career took off in 2003 after she signed with Capitol Records; she dropped her debut studio album in 2006 and now has a total of three studio albums to her name.
According to several reports, the singer cum actress dated Kevin Durant from December 2011 to October 2012. How they met and the circumstances surrounding the beginning of the said relationship are unclear. We can only confirm that it started circulating that the two were lovers after they were reportedly spotted on a dinner date in Las Vegas. To the best of our knowledge, neither of the two confirmed or refuted the reports.
Luckett would later secretly get married to a motivational speaker named Rob Hill Sr. in January 2016 but the marriage only lasted for about two months. In December 2017, she got married to her second husband, Tommicus Walker. Luckett and Walker had two kids together before they announced their divorce in January 2021.
9. Teyana Taylor (2011)
Teyana Taylor is quite a famous figure in Hollywood; apart from being a singer-songwriter and actress, she is also a model, dancer, choreographer, and director. An African American of Trinidadian descent, Talyor was born in Harlem, New York City on the 10th of December 1990.
The 33 years old has been active in the entertainment industry since 2005 and has released three studio albums thus far. She has received several coveted recognition for her efforts; recently (in 2002), she received two BET Awards for Video Director of the Year. Taylor has been married to Iman Shumpert, an American professional basketball player since 2016.
Before him, she was romantically involved with multiple men, including Kevin Durant whom she reportedly dated sometime in 2011. They were seen together a few times in public and she turned up in some of his games to support him. It was said that they were keeping the relationship a tad secret but it seems nothing came out of the effort.
Kevin Durant Has Three Siblings; Two Brothers and a Sister
Any serious fan of Kevin should know that he is very fond of his mother, Wanda Pratt. This is partly so because she singlehandedly raised him and his three siblings: Tony Pratt, Rayvonne Pratt, and Brianna Pratt. Tony is Kevin's older brother and his most popular sibling.
The NBA star thinks highly of Tony who is three years older. He once thanked him during his MVP acceptance speech for making him believe in himself. Tony played basketball at Townson University but never got to make it to the NBA.
Much isn't known about Kevin's other brother, Rayvonee Pratt, just as it is hard to tell anything about his only sister, Brianna Pratt. They have both lived their lives away from the spotlight.