Mark Justin Roiland is a voice actor, animator, writer, producer, and director who has gained fame for his role as the co-creator of Adult Swim's Rick and Morty and the franchise that spawned out of it.
Justin Roiland might be dyslexic but he makes up for his readings deficiencies through other fields and the condition has not stopped him from achieving great heights in his career. Justin Roiland has achieved legendary status in the animation industry. The American voice actor is not just lending his remarkable voice to animated characters, he is also a creator, writer, director, and producer.
In addition to co-creating and voicing the main characters in Rick and Morty, he also contributed his voice to Korvo on Hulu's Solar Opposites, which he co-created with Mike McMahan. Other voice roles he has played can be seen on Disney Channel's animated series Fish Hooks as Oscar, Gravity Falls as Blendin Blandin, Adventure Time as the Earl of Lemongrab, and many more.
Profile Summary of Justin Roiland
Full name: Mark Justin Roiland
Date of birth: February 21, 1980
Place of birth: Manteca, California
Age: 43
Education: Sierra High School, Manteca High School, Modesto Junior College
Occupation: voice actor, animator, writer, producer, and director
Years active: 2004-present
Justin Roiland Was Born and Raised in California, in the United States
An American by nationality, Roiland was born in Manteca, California. It was there that he grew up with his family but details of his formative years are not public knowledge. However, from his available record, it is clear that he grew up with parents who knew the value of education, enough to send him to school at the right time.
The first institution of learning available in his profile is Sierra High School, which he attended until the first quarter of his senior year before he transferred to Manteca High School. Roiland finished his senior year at Manteca High, graduating in 1998. He didn't stop at high school but continued his education at Modesto Junior College in Modesto, California, despite being dyslexic, he scaled through school before launching his illustrious career.
His Early Career Days Were Spent With Channel101
Growing up in California shaped him to some extent and prepared him for a competitive career journey ahead. After graduating from college, Roiland saw the need to move and he chose Houston, Texas, where his career took off in 2004. There, he began his career with Channel 101, recording many movie shorts.
He is known for his contributions to Channel 101 shorts House of Cosbys and 2 Girls 1 Cup: The Show that broke the internet. He also played a small role as Christopher Cross in the series Yacht Rock for the L.A. media collective created by Dan Harmon and Rob Schrab. Roiland's early recorded career roles are also marked by his work on VH1′ Acceptable TV and a regular appearance as Blonde Craig on The Sarah Silverman Program. The latter aired on Comedy Central.
Roiland Gained Mainstream Fame As Co-creator of American Adult Animated Science Fiction Sitcom, Rick and Morty
Originally released on December 2, 2013, with new installments still dropping, Justin Roiland teamed up with Dan Harmon to create Rick and Morty for Cartoon Network's nighttime programming block, Adult Swim. The animated series follows the life of mad scientist Rick Sanchez and his grandson Morty Smith, both voiced by Roiland. The rest of the characters in the series are voiced by Chris Parnell, Spencer Grammer, and Sarah Chalke.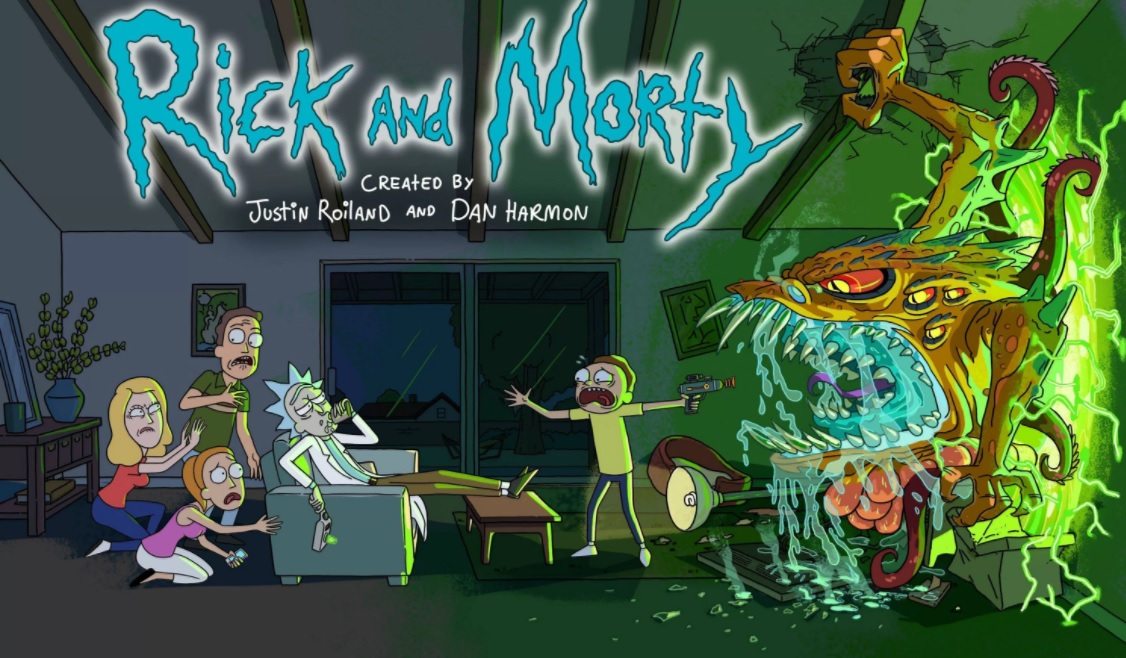 Highly acclaimed by critics, Rick and Morty has been churning out seasons and episodes since its initial release. The fifth season was released in 2021 with the sixth installment in the works.
Roiland has been a co-host on The Grandma's Virginity Podcast with Ryan Ridley, and Jackie Buscarino since 2010. Ridley is renowned as the writer of Rick and Morty while Buscarino is a Steven Universe producer.
Pendleton Ward Is One Of His Main Influences
At the Rick and Morty panel during San Diego Comic-Con International 2014, Roiland revealed that Pendleton Ward played a major role in influencing his career choices. Ward is an Emmy Award-winning animator known for his numerous works for Cartoon Network Studios, Frederator Studios, and Netflix Animation.
He Has Launched His Own Game Studio
Roiland launched Squanchtendo on August 25, 2016. The name of the virtual reality studio was coined from the combination of Nintendo and Rick and Morty character Squanchy, but the name was later changed to Squanch Games. Accounting+ is the debut full-length title from the studio and it was released on December 19, 2017. Squanch Games collaborated with William Pugh's Studio to release the piece for PSVR.
His Major Voices Roles
Rick Sanchez
Morty Smith
Mr. Meeseeks
Mr. Poopybutthole
Taddy Mason
Cromulons
Noob-Noob
Truth Tortoise
Justin Roiland's Net Worth Is $4 Million
Aside from the series and movies mentioned above, Roiland has also voiced characters in numerous video games and he now has his own game studio. His works have also earned nominations for different awards. The many years he has spent creating acclaimed content have equally attracted financial favors as he's estimated to have accrued a net worth of $4 million. Though his actual earnings from the numerous projects he has executed so far are not known, Roiland has gained enough acclaim to earn like a boss.
Earlier in 2021, he made a fortune from his first NFT art collection (The Best I Could Do), where he sold a piece for $1.65 million. The voice actor has continued to explore the potentials of the industry, keeping fans in anticipation of what is coming next.
Family Life of Justin Roiland
The only family member linked to Roiland is his sister Amy Roiland. As such, the identity of his parents is not known but they reportedly raised him in a conducive environment that helped to nurture his creative mind. Amy is also involved in the entertainment industry as an actress. She is known for appearing in movies like Young Stephen Hawking (2006), 2 Girls, 1 Cup: The Show (2008), and Ever (2014).
On the personal side, Roiland is yet to share the juicy deets with the public. The closest thing to a relationship that has his name on it is a rumor about him and a lady named Abbie Lyn Maley, whom he allegedly dated in 2013. However, that relationship has not been confirmed to date.
An animal lover, Roiland is a pet parent to two dogs. One of his dogs named Jerry is the inspiration behind Snuffles and Jerry. The dog was sick for a while but he nurtured it back to health. Roiland's Instagram page is rife with pictures from work and of his dogs.
Some Frequently Asked Questions About Justin Roiland
Is Justin Roiland Married or in any Relationship
Justin Roiland is not married or in any known relationship. He was once rumored to be dating a woman identified as Abbie Lyn Maley but there is no confirmation of that.
How Old is Justin Roiland?
The voice actor and co-creator of Adult Swim's Rick and Morty is 43 years old. He was born on February 21, 1980.