Jim Harbaugh has seven children. They are Jay Harbaugh, James Harbaugh, Grace Harbaugh, Addison Harbaugh, Katherine Harbaugh, Jack Harbaugh, and John Harbaugh. The American football coach shares the first three of his seven children with his first wife Miah Harbaugh and the subsequent four with his current wife Sarah Feuerborn Harbaugh. 
Harbough is the head coach of the University of Michigan Wolverines and he has been married twice. His first marriage was to Miah Harbaugh and it lasted ten years from 1996 to 2006 while his second marriage which is to Sarah Feuerborn Harbaugh, happened in 2008. The couple are still together to date.
There is a huge and interesting divide in the ages of Jim Harbough's children due to the timing of his marriages. The first three from his first marriage are very much older than the younger four from his second marriage. As a result, there is a wealth of information on the older children who are adults and have built their own lives unlike the younger four who are still being shielded from the limelight. The above notwithstanding, Jim Harbough's adult children are currently thriving in the different career paths they have each chosen and are very successful in their own rights.
Meet Jim Harbaugh's Children 
Jay Harbaugh is Jim Harabaugh's Eldest Child with His First Wife
Date of Birth: June 14, 1989
Age: 34 Years Old
Profession: American football coach
Marital Status: Married
Spouse: Brhitney Harbough
Children: 2
Instagram: @jayharbaugh
Jay Harbaugh as earlier stated is the first amongst Jim Harbough's children. He was born on June 14, 1989, to Jim and his first wife Miah Harbaugh in San Diego, California. Going by his birth date, it is easy to see that he was born nearly seven years before his parents exchanged marital vows. Apparently, Jim and his first wife were in a long-term relationship that led to the birth of Jay and their eventual marriage,
On the aspect of his educational background and qualification, Jay Harbaugh had his elementary education in his hometown of San Diego. He attended St Augustine High School where he played defensive line having followed in his father's footsteps. From his excellent play in high school, Jay was well on the path to having a good career run as a football player.
The young star would have gone on to achieve his dreams of being a footballer, but it was cut short by a knee injury he sustained towards the end of his playing days in high school. One can't help but wonder if he would have been like his father or better if he was able to go further in his football career. He got enrolled at Oregon State University where he earned a bachelor's degree in Sociology.
Despite the injuries that cut short his dreams of being a player, Jay Harbough stayed on the football path and eventually became a coach just like his father. According to sources, he is currently an American football coach and has worked with several teams with good records. He first worked as an undergraduate assistant at Oregon State for four seasons before joining his uncle, John Harbaugh, at the Ravens for three seasons. He was the tight ends coach and assistant special teams coach for the Michigan football team in 2015. He is still a member of the team.
Jay is Married to Brhitney Harbough
Jim Harbaugh's first son is not only a coach but also a husband. He got married to his wife Brhitney on the 3rd of November 2017 in a civil ceremony which she once stated was not what they had planned initially. Brhitney was formerly a flight attendant but has since moved on to become a PR specialist.
Together, the couple has welcomed two children. Their son Jacob Alexander Harbaugh was born on October 4, 2018, and daughter Norma Alexandra Harbough followed two years later in April 2020.
James Harbaugh Jr. is Jim Harbough's Second Child 
Date of Birth: September 4, 1996
Age: 27 Years Old
Mother: Miah Harbaugh
Occupation: Delta Air Lines Flight Attendant
Instagram: @jamesharbaugh
Named after his father, James Harbaugh is the second child birthed to Jim and his first wife Miah Harbaugh on September 4, 1996. There is no information on his childhood but just like his elder brother, James also had a comfortable childhood and was well provided.
Like his brother, James Harbaugh is also a graduate of the University of Michigan where he graduated with a Bachelor of Fine Arts (BFA) in directing. Just like his father and siblings, James is very passionate about football even though he has not made a career of it. Rather, he chose to focus his career pursuits on the arts which he is just as passionate about considering his love for theatre.
According to his profile on his Instagram account, James Harbough is a Delta Air Lines Flight Attendant. He also enjoys the outdoors and is frequently seen enjoying the breathtaking sights of nature in its purest form.
One other prominent aspect of his life is his sexual orientation. James is openly gay and has not kept it secret from his family. His father has been very supportive and encouraging contrary to what he expected at the time he came out. The famous coach encouraged his son to be himself and do what makes him happy. This came as a surprise to James who said he initially felt like a disappointment until he eventually opened up to his family in 2016.
Even though he is openly gay, he is not known to be dating anyone at the moment. A look at his dating history also shows he has not openly dated anyone either male or female.
Grace Harbaugh is the Last Child of Jim Harbough and his First Wife
Date of Birth: 27th June 2000
Age: 23 Years Old
Mother: Miah Harbaugh
Occupation: Water Polo player
Instagram: @graceharbaugh
Grace Harbaugh is the third child and first daughter of coach Jim Harbaugh and is his first wife Miah. Grace was birthed to her parents on 27th June 2000. From her date of birth, one can tell that she was born four years after her parents Jim Harbaugh and Miah Harbaugh got married. Grace Harbaugh is currently 23 years old.
Having a lineage filled with sportsmen, Grace also developed a passion for sports and has followed in her family's footsteps by pursuing a career playing water polo. She started swimming early and by the time she was fourteen, she had become an excellent swimmer. She played water polo while she was at Coronado High School before she graduated in 2019. Like her older siblings, Grace also attended the University of Michigan where she majored in Art history.
Grace's career has not been an uneventful one as she has won many medals in the sport and has made her family proud most especially her father who is always proud of her achievements. She diversified her income sources when she became a swimwear model. You will often see her post influencer content on her Instagram right alongside her games.
Despite being born to celebrity parents Grace is a very private person and to this effect, her relationship status is not known. Not much is known about her personal life as she keeps her personal life away from the spotlight. Even though her Instagram account is not private, she does not post any aspect of her personal life for public consumption. Her page is filled with photos and videos of her training, tournaments, and travel/lifestyle content.
Addison Harbaugh Is Jim Harboughs First Child with Sarah
Mother: Sarah Feuerborn Harbaugh
Addison Harbaugh is Jim Harbaugh's fourth child and first daughter with his second wife Sarah. She is the couple's first child together but her date of birth is unknown because details of her personal life have been kept well away from the media, unlike Jim Harbough's other children with his first wife.
There is no information on the schools she attends or what her daily life is like but we do know she has a very close relationship with her father going by the few pictures he's posted on his Instagram handle with her. Speculations are also rife that she is a sports enthusiast like the rest of her family.
Katherine Harbaugh is Jim Harbough's Fifth Child
Mother: Sarah Feuerborn Harbaugh
Instagram: @kateeharbaugh
Katherine Harbaugh is Jim Harbough's fifth child and second daughter with his second wife Sarah Harbaugh. Just like her elder sister Addison, Katherine's date of birth is also not available to the media and public. Despite how famous her parents and older siblings are, Katherine has been shielded from the limelight and as such, leads a very private life.
She made a few public appearances with her parents when she was very little, but in recent times, nothing has been heard about her. She is active on social media, especially Instagram. However, her handle @kateeharbaugh is set to private and she hardly accepts followership requests.
On the aspect of her career, It is not known if Katherine followed the family sports tradition or went ahead to follow her own path as she has not been generous with information about her professional life.
Jack Harbaugh is Jim Harbough's Closest Child
Date of Birth: 2012
Age: 11 Years Old
Mother: Sarah Feuerborn Harbaugh
Jack Harbaugh is Jim Harbough's sixth child and the first son born to the coach and his second wife Sarah Feuerborn Harbaugh. This also makes him the third son born to Jim Harbaugh. Just like his siblings, Jack's exact date of birth is not known but according to some sources, his birth year is 2012. Jacj was named after his grandfather who also played American football and retired as a coach.
Jack's early childhood was very private hence, there is no info on his educational background. However, he is recently becoming very prominent in the media. The young star is yet to decide on a career path to follow although many speculate that he would follow in his father's footsteps as he has shown interest in his father's career.
On several occasions, he has accompanied his father to his games and has shown up a few times on his father's Instagram handle. Going by Jim Harbough's reference to Jack as his G.O.A.T. speculations are that he is towing the football path and is likely to make it a career path.
John Harbaugh Is Jim Harbough's Last Child
Date of Birth: 2017
Age: 6 Years Old
Mother: Sarah Feuerborn Harbaugh
John Harbaugh is the youngest of the children born to Jim Harbaugh and is the second son born to his father Jim Harbaugh and his second wife Sarah Harbaugh in 2017. He is currently 6 years old. John was named after his father's brother John William Harbaugh who is also a coach with the Baltimore Ravens of the National Football League.
There are no details on young John's life because he is still very much underage and hence, is kept well away from the prying eye of the media. John is yet to take on a career path as he is still young and under the care of his parents. It won't come as a surprise if he follows the sports path like other members of his immediate and extended family.
Jim Harbaugh Does Not Have Twin Children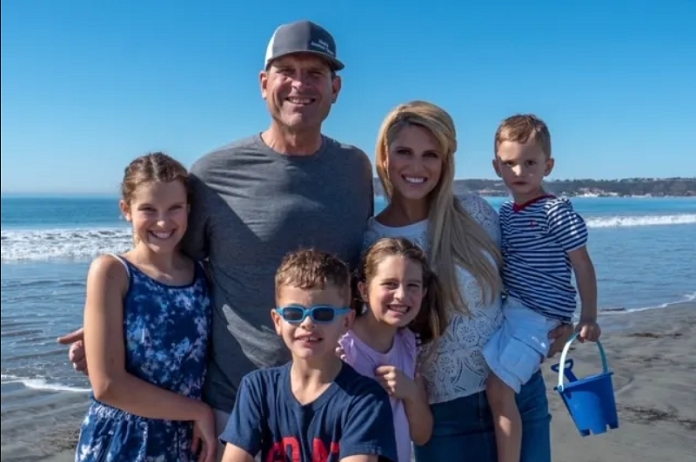 Coach Jim Harbaugh does not have any twin children born to him from any of his marriages. There have been several rumors that Jim has twins but that is not the case as the prominent coach has seven children and each of his children was all born independently by their mothers in different years and none came as twins.
The rumor about Jim having twin children is a spillover from the rumor that he is a twin himself. For years, many fans of the coach have assumed that he is a twin with his brother John Harbough. However, he has debunked said rumor a few times often explaining that John is his older brother rather than his twin. Even though there is just a year's age difference between them, John and Jom Harbough are not twins.
His children who many often mistake for twins are Jack and John. But unlike the situation with his brother, Jack and John have a 5 years age difference hence there is no mistake that they are not twins. While they also have a resemblance as any siblings would they are neither the same size nor do they have the same facial features. While Jack is 6 years old, John is 6 years old.