Khloe Kardashian is not dating anyone right now. But if you know a thing or two about the businesswoman and reality television star, you'll know that she has had a pretty active and well-publicized dating history. Just like the rest of the Kardashians, Khloe doesn't shy away from discussing her love life on the shows, "Keeping Up with the Kardashians" (now defunct) and "The Kardashians".
Khloe Kardashian, a member of the renowned Kardashian-Jenner clan, has been a prominent figure in the world of entertainment for years. The direct result of this is that her dating history automatically became a subject of immense public interest. In this article, we will delve into the question of whether Khloe Kardashian is currently dating anyone and explore her dating journey over the years, including relationships with several of America's most famous men.
Is Khloe Kardashian Dating Anyone Now?
It doesn't appear that Khloe has dated anyone seriously since her breakup with Thomson. In September 2022, it looked like Khloe came out of her dating sabbatical after a photograph of her and 365 Days actor Michele Morrone was posted online. The actor shared the cozy picture on his Instagram profile, sending fans into a frenzy over a possible romance between the two celebrities.
However, a representative for both parties put an end to the speculations, reiterating that they were just acquaintances who had met each other for the very first time on the day that photo was taken. A few months later, more dating speculations regarding Khloe arose after it was whispered around the grapevine that she was reportedly dating a private equity investor on the low. This mystery man, who was introduced to her at a dinner by her sister Kim, seemed to be a serious prospect for Khloe until the romance fizzled out as quickly as it began.
If what Khloe says is anything to go by, she has been single as far back as February 2023. But we all know Khloe Kardashian's dating life has been marked by on-again, off-again relationships, most notably with Tristan Thompson, with whom she shares two children. Fans of the reality actress know that Khloe has been candid about her desire to find lasting love and build a family. While she may have gotten the "build a family part" right, her love life still leaves a lot to be desired, especially given Tristan's ill-treatment of her.
As always, her dating journey has remained a subject of continued fascination for fans and the media alike, but this time, we will have to wait for Khloe to make any big announcements herself. She is focused on raising her children and fostering closer bonds with her famous siblings.
Khloe Kardashian's Dating History
Khloe Kardashian's dating history is as dynamic as her personality. Over the years, the 39-year-old star has been romantically linked to several high-profile individuals, including athletes, musicians, and fellow celebrities. Notable names in her dating history include Lamar Odom, whom she married and divorced in one of the most scandalous Kardashian ways, French Montana, and most recently, Canadian basketball player Tristan Thompson, to name a few.
Most, if not all, of these relationships garnered significant media attention and even played out in the public eye, providing a glimpse into her personal life. In 2014, Khloe was linked with rapper French Montana, and the two dated for a few months before breaking up in December of the same year. While Khloe has been linked to so many people, she has only been married once to Lamar Odom. In all of this, she has managed to navigate these highly publicized relationships with the cultivated grace that her family is so well-known for, and we're here to tell you all about it.
Khloe Kardashian and Rashad McCants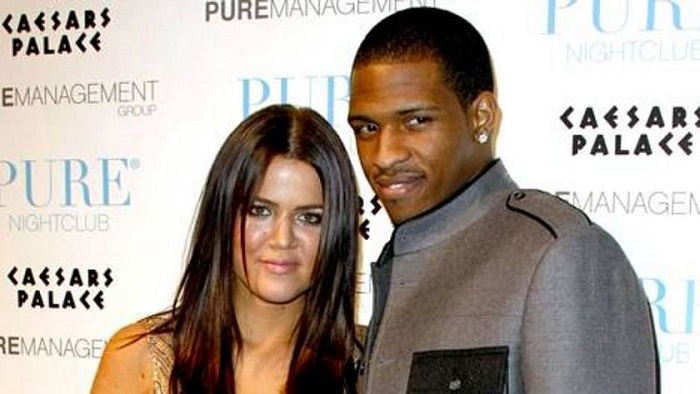 Khloe Kardashian started dating NBA player Rashad McCants in 2008 when she was 24 years old. Their relationship was documented on the reality television show "Keeping Up with the Kardashians. They were together for a relatively brief period, and their relationship ended after barely a year in 2009.
At the time, Khloe claimed it was due to Rashad's busy schedule and his inability to make time for them. She said he was in a different city every day for games and that they hardly spent time together because of both of their schedules, so they decided it was best not to be in a committed relationship. She said they had a great time while it lasted and would always remain close friends.
However, a few years down the line, she would eventually reveal the real reason behind the breakup when she said he cheated on her in an episode of Kourtney and Khloe Take Miami. Rashad denied the allegations and claimed that the alleged evidence they presented on the show was fabricated.
Khloe Kardashian's Brief Fling With Derrick Ward
Shortly after her breakup with Rashad McCants in 2009, Khloe briefly dated NFL player Derrick Ward. They were spotted out and about a few times. Things seemed to be going well when he accompanied Khloe to Khourtney's 30th birthday celebration in Mexico with the rest of her family. They broke up soon after with no word on what happened, and unlike her other relationships, they have not been spotted together again.
Lebron James and Khloe Kardashian's Relationship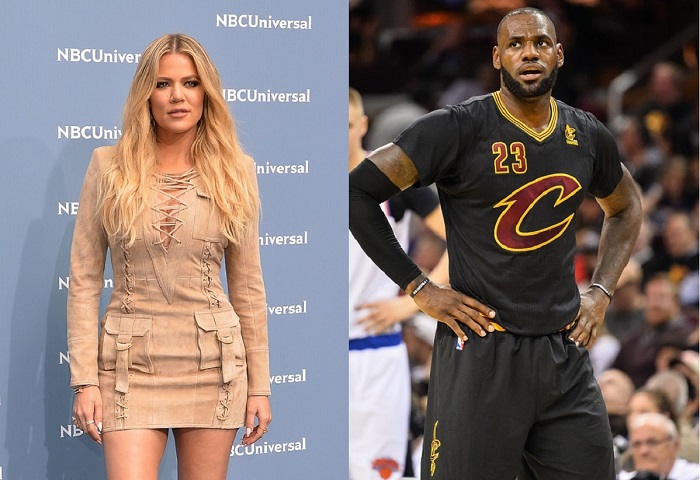 NBA star Lebron James and Khloe Kardashian have never had a romantic relationship, contrary to the rumors. The rumored relationship between the two caused quite a stir in the media after it was reported that Khloe Kardashian dated LeBron back in 2010 after the two had met through basketball player Baron Davis. However, Khloe was actually dating Davis at the time.
There was no substantial evidence to confirm that Khloe and Lebron were anything but platonic friends. The two have apparently known each other for years through their involvement in the entertainment and sports industries. Also, being that she was dating Davis at the time, she was bound to be seen in the same circle as Lebron since they were both well-known basketballers. Still, any claims of romantic involvement between the two have been dismissed as baseless rumors.
Lamar Odom and Khloe Kardashian's Troubled Relationship
Khloé Kardashian and Lamar Odom had a whirlwind romance that began in 2009 when they met at a party. They got married just one month later, to the surprise of their fans. Their relationship was very well publicized and documented on the reality show Keeping Up with the Kardashians. The couple seemed to be very much in love, but their relationship was also troubled from the start.
While their union lasted, Odom struggled with substance abuse and infidelity, leading Khloe to file for divorce in 2013. However, the divorce was never finalized, and in 2015, Odom was found unconscious in a Nevada brothel after a near-fatal overdose. She rushed to his side and helped him through his recovery, and they even briefly reconciled.
However, the reconciliation was short-lived, and Khloe filed for divorce again in 2016. The divorce was finalized later that year. Odom remains Khloe's most dedicated relationship, and even though they are no longer together, she speaks of him fondly and considers him a friend.
Khloe Kardashian's Brief Affair With French Montana
In 2014, Khloe Kardashian and French Montana embarked on an eight-month romantic journey. Their relationship began in April of that year, and they swiftly became inseparable, frequently seen together in public and even taking vacations together.
However, their romance lost its spark by the year's end. Speculations were that Kardashian had grown weary of Montana's partying and perceived neediness. Reports also suggested that he had been secretly texting her best friend, Malika Haqq.
Despite their breakup, Kardashian and Montana have managed to maintain a friendship. They've been observed spending time together on multiple occasions and have spoken affectionately of each other in interviews. In a 2016 interview with Haute Living, Montana stated that he and Kardashian will always be friends.
James Harden and Khloe Kardashian's Dating History
Khloe Kardashian's relationship with NBA player James Harden was more than just a rumor. She dated James Harden in 2015. The two were spotted together multiple times, and things seemed to be going well. Khloe would eventually reveal that the relationship was short-lived because James was reluctant to take things to the next level.
After getting over her disappointment at him not being ready for a serious relationship, Khloe decided she didn't want to force him to be with her and initiated the breakup. Their split seemed amicable, and they have not been seen together since. They parted ways after both acknowledging the challenges of maintaining a high-profile romance. Khloe's breakup with James was featured in an episode of Keeping Up With The Kardashians.
Trey Songz and Khloe Kardashian's Relationship
Khloe Kardashian and Trey Songz had a brief romantic relationship in 2016. They were first spotted together in July of that year and were seen kissing at a nightclub in Las Vegas. They also attended Kevin Hart's wedding together in August.
However, the relationship didn't last long, and they reportedly broke up in September. There were rumors that the breakup was due to Kardashian's busy schedule and Songz's touring commitments. They have been spotted hanging out together on several occasions since their breakup, and they even sparked rumors of a reconciliation in 2022 when they were seen chatting at Justin Bieber's birthday party.
Khloe Kardashian and Tristan Thompson
Khloe met Tristan Thompson, a basketball player for the Cleveland Cavaliers, in 2016, and they reportedly started dating in the same year. The relationship was characterized by a series of cheating episodes on Thompson's part, resulting in a tumultuous cycle of breaking up and getting back together.
Their romantic journey began in 2016, and in 2018, they celebrated the arrival of their daughter, True. However, Thompson was caught cheating on Khloe just days before True's birth. Despite the betrayal, Kardashian opted to remain in the relationship, hoping he would change. Yet, Thompson's unfaithfulness persisted, resulting in multiple separations and reconciliations.
In 2019, a major scandal erupted when Thompson was caught kissing Jordyn Woods, a close friend of the Kardashian-Jenner family, leading to a highly publicized breakup. Nonetheless, they reunited in 2020, attempting to mend their relationship for the sake of their daughter.
Regrettably, in 2021, Thompson cheated again with model Sydney Chase. Despite initially refuting the claims, Thompson later confessed to fathering a child with another woman, Maralee Nichols, while still in a relationship with Kardashian. This revelation ultimately spelled the end of their relationship, or so we thought.
In 2022, Khloe and Thompson revealed they were expecting a second child by a surrogate. On August 5, they joyfully welcomed their newborn son, whom they named Tatum. In the season 2 premiere of "The Kardashians," Khloe disclosed that she had permitted Thompson to be present for their son's birth. However, she expressed her eagerness to conclude that chapter, leave the past trauma behind, and move forward.
Khloe Kardashian and Scott Disick's Dating History
While Khloe Kardashian and Scott Disick share a close friendship, there has never been any substantial evidence to suggest they were romantically involved. Scott Disick is best known for his long-term relationship with Khloe's sister, Kourtney Kardashian. Khloe and Scott have maintained a strong bond as friends and co-stars on the family's reality show, "Keeping Up with the Kardashians," even after his relationship with Kourtney came to an end.
They have been known to be very supportive of each other through their various life challenges, demonstrating the strength of their friendship. Naturally, their closeness began to spark rumors of a possible low-key romance between the inlaws. However, Khloe has always vehemently denied these rumors, stating they were untrue. So, while they are still close friends and are on good terms, they have never dated.
However, on a recent episode of The Kardashians, Scott and Chris Jenner are seen discussing his infatuation with Khloe and the fact that he has always had a crush on her. He explained that she is funny, smart, and has all the characteristics he desires in a woman. He also joked about having sex with Khloe to mark his 40th birthday.
This points to the fact that fans of the show were right all along about the chemistry between Scott and Khloe. There is no doubt that spending all of that time together as family and co-reality TV stars created some feelings. All of that notwithstanding, Scott Disick insists he would never look at Khloe Kardashian sexually.