Davion Mitchell is not Donovan Mitchell's brother and there are no blood ties between the two individuals. While Donovan was born to Donovan Sr. and his wife Nicole Mitchell, Davion's parents have been identified as Earl Legette and Lakisha Mitchell.
Apart from the fact that they have different parents, the duo hail from different parts of the United States. Hinesville, Georgia is listed as Davion's home state while Donavan comes from Elmsford in New York. Also, it has been established that Davion who recently became a point guard with the NBA team, Sacramento Kings, is the only child of his parents but on the other hand, Donovan has only one sibling, his sister, Jordan Mitchell who is also an athlete, specializing in lacrosse.
Is Davion Mitchell Related To Donovan Mitchell?
No, Davion Mitchell and Donovan Mitchell are not related in any way. However, the duo have a lot of things in common which many have come to regard as uncanny.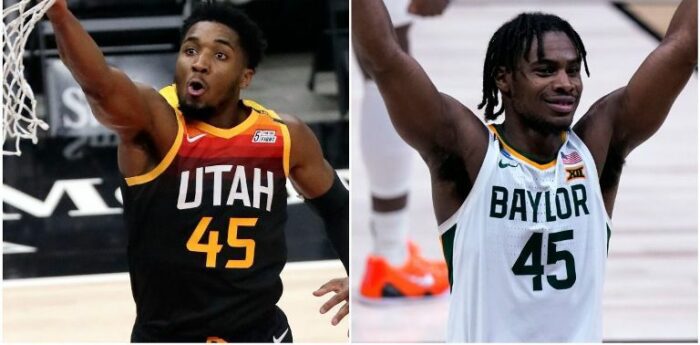 The two professional basketball players do not only share the same last name but Davion and Donovan also share the same initials – DM
Now, the similarity in their jersey number is one co-incident which has raised several eyebrows among basketball lovers. While Davion was still playing collegiate football at Baylor, he wore jersey number 45, the same one that Donovan wears as a professional NBA player with the Cavaliers. However, this changed after Davion was drafted by the Sacramento Kings where he started wearing no. 15.
Not many basketball enthusiasts know that Davion Mitchell and Donovan Mitchell share the same zodiac sign. Their birthdays are just two days apart – while Donovan was born on the 7th of September 1996, Davion's date of birth reads the 5th of September 1998, thus, they both come under the Virgo birth sign.
Another notable similarity between the two pro basketball players is that they play the same game. Davion and Donovan are both spit-fire athletes playing in the guard position. While Donovan is a shooting guard, Davion mans the point guard position. They also have the same approach to the game – their shooting forms on the defensive end are quite similar.
The duo is also close in height with just an inch difference – Donovan stands 6 feet 1 inch tall while Davion is 6 feet 2 inches.
Important to note that while Davion was still playing collegiate football for the Baylor team, the rumors about him having blood ties with Cleveland Cavalier's star, Donovan Mitchell were just simmering among a few people. However, now that he has been drafted into the NBA with the Sacramento Kings, the speculations are sure to hit the rooftop.
Does Donovan Mitchell Have a Brother?
Donovan has no brother. Since it has been confirmed that the Cleveland Cavalier star has no blood ties with Davion, the rumors about them being brothers have died down a bit. Donovan is the only son of his parents, Donovan Sr., and his wife Nicole Mitchell but he has one sister.
Who are Donovan Mitchell's Siblings?
Though Donovan is the only son of his parents, he has a sibling, a sister named Jordan Mitchell, with whom he shared his childhood memories.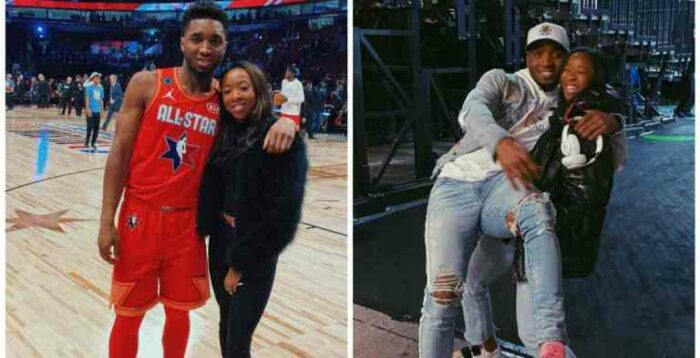 Jordan attended the Brewster Academy where she launched her career as a lacrosse star. She is currently attending college at American University where she is studying business studies while pursuing her career as an athlete with the AU Eagles lacrosse squad.
The Mitchell siblings took their athletic gene from their father, Donovan Sr. who worked with the New York Meets for over two decades as the team's director of player relations. During his younger years, Donovan Sr. played active baseball with Minor League Baseball, thus it comes as no surprise that his two children took to sports.