Marjorie Elaine Harvey's kids are Lori Harvey, Morgan Harvey, and Jason Harvey, her three children she birthed before she met and married Steve Harvey. 
Marjorie Elaine Harvey's Kids Are From Her Previous Relationships
Before Marjorie and Steve Harvey became couples to admire, they had tried and failed at marriage with other people. Marjorie got married for the first time to a certain Jim Townsend in the early 90s; however, their marriage did not last.
Not long into their marriage, Townsend was sentenced to life imprisonment bars after being found guilty of drug trafficking. He was caught while attempting to purchase 40 kilos of cocaine. About 5 years into Townsend's sentence, Marjorie divorced and cut all ties with him and moved on with her life. Townsend was later released in 2017 after being pardoned by President Obama.
While her marriage to Jim Townsend is said not to have produced any kids (though there is no substantial evidence to prove this as she has not commented on it), she would go on to have three children from another relationship; however, it is not clear who is the father to whom. She next married Donnell Woods, and some quarters believe that he is the father to her three kids (information that also lacks solid proof).
Like her first husband, Woods was also into the illegal business of selling drugs in Memphis; however, not much is known about him publicly. Some quarters do report that he is one of the Wood brothers who became known for their notoriety in drug dealing.
The 4 brothers were jailed in 2002 for distributing marijuana and cocaine from Houston to Memphis. Over the years, Marjorie has been very quiet about her kids' father and is rather busy enjoying her blended family with the ace comedian.
Morgan Hawthorne is Marjorie Elaine Harvey's First Child
Born: 1988
Biological Father: Unknown
Occupation: Food Blogger
Spouse: Kareem Hawthorne a.k.a DJ Bruckup (m. 2014)
Kids: 2
Marjorie's oldest child is named Morgan Hawthorne. She is a graduate of the Culinary Institute of America, where she earned a degree in Baking and Pastry. She has delivered her expertise at different special events companies.
She is the creator of I Need Some Mo, a brand she created to share her culinary skills. She shares tips and recipes for parties and cocktail events. Morgan Hawthorne is married with two daughters.
In January 2012, she was engaged to wedding entrepreneur Kareem Hawthorne, best known as DJ Bruckup; they met during their college years at Spelman circa 2006. The couple tied the knot in October 2013 and have since remained together, frequently sharing cute snaps of themselves on Instagram.
Besides blogging about food, Morgan is also a proud co-creator of two hilarious adult card games @lifteveryvoiceandmeme and  @aightimmaheadoutgames. Anyone can access the games via Kickstarter.
She is also the author of the e-book Party Heart. Like her siblings whom Steve Harvey adopted, Morgan Hawthorne has been featured on his popular Steve Harvey Show. She once shared some of her recipes and hosted cooking classes on the show.
Jason Harvey is Marjorie Elaine Harvey's Son
Born: 1991
Occupation: Creative Director, Producer, Artist
Biological Father: Unknown
Spouse: Amanda Harvey
Kids: 3 (Ezra, Noah, and Rose)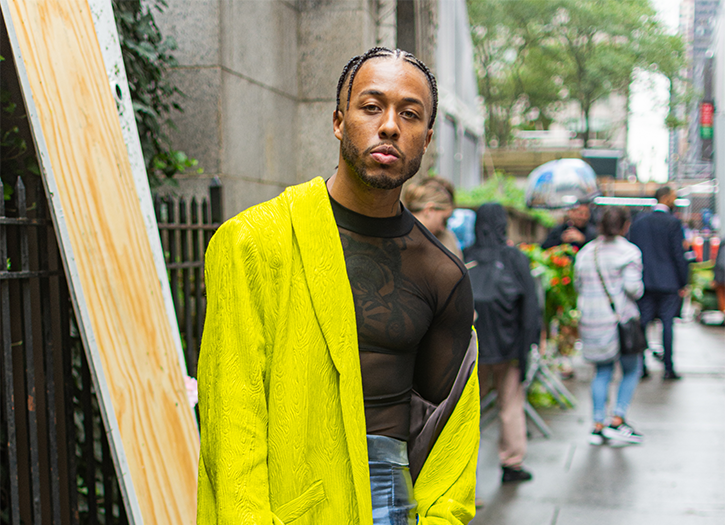 Marjorie's only son Jason Harvey seems to be the one who keeps a low profile. He however, runs an Instagram account that boasts over 36 k followers. Like his father Steve, Jason Harvey seems to hold his family very dear. He is Amanda Harvey's husband (born July 20, 1993), a Los Angeles-based model who is signed to Wilhelmina Modelling Agency.
She maintains a higher social media activity than her husband and boasts over 104 k followers on Instagram. She began modelling in her teens before rising to fame in 2012 as the winner of BCBGMAXAZRIA's model search.
Jason Harvey and his wife Amanda are parents to three kids Ezra, Noah, and Rose, whom they frequently post on social media. Jason's wife, after having kids, has modelled for publications like Pregnancy and Newborn magazine.
Jason Harvey founded the luxury women's footwear company, Yevrah, in 2015. He showcases his designs as well as his creative side on this website whoisjasonharvey.com
Lori Harvey is Marjorie Elaine Harvey's Youngest Daughter
Born: 1997
Occupation: Model, Social Media Influencer
Biological Father: Donnell Woods (unconfirmed)
Dating: Michael B Jordan (2020)
With over 3 million followers on Instagram and counting, Lori Harvey is Marjorie's most popular kid. She has shilled for a number of luxury brands, including Versace, online fashion boutique, Naked Wardrobe, beauty brand Oil Tycoon Beauty, among a host of others.
Beyond her beauty industry achievements, Lori Harvey is popular for her alleged romantic relationships with some popular names. She was engaged to Dutch professional soccer player Memphis Depay in May 2017 after a year of dating.
Her family, including the patriarch Steve took to social media to celebrate the big moment. However, the couple never got to walk the aisle as their engagement fell apart in 2018 when Lori was spotted out without her ring.
Lori Harvey has since moved on to date even bigger names. She was spotted hanging out with Sean Diddy Combs several times in New York in mid-2019. On one occasion, they wore matching outfits. Their budding romance did not seem to last long as they went off the radar just one month later.
Lori would eventually unfollow Combs on Instagram. Her dating rumour with rapper Future began in late 2019 when the rapper posted a photo of her on his Instagram story. They were seen in public together, but their fling did not last.
After a period of speculation, it was confirmed that she was dating Hollywood actor Michael B Jordan in early 2021; Michael himself took to his Instagram page to announce that they were dating.
How Did Steve and Marjorie Harvey Meet?
After two failed marriages, Steve Harvey finally found lasting love with fashion aficionado, Marjorie Bridges. To this effect, he has given her credit as the positive change in his life, the secret to his success, and the reason behind him being a better man than he had ever been.
The story of how Steve and Majorie met is a fascinating one, especially because he describes it as love at first sight. Harvey was performing in a Memphis comedy club in 1987 when Marjorie walked in, and according to him, immediately he saw her, he knew that she was the one.
On his account of the said day, he took no chances; there and then, he declared his love on stage when he stopped the show and said to her, "I don't know who you are lady, but I'm gonna marry you one day".
At the time, many thought it was a joke or a part of his routine, but the love-struck insists it was not. While Marjorie may have been embarrassed or shocked at his declaration, she would later reveal that the feeling was mutual.
They would start dating shortly after but broke up a year later and married other people. From Steve's account of events, he was broke at the time and could not get his acts together on time. By the time he was able to make something of himself, she was married to someone else.
They would reconnect more than a decade later, in 2005, thanks to his bodyguard, who made a good effort to find her after Steve Harvey's divorce from his second wife. 17 years after he declared his marriage manifesto to her at the comedy club in Memphis, they got married and lived together since then.
They have also successfully blended their respective families to form a larger one. Marjorie's kids, as listed above, are Jason, Lori, and Morgan, all of whom Harvey adopted upon their mother's marriage to the comedian; all three kids also adopted the Harvey surname.
Do Steve Harvey and Marjorie Bridges Woods Have any Child Together?
Steve and Marjorie Harvey share 7 children between them; 4 from Harvey's previous marriages and 3 from Marjorie's; however, as man and wife, they do not have any biological children together from their marriage. The couple also have at least five grandchildren.
Steve has two daughters (twins Brandi and Karli Harvey) and one son (Broderick Harvey Jr.) from his first marriage to Marcia Harvey and a second son named Wynton from his marriage to Mary Shackelford.
Harvey's older kids, Karli and Brandi, run a female empowerment group YOUNG, FIT, and FLY, which is aimed at empowering women. Karli successfully toed her father's path to become an entrepreneur, hairstylist, event host, and public speaker.
She has been married to basketball player-turned-mentor Ben Raymond since 2015, and they have one son together, BJ. Brandi, on the other hand, is a bodybuilder turned wellness coach and author. Her self-published book, Breakthrough Sold Separately: Get Out of the Boat of Mediocrity and Walk on Water, was released in October 2019.
Harvey's biological sons are Broderick, who has a shoe business and Wynton, who is interested in modelling and photography.
Is Steve Harvey Really Divorcing Marjorie?
Divorce rumours have plagued Marjorie and Steve's marriage for as far back as 2017, and it is all linked to one source, Marjorie's ex-husband, Jim Townsend, who was released from prison in 2017.
After being pardoned of his life sentence by President Obama in 2017, Townsend began to threaten Marjorie that he was going to tell his own side of the story about what really happened when he was found guilty of drug trafficking and Marjorie's role in all that played out.
As it would turn out, it seems Townsend is just seeking attention; perhaps he intends to monetize from his ex-wife's fame thanks to her marriage to Harvey.
At the time when Townsend was arrested in 1992, the FBI and DEA also reportedly investigated Marjorie and found her innocent of any wrongdoing; thus she was not arrested.
In 2019 when Townsend began to threaten that he would write a tell-all memoir, it coincided with the period when Steve Harvey began overhauling his real estate portfolio. Some publications falsely reported that he was selling off his properties that had Marjorie'e name on them as he was allegedly preparing for an imminent divorce.
Some quarters also claim that Steve was messing around with a lady who had worked with him behind-the-scenes of his Steve show and that Marjorie was fed up with his cheating as it was not the first time.
In 2018, Harvey expressed his disgust for the tabloids and their incessant claims that he and Marjorie were getting a divorce. The ace comedian complained at the time that they (the tabloids) just go out to destroy people's lives without facts behind it.
In an exclusive interview with Hollywood life, during the 11th Annual Ladylike Foundation Women of Excellence Luncheon where she was honoured, Marjorie expressed disgust at the rumours; she said that she and Steve do not pay mind to outside chatters and that they keep themselves covered with prayers.
Marjorie who has been open about her faith also quipped that people get busy with what to say about your life when God is doing some amazing things in your life.
The couple would later make fun of the rumours together in a video posted to Marjorie's Instagram, which boasts over 2 million followers.
The video (above) opens with their son Broderick Harvey, Jr. telling his parents that he heard that they were getting a divorce; both then started to laugh off their son's statement before ending the video with a sweet and playful back and forth about the various claims made about them.