Eric Braeden is a German-born actor with a net worth of $25 million. He made his wealth through his acting career, filmmaking, scriptwriting, and other business endeavors.
Eric Braeden has achieved a whole lot in his acting career and is considered one of the most renowned German-American actors in Hollywood. The actor began his career in the 1960s and has appeared in several movies, TV shows, Broadway performances. He earned his breakthrough following his role as Victor Newman in the long-running CBS soapie, The Young and the Restless, which has been airing since 1973. His impeccable performance on the show has earned the actor several awards and recognition, including a Daytime Emmy, People's Choice Award, and Soap Opera Digest Award. All these and his other exploits in the American entertainment industry have helped him accumulate a huge net worth that runs in millions of dollars. But how much is he really worth?
Eric Braeden Has an Estimated Net Worth of $25 Million
Like we earlier mentioned, Eric Braeden has an estimated net worth of $25 million. He made his wealth through his acting career. For a career that has lasted for over 63 years and still counting, the German-American actor has featured in over a hundred movies and TV shows.
A large chunk of his net worth came from his acting career. Eric has appeared in several blockbuster movies and TV shows throughout his career. Besides acting, he is also a filmmaker and scriptwriter, with several movie credits under his belt. Let's look at how the actor made his wealth from acting below.
His Acting Career is a Major Contributor to His Net Worth
For a career that has lasted for over six decades and still counting, Eric Braeden has his acting career to thank for the massive wealth he currently enjoys. Since the inception of his career, the actor has appeared in several movies and TV shows. However, he never started as an actor. Born on April 3, 1941, in Bredenbek, Germany, his birth name is Hans-Jörg Gudegast. He grew up in Germany along with his parents. Unfortunately, his father passed on when he was 12 years old.
Before he died, Braeden's father served as a major in the military and a minor Nazi politician. That notwithstanding, his father was unable to provide adequately for his family. As a result, Eric took to sports and athletics to improve his family's standard of living. He played football, handball, and track and field events, as he was very good at them. The young Eric also played soccer for many amateur clubs at the time. However, Eric moved to the United States in search of greener pastures in 1959.
Upon his arrival, he stayed in New York City and later moved to Galveston, Texas, and Montana. During this time, he did several odd jobs like waiting tables, as a translator, cowhand, and others, to make ends meet. The actor also worked at the University of Texas medical laboratory for a short while before moving to Los Angeles. While in L.A., Eric Braeden applied to Santa Monica College, where he later earned a Track and Field Scholarship. Afterward, he attended Montana State University, where he developed an interest in acting and participated in several theatre productions.
After his graduation, Eric made his professional acting debut in the 1960s, appearing as a German soldier in some episodes of World War II drama, Combat! Later on, he starred in Morituri alongside Yul Brynner and Marlon Brandon and The Man From U.N.C.L.E. As the years progressed, Eric continued to score more roles in top movies and TV shows. However, his salaries at the time are unknown.

Some of His Most Famous Movies and TV Shows
Mission: Impossible (1966 – 1967)
The Virginian (1966)
Hawaii Five-O (1969-1973)
Death Race (1973)
The Young and The Restless (1980-Present)
The Ambulance (1990)
Titanic (1997)
The Man Who Came Back (2008)
Den of Thieves (2018)
The Young and The Restless Cemented His Place in Hollywood – How Much Does He Earn as Salary from the Show?
Although Eric Braeden has appeared in several movies and TV shows since the inception of his career, the CBS series, The Young and the Restless, brought him into the limelight. He joined the show in 1980, playing the role of Victor Newman. The series initially focused on two families – The Brooks and Foster family.
However, following the departure of the original characters, their name was later changed to the Abbotts and Williamses families. The storyline has been intriguing following the over four-decade feud between Jill Abbott and Katherine Chancellor, the longest feud on any American soap opera.
Eric's character, Victor Newman, a despicable, unfaithful, and contemptible wife abuser, was initially intended to be killed from the show between eight and twelve weeks. However, after showcasing his unique voice, charisma, and acting potential, he was later adapted as a major character on the show. Eric has been on the show for four decades and still counting. The actor celebrated 40 years on the show and has shown no signs of retiring anytime soon.
He is one of the show's highest-earners, and his salary has undoubtedly increased his net worth significantly. According to reports, he earns an average of $5,000 per episode and about $4 million annually. Through his appearance on The Young and the Restless, Eric has received a Daytime Emmy for Outstanding Lead Actor in a Drama Series and seven other Emmy nominations between 1987 and 2004.
Does He Have Other Income Sources Outside Acting?
Eric Braeden has remained steadfast throughout his career, unlike other actors who have branched out of acting to do other things or venture into business. When it comes to his other businesses, the actor is not open to sharing details of his personal life with the media. Thus, his other exploits outside acting are currently unknown. However, some online sources put up his profile as a motivational speaker, and it costs between $10,000 and $20,000 to book him for a show.
More so, Eric is also an author; in 2017, he published his memoir, I'll Be Damned. The book has also been a source of income for the great actor and has recorded massive sales recently. He might also have some real estate properties in different parts of America and Germany but has decided to keep them under the radar. While his major source of income is his acting career, The Young and the Restless star is currently not doing badly for himself as his $25 million net worth is a testament to this fact.
Summary of Eric Braeden's Net Worth Sources
Acting Career
His Memoir
Motivational Speaking
Other Business endeavors
Eric Braeden's Net Worth Afford's Him the Luxury Lifestyle He Enjoys with His Wife and Son
With a massive net worth of $25 million, Eric Braeden and his family currently live a lavish lifestyle. The Y&R star has been married to his long-term girlfriend, Dale Russell Gudegast, since 1966. At the time, Eric was still finding his feet in the American movie industry. The couple has been together for over five decades and still counting. Their union produced a son named Christian Gudegast, and his family lives in Bredenbek, Germany, and United States.
His wife, Dale, is an American native, born in Los Angeles on November 17, 1941. Like her husband, Dale is an actress best known for her role in the American comedy film, Holiday in the Sun. Beyond that, she is also the sister of famous actress Patricia Annette Olson, also known as Sigrid Valdis. Vale completed her basic and high school education in Los Angeles. However, she didn't attend college.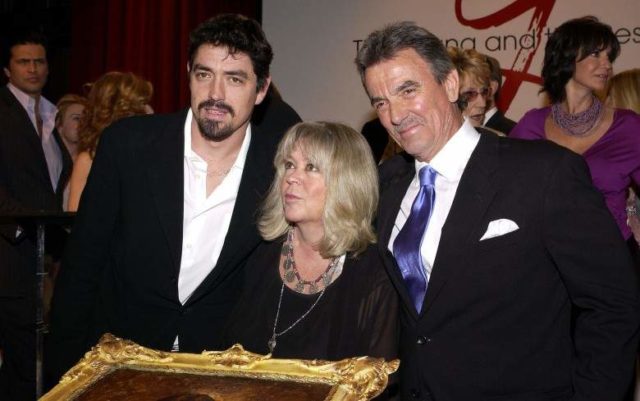 The couple welcomed their son, Christian, on February 9, 1970, and he was born in Los Angeles. Christian has grown under the shadow of his parents, and today, he is an established filmmaker and screenwriter. He is a graduate of UCLA Film School and has produced many films. His thesis movie, Shadow Box, earned him the Best Student Film Award. His other notable works include the 2003 American vigilante action film, A Man Apart, starring Vin Diesel. He has also directed several music videos and has worked with several top names in the industry.
Besides his career, Christian is also a married man and shares three children with his wife. Albeit, nothing much is known about the younger Eric and his family. Nevertheless, Eric Braeden usually uploads photos of his grandchildren on social media. The young and happy family is living a decent lifestyle and currently resides in Los Angeles.