Popularly known for their catchy and consistent trap music style, the Atlanta-based hip-hop Trio called the Migos has been around for over a decade now. Migos currently have a combined net worth of $80 million.
However, from the group's collective net worth, when shared equally, each member is said to be worth a little over $26 million
Since its inception in 2008, the group did not achieve full-blown popularity until late 2016. You may not be particularly fond of their lyrics, but the way these rappers flow in their songs is what keeps their fans coming for more, and their exciting beats always keeps the party going.
Although the trio has been waxing stronger ever since, it is imperative to note that two of them, namely Offset and Quavo, have equally established themselves as solo artists. They have also collaborated with several prominent artists and currently has a few solo albums to their names. Here, we take a look at each member of this group, their journey to success, and how much they are worth. You'd also get to know how they make and spend their money.
Background Details Of The Migos Members
The hip hop group is made of three members whose connections go beyond professional relationships. It consists of Quavo, Takeoff, and Offset, and all three of them have direct familial ties with one another. While Quavo and Offset are cousins, Takeoff happens to be the son of Quavo's elder sister. Let's meet them below.
Takeoff
Born Kirshnik Khari Ball on June 18, 1994, in Lawrenceville, a suburb in Gwinnett County, close to Atlanta, Georgia, Takeoff is the youngest of the trio with a net worth of $26 million. He was raised along with his uncle Quavo and cousin Offset by his single mother. These three practically grew up like brothers. He attended Berkmar High School in Lilburn, Georgia, and beside rapping, he also plays the keyboard.
Offset
Also born and raised in Gwinnett County, Offset's real name is Kiari Kendrell Cephus, and he was born on December 14, 1991 with an estimated net worth of $26 million. His father, whose name is not known, left when he was young, and even though his mother Latabia Woodward played a role in his upbringing, a substantial part of it was done by Quavo's mum. He also attended Berkmar High School before his juvenile ways landed him at Riverside Military Academy in Gainesville, Georgia. He is not just a rapper but also a songwriter and has penned some of Migos songs. A father of four, Offset has been married to fellow American rapper, Cardi B, since 2017.
Quavo
The oldest of the trio, Quavo, was born in Athens, Georgia as Quavious Keyate Marshall on April 2, 1991 with an estimated net worth of $26 million. He lost his dad at an early age of four, and his mother, Edna Marshall, was a hairdresser. He also attended Berkmar High and was even a star quarterback at the school before he dropped out in his senior year, just a few months to graduation. In addition to being a rapper, Quavo has also established himself as a singer, songwriter, and record producer.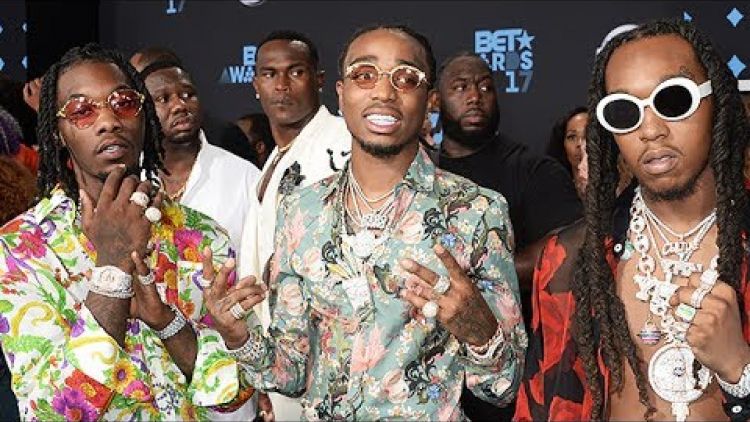 The Migos' Music Exploits And Achievements
Although they are currently regarded as one of the top hip hop groups in America, the Migos journey to fame began a long time ago. As the story goes, Quavo and Takeoff caught the rap flu first, with the former going as far back as eighth grade. Other kids would mock Quavo back then, and as a loyal cousin, Offset was always there to support him. Soon Quavo convinced him to try rapping too, and with his nephew, the three formed a group which they originally named Polo Club in 2008. 
At this stage, music was still an extracurricular activity for them as they were all still in high school. They released their first official full-length mixtape, Juug Season in 2011, and followed it with another, No Label, in 2012. The following year, they released their debut single, Versace, and unlike the first two releases, this one actually gained some recognition and even peaked on the billboard hot 100 at #99.
By June of 2013, they released a mixtape titled Y.R.N, with Versace as its lead single. Y.R.N ranked so high on different music charts, and this was the beginning of their breakthrough. Two years later, the Migos released their first studio album Yung Rich Nation, and even though they were already touring and making tens of thousands of dollars from live performances at this point, their worldwide breakthrough came with Bad and Boujee, a single from their second studio album Culture, which went on to top the Billboard Hot 100 chart, their first #1 in the US.
So far, the group has released four albums, including Yung Rich Nation (2015), Culture (2017), Culture II (2018), and Culture III (2020). Except for Takeoff, who seems to be only focused on Migos, the other two members have both released solo albums and singles. They have equally embarked on collaborative projects with many other popular artists outside the group.
Migos Net Worth: How Rich Are The Migos And How Do They Spend Their Money?
The group is estimated to have a collective net worth of $80 million. This is no surprise as a 2018 report on Forbes revealed that the trio makes nothing less than $150,000 per tour stop. Since their inception, they have embarked on a few tours to promote their albums. Aside from these, Migos members have no known collective venture as a group, so the bulk of their money comes from album sales and concerts. 
The members' net worth varies based on their other undisclosed ventures. Quavo and Offset, for instance, make some extra cash from collaborations and their solo releases, among other money-making ventures. However, from the group's collective net worth, when shared equally, each member is said to be worth a little over $26 million.
When it comes to spending money, the Migos own lots of assets, including mansions, exotic cars, and jewelry. According to reports, they own several mansions in Atlanta and Beverly Hills, as well as a fleet of luxury cars, which include Rolls Royce, Lamborghinis, Mercedes, and much more. The trio, sometime in the past, gifted Takeoff's mother with a house and a car in appreciation for what she has done in their lives.