Dwight Howard's kids are five, consisting of three sons, Braylon Howard, Dwight Howard III, and David Howard, and two daughters, Layla and Jayde Howard. All his five children are from five different women. 
The accomplished NBA player is not just known for his skills on the court but also for being a dedicated father to his children. Despite his demanding career, Howard prioritizes being actively involved in his children's lives, often sharing heartwarming moments with them on social media. His commitment to fatherhood inspires many, showcasing the importance of balancing a successful career with family values. Read on to learn more about the NBA star's five kids.
How Many Kids Does Dwight Howard Have?
Dwight Howard has five children. He has been open about his role as a father and the importance of being present in his children's lives. He has expressed his dedication to fatherhood, emphasizing the significance of being a positive influence and providing love and support for his kids.
Howard has shared moments of fatherhood on social media, showing his commitment to being actively involved in his children's upbringing. His attitude toward fatherhood reflects a strong sense of responsibility and care for his family.
Who Are Dwight Howard's Children?
Dwight Howard's children consist of three sons and two daughters. His oldest child is a son named Braylon Howard. A daughter named Layla Howard followed after him not long after. The basketball player's third child, another daughter named Jayde Howard, was born in the same year as his second child.
Dwight's two youngest children, Dwight III or Trey and David Howard, were also born in the same year. It is also imperative to mention that the star NBA player had all five of his children with five different women.
Who Is Dwight Howard's Oldest Son?
Braylon Howard is the oldest child and son of NBA star Dwight Howard. He was born on November 18, 2007, in Orlando, Florida. Braylon's mother is Royce Reed, a former cast member of the reality TV show Basketball Wives. As of 2016 years old.
Braylon's parents, Dwight Howard and Royce Reed, met during Dwight's time with the Orlando Magic in the mid-2000s. They began dating during this period, and their relationship lasted for several years and faced public scrutiny and challenges.
The media attention, coupled with the pressures of Dwight's professional basketball career, contributed to the strain in their relationship, ultimately leading to their breakup.
Dwight Howard Does Not Have The Best Relationship With Braylon
The relationship between Dwight and Braylon has had its ups and downs. Despite the challenges faced by Dwight and Royce, Dwight has consistently expressed his love for Braylon and his commitment to being a supportive and involved father.
Over the years, there have been public disputes and legal battles between Dwight and Royce regarding co-parenting arrangements and child support. These issues have sometimes put a strain on the relationship between Dwight and Braylon, with Braylon notably calling him out on Instagram for being ignorant. 
Dwight promptly denied those claims and said he was trying to be a better father to Braylon and his other children.
As for Braylon's potential as a basketball player, it's uncertain whether he will follow in his father's footsteps. While he has shown an interest in basketball and has been seen practicing with his father, it's important to recognize that he is still young and has a wide range of opportunities ahead of him.
Whether he pursues a basketball career or chooses a different path, it's evident that Dwight will continue to offer guidance and support to Braylon.
Trey Howard is His Father's Second Son
Dwight Howard's second son is Trey Howard. Trey was born on June 13, 2013, making him 10 years old as of 2023. In reality, Trey is just a nickname. His real name is Dwight Howard III, and he was named after his father.
Trey's parents, Dwight Howard and Christine Vest met and began dating, but the details of their relationship and how long they dated are not publicly available. The couple eventually broke up, and Christine publicly criticized Dwight, along with other mothers of his children, accusing him of being a "deadbeat dad."
Dwight and Trey's relationship seems relatively low-profile, with Trey being the least known of Dwight's children. There is no public information indicating a strain in their relationship despite the claims that Dwight is a "deadbeat dad," according to some of the mothers of his children, including Christine.
David Howard Is Dwight Howard's Youngest Child And Son
David Howard is the youngest of Dwight Howard's kids. He is the son the NBA star had with his late former partner Melissa Rios, who tragically passed away due to an epileptic seizure in 2020. David Howard was born on December 15, 2013, a fact that indicates he is 9 years old as of 2023.
Dwight met David's mother, Melissa Rios, during his time with the Los Angeles Lakers, but unfortunately, it didn't last. The information regarding the specific duration of their relationship is unknown, but it is common knowledge that they eventually separated.
Following his mother's death, there were reports of a custody battle between David's maternal grandmother and his father, Dwight. The details of this custody battle are publicly unavailable. Still, it indicates that there was some legal conflict regarding David's custody after his mother's passing, a contest the NBA star won because he currently has custody of David.
Dwight Howard is currently taking the opportunity to be a hands-on parent to his five children, including David. He is deeply involved in his son's life. It's been speculated on several social media posts that David may be the most popular child of Dwight Howard, indicating the strong bond between the father and son.
Does Dwight Howard Have A Daughter?
Dwight Howard has two daughters, Layla and Jayde Howard. They were born in the same year with a negligible age difference of just two months, with the former born in October and the latter in December.
Layla Howard Is Dwight Howard's Oldest Daughter
Layla Howard is the oldest of Dwight Howard's two daughters. Dwight had her with Tiffany Render, an aspiring model, in October 2010. Layla is now -1 years old as of 2023.
It is not clear when and how Layla's parents met, but they were in a relationship at the time of her birth. No information is available about how long the relationship lasted or why they broke up.
Dwight Howard maintains a good relationship with Layla and all of his children despite the challenges of fathering kids with different mothers. However, his eldest son, Braylon, has publicly talked about his strained relations with his father.
Like most of Howard's children, Layla primarily lives with her mother, but she gets to visit her father from time to time. Despite the difficulties, Howard emphasizes the importance of cherishing every moment and maintaining relationships with his children.
Jayde Howard Is Dwight Howard's Youngest Daughter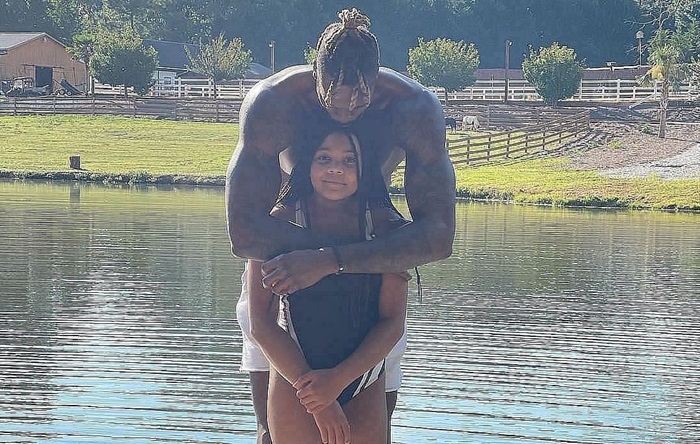 Image SourceJayde Howard is publicly acknowledged as the younger of NBA star Dwight Howard's two daughters. However, it is important to emphasize that she was born in December 2010, just about two months after her big sister was born. It also means that she is around -1 years old as of 2023.
Jayde is a product of her father's relationship with her mother, Hope Alexa, a fitness model based in Vancouver, Canada. There are no details of what now appears to be a fling between Jayde's parents, but reports claim she lives with her media-shy mom in Canada.
According to several sources, scarcely anything was known about Jayde until 2012, roughly two years after she was born. Since then, her father has done his best to remain as involved in her life as he can be. Father and daughter seem to be quite comfortable in each other's company too as evidenced by several social media posts of them together.