Shohei Ohtani does not have a wife though he is rumored to have a girlfriend whose name is Kamalani Dung; an American softball player. These rumors are, however, false as Dung is in a relationship with another fellow. 
Shohei Ohtani's marital status and love life have been a matter of great controversy, coupled with his affiliation with the social media sensation Kamalani Dung. In this article, we'll be exploring Shohei Ohtani's life and his rumored girlfriend, Kamalani Dung. 
Has Shohei Ohtani Ever Been Married?
Shohei Ohtani is single and has never been married. This is in contrast to the numerous claims on the contrary that even if he is not married, he might at least be dating someone.
More so, everyone's first thought when hearing about Shohei Ohtani's personal life is presumably, "Does he have a wife?" Ohtani has, in fact, always kept his private life private. But even secrecy for a celebrity breeds rumors. Because of this, Ohtani, who has never been legally or publicly married, has occasionally been the target of marriage rumors.
And though he is not yet married, it is not far to find who Ohtani's rumored love interest is, she is a professional softball pitcher named Kamalani Dung. While Ms Dung is American; born on 4th March 1997 in Hawaii into a mixed ethnic family of Puerto Rican, Caucasian, Asan, and Hawaiian-Polynesian roots, Ohtani, on the other hand, is Japanese. 
Is Kamalani Dung Shohei Ohtani's Girlfriend?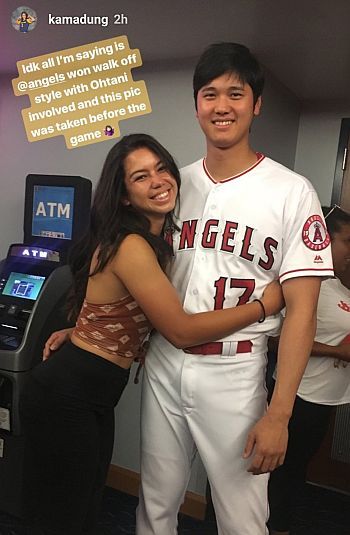 Kamalani Dung is not Shohei Ohtani's girlfriend, but the duo has faced dating rumors over the years. The internet went wild after seeing a photo of Kamalani Dung and Ohtani together in 2018, and a ton of rumors about possible relationships were spread.
During her junior year, Kamalani visited Angels Stadium and took numerous photos with Los Angeles Angels stars Shohei Ohtani, Kike Hernandez, René Rivera, and Martin Maldonado.
She said, "Thanks for hooking it up @angels (and Kike w @dodgers)" beside a photo of herself with the athletes.
A 2018 Photo Sparked the Dating Rumours Between Kamalani Dung and Shohei Ohtani
The highlight, though, appears to have been the photos with Ohtani, with even ridiculous link-up theories making the rounds. After being sighted with the Los Angeles Angels two-way sensation Shohei Ohtani in July 2018, Kamalani Dung became the talk of the town.
MLB fans were interested to learn who she was as soon as the photographs went viral. There were first speculations that the Angels star and the gold medalist from Puerto Rico were dating.
However, neither of the two has ever confirmed or rejected romance rumors, and Kama Dung has often insisted that she is simply a huge fan of the two-way wonder. She insisted that the upload was made by a rabid Ohtani supporter even after the photo went viral.
Kamalani Dung Insinuated She was Actually Dating Shohei Ohtani in 2021
The speculations reappeared in 2021 after Kamalani, an Ohtani supporter, liked gGel'stweet honoring Ohtani's ESPY victory for "Best MLB Player!" After her liking the tweet created a sensation, Kamalani sarcastically tweeted, claiming she was Ohtani's girlfriend, and asked who had given the magazines the information.
Sources claim that she later emphasized that she was just a huge fan of Ohtani and that they had never been romantically involved. On the other side, Ohtani has repeatedly stated through his interpreter that he is not dating anyone.
Get to Know Kamalani Dung, Shohei Ohtani's Rumoured Girlfriend
Athlete and professional softball pitcher Kamalani Dung competes in both the Athletes Unlimited Softball League and the Puerto Rican National Softball League. Aside from this, she is also a model, actor, and philanthropist. Dung is from Waianae, Hawaii. In her Instagram bio, she refers to herself as the originator and a believer.
Lance Dung and Honey Rodrigues are Dung's parents, and she was born and raised in Hawaii. She began playing softball when she was just ten years old and quickly rose to prominence. She received her diploma from Kamehameha Kapalama High School, where she was a three-time Division I conference champion and the team's ace pitcher.
Before transferring to UC Berkeley in 2017 to pursue a sociology major, Dung enrolled at Fresno State. Kamalani rose into the top 10 in all PAC 12 pitching statistics during her junior year. She led the Golden Bears to their first top-25 victories over No. 21 James Madison University during her senior season.
Kamalani Dung has won Several Laurels in Her Career
Kamalani, the right-handed softball pitcher from Hawaii, represented the city of Juncos in the Puerto Rican Higher League in 2018. She won a gold medal and signed a contract with the Los Angeles-based California Commotion in 2020 to play in the National Pro Fastpitch.
The Honolulu City Council recently presented her with an honorary certificate in recognition of her efforts off the diamond, which she views as her greatest accomplishment to date. Since Kamalani is a self-taught pitcher who acquired her pitching skills from YouTube videos rather than through formal, conventional training lessons, she is infamously known as the "YouTube Pitcher."
She assisted in founding the Pacific Athletes Alliance, a nonprofit organization that assists young people from the Pacific region in becoming successful adults. "My main objective is to lend a helping hand to other young people growing up in the Pacific, whether they are from Waianae or anywhere else. Currently, Kamalani competes professionally in the US's Athletes Unlimited Professional Sports League. 
Who is Kamalani Dung's Boyfriend?
Shohei Ohtani's dating life was the subject of rumors after Kamalani Dung liked a tweet and shared a photo of the two at Angel Stadium on social media. This made Dung the center of attention. But it should be made clear that Kamalani Dung is presently dating Hawaiian musician Dillon Pakele. When she posted a photo on Instagram in 2022 to honor Pakele's birthday, she referred to him as her "lover and best friend."
She stated that "This journey together has been the most fun and the biggest blessing ever!! Thank you for treating me like an absolute QUEEN, being the person to unlock my soft side, and always being down to build this love stronger with Him at the center. Every day together has been the best." – Kamalani
With the announcement of a music video with Pakale in June 2022, Kamalani and Dillon both became "Instagram official" couple. She posted pictures of herself and Dillon on Instagram on February 14, 2023, referring to him as her Valentine. This series of events have proved that Kama is not Shohei Ohtani's wife or girlfriend.