Ben Barnes does not have a wife as he has never been married. He also does not have any girlfriend to the best of public knowledge, neither is he gay.
Ben Barnes is an British actor and musician who is popular for his lead roles in movies such as The Chronicles of Narnia: Prince Caspian. He is quite good-looking and has variously been hailed as a heartthrob. Despite all of this, and the fact that there are many ladies all over the world swooning over him, Barnes has never been in any confirmed relationship to date. He prefers to keep a tight shield on his love life but this has not stopped the rumor mill from working.
Is Ben Barnes Married, Single, or in a Relationship?
Ben Barnes is not married and has never been married. When it comes to his relationship status, Ben Barnes is believed to be single and not in any relationship. This is because he has not confirmed that he is dating anybody. There is, however, a possibility that the actor is dating someone presently but has chosen to protect the person's identity from the public.
Such a possibility is not farfetched. The actor has previously revealed that after the frenzy and fame that The Chronicles of Narnia earned him, he decided that he wouldn't share every part of his life with the public. One of those parts happened to be his love life and he has kept to his stance since then.
However, though Ben Barnes may be reluctant about disclosing the ladies that he has dated, he isn't shy when it comes to talking about love. He has said that when he finds the woman that he is going to marry, he will make it known to the public. He has also shared that he is a big fan of rom-coms and would love to play the lead in one, which shows that he is a big believer in love.
The actor has also revealed that he needs a lot of affection when in a relationship, including skin-to-skin contact, physical connection, physical touch, and the whole walks. Ben Barnes has also shared that he has learned a lot about love from his mom, who is a relationship therapist. According to him, love comes out of mutual trust with your partner, shared goals, humor, and excitement when hands touch.
Barnes is definitely a romantic but perhaps due to valuable lessons from his mother, he is being careful about taking a plunge.
Is Ben Barnes Gay?
Ben Barnes is not gay as he has previously spoken about going on a date with a lady in the recent past. However, he has faced rumors about his sexuality and this is because of multiple factors. One of them is his lifestyle. He is a handsome successful adult man and yet, his love life is lackluster. There is no confirmed relationship save for a few rumored links. This has made some people assume that he is gay but that is not so.
Ben Barnes has also played gay characters in some productions. One of them is the popular HB0 series, Westworld, which premiered in 2016. In it, he plays a young tech businessman named Logan Delos. His character is either bisexual or pansexual and embarks on an orgy with two ladies and a man.
Barnes' character also kisses a male painter in the 2009 movie, Donan Gray. He later described the kiss as stubbly but not different from seeing himself kiss anyone else on the screen.
Who is Ben Barnes Dating Now?
Ben Barnes is not dating anyone now, to the best of public knowledge. He may be dating someone away from the spotlight though. The actor himself revealed in a 2023 interview that he had one of his best dates recently. The date basically involved him going to a movie drive-in venue with a lady and eating pizza.
Barnes revealed that he enjoyed it and that he liked the fact that the lady put it together and not him. The actor didn't reveal if the date translated into something permanent but it could well have without the public knowing.
Are Ben Barnes and Amanda Seyfried in a Relationship?
Ben Barnes and Amanda Seyfried are not in a relationship. The two only sparked dating rumors after co-starring in the 2013 movie The Big Wedding. In the movie, they played a couple that is about to wed amidst the major family drama and interconnections. Barnes and Seyfried gave a good showing which led to the rumors but they never dated.
The Truth About Ben Barnes and Anna Popplewell
Ben Barnes and Anna Popplewell are very good friends. The two Hollywood stars co-starred in the movie The Chronicles of Narnia: Prince Caspian. They fought side by side with each other to achieve the purpose of dethroning an evil king.
They also fell for each other, had a wondrous experience, and then moved on. Given that on-screen romance, some people assumed that Barnes and Anna Popplewell may have dated in real life but that's untrue. They remain strictly platonic and are great friends to this day.
Are Ben Barnes and Georgie Henley in a Relationship?
Ben Barnes and Georgie Henley are not in a relationship. The two English acting stars only featured in The Chronicles of Narnia: Prince Caspian together. George played Lucy, the youngest of the Pevensie siblings who joined hands with Barnes' character, Prince Caspian, to dethrone a corrupt king. There was no on-screen romance between them and there was definitely not one off-screen.
Ben Barnes Girlfriend List
The list of people that Ben Barnes is rumored to have dated in the past includes Tamsin Egerton, Felicity Jones, and Julianne Hough.
Tamsin Egerton
Tamsin Egerton is a British actress who is famous for movies such as Keeping Mum, St Trinian's, etc. Tabloids reported that Egerton and Barnes were dating in 2009 after the actress visited Barnes in Australia where Narnia was been filmed. The tabloids even said that they had hooked up but Egerton immediately cleared he air and made it known that she was even trying to set Barnes up with a friend of hers.
Felicity Jones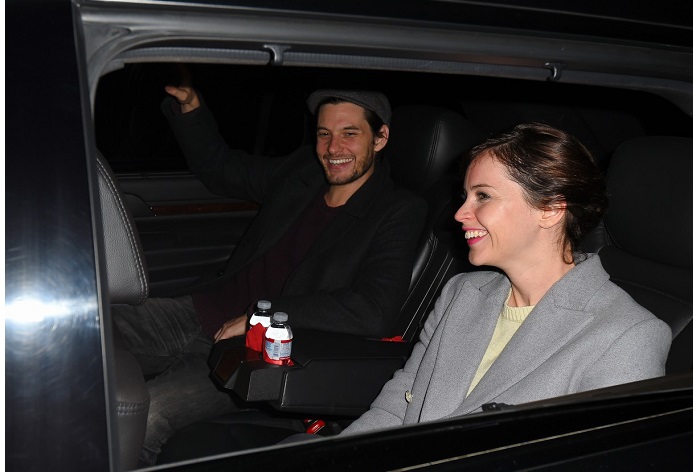 By October 2014, Ben Barnes was said to be dating Felicity Jones. Jones is also a British thespian that is famous for movies such as Like Crazy and The Theory of Everything. The rumors about Barnes and Jones started after they took photos together at that year's edition of the BAFTA Awards. A few weeks later, they shared a car at an airport in Los Angeles. The whole thing was later clarified and it was shown that Jones and Barnes were not dating but rather friends.
Julianne Hough
Between 2020 and 2021, the American actress, dancer, and singer Julianne Hough was romantically linked to Ben Barnes. Hough at that time was married to Brooks Laich, a professional ice hockey player but they had marital troubles and separated. She was then spotted with Ben Barnes in April 2020 and January 2021 taking a walk and getting ice cream respectively.
A source tried to create the impression that something was going on between them but another clarified that they had been friends for eight years and nothing more. Barnes and Hough were also spotted strolling through Soho in August 2022. Something may have gone down between them but they have never revealed it and it is likely to be over by now.