Jay Z has cheated on Beyonce in the past. He never revealed the name of the lady involved, but she is now known as "Becky with the good hair," thanks to lyrics from a Beyonce song about the whole scandal.
The rapper's extra-marital affair affected the couple's relationship negatively, and at a point, rumors were rife that they were on the verge of a divorce. They, however, clung to the love they had for one another, and this gave them the impetus to confront their problems heads on. They remain together to date and continue to hold sway as a power couple.
Did Jay Z Cheat on Beyonce?
Jay Z cheated on Beyonce sometime in the early 2010s. She later got to know about it, and the whole thing nearly upended their marriage. The couple was dogged by rumors for some months, and by May 2014, the bubble burst.
Beyonce's beloved sister, Solange, was filmed in an elevator punching and kicking Jay Z while the singer stood off at a corner. She and a bodyguard later intervened and stopped the altercation.
When the clip found its way to the public domain, many started wondering why Solange would attack the brother-in-law that she is chummy with. The obvious answer was that the rapper had done something to piss off her sister, and many concluded that Jay Z must have cheated on Beyonce.
The family never addressed the elevator scandal save for a short statement where they made it clear that they were trying to move past it.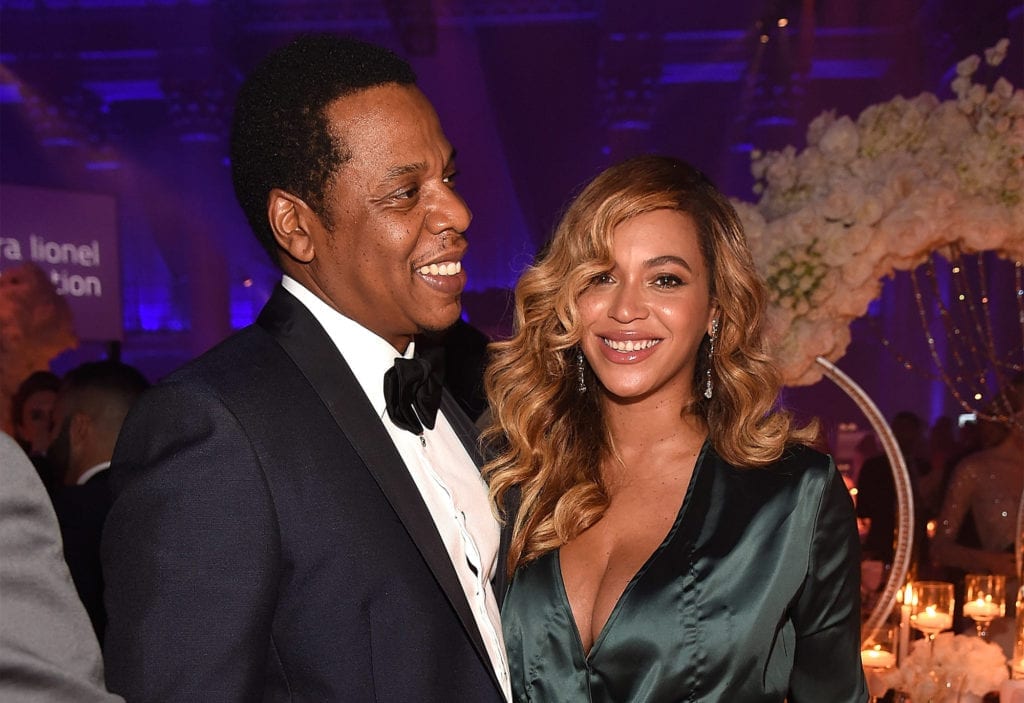 Beyonce Addressed Jay Z's Infidelity Through Music
In the aftermath of the elevator fight, neither Jay Z nor Beyonce expressly spoke about the infidelity that threatened their marriage. They, however, later did so through their music.
In 2016, when Beyonce dropped her visual album titled Lemonade, it became clear that Jay Z had cheated on her.
In one of the songs titled Hold Up, she implored her man to imagine a world where he never rose to fame, accumulated money, or had the baddest woman in the game in his sheets. In another song, Don't Hurt Yourself, she sang even more poignant lyrics, including
Beautiful Man, I know you are lying.
This is your final warning
You know I give you life
If you try this shit again
You gon' lose your wife
In yet another track titled Sorry, Beyonce apparently rejects the apologies of a cheating lover, saying:
Now you want to say you're sorry
Now you want to call me crying
Looking at my watch, he shoulda been home
Today I regret the night I put that ring on
He always got them fucking excuses
I pray to the Lord you reveal what his truth is
I left a note in the hallway
By the time you read it, I'll be far away
I'm far away
Me and my baby, we gon' be alright
We gon' live a good life
From the above lyrics, it is obvious that Jay Z cheated on Beyonce at some point in the early 2010s, but he only admitted it publicly in 2017. First came his album 4:44, where the rapper did some soul-baring of his own. In the title track, he rapped,
Look, I apologize/often womanize,
Took for my child to be born to see through a woman's eyes
If my children knew/ I don't even know what I would do
You did what with whom
What good is a menage a trois when you have a soul mate
By November 2017, Jay Z did a wide-ranging interview with the New York Times, and he admitted in the course of the interview that he had cheated on Beyonce. According to him, some of the issues from his childhood caused him to build up walls.
This led to him shutting down when he should have been opening up and his subsequent infidelity. The rapper revealed that seeing the pain that "you caused on someone's face is the hardest thing to deal with".
How Many Times Has Jay Z Cheated On Beyonce?
It is believed that Jay Z has cheated on Beyonce multiple times. This is a result of the lyrics of his lead song off the album 4:44. His words, for instance, often womanize, do not suggest that his stepping out on his wife was a one-time thing that never happened again. It suggests that it may have happened on more than one occasion.
Meanwhile, the scandal that spanned from 2014 to 2017 is not the first time that Jay Z is accused of cheating on Beyonce. Back in 2005, the couple also broke up, and infidelity was fingered as part of the reason. They, however, surmounted their issues and got back together in 2006.
Who Did Jay Z Cheat On Beyonce With?
The identity of the woman that Jay Z cheated on Beyonce with is a well-guarded secret that may never be disclosed. In addressing the infidelity that nearly destroyed his marriage, Jay Z has never revealed the name of the ladies that he was involved with, and neither has Beyonce.
Even the tabloids, bloggers, and other media outlets who go to great lengths to unearth such information have not had any success, and as such, what we have to go on are rumors and speculations.
In her song, Sorry, Beyonce sang; They sneaking out the back door/He only want me when I'm not there/ He better call Becky with the good hair.
It was believed by many that Becky with the good hair referred to the person that Jay Z cheated on Beyonce with, and so many tried to figure out the woman that is the said Becky.
Did Jay Z Cheat On Beyonce With Rita Ora?
One person that was touted to be Becky with the good hair is British singer Rita Ora who is signed to Jay Z's record label. After the Lemonade album had been released in 2016, she shared a picture of herself wearing a necklace with a J and a bra with lemons on it. Many took this to mean that she was referring to Beyonce's album.
Rita Ora, however, denied having anything to do with Jay Z and stated that the whole thing was a coincidence. She also tweeted that she had nothing but the ultimate respect for Beyonce and urged fans to focus on enjoying her music.
Did Jay Z Cheat On Beyonce With Rachel Roy?
One woman that is heavily suspected to be Becky with the good hair is Rachel Roy, a fashion designer. Roy is an American stylist and fashion designer of Dutch and Indian origins. She has her own clothing line as well as a jewelry line, and her clientele includes the likes of Michelle Obama and Penelope Cruz.
Rachel Roy is the ex-wife of one of Jay Z's former business partners, Damon Dash, and as such, they are long-time acquaintances. In fact, it was while interning at a fashion company co-owned by the two that she met them. She later married and divorced Dash while she and Jay Z remained friends.
Back in 2014, a report claimed that it was Roy's close friendship with Jay Z that sparked the elevator attack from Solange. The report had it that Solange had earlier yelled at Roy at a Met Gala afterparty before her elevator altercation with Jay Z occurred. When Beyonce dropped Lemonade in 2016, many of her fans fingered Roy as a possible Becky with the good hair.
Roy herself further aggravated the whole situation when she took to her Instagram to post; "Good hair don't care, but we will take good lighting, for selfies, or self truths, always. live in the light #nodramaqueens."
Many of Beyonce's fans attacked her online, and she was forced to set her social media accounts to private. She was also forced to cancel a scheduled public appearance. She maintained a low profile and was able to ride out the storm.
Jay Z and Rihanna were Said to Have Dated Back in the Day
Recall that Jay Z and Beyonce broke up in 2005 before getting back in 2006. Well, rumors have it that the reason for the break up was that Jay Z cheated on Beyonce with his then-upcoming protégé, Rihanna. The Barbadian singer was at that time starting out in her career and was signed to Jay Z's record label. They also collaborated on the monster hit single, Umbrella.
It is also believed that there was something between them. These rumors persisted for years, but in 2020, Rihanna's former publicist Jonathan Hay laid them to rest. He confirmed that he made the whole story up and that it was a PR stunt he pulled so as to help push Rihanna's music into the market.
Liv has Claimed that Jay Z Wanted To Ask Her Out
Liv is an American model and indie rapper with several tracks to her name. She was alleged to be Jay Z's mistress in 2014, but it later emerged that nothing romantic transpired between them. Liv has, however, claimed that Jay Z made a pass at her, but she turned him down because she wasn't going to disrespect Beyonce in that manner.
She even released a song in August 2014 titled Sorry, Mrs. Carter, where she sang about the whole thing saying;
"I was gonna respect you, But since you crossed over into my lane, it's time to check you, Your man? He likes all natural, flawless model chicks like me."
"Me and Jay never screwed…we connected on some hip hop sh-t, he could be himself with me any day that sh-t…We were attracted like magnets, us crossing paths was no accident…When I stepped out, I took a piece of his heart."
The track generated a buzz amongst music fans, but critics dismissed it as clout chasing.
Liv later revealed that she first met Jay Z on the set of a Budweiser commercial shoot in early 2008. They had a wonderful discussion, and Jay-Z reportedly sent a bodyguard to get her phone number which she refused to give him.
According to her, they met up in Miami a few months later and finally exchanged numbers but did not connect. Liv later apologized to Beyonce. She made it clear that she wasn't insinuating that she had anything to do with Jay Z but pointed out that she had the opportunity to compromise but did not take it.
How Long Have Jay Z and Beyonce Been Married?
Beyonce and Jay Z have been married for 15 years now, but their romance is actually about 23 years old. The couple first met each other when Beyonce was 18 years old, which was in 1999/2000. They became friends and kept in touch via the phone for the next year before they started dating.
The couple were together for about seven years before they got engaged on the 4th of December 2007. They later wed on the 4th of April 2008 in a private ceremony held in Jay Z's New York apartment.
The couple has collaborated on multiple tracks over the years, such as 03 Bonnie and Clyde, Drunk in Love, Crazy in Love, Upgrade You, Hollywood, and Déjà vu. The duo has also toured together, including 2016's On The Run Tour, which grossed more than $100 million.
The music power couple have also welcomed three children together, namely Blue Ivy (born in 2012) and twins Rumi and Sir (born in 2017). They have definitely enjoyed numerous highs and lows, but they remain strong together. According to Jay Z, they worked hard to salvage their union, often using music as therapy. They choose to fight for their love and their family and was able to give their kids an outcome that is different.
Are Jay Z and Beyonce Getting Divorced?
Jay Z and Beyonce are not getting a divorce. However, if the media reports are credible, the couple nearly split when Jay Z cheated on Beyonce. The cheating allegation surfaced in 2014, and divorce rumors were quite rife between the two as the media and the public scrutinized their every word, action, and gesture.
On the 19th of July 2014, Page Six reported that the couple had hired marriage counselors to fix their marriage but were on the verge of a divorce. By the 26th of July 2014, the same tabloid reported that their marriage was crumbling but that the couple was trying to save face as they were entertainers and business persons first before anything else.
The New York Post also reported that Beyonce was shopping for another apartment while Page Six had it that she and Jay Z were spending time apart. The couple never addressed all the rumors directly. They were, at that time, embarked on their joint global tour, and they put up a united front as always.
They shared many lovey-dovey moments in front of fans. They also had a wonderful, touching moment with their daughter when Beyonce was awarded the video vanguard award at the 2014 MTV Music Videos Award. Jay Z and Blue Ivy presented the gong to her, and all three shared an enviable moment on stage.
Gradually, the couple was able to ride out the storms that challenged them, and all the divorce talks are now history. They have even gone ahead to expand their family, welcoming twins Rumi and Sir in 2017.