Trey Parker is an American actor, animator, filmmaker, and composer. He does not have a wife currently, but he was previously married to Boogie Tillmon (a retired exotic dancer) from 2014 to 2019, and Emma Sugiyama from 2006 to 2008. Trey and Boogie have a daughter named Betty Boogie Parker, who was born in 2013. 
Trey Parker is best known for creating the beloved animated sitcom South Park alongside his longtime colleague, Matt Stone. As a co-creator of one of the finest animated shows in animation history, it's fair to say he is among the most accomplished animators in the world. Apart from his animation jobs, Parker makes a lot of money from writing, songwriting, singing, producing and directing content, as well as acting.
A music and film enthusiast, Trey developed a penchant in both arts after he began watching the likes of Terry Gilliam and the Monty Python group on television. The celebrated animator has a strong and massive fan base both within and outside the entertainment industry, a clear indication that his content are highly regarded.
Who is Trey Parker?
Trey Parker is a native of Conifer, Colorado, in the United States of America. He was born on 19th October 1969 to Sharon Parker, an insurance saleswoman, and Randolph Parker, a geologist. The animator's birth name is Randolph Severn Parker III and the name of his older sister is Shelly Parker.
Trey completed his high school studies in 1988 and later enrolled in Berklee College of Music, where he spent just a semester. He was subsequently admitted into the University of Colorado at Boulder from where he obtained a Bachelors's degree upon graduation.
Since the multi-hyphenate got certified, he has worked on numerous projects with his longtime partner Matt Stone, whom he met during a film class at the University of Colorado.
At that time, Stone was also a big fan of the Monty Python group and so, it took him little or nothing to bond with Parker and subsequently create fantastic projects with him. Job Application, First Date, Man on Mars, and Orgazmo, are among the numerous projects they have jointly worked on.
Parker has a strong interest in musical theatre and it all began when he was a teenager. He was among the chorus members in the Flower Drum Song and The Best Little Whorehouse in Texas, a role he played for the first time at the age of 14.
He later joined the Evergreen band and also featured in his school choir as its counsel and piano player. So far, Trey has co-written and composed a slew of songs with notable artists like Pharrell Williams, Isaac Hayes, Mary Kay Bergman, and his friend Matt Stone.
Is Trey Parker Married?
Trey Parker, as at the time of writing this piece, is single and possibly searching for another woman to settle down with as his third wife. Until 2019, the animator was married to a retired exotic dancer/sensational stripper called Boogie Tillmon.
Although there is no information about how and when they met, many, however, believe that the couple got connected while Boogie was still a dancer. The pair started dating shortly after Parker abandoned his first marriage to Japanese social sensation Emma Sugiyama, to whom he was briefly married from 2006 to 2008. The two didn't give birth to any child while their union lasted.
Trey and Boogie welcomed their first offspring in 2013 and eventually tied the knot the following year. Reports have it that the actor and his ex-wife stopped living together as husband and wife in the month of March 2019 which led to Trey filing for divorce the following month, citing irreconcilable differences.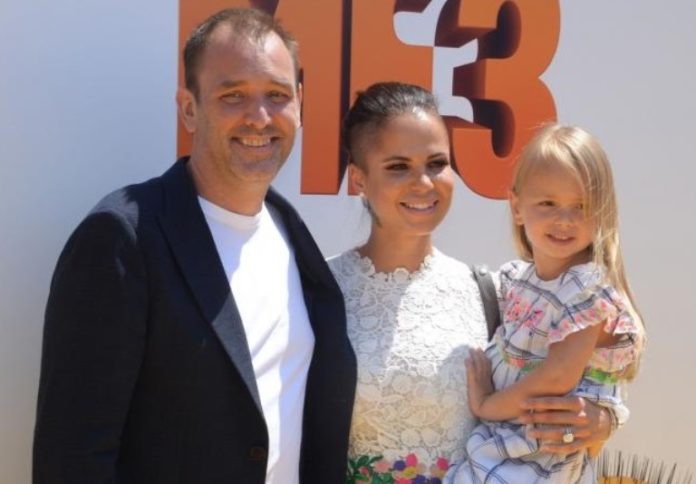 Meet Trey Parker's Daughter Betty Boogie Parker
Trey Parker has a daughter whose name is Betty Boogie Parker. She has appeared in a couple of her father's videos and played several voice roles in his show, South Park. 
Following the dissolution of her parents' marriage, Betty would have to spend the same number of holidays of the years and weeks of the month with each of her parents, as ordered by the court.
The 8-year-old daughter of the former couple is very good at horse riding and has even won one of the horse riding competitions. She also enjoys traveling to various places with her parents.
At a very young age, she has voiced for several episodes of South Park, the animated TV series co-created by her dad with Matt Stone. She has voice-acted PCBabies, Ike Brofflovski, and Priest Call Whistler.
Prior to his failed marriages, Parker briefly dated Toddy Walters in 1993, Liane Adamo from 1988 to 1992, Lisa Faulkner between 2000 and 2001, and lastly Nichole Galicia in 2003.
Apart from Betty, Trey's ex-wife Boogie has a son from a past relationship called Kobe.
How Did Trey Parker Achieve Success With South Park?
Parker's love and interest in animation began after he started watching the comedy group Monty Python in his sixth grade. He started working on how to develop South Park with his friend Matt Stone following the success of their short film The Spirit of Christmas. The duo eventually launched the program on the 13th of August 1997 with the show featuring a very large cast of recurring characters.
According to reports, South Park's first animation was carried out in the summer of 1996 in a small room at Celluloid Studios, located in Denver, Colorado, while its pilot episode cost them $300,000. The show instantly became one of the most popular programs on cable TV after it premiered in 1997, averaging between 3.5 and 5.5 million viewers at the time. Following the success of the first 6 series of the show, Comedy Central requested more episodes and by the end of 1998, the TV channel had already sold over $150 million worth of merchandise for the program.
Over the years, Trey has been the director and writer of the show. So far, 307 episodes of the show have been broadcast while new episodes are scheduled to air through to the year 2022. South Park, to date, holds the record as one of the highest-rated programs on Comedy Central. In addition to boosting the channel's viewership, the show's popularity also brought great success and fame to Trey Parker and his friend.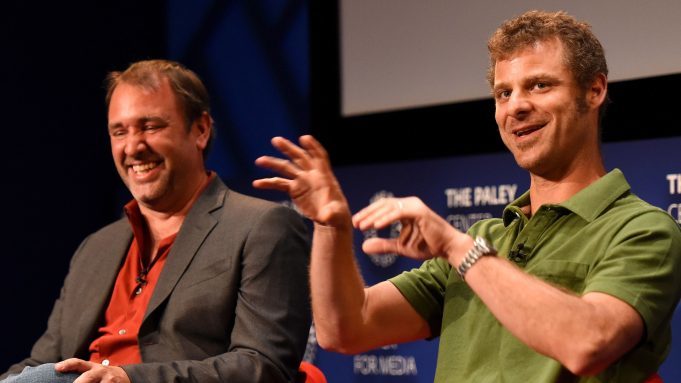 The multi-million dollar enterprise which chronicles the exploits of four boys in Colorado city has won the Primetime Emmy Awards five times, a Peabody Award, as well as a mention in various publications as one of the greatest TV shows. The theatrical film, South Park: Bigger, Longer & Uncut (1999) was adapted from the animated show. The series has since expanded to video games and music through which Trey Parker makes a huge sum of money as well.
Besides the fame, fortune, and five Primetime Emmy Awards which Parker won for his roles in South Park, the accomplished entertainment elite also boasts a Grammy Award and 4 Tony Awards for the 2011 musical comedy/book The Book of Mormon. His net worth is currently estimated at $500 million.