Chris Brown has at least 28 tattoos on different parts of his body and they depict different things and stories, including Jesus, Karrueche Tran Face, and Skulls.
Music and choreography are not the only means through which Chris Brown readily expresses himself. The multiple award-winning singer is also a big fan of tattoos and got his first one at the age of 13. Now in his 30s, Chris has no less than 28 tattoos covering different parts of his body. While some are lovely tributes to the singer's loved ones, others have been quite controversial.
For instance, back in 2012, Brown got a tattoo of a seemingly battered woman on his neck. This did not go down well with several people as they saw it as a reference to his former girlfriend, Rihanna, who he is widely alleged to have physically abused. Fast-forward to 2022, Brown keeps on adding to his collection and does not care about the controversies.
A Comprehensive List of Chris Brown's Tattoos
Chest and Abdomen
Chris Brown has about five tattoos on the upper front part of his body as listed below.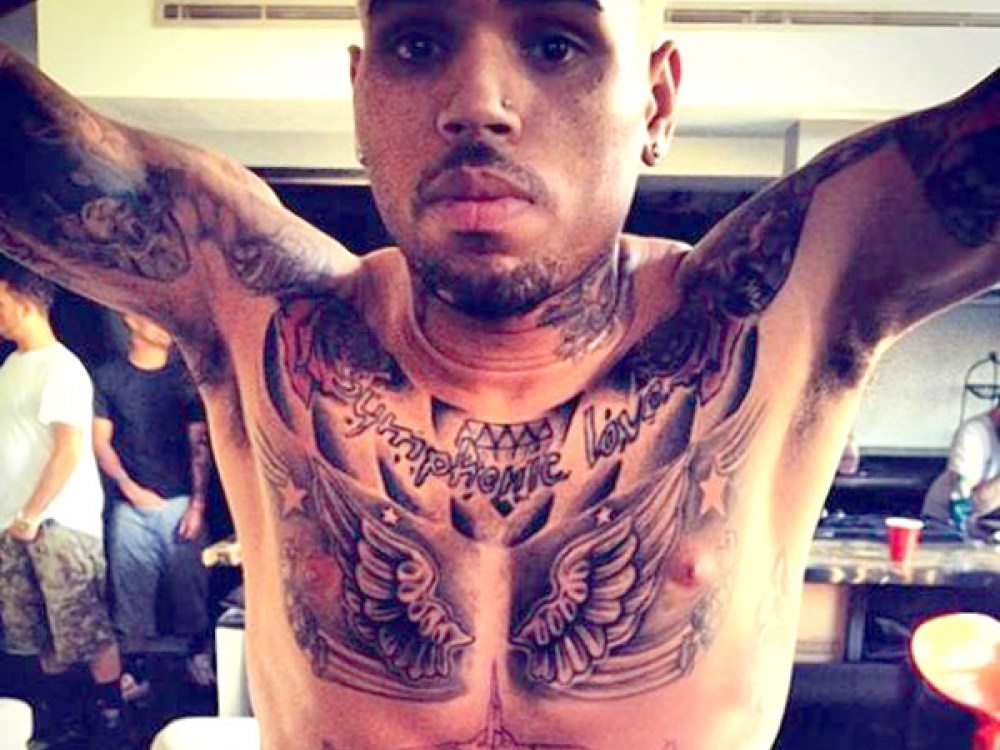 1. Angel Wings – The most outstanding tattoo on Chris Brown's chest is the wings tattoo that he got in 2010. The wings represent his religious beliefs. The singer had previously talked about experiencing the Holy Ghost while performing. He also tweeted his thanks to God after being released from jail in 2014.
2. Symphonic Love – Brown's love and passion for music are shown in the quote "symphonic love" that cuts across his chest accompanied by the two roses and wings at the ends of the words.
3. F16 Fighter Jet – Right under the angel wings is a tattoo of an F16 fighter jet which was crafted by artist John Petro. Brown revealed the tattoo on Instagram accompanied by the caption- "fly" which could have described the emotion that inspired the tattoo.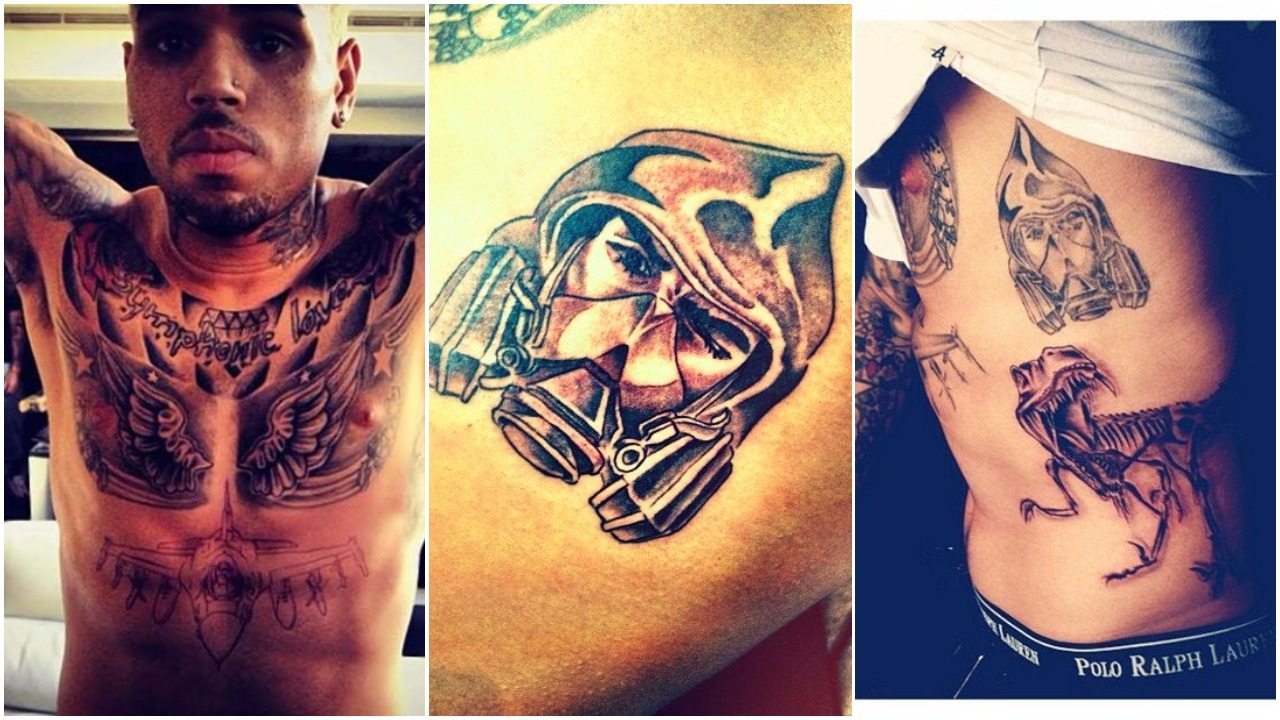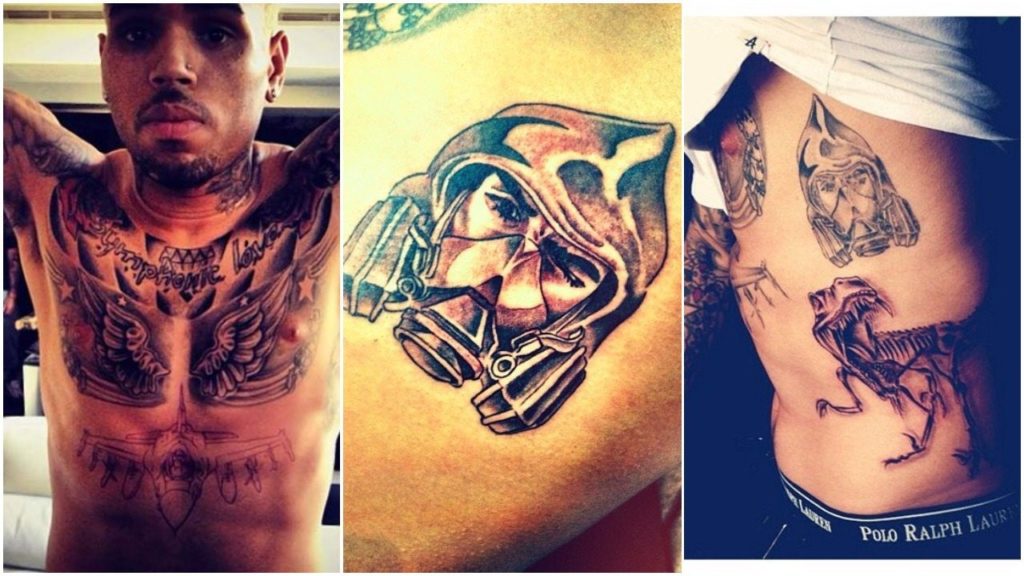 4. The Bandit – Right under Chris Brown's armpit is a picture of himself wearing a respiratory mask and a hood. He revealed the tattoo in July 2012 via Twitter with the caption – "The Bandit". It was done by tattoo artist, Peter Koskela.
5. T-Rex – On July 17, 2013, Breezy revealed a new giant dinosaur skeleton tattoo just below his left rib cage. The dinosaur is believed to be the infamous Tyrannosaurus Rex, which prides itself as the king of all dinosaurs.
Head and Neck
Some of the most controversial tattoos that Chris Brown has are located on his neck and head region.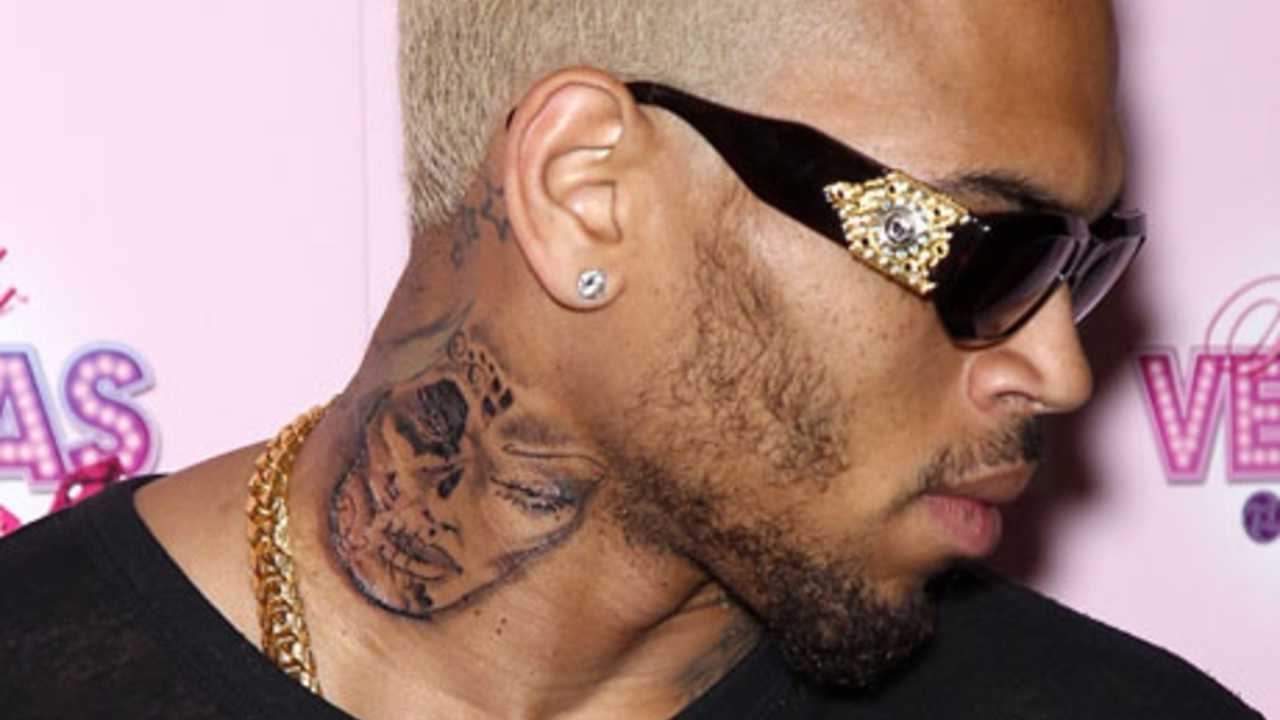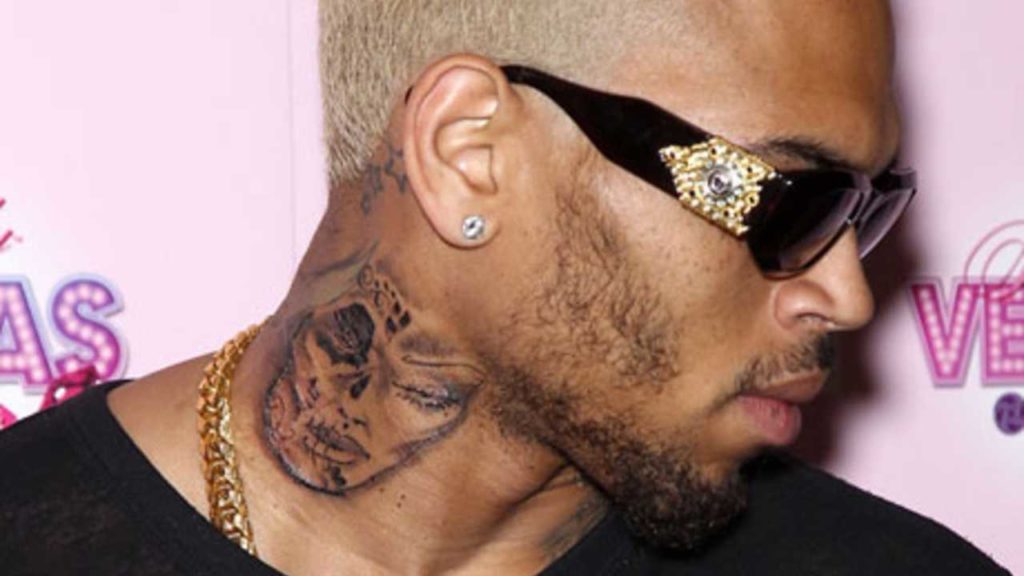 6. Battered Woman Tattoo – Chris Brown stoked a major controversy in 2012 when he unveiled what looked to be the battered face of a lady on his neck. The tattoo came in the wake of allegations that he had been physically violent towards his former girlfriend, Rihanna, and many ripped into him. The singer was forced to go on the defensive, stating that the tattoo had no connection to his issue with Riri but symbolized the popular Mexican holiday known as the day of the dead. Dios de Los Muertos is a holiday that Mexicans use to honor deceased loved ones.
7. Lion Tattoo – Chris got a lion tattoo on his neck in 2012 which he said meant Christ and freedom. Two years later in 2014, he covered it up with a scary-looking face complete with fangs and what appears to be venom coming out of its mouth.
8. Aphrodite – In August 2015, Brown had to shave his head to make way for a new inking that depicts Venus De Milo; the Greek Goddess of Love. This fetched him backlash to which he responded that he will do whatever he wants to do.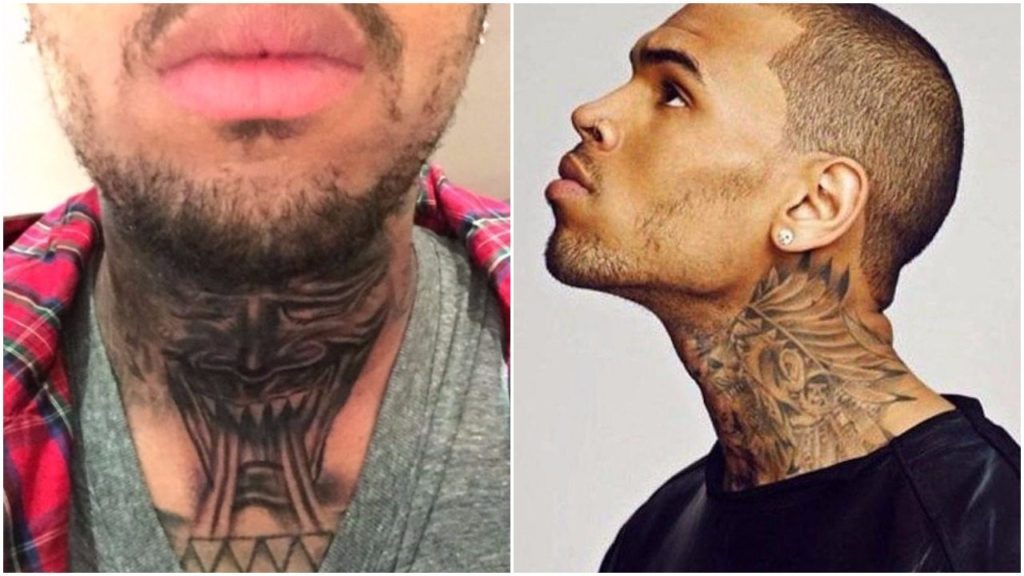 9. The Bull – A few weeks after the love tattoo, Brown revealed yet another one, an angry bull at the center of his skull. He explained that it represents the Taurus that he was and was strategically placed on the left side of his head in the protection of his heart for the Love of his Goddess… In his words, LOYALTY is everything and as a man, we protect that with everything!"
10. Indian Chief – On the left side of Chris Brown's neck is a Native American chief transforming into a wolf, an animal that traditionally symbolizes guardianship, loyalty, and spirit.
11. Nike Sneaker – In February 2020, Chris Brown proudly showed off the Jordan 3 sneaker on his right cheek. Many bashed it as dumb while others had more positive responses.
Arms
Chris Brown's arms feature more tattoos than any other part of his body.
12. Jesus – At the age of 13, Brown got his first-ever tattoo, a picture of Jesus, against his mother's wish. The Jesus tattoo is surrounded by music notes and signifies the recognition that it was God who gave him the gift of singing.
13. FAME – Another very obvious tattoo on Chris Brown's arm is the word, FAME, which has multiple meanings. On one hand, it refers to Forgive All My Enemies, the title of his Grammy-winning 4th album. On the other hand, it also stands for fans are my everything.
14. Joyce – Chris Brown also has the name Joyce tattooed on his sleeves. This is the name of his beloved mom.
15. Karrueche Tran Face – From 2011 to 2012, Brown dated model Karrueche Tran. He was so in love with her that he had her face tattooed on his arm. He would later break up and reconcile with Rihanna. Of course, Brown couldn't be dating a new lady with his old lady's face tattoo and underwent laser treatment to cover up Tran's face.
16. Henna – While the going was good, Brown and Rihanna got henna-style tattoos on their hands. In most cultures, the henna is linked to deep love and marriage but this turned out to not be the case with these two.


17. Skulls – Brown has two halo-adorned skulls on both of his knuckles. This is a reference to man's mortality.
18. A Hand Holding The Letter ''C'' – This can be spotted on Brown's neck and depicts the fact that he is the architect of his destiny.
19. A Spray Can With a Face – Below the hand holding a "C" is a spray can with a face. It has been said that this is a nod to the singer's love of graffiti.
20. An Anime Warrior – Chris Brown is a big fan of Japanese manga and anime series and has several characters tattooed on different parts of his body. One of them is on his left arm and depicts a warrior wearing a Kitana.
Thighs
21. Astro Boy – One of the most recent of Chris Brown's tattoos is the Astro boy on his thigh which he unveiled in June 2021. This is equally a nod to the singer's love for Japanese manga and anime series and was done by one of his regular tattoo artists – Ganga.
Legs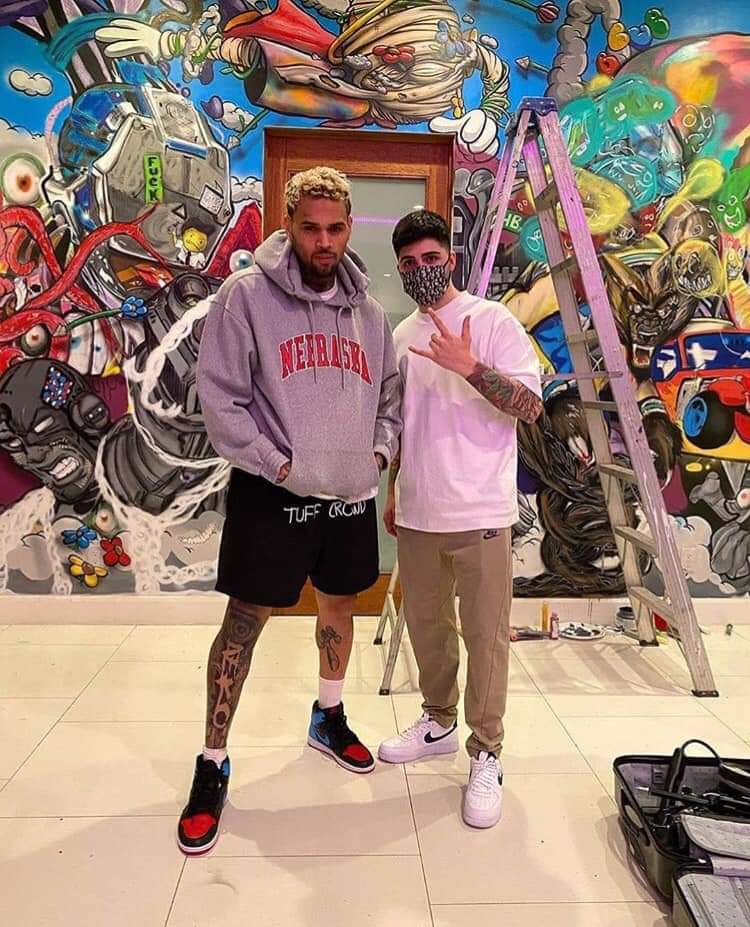 22. Aeko and Royalty – The most important things in Chris Brown's life are not his music or money. Rather, it is his kids and in March 2021, he had their names, daughter – Royalty, and son – Aeko, tattooed prominently on both of his legs. The work was also done by Ganga.
23. Astro Boy – Need more proof that Brown is crazy about manga and anime? Well, in 2016, he got the character's signature face on the back of one of his calves.
Back Tattoos
Chris Brown's back is one of the least-inked parts of his body but we bet it won't stay that way for long seeing the Beautiful People crooner is running out of skin.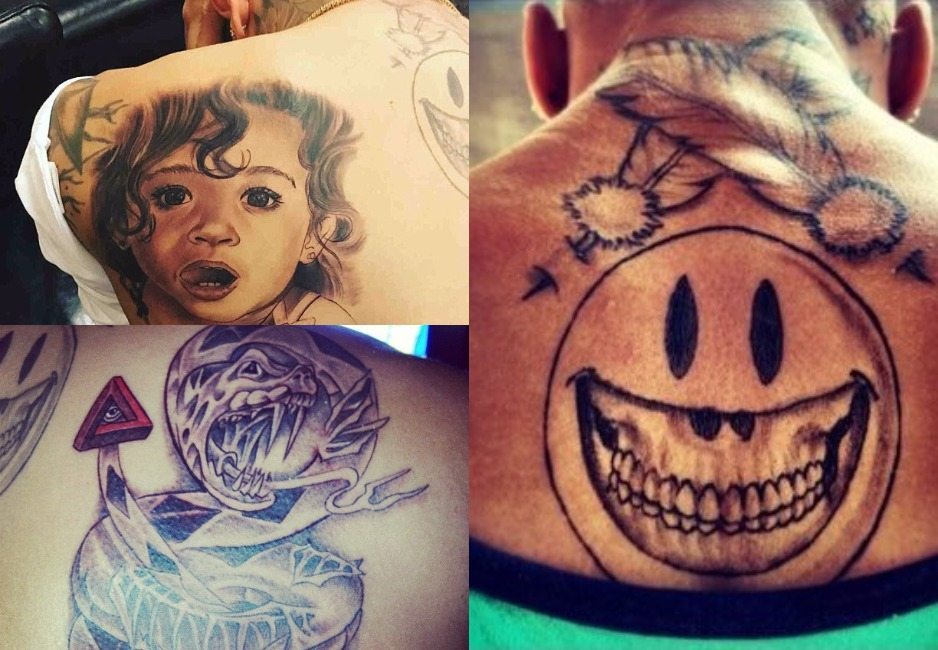 24. Smiley Face – Brown got his first back tattoo in 2011. It was a smiley face with an oversize grin. Fans have related the tattoo to his anger problems which became evident in his 2009 relationship saga with Rihanna. Breezy has said nothing about this one.
25. Crossed Feather – Brown has a cross feather tattoo right above the wicked grin smiley face. It appears to be the reverse of the danger sign which features crossed bones below the skull face. It is perhaps the singer's own version of the popular cautionary sign.
26. Snake – The most controversial of Breezy's back tatt is the giant snake. The snake is said to represent his birth year of 1989 which according to the Chinese Zodiac is The Year of the Snake.
27. The Eye of Providence – As if the fierce-looking snake wasn't controversial enough, Breezy added the triangle with the All-Seeing Eye to the tail. This is a symbol that conspiracy theorists believe represents the Illuminati, a secret cult Brown is alleged to belong.
28. Royalty Portrait – How do you show your two-year-old daughter that you love her? Well, if you are Chris Brown, you tattoo her face on your body. The singer got the tattoo inked to mark the 2-year-old birthday of his first child.