Beauty with brains, Cleo Rose Elliott has been making the rounds both as a celebrity kid and also a multi-talented American singer and model. She is a trained classical opera singer and one of the top talents coming from Malibu.
She released her first solo CD titled No More Lies in 2008 and she is inspired by band groups such as Guns N'Roses, Pink Floyd among others.
Let's take a sneak peek at Cleo Rose Elliott in these facts below. Don't go anywhere
Who is Cleo Rose Elliott?
The gorgeous Cleo is a multi-talented American model, musician, and singer. She is the granddaughter of Katharine W. Hall and Dudley Ross. Her parents Katharine Ross and Sam Elliott are both famous stars in the American entertainment industry. Her parents encouraged her to learn how to be a musician and while she was still very little, she started by playing the flute as well as the guitar and also taught herself how to sing.
6 Quick Facts about the Musician
1. She was Born in Malibu, California
The charming model Cleo Rose Elliott was born in Malibu, California in the United States on September 17, 1984. Her parents were notable Hollywood celebrities Katharine Ross and Sam Elliott who met themselves on the set of the movie titled The Legacy. The couple got married in 1984 and shortly afterward, Cleo was born.
While growing up, Cleo enjoyed every bit of luxury due to her father's huge wealth. She didn't choose the same career path as her parents but was able to develop an interest in music at a very tender age. Cleo started by learning how to play the flute and the guitar and later on, she taught herself how to sing. She got all the support she could get at the time from her parents as well as her grandparents. Cleo is such a talented singer with a wonderful voice and she enjoys live performance more than studio recording.
2. She Graduated from Joanne Barron/D.W. Brown Acting Studio
Cleo Rose Elliott studied singing from 2002 to 2006 at Joanne Barron/D.W. Brown Acting Studio. During her study, she focused more on Italian opera and she soon after kicked off her modelling career. She appeared in the live hair styling show in 2003 titled Sexyhair. After her graduation, Cleo also received training on how to sing classical opera from Charity Chapman.
Read Also: Cleo Cole Elliott – Age, Everything You Need To Know About The Musician
3. She is the only Child of Hollywood Celebrities Sam Elliott and Katharine Ross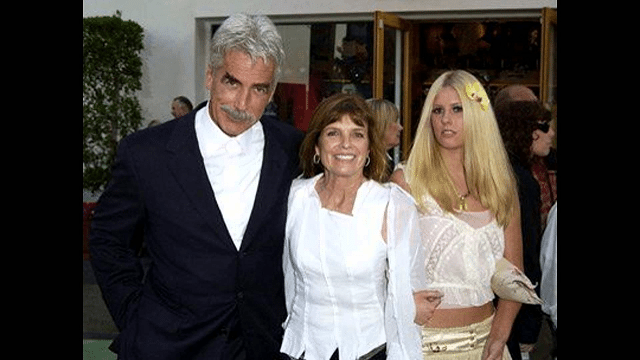 Cleo's parents are Hollywood icons, not because they are famous but for their long-lasting union. Celebrity marriages are often characterized by their short-term nature and easy breakups, however, Sam and Katharine's marriage has stood the test of time. The power couple has been together for more than thirty-three years and counting.
However, it's the fifth marriage for Katharine while it was the first for Sam but it seems they are perfectly meant for each other. Their daughter Cleo is the only child between them. The couple has always shared their time between their career and family, striking a balance between their professional and personal lives and according to Sam, that is the secret of their longevity.
4. She Appeared with her Parents on Malibu Times Magazine
Being a model, Cleo has appeared in so many fashion magazines such as Malibu Time Magazine where she was featured alongside her family on the July 29, 2013, Edition. Cleo also appeared at the red carpet during the creative arts Emmy Awards held in the same year.
5. She is a Member of ASCAP
Cleo is a member of ASCAP (The American Society of Composers, Authors, and Publishers). After she joined the community, she was introduced by her tutor Chapman to Bobby Harby who is a producer and also an ASCAP member. At the time, she had written only one song for her album and after meeting Bobby, they finished the studio works and later released the album in 2008. Following their successful collaboration, Cleo was impressed with what she got and with the support of her family, she has embarked on several music projects till date.
6. She is Violent with her Mother Katharine
Cleo Rose Elliott has always been in a controversial situation with her mother which led to her mother filing for a protective order against her daughter in 2011. Katharine has always said that Cleo abuses her emotionally and verbally but little did she know that Cleo would grow to become even more violent towards her.
In March 2011, it was alleged that Cleo went out of control and told her mom she would kill her. Afterwards, she followed her mother from one end of the house to the other and when Katharine wanted to call the police for help, Cleo unexpectedly cut the telephone wire with scissors and also threatened to poke her eyes out. Later on, Dailymail reported that Katharine filed for and was granted a protective order restraining Cleo from coming close to her mother. She was asked by the court to stay 100 yards away from her mother, her car, and her workplace.
In addition, Katharine was accompanied by a police officer to pick up her things from her house. Till date, nothing has been disclosed by any member of the family with regards to the cause of such action between Cleo and her mother. They do enjoy keeping their family issues under the shades.