Cleo Rose Elliott is an American singer and model best known as the daughter of actors Sam Elliott and Katharine Ross.
When you are born to Hollywood bigwigs, having the media light on you is definitely inevitable and that's the case for Cleo Rose Elliott. Though she attained celebrity status as the daughter of renowned actor Sam Elliott and actress Katharine Ross, Cleo Rose Elliott has also pursued her own interests as a musician.
A trained classical opera singer, Cleo released her first solo CD titled No More Lies in 2008. She is one of those celebrity kids who do not really care about capitalizing on their parent's fame. Her first and only music album released in 2008 did not record much success; thus her music career did not kick-off.
Cleo instead made the news for the wrong reasons after it emerged that she physically assaulted her mother. That issue seemed to have been resolved. However, these days, Cleo seems fine living her life away from the media eye.
She operates no social media accounts and suspicions are that she has decided not to continue with her music career. She did reveal in the past that her musical influences include the likes of Guns N'Roses, Jimi Hendrix, Fiona Apple, Sheryl Crow, and Pink Floyd.
Profile Summary
Full Name: Cleo Rose Elliott
Date of Birth: September 17, 1984
Height: 1.72 m
Nationality: American
Place of Birth: Malibu, California, United States of America
Father: Sam Elliott
Mother: Katharine Juliet Ross
Grandparents: Henry Nelson Elliott, Dudley Ross, Glynn Mamie Sparks, Katharine W. Hall
Occupation: Musician and Model
Education: Malibu High, Colin McEwan High School, Joanne Barron/D.W. Brown Acting Studio
Cleo Rose Elliott Was Born And Raised In Malibu
The gorgeous Cleo is an American model, musician, and singer from a popular Hollywood family. She is the granddaughter of Katharine W. Hall and Dudley Ross. Her parents Katharine Ross and Sam Elliott, are both famous stars in the American entertainment industry. The famous couple had her four months after their marriage on September 17, 1984, in Malibu, California, in the United States. She has since remained their only child.
While growing up, Cleo enjoyed every bit of luxury due to her father's huge wealth; however, her parents shielded her from the media light as much as possible.
Cleo's Parents Are Hollywood Icons
Cleo's parents are Hollywood icons both for their individual achievements in their entertainment careers as well as their long-standing union. Celebrity marriages are often characterized by their short-term nature and easy breakups. However, Sam and Katharine's marriage has stood the test of time. The power couple has been together for more than thirty-three years and counting.
They met each other for the first time on the set of the Butch Cassidy and the Sundance Kid released in 1969. However, they did not share the screen as Elliot had only a minor role. The two did not meet each other again until years later, when they yet again brought together by the 1978 horror film, The Legacy. They soon struck a connection, began dating, and in May 1984, got married.
Considering the longevity of their union, one would guess that it is the first marriage for each of Cleo's parents, but that is not the case, while it was the first marriage for her dad, her mom had been previously married to four different men, making her marriage to Cleo's father her fifth try at marriage. The men to whom Cleo's mother was previously married include actor Joel Fabiani, John Marion, cinematographer, Conrad Hall, and Gaetano Lisi. Her previous marriages did not produce any kids making Cleo the only child of Katherine Ross.
The couple has always shared their time between their career and family, striking a balance, and according to Sam, that is the secret of their longevity.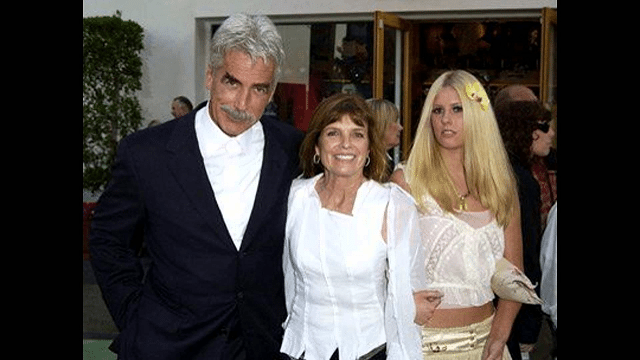 Known for his signature moustache, Cleo Rose Elliot's father rose to fame in 1976 in the drama, Lifeguard having started his acting career in 1966 and taking up minor and guest roles. He would go on to solidify his fame with movies such as The Quick and the Dead (1987) and Conagher (1991), Buffalo Girls (1995).
He remained visible in the 2000s with appearances in Hulk (2003), and Ghost Rider (2007). Sam Elliot has continued to maintain an active career in recent years. He had a role in Netflix's series The Ranch, which premiered in 2016. He had a role in the hit musical drama A Star Is Born, released in 2018; for his role, he earned several nominations and won a National Board of Review Award.
Cleo Rose Elliot's mother is equally successful, beginning her entertainment career in 1962. She rose to fame thanks to her work in the 1967 comedy-drama The Graduate, which earned her a bevvy of prestigious nominations, including an Academy Award nomination for Best Supporting Actress, a BAFTA nomination, and a Golden Globe Award win for New Star of the Year.
Cleo's mom fudged ahead in coming years and had her most successful time in the 1970s. Some of her acclaimed works at the time include  Butch Cassidy and the Sundance Kid (1969) and Tell Them Willie Boy Is Here (1969), which won her the BAFTA Award for Best Actress, The Stepford Wives (1975), Voyage of the Damned (1976), The Swarm (1976), The Legacy (1978), and The Final Countdown (1980).
Cleo's mother became less active in the 90s but slowly made a return to the industry. With 5 major award wins, Cleo's mother is a more decorated actor than her father, Sam.
Cleo Elliot Ross Had a Strained Relationship with her Mother
The family life of celebrities often look perfect looking from the outside, but the truth is that just like every other normal human being, they go through life's struggles. Everything seemed fine in Cleo's family until 2011, when reports surfaced that her mother Katherine had filed a restraining daughter against her.
In the court papers that were obtained, Katherine revealed that her daughter Cleo had repeatedly abused her both emotionally and verbally when she was a little child and had become increasingly violent when she turned 12 years old. Cleo got out of control in 2011 when she reportedly threatened to kill her mother. She had angrily kicked a cupboard door in the kitchen before proceeding to chase her mother round the house.
Petrified by her daughter's actions, Katherine reached out to the phone to call 911, but Cleo used scissors to chop off the telephone wire and threatened to poke her in the eye with the scissors. She would proceed to stab her mom 6 times on her right arm. According to her mother's statement, Cleo stabbed her through her shirt and used a force strong enough to leave marks on her arm that is still visible.
Katherine proceeded to file a protective order on the 8th of March 2011. A hearing was held on the issue on March the 30th in Santa Monica, after which Cleo was ordered to stay 100 yards away from her mother, car, home and workplace and try not to contact her. The court also instructed that police officers needed to be present in a case where Cleo needed to come by the family home at Pacific Coast Highway to pick personal belongings.
Cleo Seemed To Have Mend Fences With Her Family
These days, though the family keep their private affairs under the radar, it seems as if Cleo and her mother Katherine are now in a better relationship. They have been spotted attending public events together. One of the events they were spotted together was the 2017 Sundance Flim Festival's red carpet event for the movie 'The Hero', which featured both her mom Katherine and father, Sam. When an interviewer got the chance to ask Cleo about her parents, she responded that she is very proud of their achievement in the movie industry and that both her parents were very talented actors.
The family of three were also spotted at the premiere of the 2018 movie A Star Is Born. Cleo's father played the role of Bobby Maine, the older half-brother and manager of one half of the film's lead, Jackson "Jack" Maine, played by Bradley Cooper. The film also starred pop music star, Lady Gaga. Sam Elliot told the media that his daughter Cleo was the one who made him know and love Gaga even before he got to book a part in the movie.
A Star is Born would turn out to be a huge success both critically and commercially. It grossed $436.2 million against a budget of $36 million. Cleo's family were spotted together again in the succeeding the 91st Annual Academy Awards. Her father Sam had received his first Academy Award nomination for his role in the film. He was nominated in the category of Best Supporting Actor. However, he lost the award to Mahershala Ali for his role in Green Book, which was another equally successful movie of that year.
In the family photo taken by Cleo and her family on the red carpet, a new person was spotted beside her. Findings would later reveal that the new face was soon to be an addition to the family. He was identified as Randy Christopher Bates and was said to have been in a relationship with Cleo for a long time and that they were engaged to be married. Bates shares a common love for music with Cleo. He had been in a band as a teenager before leaving music to pursue his passion for scuba diving. He explores his adventurous side as a professional downhill mountain biker and video maker. He documents his adventures to his over 26k followers on Instagram, a platform where Cleo is inactive.
She Began Her Career As A Model Before Transitioning to Music
Cleo Rose Elliot decided to thread an entertainment path different from that of her parents. She inherited the good vocal ability from her grandmother, who also made her own father Sam join the choir when he was younger to help his vocal abilities. When she began showing a passion for music, her parents gave her their full support. As a kid, she began learning to play the flute and guitar at her school Malibu High and Colin McEwan High School. Cleo also began developing her vocal abilities at an early age. She has revealed that she enjoys live performances more than studio recordings, proof that she is indeed a talented vocalist.
Upon graduation from Colin McEwen High School, she went under the training of Charity Chapman, a celebrated singer-songwriter who gave her classical opera vocal training. She would later become a member of ASCAP (The American Society of Composers, Authors, and Publishers).
Cleo Elliot Rose also studied at Joanne Barron/D.W. Brown Acting Studio from 2002 to 2006. During her stay at the institution, she focused more on Italian opera. Though trained as a musician for most of her early life, Cleo began her professional entertainment career as a model. She began by appearing in fashion magazines such as Malibu Time Magazine; she was featured in the magazine alongside her parents on July 29, 2013. Cleo also appeared on the red carpet during the creative arts Emmy Awards held in the same year. She appeared on the live hairstyling show in 2003 titled Sexyhair.
She gave her music career a go as a member of ASCAP after her tutor Charity Chapman introduced her to Bobby Harby, a producer and an ASCAP member. Cleo, at the time, had written only one song for her album, but after meeting Bobby, they finished the studio works and later released the album, No More Lies in 2008. Following their successful collaboration, Cleo was impressed with what she got, and with the support of her family, she told Malibu Times that she would be embarking on more music projects. She said that her family was very supportive of her and joked that her parents were glad that she chose not to become an actor.
She told Malibu Times while working towards releasing her debut record that though the record had a pop-rock sound, she was more of a heavy hard rock fan. She revealed some of her favourite albums to include Led Zeppelin, The Cars' 'Heartbeat City,' the Allman Brothers' 'Eat a Peach' and some of Madonna's old songs. Cleo wrote all of the songs on her album except one and revealed that the songs were very personal to her. The album is about finding love and losing, but she told the publication that it was not based on her experience with just one person. Since her 2008 debut album, Cleo is yet to release another.
Cleo Rose Elliott's Albums
Profile Summary
First Name:
Cleo
Last Name:
Elliott
Also Known As:

Rose
Sex/Gender:

Female
Profession:

Model, singer, and musician
Famous As:
Sam Elliott and Katharine Ross's Daughter
Colleges/Universities Attended:

Colin McEwen High School
Educational Qualifications:

N/A
Religion:

Christianity
Birthday & Zodiac

Age/Date of Birth:

38 years old (17 September 1984)
Zodiac Sign:
Virgo
Birth Place:

Malibu, California, the USA
Nationality:
American
Ethnicity/Race:

White
Country of Residence:

United States of America (USA)
Physical Attributes

Height:

5 feet, 6 inches (1.72 m)
Weight:

56 kg (121 lbs)
Eye Colour:

Hazel
Hair Color:

Blonde
Other Body Measurements:

N/A
Relationships

Marital Status:

Not Married
Spouse/Partner:

Randy Christopher (Boyfriend)
Family and Relatives

Father:

Sam Elliott
Mother:
Katharine Ross
Children:

N/A
Siblings:
N/A
Other Relatives:

Grandparents: Glynn Mamie Sparks, Dudley Ross, Henry Nelson Elliott, Katharine W. Hall
Net Worth
Estimated Net Worth:

$10 million
Salary:
N/A
Source of Wealth:

Showbiz