Axl Rose who has a net worth of $200 million is best known as a founding member of Guns N' Roses, one of the most successful and iconic rock bands ever in history. He is also known for his amazing voice which has earned him the title of one of the best singers of all time. Similarly, his tendency to recede from the spotlight every now and again, usually for years at a time always gets his fans agog whenever he is in the news.
Being one of the most recognized artists in the world with a legacy that will stand the test of time, fans have often wondered what is he is up to now. Here's everything you need to know about the legendary musician and his current whereabouts.
Who Is Axl Rose?
Before he became Axl Rose, he was known as William 'Bill' Bruce Bailey; surprisingly, that's not his birth name. He was born on February 6, 1962, as William Bruce Rose Jr., to a young couple – sixteen-year-old Sharon Elizabeth Lintner and twenty-year-old William Bruce Rose. However, his parents separated when he was two years old. When his mother later got married to Stephen L. Bailey, she changed her son's name, with the young Axl Rose taking up his stepfather's name.
Eventually, the young musician moved to Los Angeles in the early '80s to start his career. With an interest in music and the limited experience he gathered as a member of his high school choir, he became actively involved with different rock bands, notably L.A Guns and Hollywood Rose. A few years later (1985), he co-founded Guns 'N' Roses with an original lineup that included members of the aforementioned bands.
How Did Axl Rose Build His Fame And Fortune?
Axl Rose's wealth and worldwide popularity all come from the success of his musical career as the frontman for Guns 'N' Roses. The band achieved mainstream success with their debut album, which in turn saw Axl Rose's popularity grow both nationally and internationally
Appetite for Destruction, the band's debut album was released in 1987 and sold well over 30 million copies worldwide with over 18 million sold in the United States alone, setting a record (that remains unbeaten) of Best-selling debut album ever in the country. It also peaked at #1 on the Billboard 200 at the time.
Two albums, Use Your Illusion I and II, followed in 1991 and were also met with great success, though not as much as their predecessor but they both peaked at #1 and #2 and they did a combined number of over 35 million sold copies. Unsurprisingly, the impressive album sales translated to increased income for all Guns 'N' Roses members, especially its frontman, Axl.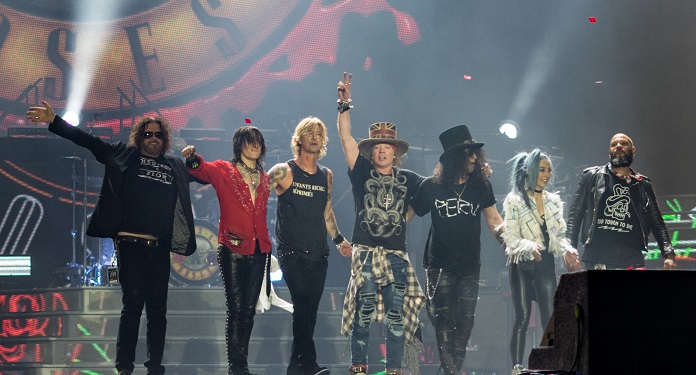 After the twin albums were released, the band embarked on one of the longest concert tours in the history of rock, the Use Your Illusion Tour which lasted for two and a half years, during which they visited and performed in 27 different countries.
Following this, Rose disappeared from the public light for years and Guns 'N' Roses disbanded until 2001 when Rose reemerged and revived the band with a new lineup; after which, they embarked on what was supposed to be a ten-year-long world tour to promote their upcoming album Chinese Democracy. Unfortunately, Guns N' Roses never fully recovered despite Rose's best efforts; the album was eventually released in 2008 but it was met with very limited success.
However, with the success of their Use Your Illusion Tour and their massively successful albums – Appetite For Destruction, Use Your Illusion I and II – Axl Rose was able to acquire the kind of fame and fortune that many musicians only dream of.
Axl Rose Has a Net Worth of $200 Million
In addition to the album sales and the high-grossing concerts, the American Rock star has headlined for Guns N' Roses throughout his extensive career span, Rose has also made some guest appearances on other people's albums over the years.
Axl Rose has an impressive net worth estimated at $200 million. Considering the musician is still active in the entertainment industry and still going on tours, that amount is expected to increase in the future
Where Is He Now And What Is He Up To?
Axl Rose is still performing on different stages around the world. He, together with his band Guns N' Roses, was the headliner of one of the biggest music festivals in Mexico, Vive Latino in 2020, just before the Covid-19 pandemic led to the cancellation of thousands of events and live performances.
In his lifetime, Rose has been the subject of many controversies involving his personal relationships as well as professional ones.
The bad blood from some of these controversies is why he refused to attend his induction into the Rock and Roll Hall of Fame as an original member of Guns 'N' Roses in 2012.
In 2016, Rose joined rock band AC/DC as their lead singer; he also reunited with some members of the band's original lineup and went on the highly anticipated Not in This Lifetime…tour.
The tour began on April 1, 2016, and had a June 27, 2020 end date. While the tour was still ongoing, it was already considered the second highest-grossing tour by a group, having generated over $560 million by December 2018.
Axl is very active on Twitter and often posts pictures of his concerts