Nelly is an American Grammy Award-winning rapper, singer, songwriter, actor, and businessman. He is best known for his songs; Dilemma featuring Kelly Rowland and Hot in Herre which were both number-one hits.
He is also a successful entrepreneur, with one of his most successful ventures being the Apple Bottoms fashion brand for women. The brand, which was initially a denim label, has expanded to include other women's and girl's clothing, perfume and accessories due to its success which can be largely attributed to its popularity in the hip-hop community.
Biography
Nelly, whose real name is Cornell Iral Haynes Jnr., was born on November 2, 1974, in Austin Texas. When he was 7, Nelly's parents got divorced due to their financial struggles and he went on to live with his mother, first in St. Louis and then later in University City, Missouri. As the youngest child in the neighborhood where he grew up, Nelly always found himself getting into trouble with older kids. As a result of this, his mother kept moving him around to live with various family members in order to keep him safe.
During this time, Nelly started growing interests in baseball and rap. He once said that he dreamed of being a professional baseball player until his love for music took over. While in High School, Nelly formed his first musical group, St. Lunatics. The group, which comprised of him and his closest friends, enjoyed local popularity with their first single dominating airwaves.
Nelly's Professional Music Career
St. Lunatics' local success propelled Nelly to a solo career and he was almost immediately signed to Universal Music Group.Nelly went on to release his debut album, Country Grammar, in 2000 with the label. The album featured songs like Country Grammar, Ride wit Me, and E.I. It debuted at number 3 on the Billboard 200 chart and peaked at number 1 on the album chart. In 2004, the Recording Industry Association of America certified it nine times platinum.
Following his breakthrough, Nelly went back to work with his group to release their debut album Free City in 2001. After that, in 2002, he released his second solo album, Nellyville. The album hit the Billboard album charts at No. 1 and was nominated for album of the year at the 2003 Grammy Awards. The album was a huge success and was certified six times platinum on June 27, 2003. The single Hot in Herre won the Grammy Award for Best Male Rap Solo Performance in 2003.
Nelly went on to release five other studio albums. In 2004, he released two albums; Sweat (an R&B album) and Suit (a rap album). Suit debuted at No. 1 on the Billboard albums chart, with Sweat debuting at No. 2. Brass Knuckles was released in 2008, 5.0 in 2010 and M.O. in 2013.
Nelly's film debut came in 2001 in the independent film Snipes playing a famous rapper named Prolifik. His big movie role came in the 2005 remake of The Longest Yard starring Adam Sandler and Chris Rock.
Net Worth
Haynes Jnr. has an estimated net worth of $60 million. This came about thanks to his successful music career/album sales and tours. His money also came from endorsement deals with brands like Nike & Reebok as well as with huge corporations like Ford Motors. Nelly's reality television show called Nellyville also guarantees him a good payday.
His entrepreneurship ability is however where his biggest chunk of pie comes from. Nelly owns two clothing lines; Apple Bottoms for women and Vokal for men.
Nelly's Family, Girlfriend, Wife and Baby Momma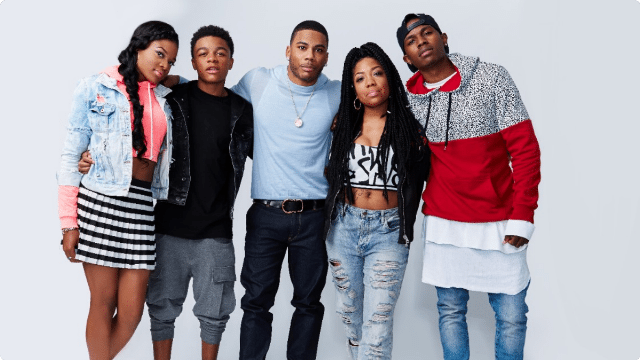 Nelly was born to Cornell Haynes Snr, his father, and Rhonda Mack, his mother. He has two siblings; brother City Spud, a member of the St. Lunatic group, and sister Jackie Donahue, who died in 2005 following a battle with leukemia. Nelly has four children, two are biologically his; Chanelle Haynes and Cornell Haynes III a.k.a Tre. The other two are his niece and nephew, Sydney and Shawn, whom he took in after the death of their mom.
He is currently in a long-term relationship with Shantel Jackson, a famous fashion model who has acted in films and appeared in music videos. She was previously engaged to boxer Floyd Mayweather. Nelly and Shantel have been dating since April 2014.
Nelly had previously dated model Nicole Narain, former Destiny Child Kelly Rowland and most famously, R&B superstar Ashanti.
Read Also: Floyd Mayweather's Girlfriend, Wife, Daughters, Kids, Mother
Interesting Things to Note
Nelly is a vegetarian.
He started the trend of putting on sports jersey's backward and using band-aids on the face.
He founded and runs the non-profit organization 4Sho4Kids Foundation which raises money and awareness for various children's health issues.
Nelly played the Main Event at the 2007 World Series of Poker. He has also played The PokerStars European Poker Tour and PokerStars Caribbean Adventure.
Height and Other Facts
Birth Name: Cornell Iral Haynes Jr.
Birth Date: November 2, 1974
Place Of Birth: Austin, Texas, USA
Height: 5ft 8inches (1.73 m)
Weight: 83kg (185 lbs.)
Occupation: Rapper, Singer, Songwriter