Chris Brown has dated many women since he ventured into the music industry. They include his baby mamas, Nia Guzman/Amey (2013 – 2014), Ammika Harris (2015 – 2020), and Diamond Brown (March 2019- ). Others are Agnez Mo (2017 – 2019), Vanessa Vargas (2016 – 2017), Amy Shehab (2015 – 2015), Blair Pena (2013 – 2015), Karizma Ramir (2013 – 2013), Draya Michele (2011 – 2012), Karrueche Tran (2010 – 2015), Simply Jess (2010 – 2012), and Rihanna (2007 – 2013).
The singer has also been romantically involved with Tinashe (2015), Indya Marie (2015), Rita Ora (2015), Brittany Renner (2015), Briona Mae (2015), Montana Tucker (2016), Krista Santiago (2016), Cydney Christine (2016), Jordyn Woods (2018), Dani Leigh (2020), and Gina Huynh (2020) among many others.
A lot of the controversies revolving around Chris Brown involves his girlfriends and baby mamas. Not long past, Nia Guzman who happens to be his baby mama hit the limelight with unending allegations against the father of her child. Her claims were mostly centered on Chris Brown's incompetence as far as his fatherly duties to their daughter Royalty go. His relationship with his ex-girlfriend Karrueche Tran didn't go without some controversies as well, they broke up publicly in a rather humiliating fashion. As a matter of fact, Tran and Brown were still dating when it emerged that Guzman was pregnant with his child, thus causing the humiliating breakup.
Is Chris Brown In any Relationship at the Moment?
Diamond Brown (March 2019 – ) 
Date of Birth: Undetermined
Age: Undetermined
Occupation: Model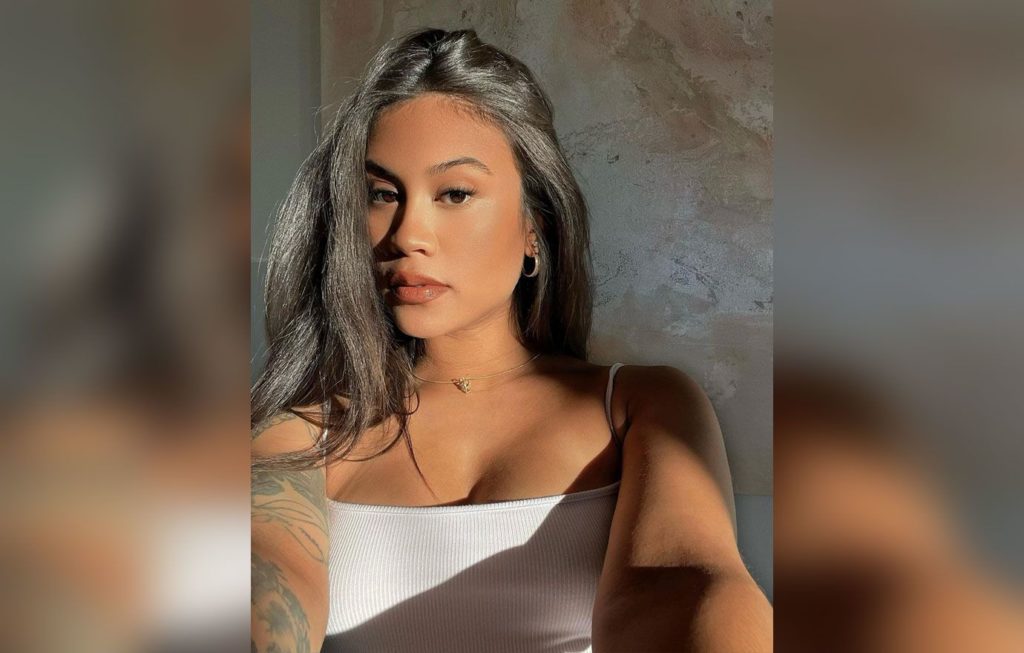 Though unconfirmed, it is believed that Chris Brown is currently dating Diamond Brown. It was initially claimed in some quarters that the American singer-songwriter dated Diamond Brown from March to August 2019.
This was around the same time it emerged that Ammika Harris was pregnant for him. Because of that, one may be tempted to conclude that Diamond had something to do with Chris and Ammika's breakup at some point but nothing of such has been confirmed.
As far as we can tell, it started circulating that Chris and Diamond Brown were an item when the singer started liking the model's pictures on her Instagram. She would later attend Chris Brown's 30th birthday party at Sky High Sports in Woodland Hills. The relationship reportedly came to an end almost as soon as it started, or so people thought until news of Diamond's pregnancy broke in September 2021.
Although fans quickly surmised that Chris was the father of the child, he never confirmed it until April 2022 when the baby girl named Lovely Symphany Brown was already three months old and it turned out that the entertainer had been there all the way, according to a source who spoke to HollywoodLife in April 2022.
The source went on to say that Chris and Diamond have known each other for many years and even confirm that they dated casually for some time. "Chris and Diamond started off as friends, and she and her girlfriends would travel with Chris while he was touring and on the road," the source said.
This paved way for the duo to become closer over time. However, even though Chris has dated Diamond on and off, according to the source, he has no plans of settling with anybody yet.
Who Has The Singer Dated In The Past?
Ammika Harris (July 2015 – July 2020)
Date of Birth: May 16, 1993
Age:  30 Years Old
Occupation: Model and Social Media Influencer
The famous singer and the social media star have been dating on and off since they were first linked in 2015. She is of Black-American, Asian and Cherokee descent and reportedly attended the University of California. Apart from being a model, Harris is an Instagram influencer with over 1.1 million followers on the platform.
It is with Ammika Harris that Chris had his second child, a son named Aeko Catori Brown who was born on the 20th of November 2019. Just as how they met for the first time isn't clear, the reasons behind the breakups they've had isn't known but it has been speculated that it has something to do with Chris Brown's involvement with other women.
Reports had it that the two got back together in 2019 and, that Chris was working towards settling down withthe model. It was said that he wanted to start a family with her, their son Aeko, and his daughter Royalty all living together. However, that may never be.
An August 9, 2021 report by Daily Mail revealed that the couple were no longer together. They reportedly parted ways in July 2020 but have remained great friends and co-parents to their son.
Chris Brown will always be remembered for his relationship with Rihanna. While the Work singer remains his most popular ex, he has dated more than his fair share of popular women over the years.
 Agnez Mo (November 2017 – February 2019)
Date of Birth: July 1, 1986
Age:  37 Years Old
Occupation: Singer-Songwriter and Actress
Though she is famous as an Indonesian singer-songwriter, Agnez Mo is also an actress and dancer. She has been able to establish her name in the global music industry after the release of her debut international album titled X in October 2017. Her career has seen her collaborate with some of the most popular names in the industry, including Chris Brown.
It is believed that Chris and Agnez started dating after music brought them together in 2017. They reportedly remained together until they parted ways in 2019 for reasons that are not clear but might have something to do with Brown's involvement with other women.
Also, Agnez Mo is relentless about keeping her personal life private and has insisted that what goes on in her love life isn't the business of the public. As such, it has been hard to learn anything about what she had with Chris Brown from her.
 Vanessa Vargas (December 2016 – October 2017)
Date of Birth: Undetermined
Age: Undetermined
Occupation: Model
Vanessa Vargas is one of the lesser-known ex-girlfriends of Chris Brown. Even though several reports described her as a model, she is mostly known for being one of Chris Brown's girlfriends. To the best of our knowledge, it was in late 2016 that the two were first romantically linked to each other. How they met may not be known but it started circulating that they were lovers after they were seen leaving Up & Down, a New York City nightclub.
The rumors intensified after they were again spotted together in a Los Angeles restaurant. For many, the singer confirmed he was dating the model when he shared a luscious picture of her on his Instagram page. Vanessa commented on the picture, referring to Chris as "daddy". Anyway, the relationship reportedly packed up in October 2017 for reasons that have remained unknown.
Amy Shehab (May 2015 – August 2015)
Date of Birth: December 16, 1990
Age:  32 Years Old
Occupation: Model and Entrepreneur
Amy Shehab's relationship with Chris Brown definitely gained her a lot of attention but it is not the only reason she is popular. She is the sister of Sandra Shehab – a popular model and Youtuber. Amy is also a model but she is most known for the collection of jewelry, clothes, and bags that she sells online. Even though Amy markets her jewelry stocks as originally designed pieces, it has been claimed that she gets all her supplies from Aliexpress.
How Amy Shehab met Chris Brown and the circumstances surrounding the beginning of their relationship are not known to the public. We can only tell that they began dating sometime in May 2015 and broke up that same year, sometime in August. Just as how they began dating is unknown, what led to their separation has equally remained a secret no one has bothered looking into.
Blair Pena (November 2013 – June 2015)
Date of Birth: April 20, 1991
Age:  32 Years Old
Occupation: Model and Hairstylist
What Blair Pena had with Chris Brown was a very dramatic relationship because she reportedly came in-between the singer and one of his exes, Karrueche Tran, who happened to be Blair's friend. Blair is widely known as an aspiring model but there are reasons to suspect she is also a makeup artist, particularly, a hairstylist. She was credited as such in a 2013 production titled While the Cat's Away.
According to several reports, Blair Pena and Chris Brown met through Blair's friend, Karrueche, who was dating the singer. But in November 2013, Blair started dating her friend's boyfriend. As one would expect, it strained the relationship between Blair and Karrueche with the latter taking to social media platforms to call Blair unprintable names. All the drama was not worth it as Chris moved on in 2015: Blair and Chris reportedly broke up in June 2015.
Karizma Ramir (Janaury 2013 – November 2013)
Date of Birth: Undetermined
Age: Undetermined
Occupation: Model
Karizma Ramirez is one of the prominent names that randomly pop up while examining the dating history of Chris Brown. A former waitress who now works as a model, Ramirez was reported to be involved with the singer when Rihanna was his known girlfriend. It was said that Karizma and Chris spent Easter weekend together and were seen in a club called Finale in New York City.
The model is also said to be friends with Blair Pena and Karrueche Tran, both of whom also dated Chris Brown. Apart from the Loyal hitmaker, Karizma Ramirez has been romantically linked to other popular men like Shane Larkin, Jordan Clarkson, and Tristan Thompson.
Nia Guzman/Amey (September 2013 – June 2014)
Date of Birth: July 23, 1983
Age:  40 Years Old
Occupation: Nurse and Model
Nia Guzman isn't as popular as her baby daddy Chris Brown, but the controversies surrounding their daughter have thrust her into the limelight. Nia Guzman, also known as Nia Alley and Nia Gonzalez, resides in Corpus Christi, Texas. She is of Puerto Rican and Mexican descent. She met the singer through mutual friends and the pair became friends, "friends with benefits".
She was good friends with Breezy's ex-girlfriend, Karrueche Tran. It was her relationship with the singer which led to the birth of a child that ruined Nia's friendship with Tran. When she started dating the singer, it was said that she was a nursing student with plans to get a license for radiology including CT and MRIs.
Guzman is also a model. Signed with modelmayhem, her profile reveals she's 5'4″ tall and maintains her weight around 125 pounds. Guzman is also affiliated with record label Y.E.M.G which is owned by Jas Prince who happens to be Christina Milan's ex-boyfriend. She also works for Ingenious Clothing.
 Draya Michele (2011 – 2012)
Date of Birth: January 23, 1985
Age:  38 Years Old
Occupation: Model, Actress, and Fashion Designer
Although Draya Michele appeared in a 2009 music video of the American singer-songwriter, Pleasure P, it was as Chris Brown's girlfriend that she first gained the attention of the public. She was linked to the popular entertainer when he was believed to be going out with Karrueche Tran and Simply Jess.
Although she initially claimed that she was only friends with Chris Brown, Draya would later admit she had a nine months relationship with the singer. In an interview with Wendy Williams, the fashion designer divulged that they started dating after his domestic violence case with Rihanna. Based on what Draya shared, she had a great time with the R&B star and never witnessed any of the negative rumors about the singer.
Karrueche Tran (November 2010 – March 2015)
Date of Birth: May 17, 1988
Age:  35 Years Old
Occupation: Model and Actress
Some people would remember Karrueche Tran as the aspiring model Chris Brown tried to move on with following his rough relationship with Rihanna. Over the years, Tran has been able to make a name for herself not only as a model but equally as an actress. Nonetheless, she continues to be identified by her relationship with the singer; this is probably because of all the drama involved.
How they met is not clear but it is said that the two began dating sometime in November 2010. By 2012, rumors had it that Breezy was trying to rekindle the fire with his ex Rihanna, creating some sort of love triangle. He publicly announced his break-up with Tran saying he wouldn't want to see her hurt over his friendship with Rihanna. Breezy and Rihanna got back only to break up again in 2013, bringing Karrueche Tran back into the picture.
The singer and Tran had an on-and-off relationship until the model publicly called it quits after coming to the knowledge of Breezy's kid with her friend Nia Guzman. Tran in March 2015 took to social media and tweeted; "Listen. One can only take so much. The best of luck to Chris and his family. No baby drama for me." Chris and Tran have since taken turns tongue-lashing each other on social media.
Simply Jess (October 2010 – March 2012)
Date of Birth: April 7, 1988
Age:  35 Years Old
Occupation: Model
Mostly known as Simply Jess, Jessica F. Marquez is a model originally from Queens, New York. She has been associated with a promotional company called The 400 LLC and is quite a popular face among Hollywood celebrities. However, the public knows her majorly as one of Chris Brown's ex-girlfriends.
She was romantically linked to the singer around the same time he was dating Draya Michele and having his on-off relationship with Karrueche Tran and Rihanna. It is not know how Simply Jess met the singer neither is it known why they broke up; we can only tell that they became an item in October 2010 and broke up in March 2012.
Rihanna (May 2007 – March 2013)
Date of Birth: February 20, 1988
Age:  35 Years Old
Occupation: Singer, Actress, and Entrepreneur
Rihanna remains the most popular ex-girlfriend of the R&B star and what they had has been the most prominent relationship in Chris Brown's life, and arguably, for Rihanna too. Although it was in 2008 that the couple confirmed their relationship, they began dating in 2007 when they pulled off their first collaboration. That was not the year they met; according to reports, the former couple met in 2005 when they were both teenagers striving to gain recognition in the competitive industry.
After a few years of speculations about the nature of the relationship between the two, it was confirmed in 2008 that they were dating. It was Rihanna's 21st birthday and Chris had performed a song for her in an event meant to mark her new age. At the end of his song, he kissed the Umbrella singer and it became clear they were lovers.
Trouble came knocking the following year as it emerged that Chris physically assaulted Rihanna while people anticipated them to make an appearance together at the 2009 Grammy Awards where they were both slated to perform. As Rihanna had to be hospitalized because of the injuries she sustained during the assault, it was only natural that their relationship came to an end.
But as fate would have it, they reignited their passion for each other in 2012 after Rihanna dropped the restraining order she had obtained against him. Nevertheless, the reunion only lasted until March 2013. It is believed that Chris Brown's involvement with several other women was why Rihanna walked out of the relationship for good. Despite their rocky relationship, Chris and Rihanna have remained good friends. Like Rihanna once said, they "love each other and we probably always will."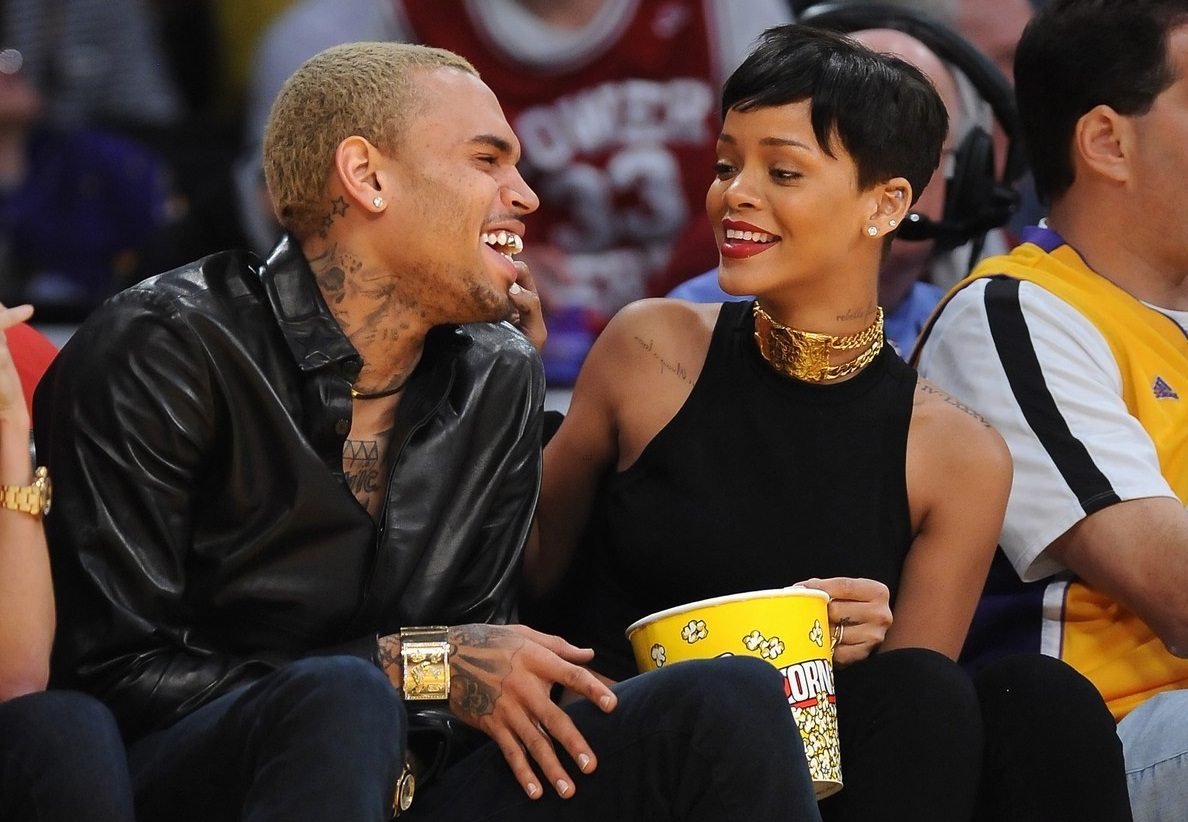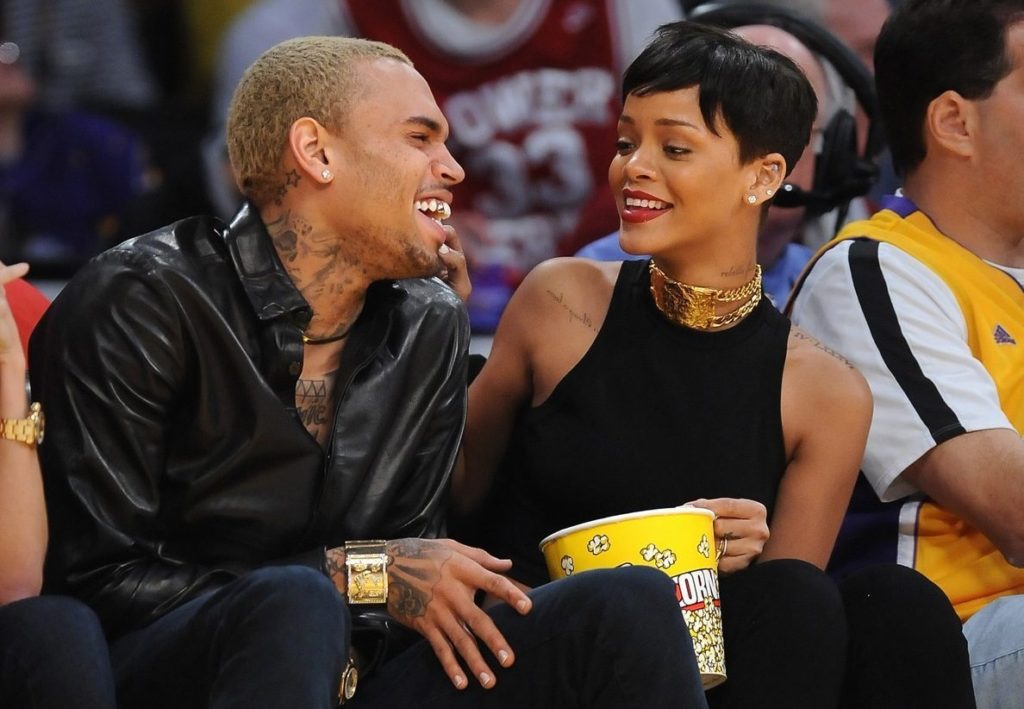 Popular Women Romantically Linked to The Singer Between 2015 and 2020
Until recently, it is hard to think of a time when Chris Brown isn't romantically linked to several women in a go. Of all the women listed above, there is none he exclusively dated apart from the early days of his relationship with Rihanna. Between 2015 and 2020 when it can be confirmed that he dated Karrueche Tran, Blair Pena, Amy Shehab, Vanessa Vargas, Angnez Mo, Diamond Brown, and Ammika Harris; the R&B singer also had something to do with the following women:
Tinashe (2015)
Indya Marie (2015)
Rita Ora (2015)
Brittany Renner (2015)
Briona Mae (2015)
Montana Tucker (2016)
Krista Santiago (2016)
Cydney Christine (2016)
Jordyn Woods (2018)
Dani Leigh (2020)
Gina Huynh (2020)
He Also Had Dalliances With Several Women Between 2014 and 2019
Between this time frame, he kept serious relationships with Rihanna, Blair Pena, Karrueche Tran, Simply Jess, Draya Michele, and Karizma Ramir. But Breezy wouldn't catch a break, so he had dalliances with the following women:
Natalie Mejia (2009)
Natalie Nunn (2009)
Joanna Hernandez (2009)
Tina Davis (2009)
Amber Rose (2009)
Lisa Ann (2010)
Joie Chavis (2010)
Jasmine Sanders (2010)
Rhea Kerwin (2010)
Ayem Nour (2012)
Keisha Kimball (2013)
Nia Amey (2013)
Rhea Dummett (2014)
How Many Baby Mamas Does Chris Brown Have?
Based on the foregoing, the singer has three baby mamas thus far and they are Ammika Harris, Nia Guzman, and Diamond Brown. Nia is the first woman with whom Chris Brown became a father for the first time. He dated the nurse who is also a model from September 2013 to June 2014; they broke up the same year she gave birth to the singer's first child, a daughter named Royalty Brown.
In the year that followed the birth of his first child, precisely in July 2015, Chris Brown began dating Ammika Harris who would become his second baby mama. Ammika gave birth to the singer's second child, a son named Aeko Brown on the 20th of November 2019.
Although Chris Brown's relationship with Ammika has been on and off, reports have it that the singer was working towards starting a family with the model. It was said that they took a trip together to Tulum, Mexico when Aeko marked his first birthday. As claimed, the trip left Chris striving to work out how to start a family with Ammika, Aeko, and his first child living together.
However, that was not to be as Diamond Brown was still somewhere in the picture. Consequently, Ammika decided to break things off with the singer romantically. Diamond became Chris' third and most recent baby mama following the birth of their daughter, Lovely Symphani Brown in 2022.
While it is clear that the singer is on good terms with his second and third baby mamas, the same can't be said about Nia Guzman, albeit they have been trying to maintain some level of normalcy for the sake of their daughter.
Breezy and Guzman have had a hard time coming to terms with co-parenting their daughter. At some point, Guzman alleged that the singer wasn't living up to his responsibility as a father. This was an interesting allegation for many as Guzman initially refused to inform Chris that he is the father of the child.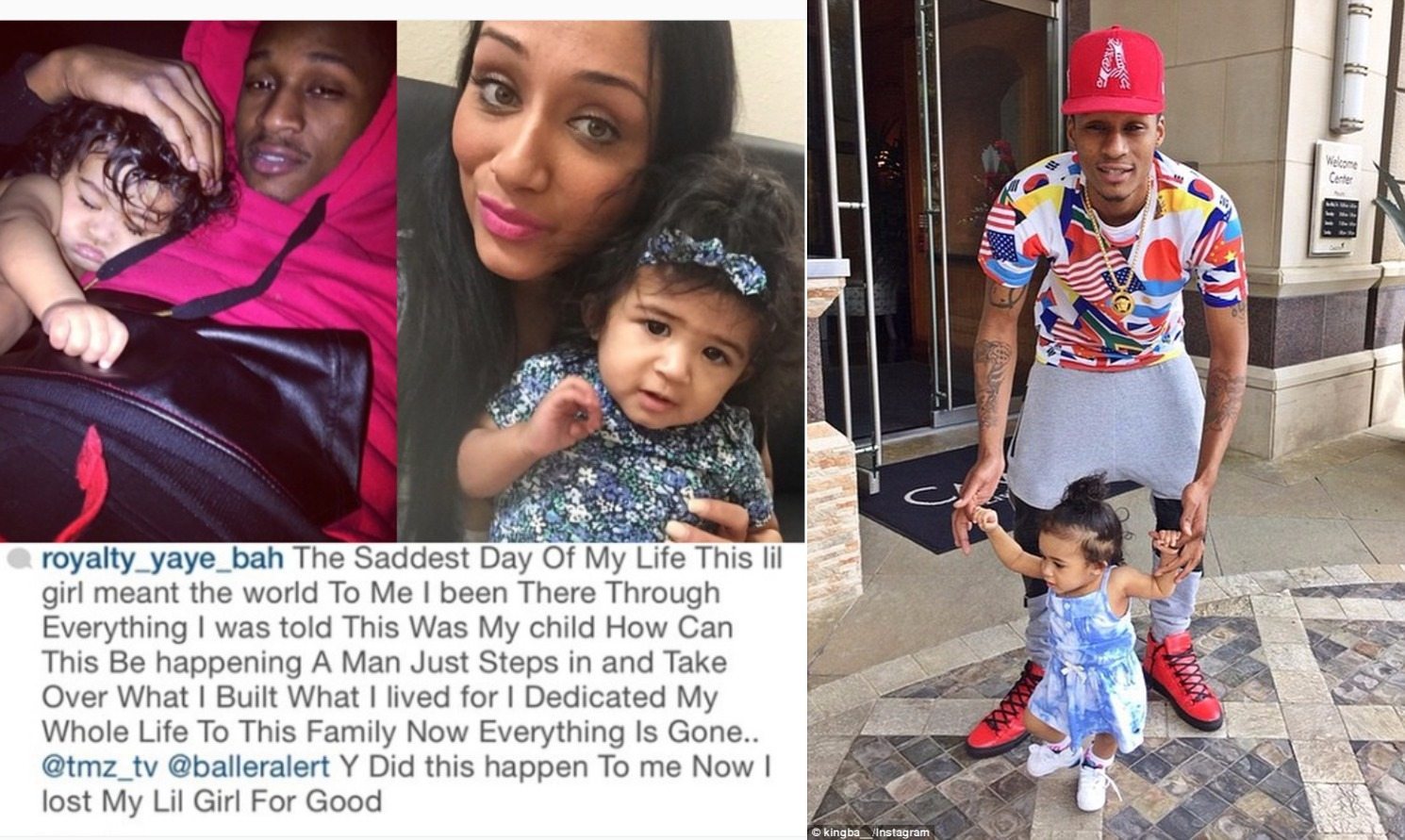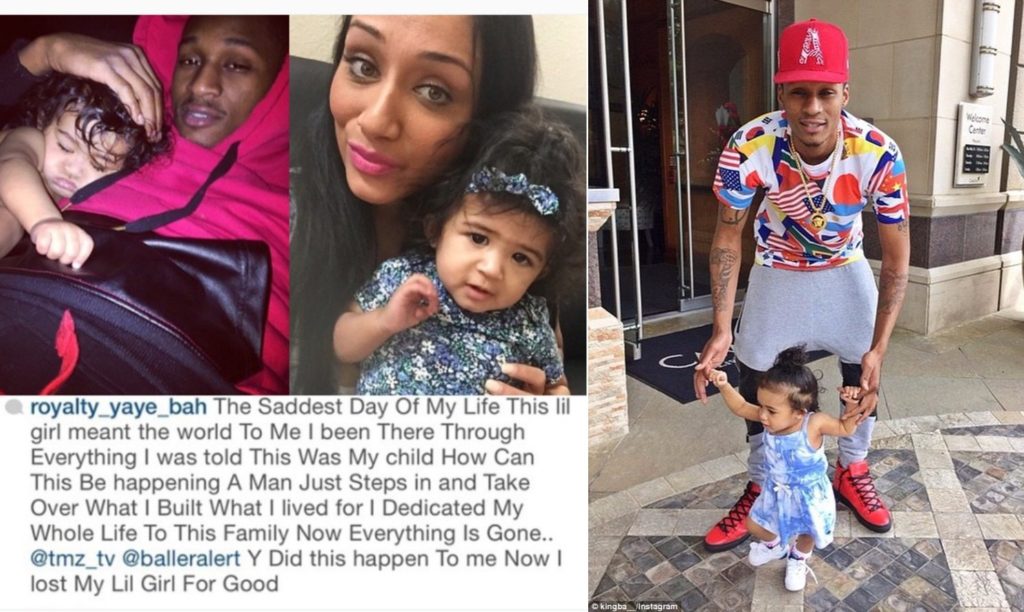 Brown only came to the knowledge that Royalty was his child when she was already a year old. Guzman's ex-boyfriend Brazil Riesling (King Ba) claimed that Guzman had told him he was the father of Royalty until the truth was revealed. King Ba took to Instagram to flaunt pictures of him and Royalty, calling Breezy "just a sperm donor".
Meet The Two Kids of The Singer 
Royalty Brown
Date of Birth: May 27, 2014
Age: 9 Years Old
Occupation: Undetermined
Mother: Nia Guzman
Royalty is the first child and daughter of the singer whom he had with Nia Guzman in 2014. Considering her age, only time can tell what Royalty would do with her life. She still has a lot of growing up to do and doesn't concern herself with thoughts about the future. Nevertheless, she has been taking dancing classes and might end up pursuing a career as an entertainer. If she does, she can surely count on the support of her parents.
Royalty's parents have been in court because of her. Guzman had claimed that Breezy is unfit to be a father and can't be left alone with Royalty without supervision because of his drug use and gang affiliation. She also claimed that their daughter Royalty had developed asthma as a result of Brown's smoking habit. Guzman also demanded a raise in child support to $16,000 per month from the $2,500 she receives. However, the court ruled in favor of Breezy, granting him 12 days of unsupervised custody with Royalty per month. The court also dismissed Guzman's request for an increase in child support fees.
After the court ruling, Guzman spilled all about her relationship with Breezy in an exclusive interview with Latin magazine. And their social media brawl seems unending. Royalty has three half-siblings thus far: Zillah Jade Amey and Sinatra L. A from her mother's side and Aeko Brown from her father's side. You can keep up with her on her Instagram page which has already accrued a million followers as of February 2021.
Aeko Catori Brown
Date of Birth: November 20, 2019
Age: 4 Year Old
Occupation: Undetermined
Mother: Ammika Harris
Aeko is the second child and only son of Chris Brown. He had him in November 2019 with Ammika Harris whom he has been dating on and off since 2015. Like his half-sister Royalty, Aeko is still busy growing up, but he has an Instagram page that has already accumulated thousands of followers.
It is said that his father is desperate to have Aeko grow up with his half-sister. It remains to be seen if the singer will be able to pull that off.
Lovely Symphani Brown
Date of Birth: January 8, 2022
Age: 1 Year Old
Occupation: Undetermined
Mother: Diamond Brown
Lovely is Chris Brown's second daughter and third child. After she was born on January 8, 2022, her mother, Diamond, took to her Instagram on the same day to announce her arrival. However, Chris never publicly acknowledged the baby as his until three months later, on April 8, when he took to his Instagram story to post his first picture of her.
In the picture, the beautiful baby is all smiles, dressed in a red Gucci onesie and a matching bow. The "Kiss Kiss" singer added a string of red-heart emojis over Lovely's picture, telling the world that he loves her. "This may be the first time that Chris has publicly acknowledged his daughter, but he's played a part in her life since before she was born," a source told HollywoodLife.