Katelyn Jae is a singer-songwriter who is on her way to music stardom. An early bloomer, Jae started creating her own music as a young teenager and she took part in several talent contests while growing up. After winning one of the singing competitions, she got signed by renowned music manager Johnny Wright – the founder and CEO of the Wright Entertainment Group. Beyond her budding music career, Katelyn is also known for being one half of a famous celebrity couple, the other half being the award-winning country music star Kane Brown.
Age and Ethnicity – Who Is Katelyn Jae?
Though she is better known by her stage name Katelyn Jae, the music star was born Katelyn Krapf on June 19, 1992. She was born and raised in Chester Springs, a community in Chester County in the state of Pennsylvania. There is not much information on her early education, however, she is known to have begun her music career quite early. Her love for music became obvious at a very young age and she got a karaoke machine at the age of three. However, everyone in her family simply assumed that music was a mere hobby for her and no one ever took it seriously.
All that changed after she caught the attention of her choir teacher while she was in the sixth grade. Jae delivered a captivating rendition of Celine Dion's "My Heart Will Go On" during the fall concert performance after which the teacher recommended that her parents get her enrolled for vocal and piano classes. Her parents took that wise counsel and enrolled her for singing, dancing, as well as acting classes. As expected, the talented youngster easily caught the entertainment bug and has not looked back ever since.
Katelyn Jae had her high school education at Downingtown High School in Downingtown, Chester County, Pennsylvania. While at it, she created, recorded, and performed her own music and she equally continued in this trend while studying at the West Chester University of Pennsylvania. As a teenager, she was selected among the top five singers at the 2008 International Model and Talent Association conference. She was later selected among 23 female singers to represent the US at the 2010/2011 Avon Voices, an international singing competition exclusively for women. She equally auditioned for hit music competitions like American Idol and The Voice.
Back in 2012, she took part in the first season of the singing competition web series "Take the Stage". Jae won the contest and as a result, she received a $20,000 prize in addition to a management contract with Wright Entertainment Group and YOBI.tv. As part of her recording contract, Katelyn Jae also got to train at the Florida compound music industry boot camp of Johnny Wright, the CEO of Wright Entertainment Group. The talented singer also enrolled to study music management.
There are varying reports on her ethnicity. While a few reports have it that she is Caucasian, others have it that she is of mixed ethnicity.
Parents and Siblings
Katelyn Jae is one of her parents' three children; she has two brothers. Her parents got divorced when she was much younger. Her mother's name is Karen, however, information regarding her father is not available in media circles.
See Also: Is Selena Gomez Dating Anyone? Here Goes Her List of Ex-Boyfriends

Relationship With Kane Brown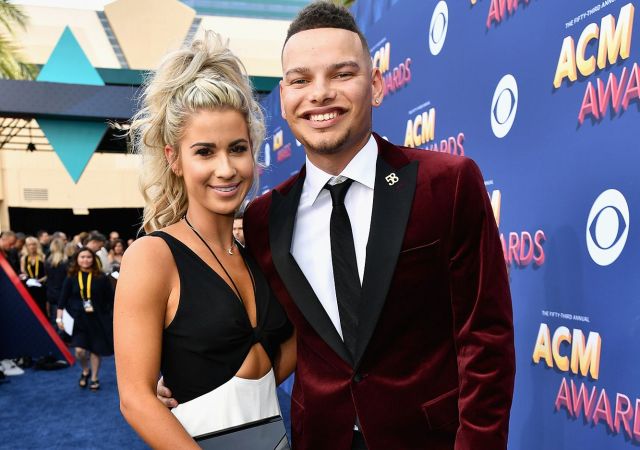 Katelyn Jae is known to be in a marital union with Kane Brown, a highly-acclaimed country music singer, and songwriter. The two are said to have met in 2015 through a mutual acquaintance and their relationship progressed pretty quickly afterward. However, they kept their romance on a lowkey until January 2017 when they revealed via social media that they were an item.
The picture-perfect couple took their romance a notch higher when they announced that they had gotten engaged in April 2017. As revealed by Kane Brown, he spontaneously popped the big question while they were both watching a movie on Easter Sunday. He went on to announce their engagement while performing a live concert in Jae's home city of Philadelphia.
Katelyn Jae and Kane Brown took their romance to a whole new level when they tied the knot on October 12, 2018. Theirs was an intimate wedding ceremony of about 200 guests which took place at the Mint Springs Farm in Franklin, Tennessee. Soon after they tied the knot, the lovestruck groom revealed a tattoo of his wife's name "Katelyn" on his right hand.