A screen sensation during her illustrious career which spanned from 1950 to 1989, Amanda Blake was an American actress with an enormous body of work. While she paid her dues in both film and television, Blake made a bigger impact with her appearances on television shows, the most popular of which is the western television series Gunsmoke where she gave life to the character of Kitty Russell.
In addition to her acting exploits, Amanda Blake also made a name for her exceptional love for animals. She collaborated with one of her husbands to pull off the first programs that attained success in breeding cheetahs in captivity.
In the wake of her death which was assumed to be as a result of cancer, assorted speculations suggested there was something else behind it. She may have died from another ailment other than what we were led to believe. Get all the lesser-known details about the life and death of the iconic actress below.
Amanda Blake – Bio
The actress was born as the only child of a banker Jesse and his wife Louise (née Puckett) Neill on February 20, 1929, in Buffalo, New York. She was named Beverly Louise Neill after her birth but later changed to Amanda Blake as her professional moniker. Her educational pursuit landed her in Amherst Central High School. After working as a telephone operator, she decided to follow her dreams of becoming an actress.
Her first outing was in the film Stars in my Crown (1950) where she played Faith Radmore Samuels. She then picked up more roles in other Hollywood films in the 50s including Cattle Town, Miss Robin Crusoe (title role), Lili, Glass Slipper and a lot more.  Her works on television, however, surpassed all others as they made her a name to reckon with in the acting world. At the forefront of her career-high achievements is her 19-year stint (1955 to 1974), playing Miss Kitty, the saloon owner,  on the television series Gunsmoke.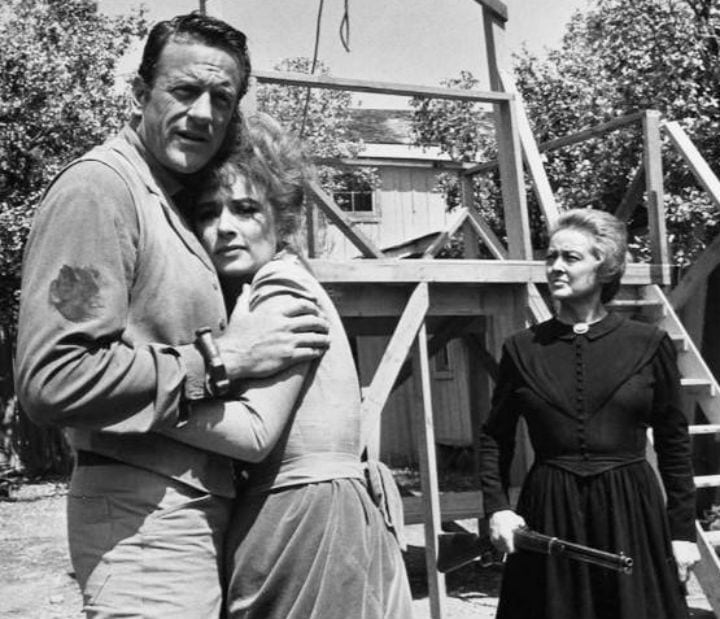 Her other television series and shows include The Red Skelton Show, Tattletales, Match Game, The Quest, The Edge of night, Dean Martin Celebrity Roast and many others. In 1987, she reprised her role as Kitty Russel in Gunsmoke: Return to Dodge, the very first made-for-television western film. As the name suggests, the film is based on Gunsmoke, the TV version which ran for twenty years.
In recognition of the work she had done, Amanda Blake became the third performer to be inducted into the Hall of Great Western Performers at the National Cowboy and Western Heritage Museum in Oklahoma City. Her predecessors were Tom Mix and Gary Cooper.
Net Worth
Her time on earth was a productive one which was mostly spent in front of the camera, entertaining the world and while at it, she made a fortune that was estimated to be $500 thousand at the time she died. Though it sounds like a paltry amount in the 21st century, it must have been a huge fortune in Blake's time.
Height
Amanda was a total charmer in her youth and aged with grace as well. She maintained her beauty and body fitness, standing at a portable height of 5 feet 5 inches (1.67 m). The American beauty was also known for her dark brown hair and charming blue eyes.
Spouse, Children, Sister
Amanda Blake was born as an only child, thus, she had no sister or any known sibling. However, she got married a record of four times to four men but had no children for any of them. Her first marriage was in 1954, to Don Whitman but the union was quick to end in divorce in 1956. Jason Seymour Day Jr became her second better half in 1964. The marriage lasted a bit longer than the first, ending in 1967. Interestingly, while her second marriage ended on June 28, Blake tied the knot once again on June 30 in the same year, this time, it was with Frank Gilbert, a union which ended in another divorce in 1982. She waited a bit longer than usual to marry Mark Edward Spaeth in 1984 and this time, it was death, not divorce that parted them. Spaeth died in 1985.
Read Also: Lisa Robin Kelly Biography, Life and Death – How Did She Die?
Amanda Blake's Death
Although she lived the life of a chain-smoker and was diagnosed with oral cancer in 1977 which resulted in a surgery, Amanda's death was not an aftermath of the disease. According to her doctor, it was AIDS that actually took her life at the age of 60, on August 16, 1989. She's believed to have contacted the disease from her fourth husband who died of AIDS-related pneumonia. Amanda Blake died at the Mercy General Hospital of California.