Amanda Blake was an American actress and animal activist best remembered for her role as the sassy, red-haired saloon owner named Miss Kitty Russell on Gunsmoke, the American Western drama series which aired on radio from 1952 to 1961 and on television from 1955 to 1975. 
Amanda Blake had an extensive body of work on and off the screen, in an acting career that lasted for more than half of her life, from 1950 to 1989. The screen sensation, during her illustrious career, paid her dues in both film and television but made a bigger impact with her appearances on television shows, most notably, Gunsmoke, playing Kitty Russell for almost a third of her life.
Beyond her acting exploits, Amanda Blake also made a name through her exceptional love for animals, notably large cats. She collaborated with one of her husbands to pull off the first program that attained success in breeding cheetahs in captivity.
In the wake of her death, which was assumed to be as a result of cancer, assorted speculations suggested there was something else behind it. Who knows? She might have died from another ailment other than what we were led to believe. Get all the lesser-known details about the life and death of the iconic actress below.
The Early Life Of Amanda Blake
The only child of a banker Jesse and his wife Louise (née Puckett) Neill, the actress was born on the 20th of February 1929, in Buffalo, New York. She was named Beverly Louise Neill after her birth, but she later adopted Amanda Blake as her professional moniker. Following her high school graduation from Amherst Central High School, she attended Pomona College for a while before ultimately deciding to launch an acting career.
Before she started her career, Amanda worked as a telephone operator, which helped to hone her diction skills. She would later move to California to fulfill her dreams of becoming an actress.
While in Los Angeles, Blake worked on radio and also did dramatic readings at a local women's club. She also ventured into stage plays, performing summer stock in New England. Thereafter, she was signed by the talent management agency, MGM.
Summary of Her Bio and Personal Profile
Full Name: Amanda Blake
Age: 6o Years at her time of death
Death Date: 16 August 1989
Place of Death: Mercy General Hospital, Sacramento, California, United States
Profession: Actress (Active from 1950–1989)
Famous TV Appearance: Gunsmoke (as Miss Kitty Russell)
Details of Her Acting Career
Blake made her initial film appearance in 1950 in Stars in My Crown, playing the role of Faith Radmore Samuels. Afterward, she got more roles in other Hollywood projects, including Cattle Town, Miss Robin Crusoe, Lili, and Glass Slipper. While she made her mark on the big screen, Amanda Blake made far more impact on television, especially with her career-high role as Miss Kitty, a role originally offered to Polly Bond (but she declined), on the TV series Gunsmoke. Blake had a 19-year stint (1955 to 1974), playing the iconic saloon owner.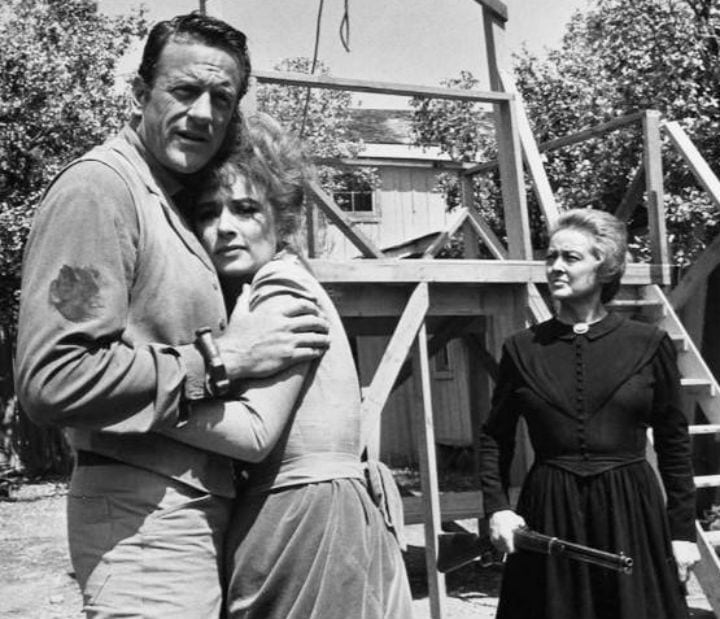 Fans of the western classic knew that Blake was the life of the show as she was an integral part of the series. Even though she didn't appear in every episode like her co-cast, James Arness, who played Matt Dillon, several episodes were centered around her character. One year after she left the show, the network canceled the series in its 20th season, which was more than a coincidence, you would agree.
A Summary of Amanda Blake's Best Know Movies
Stars In My Crown
Scarlet Angel
The Boost
Miss Robin Crusoe
Counterspy Meets Scotland Yard
Duchess of Idaho
Cattle Town
Lili
Sabre Jet
About Mrs. Leslie
The Glass Slipper
A Star Is Born
High Society
Smuggler's Gold
Sunny Side of the Street
B.O.R.N.
The Adventures of Hajji
In 1987, she took on the role of Kitty Russel once more in Gunsmoke: Return to Dodge, the first of the five TV movies made for the western TV show. Even though being Kitty kept her super busy, Blake had a few other roles through the years she was on Gunsmoke. She appeared on game shows like Hollywood Squares and Match Game. She also graced the TV screen in other works such as The Edge of Night, The Red Skeleton Show, Tattletales, Dean Martin Celebrity Roast, and The Quest.
These are her most recognized TV Series
Gunsmoke
Alfred Hitchcock Presents
The Edge of Night
State Trooper Betty Lavon-Coate
The New Dragnet
Studio One
Betrayal
Schlitz Playhouse of Stars
Gunsmoke: Return to Dodge
Clown Alley
Match Game
The Red Skelton Show
The Best Little Special in Texas
The Quest
The Love Boat
Steve Canyon
Brothers
Hart to Hart
Tattletales
While she had an active acting career, Blake was also active in animal activism, as well as cancer awareness. She was a successful animal breeder and had a special interest in big cats. Blake had a pet lion named Kemo, which she once brought to the set of Gunsmoke and was also one of the first people to breed cheetahs in captivity. She was indeed a true feline lover, as much as she was a very talented actress. Amanda Blake was the third performer to be inducted into the Hall of Great Western Performers at the National Cowboy and Western Heritage Museum in Oklahoma City behind Tom Mix and Gary Cooper.
Amanda Blake Was Married To 4 Different Spouses In Her Lifetime
The screen genius dedicated most of her life to finessing her talent that she rarely had time to date, just like her Gunsmoke character, Kitty. At a point, it seemed that she liked her life the way it was without any man interfering with her acting career. But while that may be the case, Amanda Blake still managed to get married not just once, but a record four times to four different men.
Her first marriage was to Canadian sportscaster, Don Whitman in 1954, but the union was quick to end in divorce only two years later. In 1964, two years to marking a decade in singleness, Blake tied the knot, this time with Jason Seymour Day Jr, an Arizona cattleman. The marriage lasted for three years before ending in divorce on June 28, 1967. Amazingly, she tied the knot two days later, on June 30 in the same year. This time, it was with Frank Gilbert, a writer, and producer.
Along with Gilbert, Amanda Blake raised cheetahs on a ranch the couple owned in Arizona. Unfortunately, the marriage crashed in 1982, and like its predecessors, it ended in a divorce. Despite that, it became her record-breaking marriage as it was her longest, lasting for 14 years.
On her fourth marital attempt, Blake waited a bit longer than usual to marry Mark Edward Spaeth in 1984, however, they divorced shortly after, and unfortunately her husband, Spaeth passed on in 1985, and four years later, Amanda followed in 1989, assumedly killed by AIDS.
Summary of her marital relationships:
Amanda Blake was Don Whitman's wife from Aug 1954 – Aug 1955.
Her second marriage was with Jason Day in 1964, and the marriage lasted for just over two years and they divorced in 1967.
Amanda Blake and her 3rd spouse, Frank Gilbert, got married in 1967 and it became her longest marriage, lasting for 14 years before they divorced in 1982.
Her fourth and last marriage was with Mark Spaeth. The union was short-lived as they divorced shortly after getting married and Mark died of Pneumonia at the age of 45 in 1985.
The Real Cause Of Her Death
Blake was a chain-smoker most of her life and was thus diagnosed with oral cancer in 1977, which resulted in surgery. However, her 1989 death was not the aftermath of the disease. After her passing away, some confusion arose about the cause of her death. While some reports had it that she died of cancer, others posited that her demise was AIDS-related.
Her doctor, Dr. Lou Nishimura, however, cleared the air when he revealed that it was AIDS that took the life of the Gunsmoke actress at the age of 60, on August 16, 1989.  Blake was believed to have contracted the disease from her fourth husband, Spaeth who died of AIDS-related pneumonia, four years earlier. Furthermore, her death certificate stated cardiopulmonary arrest due to liver failure and CMV hepatitis, which are AIDS-related. Amanda Blake died at the Mercy General Hospital of California, becoming the first Hollywood actress of note to die of AIDS according to People.