Tom Hardy is an award-winning English movie producer and actor who has appeared in many films and television series, and has also played several roles in a number of stage plays performed both in Britain and America. His outstanding performances as an actor have earned him award nominations such as the Academy Award, 2 BAFTA Awards, 2 Critics' Choice Movie Awards, and a BAFTA Rising Star Award, which he won in 2011.
In addition to a stable and flourishing entertainment career, the London-born actor appears to also have it all together off-screen. He is one of the men who found love in the arms of a fellow actor, Charlotte Riley, who he met in 2009 shortly after the crash of his four-year relationship with his then-girlfriend, Rachael Speed. Today, Tom and Charlotte are not only married but also have children together.
How Many Wives Has Tom Hardy Had?
Even though Tom seems to be in a very happy place at the moment, relationship-wise, he has had his share of failed relationships, one of which includes a failed marriage. Before he met his current wife, the actor had been married and divorced once. But hopefully, his first failed marriage will be his last as he has been able to overcome the addictions which were among the contributing factors that destroyed his union with his first wife.
The Actor's First Wife, Sarah Ward, Is A Producer
Full Name: Sarah Ward
Date of Birth: Unknown
Occupation: Producer
Duration of Marriage With Tom Hardy: 1999 – 2004
Although information about Sarah is scarce, it is common knowledge that she came into the limelight as a result of her union with Tom Hardy. However, she has gone back to living her life off the spotlight since her marriage with the Hollywood star packed up. The duo met in 1999 and at that time, Tom, who was in his early 20s, was probably a believer in love at first sight. This might be the reason why their romance quickly graduated from dating to marriage just within three weeks of getting to know each other.
While fans of the celebrity couple admired them, believing that all was well with them, in reality, their relationship suffered as a result of Tom's drug & alcohol problems. The celebrity actor started taking hard drugs and alcohol in 1990 (when he was just 13 years old). It became bad in 2001 when he found fame through his breakthrough role in Black Hawk Down, and worsened after his 2002 movie, Star Trek: Nemesis, turned out to be a flop. Luckily for him, he managed to retrace his steps in 2003 when he checked himself into rehab and came back weeks later a new man. But by then, his young marriage was already strained beyond repair.
Consequently, they decided to call it quits in 2004, leaving their fans in shock. Speaking about his divorce from Sarah in an interview, Tom Hardy revealed that it was his ex-wife who filed for the annulment of their marriage due to the fact that he was unable to invest his time into their relationship to make it work. This, in addition to his drug and alcohol addiction, contributed to the failure of his first marriage.
Tom Is Currently Married To Charlotte Riley
Full Name: Charlotte Frances Riley
Date of Birth:29 December 1981
Age: 41 Years Old
Occupation: Actress
Duration of Marriage With Aniston: 2014 – present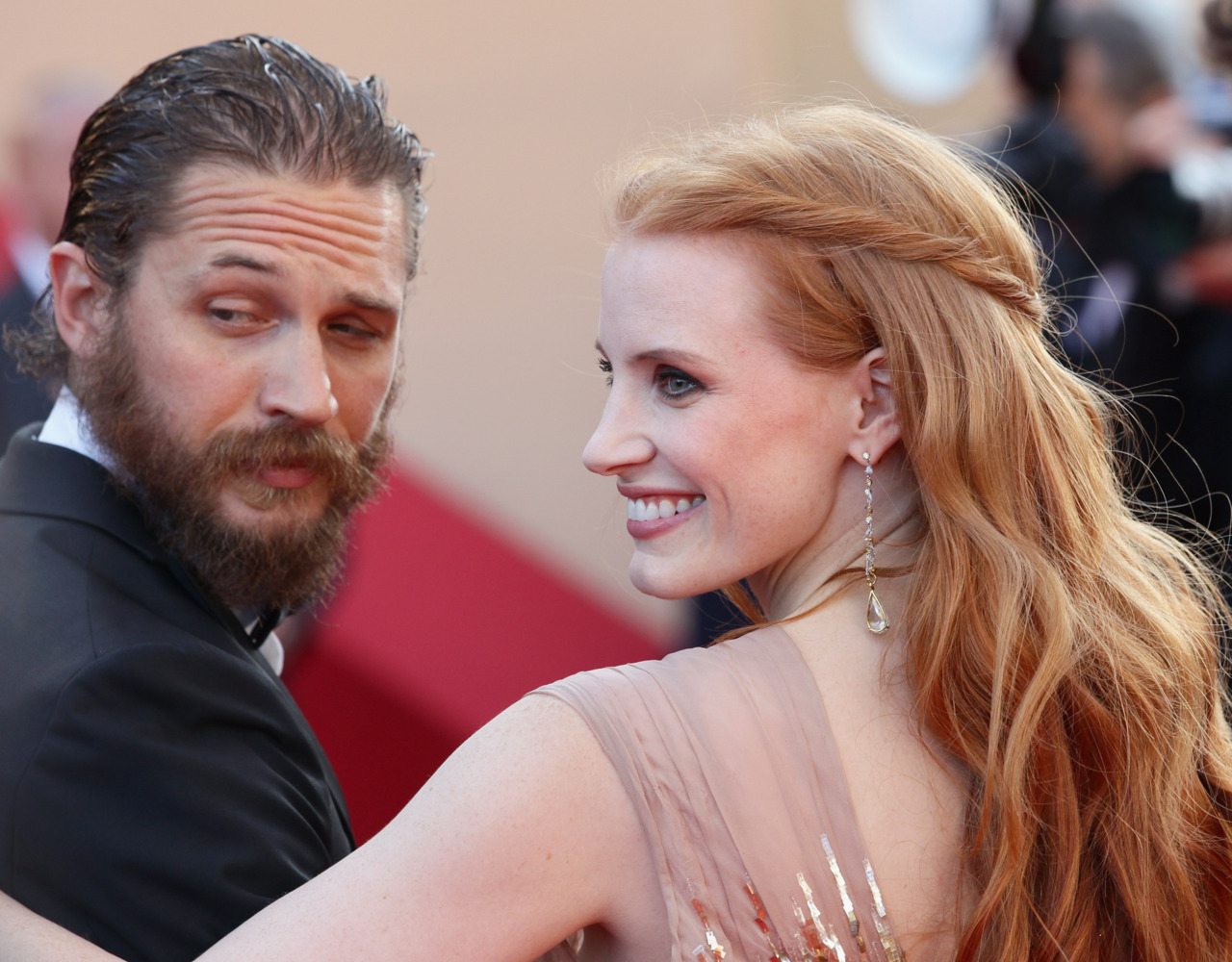 Five years after his divorce from Sarah Ward, Tom Hardy decided to give marriage a second shot after he met Charlotte Riley. Born on the 29th of December 1981 in Grindon, County Durham, Charlotte is the youngest of three children born to Michael and Margaret, an engineer and a nurse and bereavement counselor respectively. She grew up alongside her older siblings, Simon and Joanne -who are ten and eleven years older than her respectively- in a village close to Stockton-on-Tees.
The actress attended Teesside High School and Durham University both in Durham. During her time at Durham University, from where she bagged a degree in English and Linguistics, her love for acting led her to join a sketch comedy group known as the Durham Revue. In addition to performing sketch comedy, Charlotte also performed in plays and musicals until her graduation in 2003.
Beginning of Her Journey To Hollywood
As a member of the Durham Revue, she began to put her skit-writing talent to use, co-writing a number of skits with Tiffany Wood, the only other member of the group who was female. From writing skits, the duo, upon graduation, wrote a play titled Shaking Cecilia, which did not only make it to the 2004 edition of the Sunday Times National Student Drama Festival but also won that year's playwriting award at the event.
Despite her interest in entertainment and the success of her play, Charlotte was not certain about the career path she actually wanted to tow. As a result of this, she spent some years working as a teacher. She taught drama to disabled children and young adults and while at it, she took part in a workshop in clowning. Thankfully both experiences- teaching and attending the workshop- eventually helped her make up her mind to become an actress. With her love and zeal for acting rekindled, the then-24-year-old Charlotte enrolled in the London Academy of Music and Dramatic Art in 2005.
She graduated two years later, and kicked off her professional acting career the same year, playing small roles in an episode each of Grownups and Holby City. Although she is not as famous as her husband, Charlotte Riley is also a familiar face in her own right. She is most recognized for her roles as Sarah Hurst in the 2008 film Easy Virtue, Catherine Earnshaw in the 2009 TV series, Wuthering Heights, which aired on the ITV network, and also for her appearance on the British TV series, Peaky Blinders and Dark Heart.
Starting A New Life With Charlotte
Judging by his roles in movies such as Venom, Peaky Blinders, Black Hawk Down, and Dark Knight Rises, among others, one might be tempted to conclude that Tom Hardy is truly as cold and dangerous in real life as the characters he portrayed in the mentioned movies. However, that's far from the truth because when screen life ends, it appears he is a direct opposite of the roles he plays. And no one can attest to his charming and romantic side better than Charlotte Riley, his wife, and strongest support system.
How Did Tom Hardy and Charlotte Riley Meet?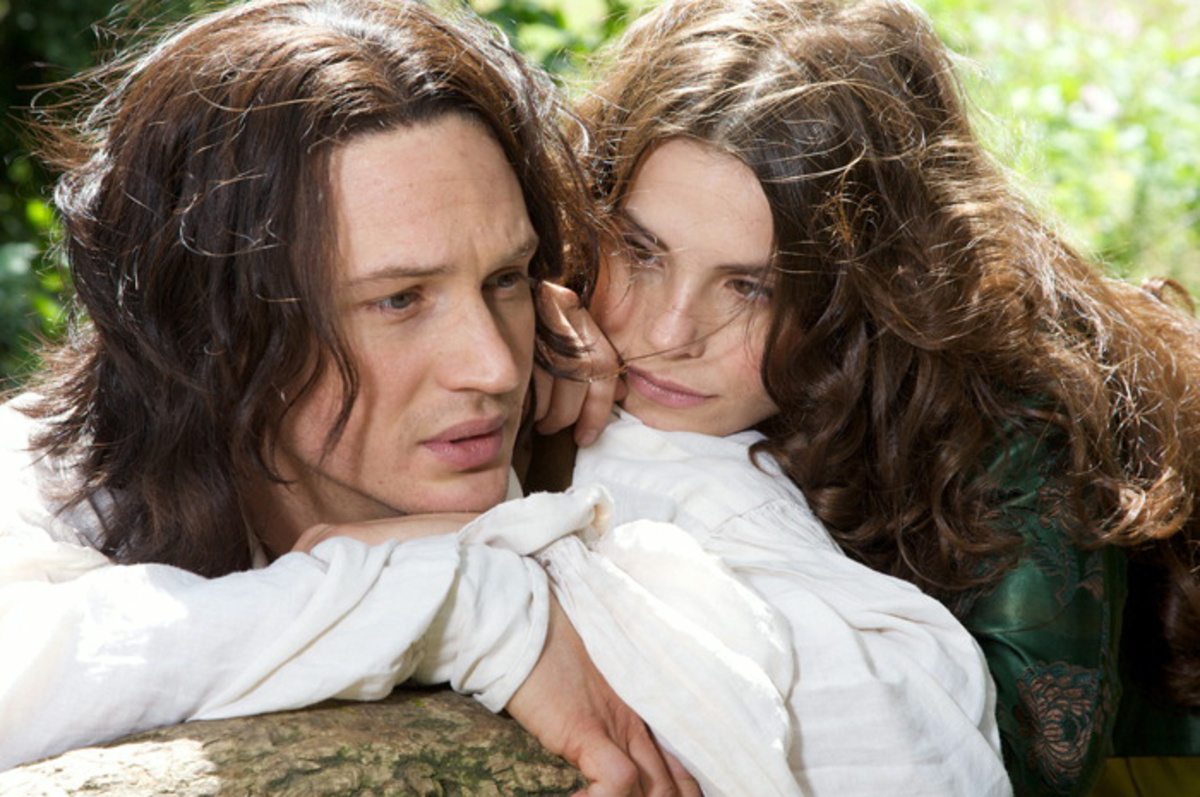 Tom Hardy and Charlotte Riley's first meeting was in 2009. At that time, the one-time divorcee was freshly out of a four-year relationship with the mother of his first child, assistant director Rachael Speed and was also recovering from his drug and alcohol problems. But somehow, he was sure that there was something special about Charlotte and didn't mind taking the leap. Luckily for him, the feeling was mutual.
They met on the set of the television adaption of the literary classic, Wuthering Heights, in which they played the role of Catherine Earnshaw and Heathcliff. While Tom was already a big shot in the industry at the time, Charlotte was a fresh drama school graduate and a 'nobody' in the business. In an exclusive article about the actress on Mail Online, it was revealed that Charlotte, though intimidated by Tom, decided to ask him to go for a cup of tea in a bid to get to know him, since their roles involved them falling in love.
According to her, "It wasn't love at first cup". In fact, Tom made the actress lose her confidence when he made a sudden switch into the character of Charles Bronson, the most dangerous prisoner in Britain, who Tom had played in the movie Bronson. However, it was after they had had a few cups of tea that she realized it was something he usually did just for laughs.
The Couple Stayed Engaged For Four Years
Obviously attracted by each other's charm, the couple decided to translate their on-screen love to real life. Subsequently, they got engaged in 2010 but that notwithstanding, they were in no hurry to tie the knot.
As documented by The Telegraph Tom and his fiancee attended the Prince's Trust Celebrate Success Awards at the Odeon Leicester Square in London in March 2012, and when the question of why they were taking too long to get married came up, his response was, "You'd have to ask Charlotte when we're getting married. She's a difficult woman to pin down, as she's always so busy with work." Nevertheless, that did not stop him from sticking with her as he made it clear during an interview with Elle magazine that he could wait for her no matter how long it took.
In an attempt to remain connected even when they were separated physically by work, the pair wrote letters to each other as much as possible. Speaking to Daily Mail, Charlotte revealed that she has always been a keen letter writer, "and so Tom and I write to each other most days when we are apart – or at least every other day."
When It Was Time To Tie The Knot, They Kept It Secret
Following their engagement, lovers of the super-couple were so eager to receive news of their wedding date but years rolled by without any such information being reported. About five years later, it was finally said that Tom Hardy and Charlotte Riley had finally decided to make their relationship official, precisely in April 2014. However, it turned out to be a mere rumor, and their fans went back to waiting and hoping that they eventually get married.
When the duo finally decided that it was time to take things to the next level, it was top secret, hence, not even the media had the tiniest inkling about their big day. News of their marriage remained under wraps until September 2014 when a source told the Sun on Sunday (as reported by Hello!) that the lovers were already husband and wife.
The source also told the newspaper that the secret ceremony, which had just a handful of family and friends in attendance, took place at an 18th-century castle in Provence, south of France, on July 4th, 2014. "Tom's son Louis played a key role during the ceremony and they made certain to pick a stunning and private setting", the source added.
It was also disclosed that there was nothing flamboyant about the wedding as the couple always said that they wanted it to be all about them and their family. To keep their special day really private, the couple went as far as not sharing any pictures from the occasion. They have also not officially confirmed that it actually happened as reported to date.
Making Their Marriage Work
It has been twelve years since Tom and Charlotte began their relationship- five years of dating and seven years of marriage (as of 2021)- and it's really exciting to see that they are still going strong. This is, no doubt, the result of a combined effort from both the actor and his wife. Having failed at marriage once, Tom is obviously applying the lessons he learned from his past failure to his current relationship in order to make it work.
When Tom got married to his first wife in 1999, he was a newcomer in the acting industry and was unknown. He never had a credited role until 2001, and afterward, he had a rapid rise to stardom. Aspiring to be a Hollywood star, he gave all his time to his career, and by the time he started being noticed in the business, he gave his wife and family a back seat.
However, determined not to lose another good woman, he is doing things differently this time. With Charlotte, Tom is very much involved in his family. Responding to a question about her husband's contribution around the house, Charlotte told The Herald that he is great around the house. According to the actress, "We do designated things. I love recycling. He's good at making the bed. It works brilliantly."
Substance abuse was also part of the things that destroyed Tom Hardy's first marriage. But he has been sober since 2003 though the actor admitted to Esquire in 2018 that it has been a very tough job. 'It was hard enough for me to say, "I'm an alcoholic." But staying stopped is fucking hard,' he said. As hard as it is, nevertheless, Tom is winning every day, definitely drawing his will to stay sober from his wife and kids.
Charlotte on her own part is also a major force of stability in their marriage. Speaking about her family and career in a 2018 interview with You magazine, she made it clear that the most important thing to her is being able to create a balance. She said, "The best you can hope for is to create a warm, loving, safe, and consistent environment." According to her, she and her husband are able to achieve this "the same way everyone else does: a combination of juggling and help."
Above all, the Hollywood couple has been able to come this far by making their relationship fun and staying friends. While Tom might be the dangerous bad guy in a lot of his movies, he's the opposite with his wife. They even gave each other a nickname- Tom's is "Boo" while Charlotte's is "Charlie Monkey".
Does Tom Hardy Have Kids With Wife Riley?
Tom Hardy is a father of three children. He welcomed his first son with his ex-girlfriend, Rachel Speed, seven years before he got married to his present wife while his two younger children are products of his union with actress Charlotte Riley. Find out more about them below.
Louis Tom Hardy
Date of Birth: April 2008
Parents: Tom Hardy and Rachel Speed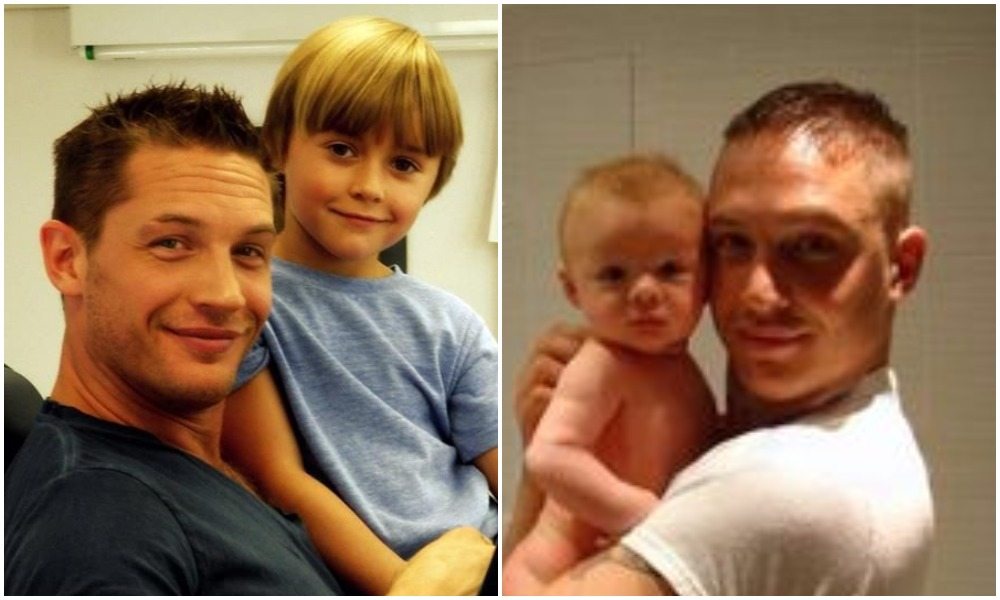 As we mentioned earlier, Tom has a son named Louis Tom Hardy from a previous relationship. He was born in April 2008 while Tom was involved with his ex-girlfriend, Rachel Speed. The former couple met in 2005 on the set of The Virgin Queen and started dating. A year after they welcomed their first child together, their relationship fell apart. However, Hardy handled the breakup like a man by embracing his fatherly responsibilities towards his son.
During a chat he had with Cosmopolitan in 2018, the Peaky Blinders star said that despite his success in Hollywood, he was yet to move there fully because of his first son. "My son lives in London with his mother and I need that contact with him. It's so important to me. Any time away from him is just criminal…I'm never moving until my boy is old enough to move with me if he wants to," he said.
The actor's present wife, Charlotte Riley, described Louis as "the most incredible, intelligent, creative little human being I have ever met…," adding that it was an honor to be his stepmother. Tom also stated in 2014 that becoming a dad really set him on a straight path. He admitted becoming a father (to Louis) was the one thing that rescued him from the addiction that nearly destroyed his life.
Although he brings nothing about his family to the public, Tom, nevertheless, has hinted at Louis's interests — basically, the young boy is passionate about comic book superheroes. Tom even confessed that his major reason for pursuing roles in Marvel films is to make movies that the young boy would like. Speaking at the 2018 edition of Comic Con, according to Fabiosa, he said, "My son is a massive Venom fan, and he was a strong influence on my why I should play Venom specifically. I wanted to do something my son could watch."
Tom and Riley's Children
Unlike most Hollywood couples, the Hardys' are very private people. While it is common knowledge that they have a son and a daughter together, most other information about the kids is unknown. This is because their parents have chosen to keep their personal lives off the radar in order for them to have a normal childhood. However, we'll share the little information about the kids that we were able to dig up.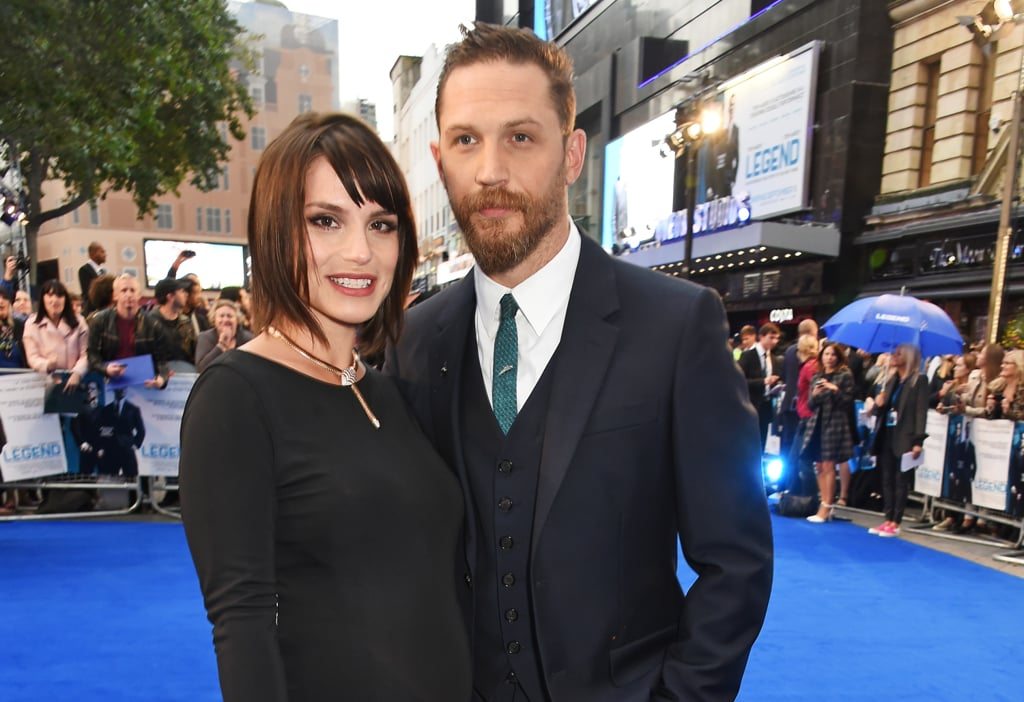 A year after their secret wedding, the couple pulled a huge surprise on the public when Rily appeared on the red carpet of Hardy's Legend premiere with a big baby bump. Later that year, in October precisely, they had their first child but decided to keep the picture, name, and gender of the child away from the rest of the world. Although some sources claim that it's is a boy, there is no confirmation from the parents.
Tom and Riley's second child -a son- was born in December 2018. He was named Forrest after Forrest Bondurant, the character Tom portrayed in Lawless. Just like the first child, pictures of Forrest are nowhere on the internet. There is no doubt that a lot of people will be happy to see the faces of the couple's children, but as Tom said in a 2018 interview with Esquire, their privacy is a top priority. According to him, he can deal with people taking pictures of him in public but "[Pictures of my] kids are a no. They really are."
Sharing in her husband's idea of keeping their personal and family lives private, Charlotte told The Telegraph in an interview that she does not feel the need to keep people updated with information about where and what she is doing per time. "I don't want to put myself out there like that. I enjoy privacy and anonymity."
Tom Hardy Says Parenting Is The Hardest Job On The Planet
While Tom and his wife definitely love their children and are doing everything to ensure that they are raised well, Tom could not hide the fact that being a father is one tough job. While he was being interviewed in 2018, he told Esquire that parenting was the most difficult, yet most important job on the planet. "You've got the military, police, doctors, service personnel — massive respect, huge consequences — but parenting? It's beyond a job…"
One of the responsibilities of parents is to ensure the safety of their families. Consequently, in a bid to keep his family away from potential danger, Tom relocated them from their £3.5million southwest London home to a more remote area in 2018, while Riley was still pregnant with their second child. He did this to keep his wife, and children away from the troubles of an obsessed female fan, who was already causing them distress. "He feels it's the perfect place for him and Charlotte to bring up their new baby," a source told The Sun.