Beyond her excellent career, Portia De Rossi is also known for her relationship with American comedian, and TV personality Ellen DeGeneres. The popular power couple tied the knot in 2008 and have since gone on to make numerous headlines individually and as a couple; understandably so, as they have both lived interesting personal and professional lives. Interestingly, there is a 15-year age gap between one of Hollywood's power couples, and this obviously means that the two have a lot of differences between them. Despite this, they have successfully built a loving relationship many are envious of. They are one of Hollywood's most iconic couples and fans can not get enough of them as the curiosity about how they have managed to stay solid through the years lingers in their minds.
Portia De Rossi and Ellen Degeneres First Met At A Party
When Portia set eyes on Ellen for the first time, she was immediately smitten despite being in a relationship with someone else at the time. It was the year 2000 when she was in a relationship with a certain Francesca Gregorini, an Italian-American writer and director, but she was a closeted lesbian woman at the time, it was also the time she was playing the main character of Nelle Porter in the Fox legal-comedy drama, Ally McBeal. Years later, Portia revealed that she was unable to tell Ellen of her feelings, not because she was seeing someone else but that she was afraid of what coming-out would do to her thriving career. Speaking of that time to Oprah Winfrey years later in 2005, Portia she that "she was not about to date the most famous lesbian in the world."
About four years later, Portia reconnected with Ellen, this time at VH1's Big in '04 Awards which was held at the Shrine Auditorium in Los Angeles, and this time, she could not continue to hide from Ellen the way she felt about her, luckily, the feeling was mutual and not long, they began dating. Portia and Ellen made their relationship red carpet official the following year 2005 when they appeared holding hands at the HBO Golden Globe Awards Party which was held in January 2005.
As 2005 progressed, the two took the next step in their relationship by moving in together. People Magazine reported at the time that the house of Ellen's 2-bedroom flat. Ellen, at the time, gushed to People that it was the very first time in her life that she was sure with every cell of her being that she was going to be with someone for the rest of her life. Not afraid to pack in the PDA, either at official events or while walking the streets of Los Angeles, more public sighting of the two occurred and it was not long before they became tabloid fodder as they had become Hollywood's most famous lesbian couple.
Portia De Rossi Has Been Ellen Degeneres's Wife Since 2018
After four years of living together, the couple was ready to take the next step in their relationship. They officially got married on the 16th of August 2008, making their marriage now 13 years and counting. Their wedding ceremony was a private and very intimate one held at their palatial mansion in Los Angeles. For their first dance together as a married couple, Portia and Ellen chose Stevie Wonder's "Ribbon in the Sky."
Perhaps the couple could have gotten married earlier but same-sex marriage was yet to be legalized in California until 2008 when the Supreme court of California finally made same-sex marriage legal. Ellen had proposed to Portia immediately after the bill was passed and she announced the big news during the taping of her show. The fact that they immediately married that same year is proof that the only thing holding them back was that bill. They were among the first lesbian couples to get married after the bill was passed into law.
Portia and Ellen's wedding was officiated by motivational speaker, Wayne Dyer who spoke of how much of a giant step their wedding was as it was an advancement for the ideal that everyone was not only created equal but had "the inalienable right to pursue our own happiness." After their wedding, Ellen took to her Instagram page to post Dyer's complete speech at the event.
Ellen gave a sneak peek at Portia's vows to her in a 2017 interview with GoodHousekepeing, she revealed that she used the quote; 'It is good to be loved. It is profound to be understood.' "Understanding," Ellen says is what the words "I love you" truly means and that Portia loves her for everything that she is. On August 6th, 2010, Portia legally filed to change her name to Portia Lee James DeGeneres and the petition was granted on 23 September 2010. However, she continues to use her name Portia De Rossi professionally.
Portia and Ellen Have No Plans To Have Kids
For many years after they got married, many fans and media outlets speculated about when the two would have kids. However, Portia De Rossi revealed that both she and Ellen had no plans of adding kids to their family. The couple do have a number of furry creatures to keep them company.
Portia and Ellen are parents to dogs named Wolf, Augie, and Kid as well as cats named Charlie, George, and Chairman. She revealed in a 2016 interview with GoodHousekeeping that animals offer unconditional love in ways that humans cannot and that they don't talk back. The family in September 2019 expanded to include a puppy named Mrs. Wallis Browning, Ellen revealed on her show. She revealed that Wallis was a rescue dog that had been left out in the desert from when she was 2 months old. She was adopted at three months old.
The Couple Have Been Victims of False Divorce Rumors
As is often the case with most longstanding relationships in Hollywood, divorce rumors have made the rounds on a few occasions on Portia and Ellen's marriage. The first time was in 2013, news began to surface that the two were having marital issues. The Inquisitr revealed at the time that an anonymous source told them that Ellen was a jealous control freak and had become possessive and controlling. The source also added that Portia was feeling trapped in Ellen's world and that she had had enough of Ellen's controlling nature and insecurities.
Ellen quickly debunked the rumors, telling People Magazine that there was no ounce of truth in what was being said about their marriage and that she was happily married and that the only thing that they ever argue about is who loves who more. Every couple does go through a rough patch every now and then and whether or not the claims by the tabloids were true, the longevity of Portia and Ellen's union since then is proof that whatever was wrong at the time was not stronger than the bond they share.
De Rossi and Ellen Celebrated Their 10th Wedding Anniversary in 2018
2018 was the year of major milestones for Portia and Ellen, it was the year when they had been 10 years in marriage and the couple did celebrate the big day. Ellen took to her Instagram page to post a video from their big day with a caption that read "Ten years ago today. This was such as a special day for us," Portia followed suit, posting multiple photos of their wedding day and added their officiating minister Dyer's words which she described as poignant and said that it should serve as a reminder to everyone that "we are living in a  country that supports marriage equality."
Prior to their 10th wedding anniversary celebration in 2018, the couple celebrated another milestone earlier in the year. It was in February 2018 when Ellen had just turned 60. Portia De Rossi appeared on Ellen's eponymous show and gifted her a gorilla sanctuary. In an emotional moment, Portia told Ellen that her 60th birthday was special and that she wanted to do something special for her. Ellen who has in the past said that Dian Fossey, a primatologist and conservationist is one of her heroes said that the gift was the best one ever.
Portia Jumped To Ellen's Defense Amid Terrible Allegations By Her Employees
In mid-2020, Ellen DeGeneres faced what she described as one of the toughest times of her career when some of her employees including some that had left alleged that she had created a toxic work environment. As a result, it was reported that her eponymous show was under investigation by WarnerMedia, its parent company. Around the same period, Portia took to her Instagram page to publicly declare her support for her wife.
Portia was not alone as fellow celebrities including Katy Perry and Ashton Kutcher took to their respective social media pages to publicly support the comedian. In early 2021, Ellen told People that she was heartbroken by the allegations and that she could not have gone through it without Portia. Ellen said Portia was her rock that kept her going and helped her try to put things in perspective.
Romantic Gestures and A Lot of Being Grateful Keep Their Marriage Going
Portia and Ellen have on numerous occasions been asked about the secret to a long-lasting union, a rarity in the pressured environment that is Hollywood. The couple have said that their relationship is the most important thing to them and that they have learned to consider each other, and this has kept them solid over the years.
They also try to keep things spiced up, Portia told People that Ellen likes to surprise her every single time she is out of town for the years they have been together and that she gets caught off guard all the time. She calls the hotel ahead of time and asks them to set up a romantic surprise which often includes putting "a huge heart-shaped thing of rose petals on her bed." In return, de Rossi would often leave little sweet notes around the house whenever she is travelling out of town.
Ellen has said that among many things, what she loves most about Portia is that she is very funny and is able to make her laugh, Portia has described her significant other with qualities like "kindest, most generous, most loving, loyal, trustworthy person." Ellen has also said that they have learned to be grateful for their love and not take it for granted as not many people get as lucky as they have.
Despite the expected differences due to their age and background, the power couple are known to have a lot in common; for starters, they are both authors. Portia De Rossi published an autobiography, titled "Unbearable Lightness: A Story of Loss and Gain," while Ellen has authored four books – "My Point…And I Do Have One," "The Funny Thing Is…," "Seriously…I'm Kidding," and "Home."
Ellen and Portia are also humanitarians, philanthropists, and animal rights activists. They also both became vegans in 2008, although Ellen has stated that she is no longer vegan.
Who Is Ellen's Wife Portia De Rossi and What Does She Do For A Living?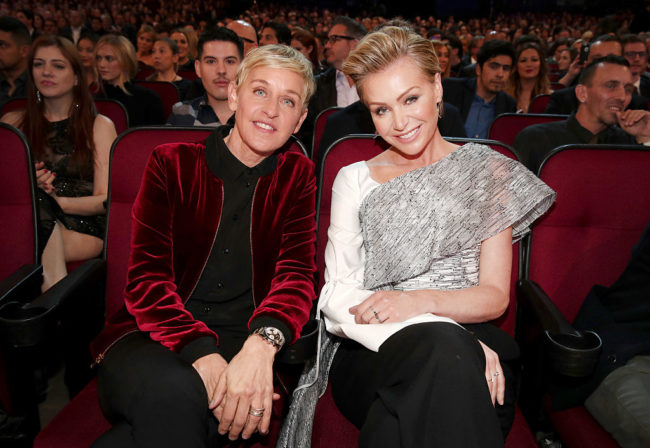 While everyone may know her as Portia De Rossi, her birth name is actually Amanda Lee Rogers and she was born in Victoria, Australia on the 31st of January, 1973. On the other hand, Ellen Lee DeGeneres was born on the 16th of January, 1958. This makes Ellen fifteen years older than her wife, Portia.
While Ellen DeGeneres began her career professionally in 1978, Portia De Rossi began hers in 1994. Portia then gained fame for her roles in Ally McBeal, Arrested Development, Cursed, Better Off Ted, Scandal, Family Guy, and Nip/Tuck. For her work as an actress, Portia has received many SAG nominations, winning one in 1999 for her role in Ally McBeal.
Portia decided to quit acting in 2018 and appeared on Ellen's show to reveal her reason. She said that as she was getting older, she began to think of something that she could do that was different from what she had done before and would be challenging for her. As a result, she came up with the idea to start an art business named General Public. The aim of the company is to change the art market by helping painters to sell their pieces in a way that would maximize profitablity. The company also "produces three-dimensional reproductions of works of art, a mix between original painting and print using a special process invented by Portia working with Fujifilm."
Portia's years of acting was highly profitable as she was able to rack up a net worth of $25 million. Her significant other is however richer with a net worth estimated between $350 million and $500 million.
Portia De Rossi Was Previously Married To A Man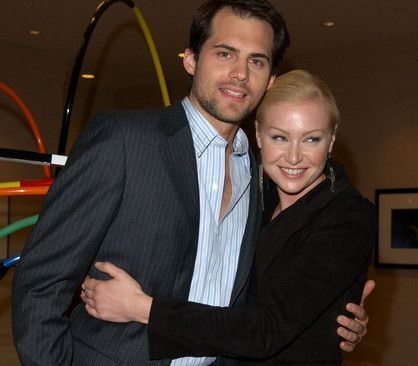 Prior to her marriage to Ellen DeGeneres, Portia was previously married to the documentary filmmaker Mel Metcalfe. The two were married from 1996 till 1999. At this time, she was still afraid of being discovered as gay, especially as an upcoming actress. However, as the relationship progressed, she decided to get real with herself and come to terms that she was gay. She ended her marriage to Metcalfe and began dating women but was a closeted lesbian for fear of the damage it would have on her career. Portia De Rossi only began speaking about her sexuality after she went public with her relationship with Ellen. The first time was in a candid interview with The Advocate in 2005.