It is quite normal for women to change their names after marriage to take up their husband's names but for actress and model Portia De Rossi, that was not the case, she actually revamped her identity by dropping her birth name to embrace a name that has turned into to a globally recognized name. More about this ever gorgeous and talented actress is revealed below.
Portia De Rossi's Bio, Age
Portia De Rossi was born on January 31st, 1973 to Barry Rogers and Margaret Rogers with the birth name Amanda Lee Rogers in Victoria, Australia. At age 9, Portia lost her father and her mum had to work hard as a Medical Representative to ensure that she raised Portia and her brother comfortably. By age 15, the young actress changed her name to Portia De Rossi in the bid to re-invent herself and she found the name to be sophisticated. Portia also had to start modelling for some TV commercials and print media in order to help her family. Her high school education was done at Melbourne Girls Grammar School after which she went to the University of Melbourne where she studied Law.
The actress got her first role in a film in 1994 when she was selected to play the role of Giddy, one of the 3 beautiful models in the film Sirens. She later relocated to California where she got the opportunity to do TV shows and play various characters, however, her big break came when she starred on the film Ally McBeal between 1998 to 2002. Her role in the award-winning sitcom Arrested Development is also widely recognized and she has made appearances in popular films and series like Cursed, Better Off Ted, Scandal, Family Guy and Nip/Tuck.
See Also: Lisa Vanderpump Age, Husband, Daughter, Son, House, Biography
The gorgeous actress is also a philanthropist who supports numerous charity homes among which is the Locks of Love which provides hair wigs for children who suffer from hair loss due to harsh medical treatments like Chemotherapy. She also supports AIDS victims over the world and fights for animal preservation.
Is Ellen DeGeneres Her Husband?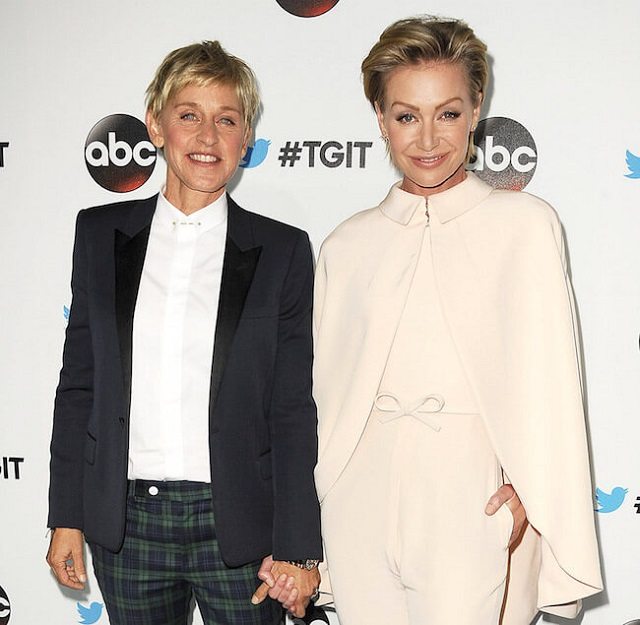 Portia De Rossi is indeed Ellen Degeneres' partner whom she married on 16 August 2008 at a low key ceremony held at their Beverly Hill home. On August 6th, 2010, Portia legally filed to change her name to Portia Lee James DeGeneres and the petition was granted on 23 September 2010.
Portia De Rossi Plastic Surgery Timeline
Portia de Rossi back in 2013 was in the tabloids when speculations were raised that she had undergone plastic surgery as the actress in spite of her age, has managed to remain youthful. Rumour had it that the actress has had different sorts of surgeries as her looks in pictures keep changing. Let's run you through the different kinds of surgeries Portia has allegedly undergone:
Botox Injection: This is a procedure done to get rid of age causing wrinkles and now, it is evident that the actress does not show any signs of ageing like those in her age circle.
Nose Job: Portia also joined the unending list of celebrities that have gone under the knife to alter the shape of their nose in a way to make it appear more balanced. The actress who used to have a nose pointing downwards now has a straight nose which can only be achieved via surgery.
Eyelid Enhancement: This procedure is done to correct flaws around the eyes and gives bigger and wider eyes by the removal of excess skins in the lower and upper eyelid.
Lip Surgery: Most celebrities are currently obsessed with having fuller lips, hence, the need to go for lip fillers in order to change the look of their lips. When Portia entered the entertainment industry many years ago, her lips did not appear this full and the only way for them to have transformed this much is by working on them.
Net Worth Of Portia De Rossi
The actress and partner of the famous talk show host Ellen DeGeneres is really working her way up the ladder of success and wealth with her appearance in award-winning films alongside other movies over the years, she has accumulated a net worth that is estimated to be $25 million.