What is Meghan Markle's ethnicity? Meghan Markle is biracial, born on the 4th of August 1981 to Dutch-Irish- German father (Thomas Markle) and African-American mother (Doria Ragland).
She has openly spoken about her mixed-race and how confident she is in her skin, but it was not always easy as she has struggled with it as a young kid growing up in Canoga Park, Los Angeles, California which is where she is from in the United States of America.
Is Meghan Markle Black?
Meghan has openly defined herself as "half black and half white," however, her race has always been a subject of debate to the point that to African Americans, she is black while to others, she is biracial.
Meghan Markle's Parents' Ethnicity
Her parent's interracial marriage happened in 1979, a time when there were not many such marriages and the few ones that existed were being largely frowned upon, but her parents did fall in love and Markle became a product of that union. In Markle's interview with Elle in 2015 where she extensively spoke about her ethnicity, the actress recalled how the neighborhood they grew up in was not diverse and that her mom, Doria would often get asked about the real mother of the baby as they immediately assumed that she was the nanny as the baby appeared too white to have been hers'.
Meghan Markle's Mother's Race and Ethnicity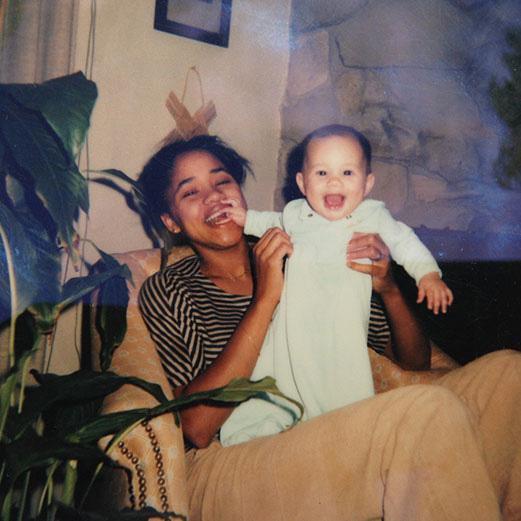 Meghan's maternal grandparents were blacks who had ties to Chattanooga, Tennessee. Her maternal grandfather named Alvin Azell Ragland was an antique dealer who was born in the 1930s in Chattanooga. Alvin's own parents lived on Terrace Street and Maple Court. Census records from Chattanooga in 1930 reveals that Alvin worked downtown as a hotel porter when he was 14 years old.
Genealogist, Elizabeth Banas, who was hired by the Daily Mail to conduct extensive research into the actress's roots made a surprising discovery – Meghan Markle has mixed-race on her mother's side. Her maternal great-great-grandfather named Jeremiah Ragland was biracial as his mother was a white woman named Texas and also referred to as Mahala Hendrick. She is said to have been married to a man named Steve who could likely be Meghan's maternal great great great grandfather. Jeremiah Ragland was the one who moved the family from Georgia to Chattanooga, Tennessee. He worked as a presser in the 1920s and was also a tailor who owned a tailoring shop.
Her maternal great grandfather named Steve R. Ragland was a bag handler at the Northern Hotel, a Tennessee hotel that is now the Mountain City Club. Like his father Jerimiah, he also worked as a presser in Chattanooga.
Meghan's maternal grandfather Alvin Ragland married twice, Jeannette Johnson (Doria's mother) was his first wife but he was her second husband. She would pass away in the year 2000 at the age of 71. Jeannette Johnson worked as an insurance company secretary and is reported to have also been a nurse.
Doria's (Meghan's mother) parents, however, did not have her in Tennessee but in Ohio, she would then be raised in California where the family had relocated, she would come to have Meghan in the same state years later.
Meghan's maternal grandfather, Alvin's second wife was Ava Burrow Ragland who was 24 years younger than he was. Research conducted by the Daily Mail showed that Ava who is a teacher was still alive. She had worked as a kindergarten teacher for Hamilton County schools at Normal Park and Woodmore Elementary. Records from her Facebook page showed that she teaches at Morongo Band of Mission Indians and resides in Indo, California. Her marriage to Meghan's maternal grandfather also ended in a divorce.
Alvin Ragland passed away on the 12th of March 2011. Daily Mail reported that he died in Doria's (Meghan's mother) home in Los Angeles, California after tripping on a dog leash. He was described by friends as "charming and nice, although a bit roguish."
Though there are no official records tracing Meghan's family to the time of slavery, she did reveal in her 2015 interview with Elle that her great-great-great-grandfather chose the last name "Wisdom" when slavery was abolished and former slaves had to chose whatever surname they wanted.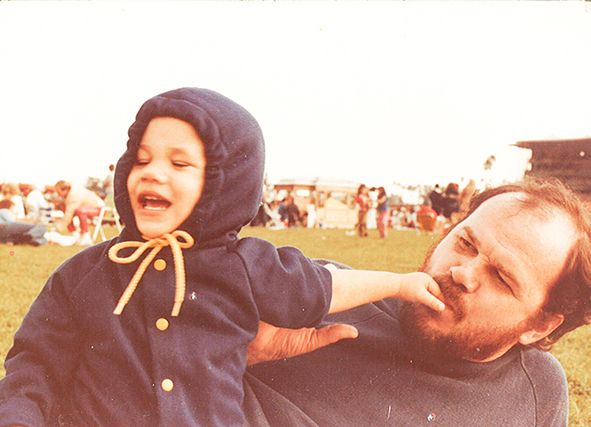 Meghan Markle's Father's Race and Ethnicity
Meghan Markle's heritage on her father's side is also quite interesting. Her father Thomas Markle is Dutch-Irish and is said to also have German and Switzerland roots. This would be something that the former actress shares in common with her husband Prince Harry whose own family has their genealogy traced to a German dynasty – the House of Saxe-Coburg and Gotha. That said, tracing Markle's German roots is quite not as straightforward as her royal husband's as there have been insufficient documents to make a precise conclusion.
Hendrik Welling, a reporter for DW researched the former actress's paternal bloodline and traced her paternal forefathers to Lampertsloch, a small community in France that is close to the German border. Records of the New England Historic Genealogical Society say that her forefather was named Heinrich Martin Merckel and changed the spelling of his surname after emigrating to America.
Also, a genealogist named Gary Boyd Roberts of the New England Historic Genealogical Society said that Markel is a descendant of King Edward III who ruled Wales and England in the Middle Ages, this would make Markel the 17th cousin of her husband, Prince Harry.
Meghan Markle's paternal grandparents are Doris May Rita (née Sanders) who was born in 1920 and passed in 2011 and Gordon Arnold Markle who was born in 1918 and passed away in 1979. Her paternal grandmother came from a family in New Hampshire.
Meghan's Mother, Doria Loyce Ragland, Is A Social Worker
Full Name: Doria Loyce Ragland
Born: September 2, 1956
Birthplace: Cleveland, Ohio, U.S.
Occupation: Social worker, Makeup artist; business owner; yoga instructor; therapist
Meghan Markle's mother Doria Ragland was born on the 2nd of September 1956 in Cleveland, Ohio, to nurse Jeanette and Alvin Azell Ragland who later relocated to Los Angeles, California where Doria was raised. In Los Angeles, she attended Fairfax High School. She became a make-up artist and worked on the set of TV shows. She would also later become a travel agent who owned her own private business that was successful until bankruptcy hit her in the mid-2000s.
Doria Ragland holds a Bachelor's degree in psychology and graduated with a Master's degree in social work in 2011. Four years later, she passed California's licensing examinations and worked at Culver City's Didi Hirsch Mental Health Services clinic for about three years. She quit the job in 2018, a source would later reveal to US Magazine that she had intentions of starting her own private practice with a focus on the elderly.
Meghan once revealed that her mother who is also a yoga instructor works specifically with the geriatric community. She has described her dreadlocked mother as a free spirit and rightly so, Ragland once participated in the Los Angeles marathon. The actress once revealed on her blog The Tig that her mom loves potato chips & lemon tarts.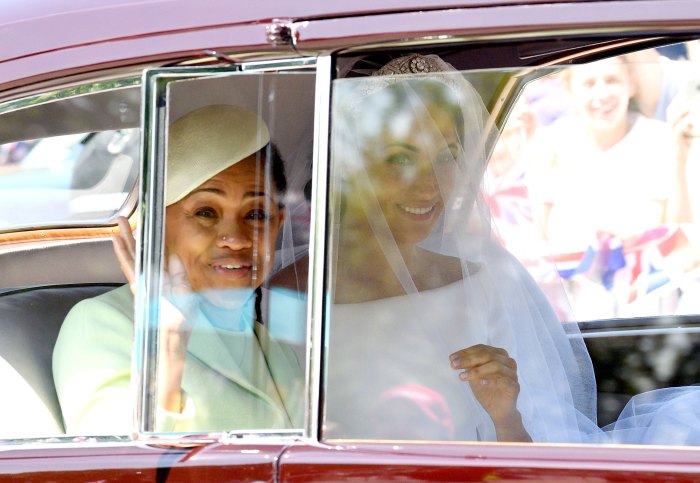 The Actress Maintains A Close Relationship With Her Mother
Doria Ragland was catapulted from obscurity to fame after her daughter's romance with Prince Harry began as she became more visible and was often seen by her daughter's side. The actress reveals that her mother calls her "flower" or "bud." She was among the first people to get introduced to the Prince when he and Meghan began dating privately. When the royal couple made their first public appearance at the Invictus Games in September 2017, Ragland was there. Sources say that the Prince at the time asked Ragland for permission to propose to her daughter.
She traveled to London ahead of her daughter's wedding and met with the other members of the royal family including the Queen, a moment she says was her highlight of the star-studded occasion. She spent the eve of the wedding with her daughter at Clivedon House and walked her down the glorious aisle of St George's Chapel, Windsor on the big day. For the event, she wore a Wedgewood green wool crepe dress and an Oscar de la Renta coat.
Ragland has since been very involved in her daughter's life, she was with the couple when they celebrated their first wedding anniversary and when they welcomed their first son Archie Harrison, she moved into the couple's former home, Frogmore Cottage to help. She posed alongside the Queen and Prince Phillip in a historic photo with the couple and their new son.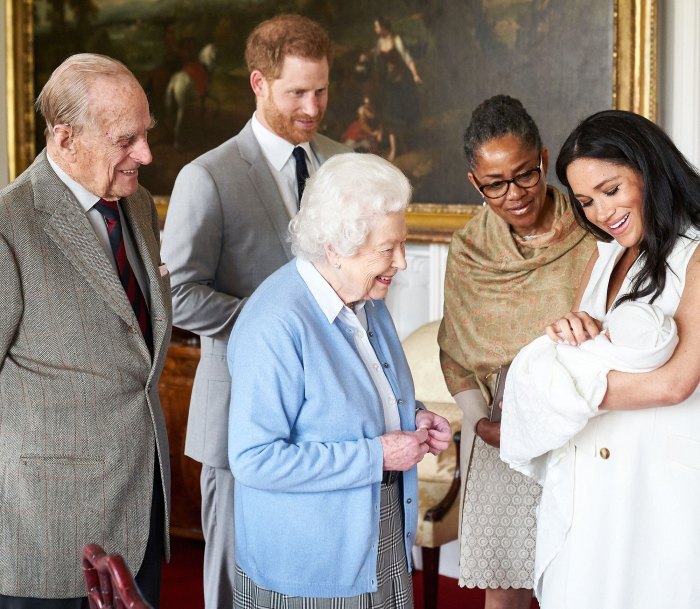 Ragland reported for grandma duties in Vancouver Island, Canada where the royal couple vacationed in December 2019 not wanting to miss her grandson's first Christmas. And when their second child, daughter Lilibet arrived in June 2021, Doria was also around to help her daughter ease the stress of becoming a new mom.
Meghan Markle's Father, Thomas Markle, Is A Former Lighting Director
Full Name: Thomas Wayne Markle Sr.
Born: July 18, 1944
Birthplace: Newport, Pennsylvania, U.S.
Occupation: Retired Lighting director and director of photography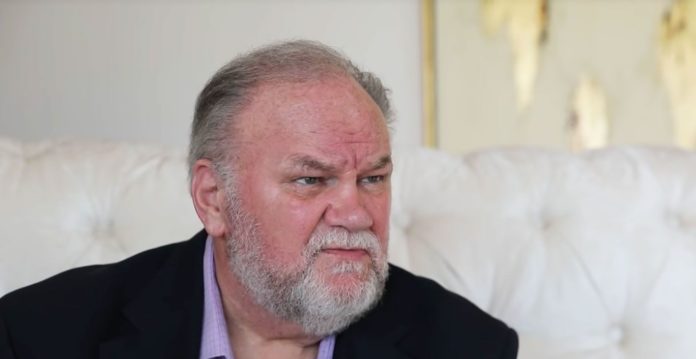 Meghan Markle's father was born Thomas Wayne Markle on the 18th of July 1944 in Newport, Pennsylvania, USA. He was raised as an Anglican alongside his two brothers Frederick, and Michael Markle who passed away in 2021 as a result of Parkinson's disease. He was 82 years old.
Like his daughter, Tom had a career in Hollywood. For the years he was active, he worked as a lighting director and director of photography. His career began in the 1970s at WTTW-TV Channel 11. Thomas Markle achieved beyond average success as a light director, on numerous occasions, his works have been nominated for an Emmy Award and he is in fact a recipient of two Emmys. In 1982, he won a Daytime Emmy Award for Outstanding Achievement in Design Excellence for a Daytime Drama Series for work on General Hospital; he was one of 14 recipients to receive the award for the work. Prior to that time, his lighting design work on Made in Chicago in 1975 won him a Chicago/Midwest Emmy Award for Outstanding Achievement for Individual Excellence: Non Performers.
Tom's second Emmy Award came in 2011 for his work in General Hospital. It was for Outstanding Achievement in Design Excellence for a Daytime Drama Series, an accolade he shared with Vincent Steib.
As a lighting director, Thomas Markle made a decent earning, however, his biggest paycheck came from a lottery win. The Duchess' father in 1990 won $750,000 in the California State Lottery. Unfortunately, he was not able to properly manage his finances as he went bankrupt in 2016 with his financial records showing that he was in debt to the tune of $30,000. He now lives in Rosarito, Mexico.
Before he married Meghan's mother, Thomas Markle was previously married to another woman. Her name is Roslyn Loveless. They had met in 1963 at a campus party at the University of Chicago. A year later, they got married in 1964 and had two kids together, they are Samantha and Thomas Markle Jr. born in 1964 and 1966 respectively. Meghan had a relationship with her half-siblings while growing up as old family photos reveal, however, in recent years, the actress seems to now be estranged from them. Thomas divorced his first wife in 1975.
Meghan Markle's Parents Met On Set
Meghan Markle's parents met on the set of the ABC hit drama General Hospital. Doria worked as a make-up artist for the show while Thomas was the show's lighting director. There is a huge 12 year age gap between them but this had nothing on their love as they soon began a relationship. In her Elle interview, Meghan spoke about her parent's meeting saying that she'd like to think that her dad was drawn to her mom's sweet eyes and Afro. She also revealed their shared love for antiques to be a factor that contributed to strengthening their bond.
Markle's parents got married two days before Christmas in 1979 at the Self-Realization Fellowship Temple of Paramahansa Yogananda in Hollywood, Los Angeles, on December 23, 1979. The wedding venue was Doria's choice, she had at the time just trained as a yoga instructor. After their nuptials, they moved into an affordable house in The Valley, Los Angeles. A year into their marriage, Doria got pregnant and in 1981, Meghan was born and given the first name Rachael. While it was the first child for Doria, it was Thomas's third child and second daughter.
Unfortunately, their union did not last for long. When Meghan was just 2 years old, her parents separated and about four years later, they divorced.
Meghan's Upbringing and Childhood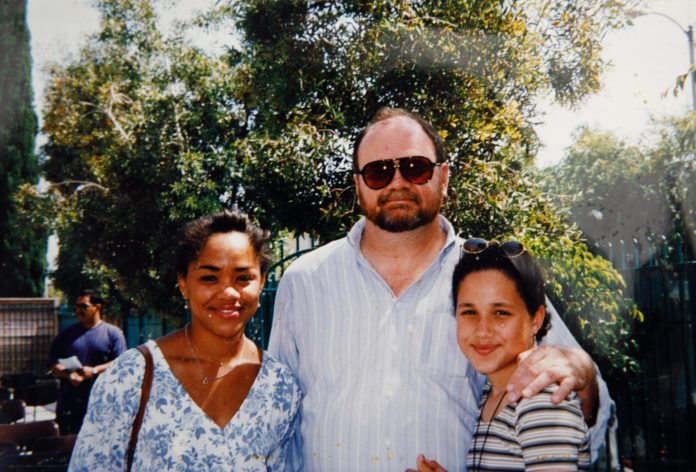 Meghan Markle's parents might have divorced when she was just a child, but this did not in any way affect her upbringing nor her relationship with either parent, even though she lived with her mom after the divorce. As the Duchess recalled in her 2017 interview with Vanity Fair, she never saw her parents fight after their separation and divorce and things were always amicable between them. The family went on vacations together and she would still get to spend ample time with her dad who would drop her off at her mom's on Sundays after his time with her. He would even stay back in for dinner and his family of three would watch Jeopardy and eat together in TV trays. Old family photos suggest that the Duchess also had a close relationship with her step-siblings Thomas Jr and Samantha Markle.
Markle's dad was very much involved in her life especially in building her confidence as a bi-racial child. The former actress revealed how during one Christmas she was fawning over a boxed set of Barbie dolls called Heart Family that came in two sets one representing a black family and a white family. Though she did not prefer one over the other, her dad took notice of her love for the toys and on Christmas day gifted her his own customized version where he took each of the sets apart and made one with a white dad and black mom.
When Meghan was in the 7th grade she was asked to complete a mandatory census in her English class that requested on the form what ethnicity she was. There was a box for black, white, Hispanic, and Asian, confused, young Meghan knew none of those fit her and when her teacher encouraged her to tick the white box as it was what she looked like, she could not go ahead as she thought it would mean picking one side of her over the other and even worse, hurt her mom if she found out. She did not tick any of the boxes. Upon returning from school that day, Meghan told her dad about what she'd experienced. The Duchess said it was the first time she had seen her dad close to being angry, in response, Thomas said to his young daughter "If that happens again, you draw your own box" words that the Duchess says have since remained with her.
It goes without saying that the Duchess was raised to be a confident child. Little wonder why, at just 11 years old, she had the guts to challenge a Proctor and Gamble dishwashing soap commercial she perceived as sexist. The advert had words that suggested that doing the dishes was a chore reserved for only women. Her dislike for the ad moved her to pen a letter of indignation to influential American women such as Hilary Clinton to have it changed. Her voice was heard and P&G would change the words from "mums/women" to people, to cover people of all genders. Perhaps it was such upbringing and her experience with the P&G dishwashing soap commercial that made Markle once consider switching careers from acting to politics, while she did not make a total switch, she did choose International Relations as one of her majors at Northwestern University, one of America's best college from where she graduated in 2003.
Markle attended just private schools; she started out at Hollywood Little Red Schoolhouse nursery and later the Los Angeles all-girls private school, Immaculate Heart High School.
Thomas Markle's Influenced On Her Daughter's Career Path
Thomas Markle may have influenced her daughter's choice to become an actress. From the young age of 10, Tom exposed his young daughter to filming sets. When schooling was over, young Meghan would join her dad on the set of Married…with Children. In her 2013 interview with Esquire, the Duchess revealed how when visiting him on the set of the show, her dad would send her to go help with the craft services room, in a bid to keep her from watching inappropriate scenes on the set.
Those prolonged periods spent on set ignited a passion in Markle for acting. She started out in school by acting in theatrical productions. As a result of her mixed heritage, Meghan faced some difficulties getting movie roles early in her career as she was either considered too light for the black roles or too dark for the white ones. She was labeled ethnically ambiguous. In her words on her now-defunct blog The Tig, she was the ethnic chameleon who couldn't land any role. She supported her low job flow by working as a freelance calligrapher, she also made money teaching bookbinding. She landed her first role in the daytime soap opera General Hospital. Markle describes her breakthrough role in Suits as "the Goldilocks of my acting career" because the producers did not consider race.
Meghan Is Now Estranged From Her Father
In recent years, Markle's relationship with her dad has gone sour. The genesis of their friction seems to be the photo scandal that Thomas was involved in. In May 2018, Daily Mail published footage where he appeared to be staging photos with the paparazzi, he later admitted to the photo scandal, confessing that he looked stupid. In the same month, the palace had announced that he would be walking Meghan down the aisle but he did not show up, Prince Charles stood in his stead on the wedding day.
Thomas said in the same month that he was unable to attend the wedding scheduled for the 19th of May due to the backlash he received from the public as a result of the photo scandal. He later revealed that he was to undergo heart surgery on the 15th of May after going suffering a heart attack a week earlier.
Obviously gutted by her dad's behavior and consequent absence from her wedding, Meghan seems to have severed ties with her once-loving dad. Thomas has since had a series of interviews with British tabloids. In one of those interviews, he criticized the royals saying that photos of his daughter from that time looked like they were putting her under too much pressure. Thomas published parts of a letter Meghan wrote her in August 2018 telling him that he had torn her heart into a million pieces due to his actions. Meghan has since distanced herself from her dad who continues to make himself tabloid fodder in what looks like an attempt to get her daughter's attention.
Thomas Markle told the media that he was disappointed when Meghan and Harry announced that they were stepping away from senior royal duties. After Meghan's 2021 interview with Oprah, Thomas said he did not think the royals nor Brits were racists but that people in Los Angeles were. Thomas Markle is yet to see any of his grandchildren from Markle and has said that he would continue to make efforts to see them.