Meghan Markle, Prince Harry's fiance has continued to trend; ever since she got engaged to the English royal, her life has been under public scrutiny, not in a negative way though. We are just curious, we want to know more about this soon-to-be an addition to the prestigious English Royal family.
There's definitely sufficient coverage on her life as Prince Harry's bride-to-be. But Miss Markle sure had a life before Prince Harry, in the spotlight too. Even though all that fades out when compared to what she has now, it's something that many would find interesting and that is why we are going to delve a little bit into that subject.
Meghan Markle used to be an American actress and lifestyle blogger mostly known for starring in the TV series, Suits. You saw that phrase "used to be" right? Well, that means she may never return to her acting career. Giving up her Hollywood career may be one of the sacrifices Meghan has to make as a royal-to-be. Who needs to be Hollywood royalty when you can be a real life royal by the way?
As a lifestyle blogger, Markle owned a website, The Tig, which she launched in May 2014 for people with a hunger for good food in addition to other lifestyle interests like travel, fashion and beauty. However, due to the former Suits star's commitment to her future with Prince Harry, Meghan shut down her site and Instagram account in November 2017. Whoever said being a royal was a walk in the park?
Meghan Markle is also a philanthropist who is passionate about children, animals and women's rights. Her husband-to-be Prince Harry is a fan of Markle's humanitarianism and activism, more so, that role will definitely suit her new royal status.
Well, the royal lovebirds recently embarked on a UK tour and so far, they have been to Nottingham, Brixton in south London, Welsh capital most recently they paid a visit to Scotland. These are some of their public engagements in the run-up to their wedding in May 2018.
Meghan has already made history as the first American to be officially engaged to a British royal and come May 17 when the pair will eventually tie the knot, she will become the first American to be given the title "Her Royal Highness".
See Also: Princess Beatrice of York – Bio, Net Worth, Age, Engaged, Fiancé, Wiki
Meghan Markle's Bio, Ethnicity, Age
in Los Angeles, California, USA. She was raised in one of the most affluent African American neighbourhoods in the US, the View Park-Windsor Hills often referred to as the 'Black Beverly Hills'.
Meghan Markle attended Northwestern University where she obtained a bachelor's degree with a double major in theatre and international relations. Before graduation, Meghan interned at the U.S embassy in Buenos Aires, Argentina before returning to the U.S to begin her acting career. Her acting credits include Remember Me, Get Him to the Greek and the 2011 American black comedy film Horrible Bosses. The most notable is her portrayal of Rachel Zane on the legal drama series Suits for seven seasons.
Meghan Markle's father descended from Dutch, English, and Irish settlers. According to the royal bride-to-be, her father is Caucasian while her mother is African American. She describes herself as half black and half white.
She, however, faced some difficulty getting movie roles early in her career as she was either considered too light for the black roles or too dark for the white ones. The Suits star has since embraced her identity as a mixed-race woman.
Meghan Markle is currently 36 years old.
Mother, Father
Meghan's father Thomas W. Markle is a retired Hollywood cinematographer and Emmy-award-winning television lighting director. Thomas Markle is known for working on iconic US shows including Married with Children and General Hospital. According to Meghan, she was introduced to Hollywood by her father as she often accompanied him to movie sets.
The relationship between Meghan and her father got strained during her teenage years, however, Thomas Markle is expected to walk his daughter down the aisle when she says "I do" to Prince Harry on May 19. The former actress has 2 paternal half-siblings, Samantha Grant Markle and Thomas Markle Jr., from her father's earlier marriage.
Her mother Doria Loyce Ragland is a clinical psychotherapist and a yoga instructor who has a masters degree in social work from the University of Southern California. Meghan admits that she was raised to be a global citizen by her social worker mother and to keep her eyes open to the realities of the world we live in. That background definitely played a role in Markle's passion and interest in women and as a UN ambassador.
Meghan Markle's Relationships
She dated LA-based producer and talent manager Trever Engelson for 7 years before getting married to him in September 2011. However, the marriage didn't last as long as the courtship as it ended sometime in 2013.
However, Meghan found love again in May 2016 as she was introduced to Prince Harry by a mutual friend. They were set on a blind date and even though the American actress knew very little of the royal family, she and Prince Harry hit it off almost immediately. They managed to keep the relationship under wraps for about 5 months but by October 2016, the media caught up with them and it became common knowledge that the pair is an item.
The news that Meghan and Prince Harry had a thing going was unfortunately followed by intense media scrutiny of the American actress. Even for one who had been in the spotlight for quite some time, Meghan found it way too much to handle. Being the gentleman he is, the Prince of Wales tried to protect his woman the much he could by pleading with the social media trolls to tone it down.
The couple eventually weathered the storm of media harassment against Meghan and continued to wax strong. On November 27, 2017, they officially announced their engagement. According to the statement released by Prince Charles' official residence, the couple will reside in Nottingham Cottage at Kensington Palace. Definitely a happy ending to this one-of-a-kind royal love story!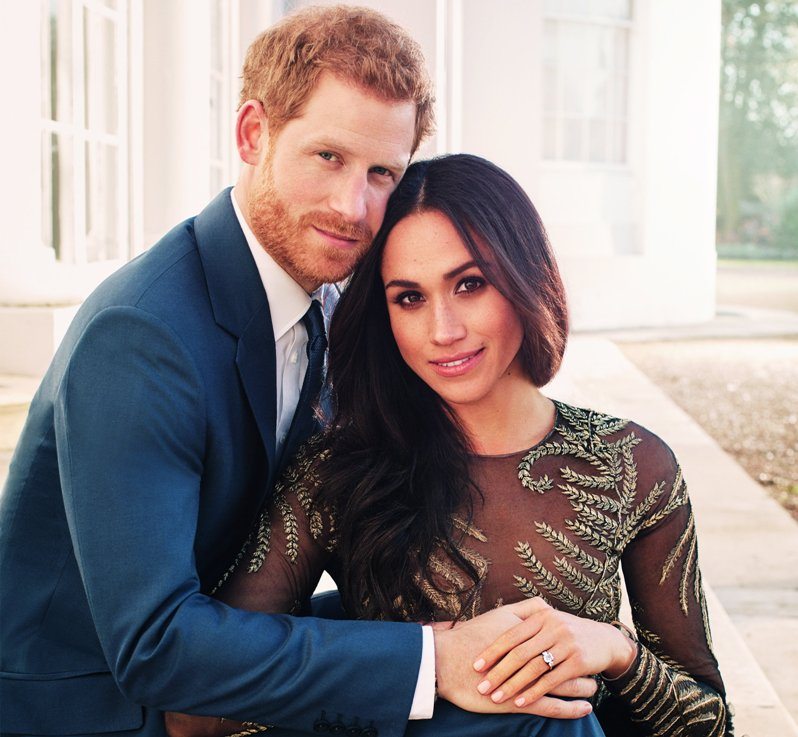 Net Worth
Meghan Markle currently has a net worth of about $7 million. Even though this is but a fraction of what her husband-to-be, Prince of Wales, is worth, $7 million is still quite a fortune. Throughout her 7-season-long stint on the hit legal TV series Suits, Meghan earned about $50,000 per episode.
Even as Meghan kisses goodbye to the show and of course her salary to take on her new role as an English royal, she doesn't have much to worry about in terms of finances. It is expected that as she has become a part of the royal family, the cost of her public and private activities will be provided by the Duchy of Cornwall, the private estate of her to-be father-in-law, Prince Charles. Cheers to you Meghan!
See Also: Princess Diana's Height, Weight And Body Measurements
Height and Body Measurements
The royal bride-to-be has a height of 5 ft 7". She weighs 134.5 lbs. Her body statistics are 37-25-34. Just like her mother, Meghan is a yoga enthusiast.
The former actress also includes pilates in her workout routine which has helped her maintain her enviable figure. Even though she is a self-confessed foodie who loves to indulge in her cravings, Meghan always keeps her diet balanced and as healthy as possible.