As big as Instagram is, there are people who draw most of the attention on the platform to themselves alone. While at this time we might not be looking at those at the very top on the platform with hundreds of millions of followers, we will be looking at a model, Kristina Basham who has a significant amount of followers on the platform with promises of gaining more in the future as she continues to grow her career. Here, you will get to know more about this star, her family, relationship life and every other thing we have found out about her.
Kristina Basham's Bio (Age)
In the year 1988 on the 31st of July, Kristina Basham was born in San Francisco, California as an American of Caucasian ethnicity being that her father is of Italian and French descent and her mother of Middle Eastern and German descent.
As a child, she suffered from Obsessive Compulsive Disorder which makes sufferers have excessive thoughts that make them perform repetitive behaviors. However, with the help of her parents, she was able to overcome this and live a normal life.
In her elementary school, she participated actively in sports, running the cross country for which she was given a gold medal. For college, Kristina Basham got admitted to the University of California, Berkeley where she obtained her first degree in economics and later a masters degree in financial economics from Berkley Graduate School. She started off her corporate career with a corporate job but soon jettisoned it for her love for modeling which she had started doing when she was just 11 years old.
After quitting her job, she signed with a modeling agency in New York and another in London all in a bid to find fulfillment with her talent and beauty. At this time, she modeled for Balenciaga, Tom Ford, Carolina Herrera, Tommy Hilfiger, in addition to being a brand ambassador for Aston Martin, Disney, Emirates Airline and Nissan.
However, she didn't feel satisfied with her new career and felt she did things which she shouldn't have done. Thus she walked away from the modeling industry to open her bakery business in San Francisco bay area, named Le Vasseur Confectionary in which she finally found fulfillment in addition to being enriched by its proceeds as well.
Well, Kristina Basham can't take it away that she has one of the prettiest faces and most highly sought after body in the modeling industry. As a result of this, she hasn't been relegated to the background but still models selectively in big events like the Paris Fashion Week, Milan Fashion Week, New York and London Fashion Week.
For her beauty, her Instagram handle has seen a large number of followers lining up to follow the handle which boosts of over 4.5 million followers with hundreds of posts (pictures) of herself. She describes herself as a Pianist/Violinist and skincare guru.
See Also: Who Is Jessica Serfaty (Ed Westwick's Girlfriend)? Her Full Bio And Family Life
Net worth
For a trained economist, a model later turned entrepreneur in the person of Kristina Basham, she sure has ample knowledge to make a fortune out of any modicum amount she lays her hand on. Her actual net worth has not been verified at this moment judging by all we have known her for over the years. Nevertheless, some sources put her net worth at $3 million dollars. To be fair enough, Kristina should be worth more than this.
Family – Parents and Boyfriend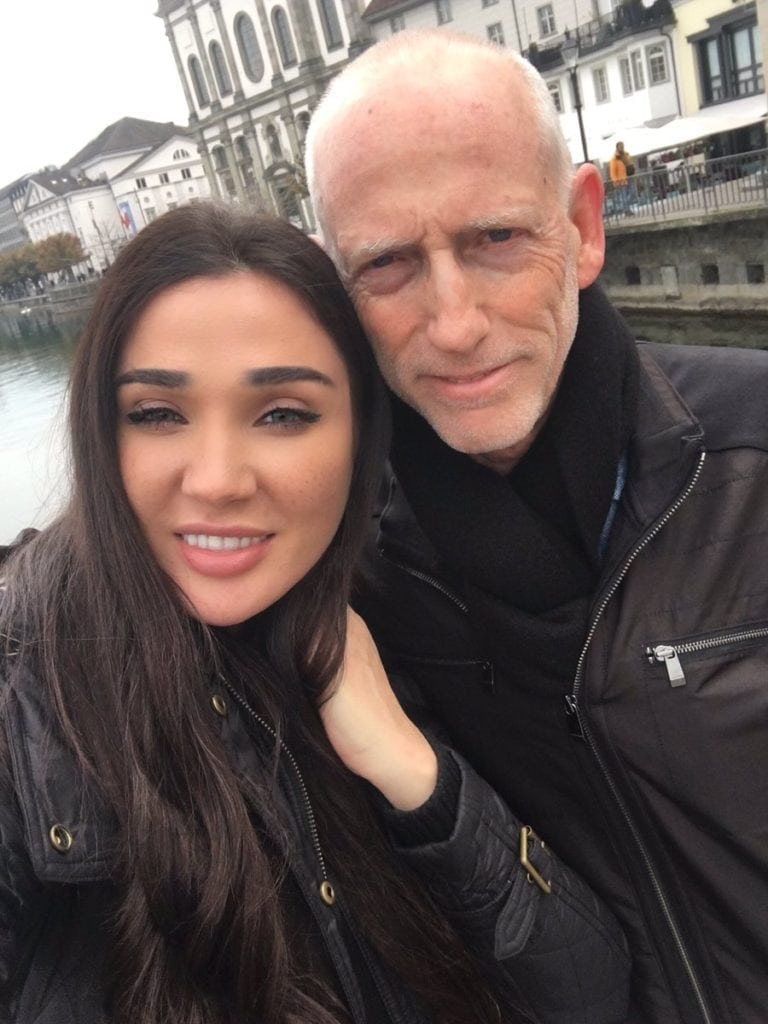 Other than the ethnicity of her parents stated above, we don't know at the moment what identities they hold in terms of their names, what they do and whether or not they had other kids in addition to Kristina Basham.
Kristina was widely reported to have gotten married to a yet to be named guy in her college days. With him, she had her two children while she was doing a corporate job after graduate school. The story had it that it became herculean for her managing her roles as a wife, mother and an employee in addition to a couple of other ills in the marriage. As such, she opted for a divorce and ended her first marriage.
At the moment, she is reported to be dating American writer and cartoonist Scott Adams who is credited to the Dilbert comic book series. The couple have an age difference of over 30 years but that seems not to be an issue for them as they have been making repeated public appearances with each other.
Height
She stands at a height of 5 feet 6 inches or 171 cm approximately.