Brian Kilmeade has an estimated net worth of $10 million, thanks to his successful career which fetches him an annual salary of not less than $4 million, and his several other endeavors outside Fox.
Just as he has had a steadily flourishing career, Brian has also enjoyed a stable home. He has been married to Dawn Kilmeade since 1993 and together, they have three children: a son and two daughters named Bryan Kilmeade, Kirstyn Kilmeade, and Kaitlyn Kilmeade respectively.
Brian Kilmeade Has Been Married to Dawn Kilmeade Since 1993 
Being a presenter and political commentator for Fox News has been a successful endeavor for Brian Kilmeade; through it, he has amassed a net worth estimated at $10 million but as you would soon learn, it hasn't been the only source of his wealth.
Arguably, Brian is not only one of the most popular media personalities in the United States but also one of the most influential and controversial. He is one of the hosts of "Fox and Friends" and also hosts "The Brian Kilmeade Show" on Fox News Radio.
On these shows, Brian has made several controversial comments that have earned him a lot of severe criticism. For instance, he had many gunning for his neck sometime in 2010 after he remarked that "all terrorists are Muslims".
Controversial comments like that have been the hallmark of Brian's career as a conservative political commentator. Depending on the political ideology of who you ask, the man is either an icon promoting the traditional values of America or a delusional ass that wouldn't desist from making highly divisive comments.
Whether he should be celebrated or canceled is something the American public would never agree on but the fact that his career has made him a multi-millionaire isn't up for debate. For a media personality who has been active since the late '80s, Brian has steadily climbed the career ladder and now commands millions of dollars in salary per year.
Regardless of what one thinks of him, his relentless drive which has brought him this far is commendable.
Brian Kilmeade's Current Contract With Fox News Earns Him a $4 Million Salary Per Year
Fox & Friends is one of the most popular programs on Fox News. It premiered in February 1998 and has become known for supporting the Republican Party. Its ratings soared in 2017 with an estimated 1.7 million viewers following the inauguration of Donald Trump as the president of the United States. As of April 2021, Brian Kilmeade co-hosts the show with Steve Doocy and Ainsley Earhardt.
Given that Brian has been a part of the show since 1998, it is only natural for one to expect that he gets a huge check for his service. Based on what several platforms have reported, he pockets $4 million every year. It is a huge amount that has contributed most to his $8 million net worth. But the media personality has not always commanded such a huge amount as his salary.
Many years ago (in 2008), Fox News signed and renewed the contracts of its personalities like Sean Hannity and Bill O'Reilly. It was reported that Hannity inked a multi-million, multi-year contract while O'Reilly was signed to earn over $10 million every year. This reportedly inspired Brian Kilmeade to demand higher pay among other things. Fox News executives had to shut down negotiations which left Brian with little option but to accept what the network offered. He may not be among the most paid on-air personalities at Fox News but he has come a long way from what he used to earn.
His Salary Ranged from $45,000 to $78,000 Yearly At The Early Stage of His Career
Brain Kilmeade schooled at Massapequa High School in New York and thereafter, he proceeded to the Long Island University (LIU Post) from where he graduated with a Bachelor of Arts degree in Communications. Inasmuch as we would all come to know him for his role in Fox News, it was not there that he began his career.
It all started for him with Channel One News where he worked as a correspondent before moving to work with KFTR-DT. He also worked with XTRA-AM where he was a co-host of "The Jim Brown Show". As he progressed, he became an announcer for the Ultimate Fighting Championship (UFC 1) alongside Jim Brown; and would later work for UFC 2 and UFC 3 as a play-by-play announcer.
More so, Kilmeade got to work for WVIT, a television station owned and operated by NBC. All of these lasted for over a decade, spanning from the late '80s to the late '90s. Details of what he earned are not known but it has been estimated that his yearly salary ranged from $45,000 to $78,000.
Brian Kilmeade's Salary When He Joined Fox News Was Around $100,000 Per Year
Having worked with different media outfits, he joined Fox News in 1997. It was a big break for Brian and he wasn't going to take it for granted. He put in a lot of work and was so dedicated that he received a significant promotion the following year. It was in 1998 that he became the co-host of Fox & Friends, a show known as one of the most popular news/talk programs in the United States.
As the show is known to be one of Fox News' most successful, it is no surprise that it has seen Brian Kilmeade's salary grow from $100 thousand to a massive $4 million. He co-hosts the show on weekdays and has been doing so since 1998. Because of that, people have come to wonder if he's the highest-paid host of Fox & Friends. Yes, he is: his yearly salary of $4 million is the same as Steve Doocy's who anchors the show.
What He Earns Compared to Other Hosts of Fox & Friends
Fox & Friends has been airing on Fox News since February 1998 and has seen several hosts come and go. Some of its most notable former hosts include Elisabeth Hasselbeck, Gretchen Carlson, E. D. Hill, Dave Briggs, Abby Huntsman, and others.
Currently, Steve Doocy, Ainsley Earhardt, Janice Dean, Jillian Mele, and Brian are the weekday hosts of the program. The weekend hosts are Jedediah Bila, Pete Hegseth, Will Cain, and Rick Reichmuth.
Below is a quick look at Brian Kilmeade's salary in comparison to other hosts of the show.
Brian Kilmead Salary – $4 Million Yearly
Steve Doocy Salary – $4 Million Yearly
Ainsley Earhardt Salary – $2 Million Yearly
Janice Dean Salary – $1 Million Yearly
Jillian Mele Salary – Undetermined
Jedediah Bila Salary – $200 Thousand Yearly
Pete Hegseth Salary – Undetermined
Will Cain Salary – Undetermined
Rick Reichmuth Salary – Undetermined
Other Avenues Through Which Brian Kilmeade Accumulated His $8 Million Net Worth
Based on the foregoing, it is clear that Brian's career as a media personality is the major source of his wealth. He commands a $4 million salary per year and the amount is bound to increase in the future if his career continues in its upward trajectory. Being a smart fellow, he has capitalized on the fame and relevance his career brought him and has made money through other means like the books he has published.
The Political Commentator Has Made Millions From His Books
More than just a TV and radio show host, he is also a writer who has thus far published six books, out of which at least two were New York Times bestsellers. For a book to attain that status, it must have sold anything from 5,000 to 10,000 copies in a week. Now let's assume that the average price of the bestsellers was $8 apiece (Brain sells personalized copies for $15); it means he has made at least $160,000 from only two of his books.
The Games Do Count: America's Best and Brightest on the Power of Sports was published as his first book in 2004, followed by It's How You Play the Game: The Powerful Sports Moments That Taught Lasting Values to America's Finest in 2007. In 2013, he published George Washington's Secret Six: The Spy Ring That Saved the American Revolution, and in 2015, he co-published Thomas Jefferson and the Tripoli Pirates: The Forgotten War That Changed American History with Don Yaeger. 2017 came and he published yet another book with Yaeger titled Andrew Jackson and the Miracle of New Orleans: The Battle That Shaped America's Destiny. In 2009, he dropped Sam Houston and the Alamo Avengers: The Texas Victory That Changed American History.
Kilmeade Has Also Earned from Stand-up Comedy
Surely, some things are yet to be learned about Brain Kilmeade. For many, it includes the fact that he pursued a career in stand-up comedy. Yes, during the early years of his career, Brain worked as a stand-up comedian for about 10 years.
What he made through this is best known to him but considering he spent as much as a decade in the field, it wouldn't be out of place for one to suggest it was a significant amount. Also, it possibly laid the foundation for the media personality to accumulate his wealth as it was his earliest source of income.
A Look At His Net Worth Over Time
From his salary at Fox News to his other sources of income discussed above, Brian Kilmeade has earned every bit of his status as a multi-million. He once disclosed that he is typically on air for at least 6 hours a day and 5 days a week. Just as his salary grew from five to six figures and then seven, his net worth has also increased over the years as shown below.
1993 – $100,000
1995 – $180,000
1997 – $250,000
2000 – $380,000
2003 – $750, 000
2005 – $1.5 Million
2008 – $2 Million
2010 – $3.8 Million
2012 – $4.2 Million
2015 – $5 Million
2017 – $5.5 Million
2019 – $6.5 Million
2021 – $8 Million
2022 – $10 Million
Comparing His Wealth to Other Hosts of Fox & Friends
Considering the fact that Brian Kilmeade's career as a media personality is not the only source of his income, one shouldn't be surprised he is richer than most hosts of Fox & Friends as shown below.
Brian Kilmead Net Worth – $8 Million
Steve Doocy Net Worth – $11 Million
Ainsley Earhardt Net Worth – $6 Million
Janice Dean Net Worth – $4 Million
Jillian Mele Net Worth – Undetermined
Jedediah Bila Net Worth- Undetermined
Pete Hegseth Net Worth – Undetermined
Will Cain Net Worth – $1.5 Million
Rick Reichmuth Net Worth – Undetermined
Brian Kilmeade Has Been Married to Dawn Kilmeade Since 1993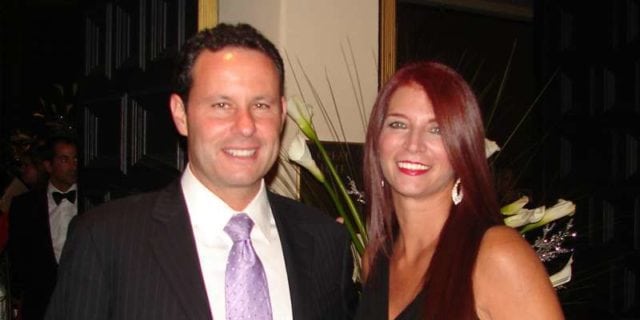 Unlike his career, much isn't known about Brian's personal life. He is from a family of Irish and Italian descent and was born on May 7, 1964, in New York City. It was here that he was brought up alongside his siblings, Steve Kilmeade and Jim Kilmeade. Although nothing is known to the public about his father, his mother is Marie Kilmeade.
As it is with his father, there is not much that is known about Brian's family life before he got married to Dawn. And even though their marriage is approaching its third decade, Brian and Dawn Kilmeade have largely kept it away from the limelight. Nonetheless, it is believed that they have been having a great family life just as Brian has enjoyed a financially rewarding career.
Apart from being Brian's wife, not much is known to the public about Dawn Kilmeade. What she does for a living, the family she came from, the kind of upbringing she had, and the schools she attended are yet to be disclosed. We can only tell she has been a supportive husband and a loving mother. Although there is no information regarding when or how Brain and Dawn met, they have been married since 1993 and there have been no reports about any marital issues.
The Couple Are Parents To Three Children
The union between Brian and Dawn Kilmeade has been blessed with three kids: a son and two daughters named Bryan Kilmeade, Kirstyn Kilmeade, and Kaitlyn Kilmeade. The family lives in Massapequa on Long Island, New York. Hurricane Sandy of 2012 destroyed the first floor of the house but they have since fixed the ruin.
Based on what Brian's wife and kids once disclosed, they have a happy family but might be happier if Brian would allow them to watch the kind of show and movies they like, such as "Real Housewives" or Adam Sandler Movies. It is also a worry that he is obsessed with gathering newspaper headlines of major events and fond of taking things that don't belong to him. That's not all; it was also revealed that Brian is always up to something: if he is not working, he's either teaching his family what to learn from history or trying to get them to play soccer in the backyard – there is no downtime with him.
Brian and his wife have been very protective of their kids. While Kirstyn and Kaitlyn featured in a 2014 episode of Fox & Friends, it's hard to tell what they have been up to in recent years. After their son graduated from high school in June 2014, he proceeded to Syracuse University where he obtained a degree in Sport Management. He currently works as the Football Operations Assistant of Jacksonville Jaguars.
While Brian is financially prudent, his Instagram posts show he often embarks on expensive trips with his family. Apart from this and the fact he ensures members of his family are comfortable, he doesn't spend his money lavishly.