Carlo Costanzia is a 31 year-old fast-rising Italian/Spanish model, actor, and singer born on the 13th of November 1992, who has walked the runway at several notable fashion events in Spain and also has several songs to his name. As an actor, Carlo is one of the stars of the hit Netflix series, Toy Boy.
Initially, a slow hit, Toy Boy is now one of the most popular Spanish-language offerings on Netflix and looks set to launch Costanzia into a Hollywood career. When that inevitably happens, the young man would be well equipped to handle the pressures of fame given that he is the son of two parents who are famous; Spanish model Mar Flores and Italian count Carlo Costanzia.
Carlo Costanzia's Bio
AGE: 31 Years Old
BIRTHDAY: 13th of November 1992
BIRTHPLACE: Madrid, Spain
BIRTH SIGN: Scorpios
ETHNICITY: Spanish and Italian
FATHER: Carlo Costanzia
MOTHER: Mar Flores
SIBLINGS: seven half-brothers including Mauro, Beltran, Bruno, and Dario
How Old Is Carlo Costanzia?
Carlo Costanzia is 31 years old as he was born on the 13th of November 1992. His birthplace is Madrid, Spain and his full name is Carlo Costanzia di Costigliole Flores. Carlo Costanzia has dual Spanish and Italian nationalities as a result of his parents. He owes his Spanish heritage to his famous mom, Mar Flores.
Mar Flores is a famous Spanish businesswoman and former model and actress. Born in 1989, she modeled for the likes of Giorgio Armani and Gai Mattiolo in her heydays. She also appeared on the cover of magazines such as Elle and Marie Claire while walking the runway at many fashion shows.
As an actress, Mar Flores was featured in several movies and TV series including Composed and Without a Boyfriend, Canguros, The Return of El Coyote, Elsecreto, and The Naked Years. Mars Flores has largely left showbiz behind but she did appear on the Spanish version of Masked Singer in 2021.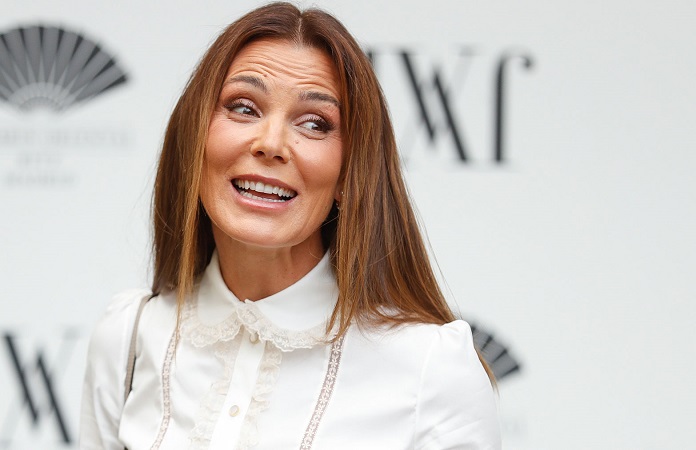 His Father is Carlo Costanzia, an Italian Count and Businessman
Carlo Costanzia's father is an Italian count and businessman named Carlo Costanzia. The senior Costanzia is of noble heritage as well as a wealthy entrepreneur. He has interests in several companies one of which is Vocalcom UK Limited, an information technology consulting company. Public records show that this particular, company was incorporated in 2011 and Carlo Costanzia Sr. is a director of the company.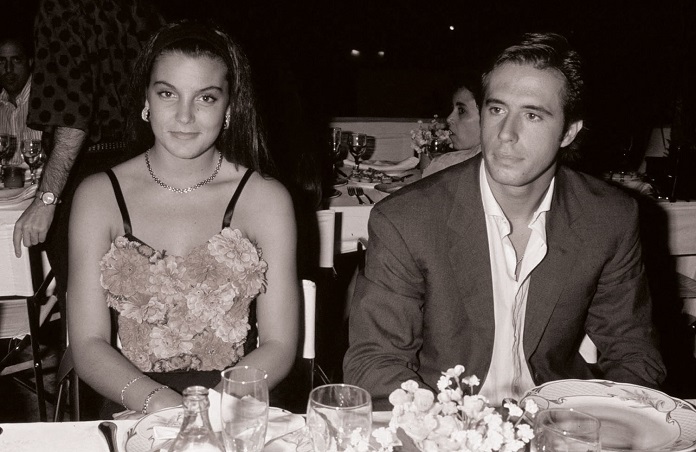 Carlo Costanzia Grew Up in Places Such as Madrid, Milan, and Turin
Carlo Costanzia was born a few months after his parents tied the knot and spent the first five years of his life in relative bliss. His parents were happily married and this made for a good dynamic at home. He also lacked nothing materially. He was well cared for and spoiled. His mom also ensured that he got a good education.
Things later turned sour for Carlo Costanzia after his parents decided to get a divorce in 1997. He was five years at the time and his parents fought bitterly over custody for a very long time. The whole thing was gleefully covered by the media and things were made worse when someone sold nude photos of his mom to a magazine.
It was really a trying time for Costanzia and it emotionally gutted him that he had to choose between his parents. At the end of the day, his father was awarded custody and he had no choice but to relocate to Milan, Italy, with him.
He is a Budding Reggaeton Singer and Has Several Songs to His Credit
Upon relocating to Milan, the young Carlo Costanzia initially found it difficult to cope. Although his father and paternal grandmother took good care of him, he missed his mom and friends miserably. As a coping mechanism, he took solace in music. He particularly favored rap with pleasant bases and enjoyed songs from the likes of Ray Charles, Amy Winehouse, and Bob Marley.
From enjoying other people's songs, Carlo Costanzia started writing his own as a way of dealing with anger and grief. He has persisted at it to date and is now a budding singer. Carlo Costanzia specializes in reggaeton music and has dropped several tracks online including XXX, Tu diablo, La Perdiste, and Dime k si.
Carlo Costanzia is One of the Stars of the Hit Netflix Series, Toy Boy
Asides from music, the multi-talented Carlo Costanzia is also a fast-rising actor. While completing high school in Italy, he gained an interest in theatre and music and decided to forgo a university education as a result. He returned to Madrid and took classes at the Juan Codina Academy. He later made his acting debut in a string of minor productions.
Carlo Costanzia got his acting breakthrough in the 2019 Spanish-language thriller series, Toy Boy. Toy Boy revolves around Jesús Mosquera, a stripper who is wrongfully imprisoned for murder. Upon getting out, he seeks justice with the support of his friends including Jairo, a gay stripper who is mute/deaf.
Carlo Costanzia played the role of Jairo and his performance was so fantastic that he became a popular personality in Italy and Spain overnight. The fact that the series also made it to Netflix also made him more famous globally. Despite the fame, he remains grounded and is working hard. He has since featured in other productions such as the 2021 movie, Sounds Like Love, and the TV series El Juego de las llaves in 2022.
He is Also a Model and Has Walked the Runway at the Gran Canaria Swim Week
Carlo Costanzia is blessed with a stunning physique that features heart-stopping measurements and musculature. He has utilized the same to pursue a career as a model. He walked the runway at the 2020 and 2021 editions of the Gran Canaria Swim Week by Moda Calida. He also has other projects lined up.
In all that he does, Carlo Costanzia is determined to make his own way in life. He wants to be the architect of his success rather than depending on his mom or dad or other famous relatives to get ahead in the industry.
How Tall is Carlo Costanzia?
Carlo Costanzia is 6 feet 2 inches tall (1.83 m) and weighs 85 kg. His other body measurements such as hips, waist, and biceps are not readily available but a look at him will confirm that he indeed has a stunning stature. It was that stature that enabled him effectively play the role of a stripper in Toy Boy. It has also come in handy in his modeling career. The actor-cum-model indulges in a healthy diet as well as an active lifestyle (including biking) to ensure that he stays in shape.
Who is Carlo Costanzia Dating Now?
Carlo Costanzia previously dated Mel Hidalgo. Hidalgo is a Cuban-born professional dancer and is versed in ballet. She has worked at the Marbella Theatre and the Capital Nightclub in Madrid. She has also featured in a couple of music videos for several artists including the likes of Manuel Carrasco.
Carlo Costanzia and Mel Hidalgo began dating in 2019 and they even went public with their romance. They embarked on romantic vacations to places such as Tenerife and he posted about her on social media. It seems the two are no longer together as Costanzia revealed in a 2020 interview that he was single as his previous relationship had run out of romance and turned into a friendship.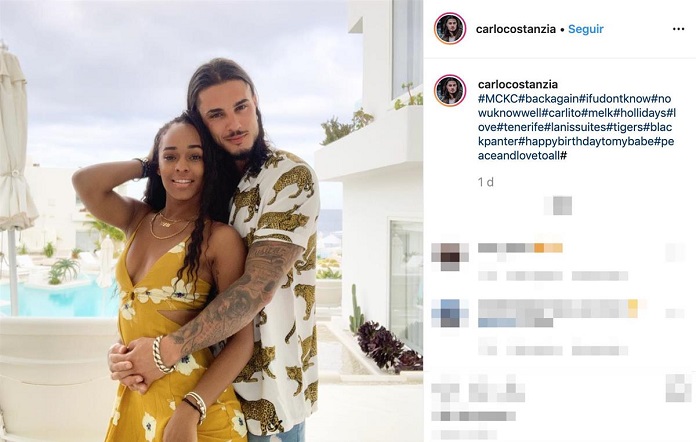 A Look at Carlo Costanzia's Social Media Activity
Since that 2020 split, Costanzia has not been linked with any lady. His social media accounts are no help in this regard either. He posts randomly on his Instagram and Twitter accounts and most posts are just pictures of him. This makes it difficult to gauge his love life but he is surely not lacking for love in his life. He maintains a close relationship with his mom and dad. He is also close to his half-brothers, three from his dad and four from his mom, and has stated that he would die for them.
Costanzia's mother meanwhile is quite proud of him and has described him as the love of her life. She has also advised him to remain authentic and professional in all that he does.