Lira Galore, also known as Lira Mercer, is an American hip hop model, Instagram star, entrepreneur, and former exotic dancer famous for her appearance on several hip hop videos. She is also popular for her relationship with popular music stars like Rick Ross, Meek Mill, Drake, NBA star Patrick Beverly, and many others.
Lira Galore has been active in the entertainment industry for a long time. The Houston, Texas-born model previously worked for Facet Studios as a model, and she also served as a co-host of their Lingerie Party in December 2014. She has also appeared on the cover of notable magazines such as Hip Hop Weekly. Beyond that, Lira has been very good friends with Blac Chyna and Amber Rose.

Summary of Lira Galore's Biography
Full name: Lira Galore
Gender: Female
Date of birth: August 31, 1993
Lira Galore's Age: 30 years old
Ethnicity: Afro-American
Nationality: American
Zodiac Sign: Virgo
Sexual Orientation: Straight
Religion: Christianity
Marital Status: Single
Lira Galore's Children: 1
Lira Galore's Parents: Michele Galore, Terrence
Lira Galore's siblings: Anitra (died 2010)
Lira Galore's Height in Inches:  5 feet 5 inches
Lira Galore's Height in Centimetres: 165 cm
Lira Galore's Weight: 60kg (132 lbs)
Body measurements in inches: 36-24-40 inches
Body measurements in centimeters: 91-61-101.6cm
Lira Galore's Net worth: over $350,000
Famous for: being a model and Instagram star
Lira Galore's Instagram: @lira_galore
Twitter: @Lira_Galore_
Facebook: @Lira Galore
How Old Is Lira Galore?
Lira Galore is 30 years old and was born Lir Mercer on August 31, 1993. She is a native of Houston, where she spent her early years. Lira was raised by a single mother, Michele Galore, as her father, Terrence, abandoned them when she was very young. In an interview with Iyanla Vanzant on the show, Iyanla: Fix My Life, the model recalled that her parents were very young when she was born.
As a result, they were not ready to handle the responsibility of raising a child at the time. This led her father to leave home, abandoning young Lira and her mother. Terrence would go on to marry a white woman with whom he later started a family, and he never came to visit them, even though they lived close to each other.
Her parents' separation took a toll on Lira, which led to her early mistakes, such as getting into a relationship early and becoming pregnant when she was 14 years old, which she later aborted. As a result of her turbulent childhood, she blames her dad for her initial lifestyle. Nevertheless, Lira said she would try her best to forgive him. She is said to have had a sister, Anitra, who passed away in 2010 at age 29.
Lira Galore Attended Worthing High School Texas
According to online sources, Lira Galore graduated from Worthing High School, Texas. She completed her high school studies there, but there are no records of her subsequent academic pursuit. The model might have attended college but has kept the information about the college she attended, when she graduated, and the course she studied under the raider.
However, it is common knowledge that she kicked off her modeling career not long after she graduated high school. Although she graduated with honors, her life didn't go as many expected as Lira decided to become a stripper when she turned 18. According to her, she wanted to make as much money as she could to earn a better life.
She Became Famous As a Hip Hop Model
Lira Glamore began her career as a stripper and exotic dancer, but that wasn't enough to garner her the fame she wanted. However, it was able to bring her closer to famous hip-hop stars such as Meek Mill. From working as a stripper, she started appearing as a vixen in hip-hop music videos.
Being a smart and talented lady, Lira didn't hesitate to leverage the opportunity as she created an Instagram page, where she started posting photos of herself with A-List celebrities. Since then, her fan base has continued to increase, and currently, she has amassed over 4.2 million followers on the platform.
While her popularity continued to increase, she later became a glamor model. She has graced the cover of several magazines, including Hip Hop Weekly magazine, where she was featured in 2014, among others. After being featured in Hip Hop Weekly Magazine, Lira's popularity skyrocketed. She also appeared in a lead role as a vixen for Kendrick Lamar's music video for King Kunta, Rick Ross' Thug Cry, P Reigns' DnF, and much more.
Galore Founded a Cosmetics Line Called Laid By Lira
At the height of her fame, Lira Galore added entrepreneurship to her portfolio. She founded a cosmetic line called Galore Cosmetics and a haircare line, Laid by Lira, in 2018. Her business has been doing so well and has been in production and sales to date. With her huge social media fan base, Lira has been pushing her business as an influencer, and her company has been recorded through that.
The glamor model also used her social media presence to sell other merchandise such as branded female clothing and many others. She uploads photos of her products on her Instagram page.
Lira Galore was Previously Engaged to Rick Ross
Aside from her career, lira Galore is famous for her involvement with several celebrities. Perhaps her most popular relationship was with American rapper and record producer Rick Ross. The duo began their relationship in 2015 after she broke up with rapper Algernod Lanier Washington, popularly known as Piles.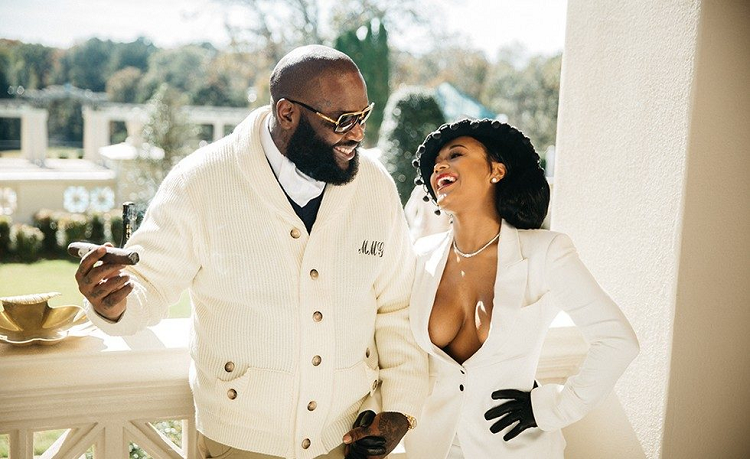 Lira appeared as a vixen in Lil Wayne and Rick Ross's Thug Cry music video, for which she became incredibly famous. However, she and Ross later hit it off. The couple made headlines following their flamboyant lifestyle. They were always spotted together, and the couple got engaged at some point.
Lira Galore and Rick Ross's engagement saw the light of the day after the rapper flaunted her 11-karat gold engagement ring to the admiration of her many fans. The engagement took place in September 2015. And while fans were patiently waiting for the wedding bells, rumors began to swirl that the duo was going their separate ways.
Rick Ross Called of the Engagement in November 2015
Following their engagement, Lira and Ross continued to dominate the spotlight. However, two months later, in November 2015, news emerged that Rick Ross had called off their engagement. It was a heartbreaking moment for Lira, as Wendy Williams hinted on her show that Lira's past life as a stripper contributed to their break up.
More than that, Wendy also disclosed through her show that considering Lira's past, she is not wife material. After that, the American media personality received backlash for being instrumental to their split. However, on Rick's part, the rapper said he called off the engagement after Lira's loved-up photo with Meek Mill started trending on social media.
Apparently, social media played a huge role in their split, as Lira later admitted. According to her, the initial breakup happened as people started digging up old tweets and her past. As a result, Ross couldn't handle it, so they took a break, which ultimately led to their decision to end the relationship.
Besides Ross, Lira Has Had a Rich Dating History
Lira Galore has fallen in and out of love with several prominent celebrities, from athletes to hip-hop stars. Her first known relationship was with NFL defensive Earl Thomas, whom she dated in 2012. Although the details of their relationship are not available in the public domain, it is known that the duo went their separate ways a year later, in 2013.
After their breakup, Lira hooked up with American rapper Meek Mill. The two had a brief relationship that ended a few months later. The reason for their split was not disclosed by both parties. Between the end of 2013 and the beginning of 2014, Lira started another relationship with Pat Beverly. Like the others, their relationship ended a few months later.
The gorgeous model hooked up with American rapper Algernod Lanier Washington, popularly known as Piles, in 2014. They were together for about a year from 2014 to 2015 before going their separate ways. Not long after their break up, Lira started dating Rick Ross, and after calling their engagement in November 2015, she started dating Quavo of the Migos.
Their relationship began in 2016, and they called it quits in 2017. In between, Lira also hooked up with Will Barton, with whom she has had a fling.
She Had a Child with Quality Control CEO Pierre "Pee" Thomas
In 2018, Lira Galore made news headlines once again following her announcement that she was expecting a baby. This aroused curiosity among her fans, who wondered who her baby daddy was. However, he was later unmasked to be Quality Control CEO, Pierre Thomas.
However, Lira had a turbulent relationship with Pee, who allegedly cheated on Lira with his former associate Kaylar Will. It escalated when it was disclosed that Kaylar was also expecting Pee's child. Even though they were engaged at the time, Lira spared no expense at blasting him all over social media.
According to her, Thomas cheated on her and also went ahead to take back his engagement. Subsequently, Lira and Kaylar welcomed their babies one month apart. Despite welcoming their daughter Khalessi Aurora and ending their relationship in 2019, the problem between Lira and her baby daddy persisted.
She Sued Her Baby Daddy for Abuse
While Lira's relationship with her baby daddy might have ended, their numerous visits to the courthouse have kept them in the news. After their social media altercation, Lira sued the Quality Control CEO in 2020, accusing him of abuse and neglecting their daughter while she was in his care.
On his part, Thomas denied the claims on social media and accused her of being addicted to cocaine while releasing a series of text messages he claimed were from Lira. He further claimed that he doesn't play with his role as a father, and despite his busy schedules, he makes time to be with his kids four times a week.
However, the court had ordered both parties to keep their case off social media, and for violating the course order, Pierre Thomas was fined $11,000. The judge also added that the text messages he posted on social media were altered with false comments. He was also asked to pay Lira $3,500 monthly for child support.
Who is Lira Galore dating Now?
Lira Galore appears to be single at the moment. She is currently focused on raising her daughter as a single mom. However, after she broke up with Pierre Thomas in 2019, she had a relationship with Key Glock, which lasted until 2021 before they went their separate ways. Currently, she seems to be focused on parenting and her businesses.
Lira Galore's Dating History
Key Glock (2019 – 2021)
Le'Veon Bell (2019)
Pierre Pee Thomas (2018 – 2019)
Quavo (2016 – 2017)
Will Barton (2016),
Plies (2014 – 2015)
Pat Beverly (2013 – 2014)
Meek Mill (2013)
Earl Thomas (2012 – 2013)
The Model Has Been Involved in Several Controversies
Lira Galore has come a long way in her career, but her journey hasn't been so rosy as she has courted many controversies along the way. After Rick Ross broke off their engagement in 2015, Lira attributed it to the fact that he changed drastically since they started dating. In another light, some sources say their breakup came not long after Wendy Williams dug up Lira's past, stating she is not a wife material due to her past work as a stripper.
The following year, in 2016, her Twitter account was hacked, and Lira's private conversations with notable celebrities got leaked to the public. Among them were Ian Connor, Mike Epps, Chad Johnson, and Michael Blackston. Sadly, some of the leaked messages put a strain on the private lives of these celebrities.
While some insinuated the act might be a public stunt, Lira quashed it, saying they are the last people could use for a publicity stunt. However, the media outrage affected the glamor model so much that she concluded that black men don't value black women or appreciate what they do. She also took to drinking to help her get over the pain.
Lira Galore also made headlines in 2017 after her video with her former boyfriend Lance Stephenson was released online. The model filed a police report against those that perpetuated the act of releasing the video online. All of these controversies and more have kept Lira in the news for a long time.
Other Frequently Asked Questions About Lira Galore
What is Lira Galore's Ethnicity?
Lira Galore is an African American.
How Old is Lira Galore?
Lira Galore is currently 30 years old.
How Tall is Lira Galore?
Lira stands at the height of 5 feet 5 inches, equivalent to 1.65 meters.
Is Lira Galore Married, and Does She Have Kids?
No, Lira Galore is currently;y single, but she has a daughter named Khaleesi Aurora.
Who is Lira Galor's baby father?
Lira Galore's baby father is Quality Control CEO Pierre "Pee" Thomas.