Erin Everly is an American actress and former model best known as the ex-wife of Guns N Roses front man, Axl Rose.
Back in the '80s and through the '90s, Erin Everly was one of the most famous and admired models of that time. She started her modeling career as a 16-year-old and by the time she was 19, Erin met and fell in love with Axl Rose.
She described the start of her relationship with the American singer, songwriter and music producer as that between two people who didn't have much but were content having found each other.
Though it seemed at the time that they were made for each other before the beginning of time, their marriage proved otherwise as it was short-lived. Learn all you should know about Erin Everly here, her relationship with Axl and where she is now since she parted ways with him.
Erin Everly's Biography Summary
Age/Date of Birth:

58 years old (8 November 1965)
Height:

5 feet, 5 inches (1.68 m)
Ethnicity/Race:

White
Nationality:
American
Husband or Boyfriend:
Jack Portman (m. 1997–2006), Axl Rose (m. 1990–1991)
Parents:
Father: Don Everly,
Mother: Venetia Stevenson
Net Worth:
$1 million
Who Is Erin Everly and Where Was She Born?
The former model was born in Los Angeles, California on 8th November 1965, with the birthname Erin Invicta Everly. She received her college education with her siblings in Buckley School in Sherman Oaks of the San Fernando Valley, Los Angeles but they later transferred to continue their college education at a public school when their parents began to struggle financially.
Early in Everly's life, around the 1970s, her parents got separated and it was said that the divorce was a result of her father's struggle with drugs.
In 1982, at the age of 16, she moved to New York City to pursue her passion for modeling and eventually built a successful career as a model and actress. Around the 1980s, Everly appeared in ads and commercials and did promotions for brands like Bebe, Guess, Jordache and others.
In 1988, she was the inspiration behind "Sweet Child O Mine" where she was featured along with Axl Rose in collaboration with his band for the Guns 'N Roses video. In 1992, she landed a contract with Wilhelmina Models Agency.
Erin Everly became more popular following her relationship with Axl Rose. Their romance began in 1986, continued for four years and they got married at the Cupid's Inn Chapel in Las Vegas on April 28, 1990. However, their marriage lasted only 10 months.
1. She was born into a family of artistes
Erin Everly's father was the popular Don Everly, a rock and roll artist that performed with the Everly Brothers. Her mum, Venetia Stevenson, was an actress and later a cloth designer.
Her maternal grandfather Robert Stevenson was a director, and her grandmother, Anna Lee was an actress. Her paternal grandfather was a talented guitarist, while her grandmother was a musician. She has a brother named Edan, who made a career in the music industry and a sister named Stacey, who also became an actress.
2. Erin Everly suffered from dyslexia as a child
As a child, Erin was said to have suffered from dyslexia — a learning disorder characterized by difficulty in reading as a result of the sufferer being unable to identify speech sounds and how letters and words relate to them.
Like everyone one else who suffered from dyslexia, it posed a huge challenge to Erin Everly in her academic work. Although reports have it that the disorder is hereditary, no news has been made available with regards to whom the model inherited it from in her family.
3. She had a maniac husband with twisted views
What could have caused a divorce not long into marriage especially, after a long-term relationship? This was the big question on everyone's mind when news of their divorce filtered through the airwaves. Erin later stated that her marriage to Rose couldn't last because it was an abusive one.
She accused her ex-lover of physical and sexual assault and sued him, alleging that he removed all the doors in her home so that she could always be monitored. She said that Rose believed that he was possessed by the spirit of Jon Bonham, a drummer who passed on long ago.
She explained her ex-husband's weird view of them having a past life in which they were Indians and that she killed their children in that life which was why he was being so mean to her in the present life.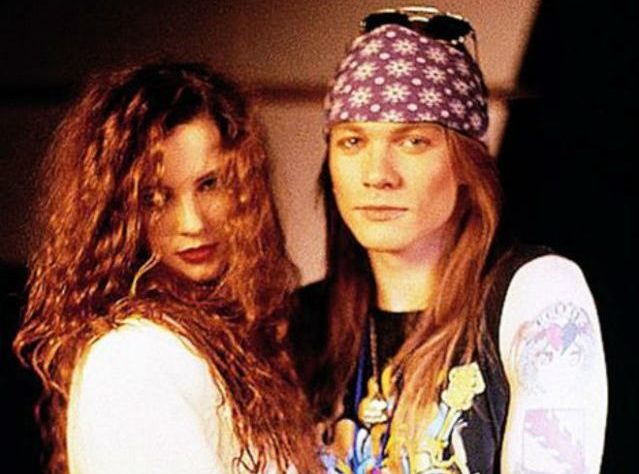 Rose filed for a divorce in the early days of their marriage but withdrew it when he found out his wife, Erin was with child. She later had a miscarriage and this further brought down the walls of their marriage. They eventually agreed to have a divorce after 10 months and separated in January 1991.
Their story nevertheless didn't end in 1991 as in 1994, Erin went public with her claim of receiving physical, sexual and emotional abuse all through her relationship with Rose. A lawsuit worth millions of dollars was filed against Rose eventually and he made payments to Erin to end the lawsuit though the figures weren't made public.
4. Erin had numerous affairs after her failed marriage to Rose
Shortly after she broke up with Rose in 1991, Erin Everly dated Mathew Nelson for barely a year, and then she dated Donovan Leitch and Anthony Kiedis at different periods in 1992. She also dated David Arquette in 1993 all of which were short-lived.
5. She had a second failed marriage
Erin Everly remarried in 1997 to John C. Portman who was Vice Chairman of Portman Holdings and also John Portman and Associates in Atlanta, Georgia. Before their marriage, George had a child, Joannah Portman, who ventured into acting.
Erin and John had 3 children; 2 girls named Eres and Esper and a boy named Eason. However, like her first marriage, Erin Everly's second marriage to John ended in divorce in 2006. Her new partner was given as Matthew Klyn, a landscape architect based in Atlanta.
Where is Erin Everly Now?
Erin Everly, the former model now turned housewife lives a private life away from the glare of the media. In a news article about her published on Yahoo.com, it was reported that her reason for avoiding publicity is so that her children can have a normal life as much as it is possible.
Being that she now lives her life away from the glare of the media and public, there is a dearth of information on Erin's current whereabouts. However, going by the scanty information on a website Yahoo credited as belonging to her—erineverly.com—the website credited her as an author.
Profile Summary
First Name:
Erin
Last Name:
Everly
Also Known As:

Erin
Sex/Gender:

Female
Profession:

Actress
Famous For:
Guns N' Roses: Sweet Child O' Mine (1988)
Colleges/Universities Attended:

Buckley School in Sherman Oaks of the San Fernando Valley, Los Angeles
Educational Qualifications:

College degree
Religion:

Christianity
Birthday & Zodiac

Age/Date of Birth:

58 years old (8 November 1965)
Zodiac Sign:
Scorpio
Birth Place:

Los Angeles, California, United States
Nationality:
American
Ethnicity/Race:

White
Country of Residence:

United States of America (USA)
Physical Attributes

Height:

5 feet, 5 inches (1.68 m)
Weight:

54 kg (119.05 lbs)
Eye Colour:

Brown
Hair Color:

Auburn
Other Body Measurements:

N/A
Relationships

Marital Status:

Divorced
Spouse/Partner:

Jack Portman (m. 1997–2006), Axl Rose (m. 1990–1991)
Family and Relatives

Father:

Don Everly,
Mother:
Venetia Stevenson
Children:

3 children - Eres Portman, Esper Portman, Easan Portman
Siblings:
Edan Everly - Brother
Stacy Everly - Sister
Other Relatives:

Margaret Embry Grandparents - Everly, Anna Lee, Robert Stevenson, Isaac Milford "Ike" Everly, Jr.
Net Worth
Estimated Net Worth:

$1 million
Salary:
N/A
Source of Wealth:

Acting career
FAQs 
What is Erin Everly's Age?
The former model is 58 years old. She was born Erin Invicta Everly in Los Angeles, California, on 8th November 1965.
What is Erin Everly's Net Worth?
According to reports, Erin Everly's net worth is estimated at about $1.6 million. This comes from her involvement in her father's business and also from her acting and modeling careers.