Katheryn Winnick is undoubtedly beautiful, talented and charming. The Canadian actress is best known for her role on the critically acclaimed television show – Vikings, where she plays the legendary character 'Lagertha'. Though the actress has been active in the entertainment industry since 1999, it was her role on Vikings that led her to international fame and recognition. Her character on the show is a shieldmaiden and the wife of the show's lead character – Ragnar Lothbrok; played by Travis Fimmel.
Some of her other roles which gained her attention include The Art of The Steal, A Glimpse Inside The Mind Of Charles Swan III, Bones, Amusement and The Dark Tower.
Katheryn Winnick – Biography
Katheryn Winnick was born on the 17th of December, 1977 in Etobicoke, Ontario, Canada to Roman and Lesia Winnicki. The stunning actress is of Ukranian descent and spoke Ukranian as her first language until she was eight when she started learning English. She has three siblings, two brothers – Adam and Marjan, and a sister – Daria.
Katheryn is also an experienced martial artist who began her martial arts training when she was only seven years old and received her first black belt when she was thirteen. By the time Katheryn was twenty-one, she had started three martial arts school. Clearly, Katheryn is one impressive woman.
Career
Over the course of her career, Katheryn Winnick has appeared in several films and television shows some of which include Failure To Launch, Person of Interest, Law & Order: Criminal Intent, The Glades, Stand Up Guys, Killers, Cold Souls, Nikita, CSI: Miami, Love & Other Drugs and Bones – which also happens to be one of her more notable roles.
On Bones, she played Hannah Burley, a love interest for Seeley Booth (David Boreanaz), a main character on the show. Her character is also a war correspondent who covers the war in Afghanistan. It was a recurring role with Katheryn appearing on the show for eleven episodes.
In 2013, she appeared in The Art Of The Steal opposite Kurt Russell, Jay Baruchel, Devon Bostick, Matt Dillon and Chris Diamantopoulos. However, her big career break came when she landed the role of Lagertha in the History Channel's Vikings. In 2017, she was cast as the main character in the Call of Duty: WWII's Nazi Zombies mode.
Is Katheryn Winnick Married or In a Relationship?
There is a growing crop of celebrities who prefer to keep their personal life private and Katheryn Winnick is one of them. During the actress' entire time in the spotlight, she has not been in any confirmed relationship nor has she had endless rumors circulating relentlessly about her dating life. This is as a result of keeping a low profile in general.
But for all intents and purposes, Kathryn Winnick is single, has never been married and is presently not in a relationship.
Who is Her Husband or Boyfriend?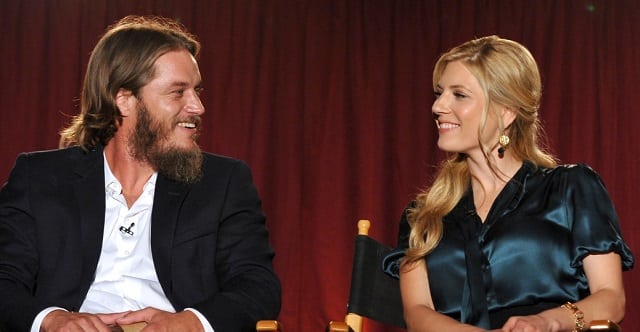 As previously mentioned, Katheryn is presently not in a relationship or marriage, and as such, she has no husband or boyfriend in her life now. Although, fans of the show Vikings have been hopeful for a relationship between Katheryn and her Vikings costar, Travis Fimmel, who played her onscreen husband on the show. Both Katheryn and Travis are presently single and their chemistry on the show is off the charts. However, the two appear to be merely good friends and there has been no talk of a relationship between the two stars.
Nonetheless, she was, at a point, rumored to be involved with Nick Loeb, an American businessman, after the two were seen on a date together. However, it is speculated that nothing more came from the date since the two were never seen together again.
Read Also: Emily Deschanel Biography, Net Worth, Husband, Children, and Family Life
Height, Weight & Body Measurements
There is no denying that Katheryn Winnick is impressive all around. Besides being beautiful and talented, she is also in great shape. The actress' height is recorded to be 5 feet 6 inches (1.68 m) and her weight is listed as 55 kg (121 lbs). Her body measurements are also listed as 34-24-34 inches for Breasts-Waist-Hips.
The actress maintains her stunning figure with a disciplined workout and strict diet. She incorporates her love for martial arts into her workout routine as well as weight training exercises. She also enjoys jogging, hiking, horseback riding, kayaking, and other outdoor exercises.
Katheryn Winnick also follows a strict gluten-free diet to maintain her shape. The actress is said to start her day by drinking hot water and lemon. She also eats five small meals throughout the day. These meals are said to contain mostly proteins and vegetables. She is also a fan of juicing occasionally. It's pretty obvious that she puts in the effort to look as good as she does.