Katheryn Winnick is not married and has never been. It is also hard to tell if she is dating anyone at the moment but the actress has been romantically linked to several men over the years, including Michael Persall, Travis Fimmel, and Sofia Vergara's ex-fiance, Nick Loeb.
Katheryn Winnick is undoubtedly beautiful, talented, and charming. The Canadian actress is admired and celebrated across the globe for playing Lagertha in the acclaimed historical drama television series, Vikings. Before she started playing the role in 2013, she had spent over a decade in the industry and had pulled off other notable roles in movies and TV productions like Student Bodies, Bones, The It Factor, 50 First Dates, Cloud 9, When Nietzsche Wept, Cold Souls, Killers, Love & Other Drugs, and much more.
Nonetheless, Vikings is the most significant work of her career. It earned her multiple nominations for coveted awards under the Best Actress category, including several Women's Image Network Awards, Golden Maple Awards, Canadian Screen Award, and Critics' Choice Television Award. In all, Winnick has become someone whose personal life piques the interest of a lot of people, especially when it comes to her love life.
Katheryn Winnick Doesn't Have a Husband and Has Never Been Married
Given the invasion of privacy that celebrities often suffer when the public gets a hint of a brewing relationship, most of them have taken to keeping their private life away from the spotlight. This has been the case with Katheryn Winnick. Since she became famous, she has refrained from discussing her love life with the public. This has led to so many speculations about who she is dating but the actress has never confirmed or denied any of these rumored relationships.
But as far as we know, Kathryn Winnick is not married and has never been. Some reports have claimed that she has not had any serious relationship that came close to leading to marriage. If one must believe that, this is so because she has never prioritized any relationship above her career.
It has been claimed in some quarters that the 45 years old actress is ready to settle down with Michael Persall, but neither of the two has confirmed that they are lovers, at least not in clear terms.
Meet Michael Persall, The Man Believed To Be Kathryn Winnick's Current Boyfriend 
It started circulating in August 2020 that the Canadian actress was dating Michael Persall after she posted the picture above on Instagram with a heart emoji. Even though neither Katheryn nor Michael has said anything about being in a relationship, it is widely held that they two are lovers.
After the Vikings actress shared the picture, people became curious about the man and it was soon uncovered that he is a business executive and a member of the board of Trustees at the University of San Diego. As it was his association with Katheryn that made him popular, a lot of details about his background are yet to be learned. However, we can confirm he studied accounting at the aforementioned university.
Since March 2014, Michael Persall has been serving as the chairman of the board of C3bank. Before he assumed the position, he had been a managing member at ABP capital based in Encinitas, California. The man has also been a board member of Vuori, Inc. since January 2016 and since September 2019, he has been a member of the board of trustees of the University of San Diego.
Michael Persall co-founded Blooma, Inc. in December 2018 and has equally been a board member of the computer software company based in San Diego, California. From what we gathered, the company operates a digital underwriting platform that utilizes artificial intelligence to carry out various tasks related to commercial real estate.
Was Katheryn Winnick in a Relationship with Travis Fimmel?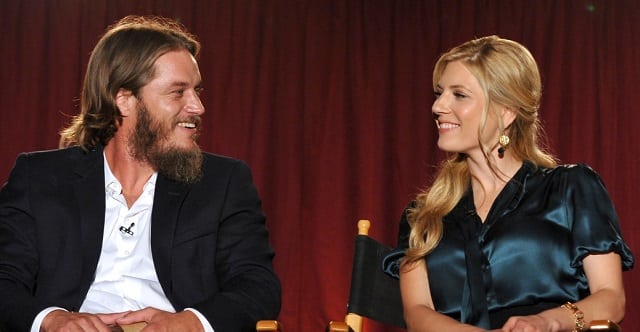 Travis Fimmel is an Australian former model and actor. As it is with Katheryn Winnick, he has pulled off several roles across the small and big screen but it is his lead role as King Ragnar Lothbrok in Vikings that has defined his career. Travis' character is also the husband of Katheryn Winnick's, Lagertha – a shieldmaiden.
Starring together on the show as a married couple, Katheryn and Travis portrayed their characters so well that it became hard to imagine they were not lovers in real life. Fans of the historical drama series scattered across the globe anticipated a relationship to develop between the two as it was reported that they were both single. At some point, it was rumored in certain quarters that they were dating but there was no concrete piece of evidence that supported that.
As far as we know, they only became good friends who think highly of each other. Katheryn once expressed that it was fun working with Travis. She said he was fond of pranking people on set and always showed up well-prepared for his role. This, according to the Canadian actress, inspired others to work hard. Adding that he is good-looking and an amazing person. She submitted that it is hard to not fall in love with him.
Did She Ever Date Sofia Vergara's Ex-Fiance, Nick Loeb?
Nick Loeb is an American actor and businessman, the former husband of Swedish model Anna Pettersson and the ex-fiance of the famous Columbian-American actress, Sofia Vergara. Loeb and Vergara dated for about two years before they got engaged in 2012. While people anticipated for them to announce the day they would be getting married, it emerged in May 2014 that they had called off the engagement. It soon emerged that she was dating Joe Manganiello, an American actor she got engaged to on Christmas Day of 2014. They got married on the 21st of November 2015 in Palm Beach, Florida.
Like Sofia, Nick has also moved on with his life and Katheryn Winnick is one of the people he was romantically linked to after he and Sofia called off their engagement. Katheryn and Nick sparked relationship rumors after they were seen on a date in Los Angeles; this was in January 2015. Neither of the two confirmed they were lovers and nothing has been heard from them since then.