Jennifer Love Hewitt has been married to Brian Hallisay since 2013 and they have three children named Autumn James Hallisay, Atticus James Hallisay, and Aidan James Hallisay. 
For someone who has been a part of the entertainment industry since she was a child, it is only natural that Jennifer Love Hewitt is incredibly popular. She has been acting since 1989 and more than being an actress, she has spread her wings to producing and directing movies and TV shows. In addition to that, she has thrived as a singer and her body of work includes no fewer than four studio albums. Thanks to her career, Jennifer has a massive number of dedicated fans who keep up with her personal life as much as they follow her career. These days, much of her life outside the business of entertainment revolves around Brian Hallisay, the only man she has ever been married to.
Jennifer Love Hewitt Has Been Married to Brian Hallisay Since 2013
As you would soon learn, Jennifer Love Hewitt dated multiple high-profile personalities in the entertainment industry. She has had a very busy love life; at some point, it was almost impossible to keep a record of the men in her life. Widely regarded as a sex symbol, it is not difficult to see why she has never lacked admirers and romantic partners.
She has been named on several lists among the sexiest and most beautiful women in the world. In a nutshell, Jennifer is the romantic partner of everyone's dream and many failed in their quest of making her their life partner until Brian Hallisay came along.
Their Romance Began on the Set of The Client List In 2012
Reports have often suggested that Jennifer Love Hewitt and Brian Hallisay fell in love the first time they worked together, but that's not true. The first time the couple met, to the best of our knowledge, was during the production of the anthology comedy-drama series, Love Bites. As far as we can tell, nothing happened between them at this point. Fate brought them together again to work on Lifetime network's The Client List and it marked the beginning of their relationship.
Theirs seems to be a romance that started from the script before it manifested in real life. In the Lifetime network drama series that premiered in April 2012, Brian Hallisay played Kyle Parks, the husband of Jennifer's character named Riley Parks. But then, their characters on the show were having a troubled relationship, so it remains quite a mystery how they got to become lovers in real life.
Anyway, they kept their relationship discrete but it was clear to people close to them that they were serious about each other. For instance, one of their friends disclosed that Brian had been very supportive of Jennifer, especially when she lost her mother in June 2012. The anonymous friend reportedly expressed hope of the two walking down the aisle while affirming that they are suitable for each other.
They Got Engaged In May 2013 and Had a Secret Wedding In November that Year
Jennifer and Brian left the public to speculate on many things about their relationship but one thing is certain – things happened quickly between the two. While their romance suffered on-screen, the bond between them got stronger in real life: to the point that they were ready to start building a family together barely a year after it was confirmed they were dating. First, the couple released a joint statement that disclosed they were expecting a child together.
The following day, it emerged that they weren't only expectant parents but were also engaged for marriage. It was said that Brian Hallisay proposed to the actress while they were on vacation in Europe. Apart from this, details have been hard to come by.
A few months after it circulated that the two were engaged and expecting a child together, it emerged that they were married. They reportedly got married on the 20th of November 2013. From what's obvious, it was a secret and private ceremony. Reports have it that the event was witnessed by only close friends and relatives. But a few years down the line, the actress disclosed that they had no guests, it was only the two of them and for her, it was a perfect wedding.
Jennifer Love Hewitt Regards Getting Married to Brian As the Best Decision of Her Life
Over the years the couple has been married, it has become evident that they were meant for each other. Brian adores Jennifer as much as she loves him and theirs have been a family full of love and understanding. The actress enjoys being at home with her husband but from time to time, they indulge in outdoor activities to keep the sparks alive. An instance was March 2020 when they had a date that had them watch the stars fade.
On several occasions, Hewitt has shared through her social media pages that Brian isn't only the best husband she could ever wish for but her best friend and the best dad any child would have. When the actress marked their 7th anniversary on Instagram, she described Brian as the man of her dreams and related that they had had "no itch" in the years they have been married. For the actress, getting married to Brian, having kids with him, and watching them grow are her biggest accomplishment in life.
The couple also enjoys working together. Apart from Love Bites which was their first project together and The Client List where they fell in love, Jennifer and Brian were seen together in 9-1-1, a procedural television series created for Fox. While the former has been playing a major role thereof as Maddie Buckley Kendall since 2018, Hallisay had a recurring role in season 2 of the series as Jason Bailey/Doug Kendall. In a 2019 interview, the actress expressed that it was lovely working with her husband and that they enjoyed every bit of it.
How Many Kids Does Jennifer Love Hewitt Have?
The actress had never been married before her union with Brian Hallisay began, neither did she had any child from her previous relationship. She is a mother of two and Hallisay is the biological father of her kids. The two are loving parents who are very protective of their kids. Because of this and the fact that their kids are still kids, it is pretty hard to tell anything about them apart from what's already obvious.
Autumn James Hallisay
Date of Birth: November 26, 2013
Age: 10 Years Old
Occupation: Undetermined
Autumn James Hallisay is the first child and daughter of the couple. Jennifer became pregnant with Autumn about a year after she began dating Brian. The couple released a joint statement to disclose they were expecting her in June 2013. They got married on the 20th of November 2013 and welcomed Autumn five days into the marriage.
As the actress had Autumn months after the passing of her mother, she thinks of the child as a gift from her late mom. According to her, the birth of Autumn was like replacing "incredible grief with incredible joy".
Considering Autumn's age, it is still early to tell what the future holds for her career-wise. One thing is certain though – she can count on the support and guidance of her parents if she chooses to pursue a career in the entertainment industry like them.
Atticus James Hallisay
Date of Birth: June 24, 2015
Age: 8 Years Old
Occupation: Undetermined
About 18 months after the couple had their first child together, they welcomed their second child and first son named Atticus James Hallisay. Like her older sister, Atticus has a lot of growing up to do and doesn't concern himself with thoughts about the future. In the fullness of time, we would get to learn if he would follow the footsteps of his parents or settle for a career in a different field.
Jennifer has worn motherhood with grace. She wants to be the best mom for her kids to honour the memory of her late mom. Nonetheless, she has had a hard time dealing with her post-pregnancy body.
Before Brian Hallisay, the Actress Almost Got Married to Ross McCall
Also an actor, Ross McCall is known for his roles in the American police procedural series, White Collar, and the war drama miniseries, Band of Brothers. He guest-starred in an episode of Ghost Whisperer, a supernatural series wherein Jennifer portrayed a major character named Melinda Gordan.
It is hard to tell exactly when they started dating but when they got engaged in November 2007, it was said they had been dating for two years. While people were looking forward to the actress walking down the aisle with the Scottish actor, it emerged that they had parted ways and called off their engagement.
Neither of the two said anything about why they decided to end their engagement but unconfirmed reports have claimed that the actress was too needy. As claimed, she was all over the actor to the point it was no longer sensible for them to be together. It was also said that they had career issues as Jennifer was way ahead of McCall in the industry. All of these have never been confirmed in any meaningful way.
Jennifer Love Hewitt's Ex-Boyfriends and Partners
As stated earlier, the multi-talented entertainer had a busy love life before she got married to Brian Hallisay whom she proclaims as the true love of her life. She was romantically linked to Colin Egglesfield, Antonio Sabato Jr., Kip Pardue, John Mayer, John Cusack, and Wilmer Valderrama.
There are also Enrique Iglesias, Diego Serrano, Jason Aaron Baca, Christian XXX, Fred Savage, and Alec Baldwin. Whatever she had with these men ended almost as quickly as it started. As such, it is difficult to tell the true nature of what she had with these fellows. But we can confirm she dated all the men listed below:
Joey Lawrence (1995 – 1996)
Date of Birth: April 20, 1976
Age: 47 Years Old
Occupation: Actor, Musician, and Record Producer
From 1995 to 1996, Jennifer Love Hewitt was the girlfriend of Joseph Lawrence Mignogna Jr. famed as Joey Lawrence. More than being an actor, he has thrived as a record producer, singer-songwriter, and musician. As an actor, he's probably most known for the characters he played in Oliver & Company (1988), Blossom (1990), and Brotherly Love (1995). Speaking of her relationship with Joey, Love divulged that their friends believed they were perfect for each other. Fate thought otherwise and their busy schedule effected their separation.
Joey would go on to date other women and has been married twice. His first was to Michelle Vella; it began in 2002 and ended in divorce in 2005. That same year, he got married to Chandie Yawn-Nelson. They had two children together but it wasn't enough to stop Lawrence from filing for divorce sometime in 2020.
Will Friedle (1996 – 1997)
Date of Birth: August 11, 1976
Age: 47 Years Old
Occupation: Actor, Comedian, and Writer
After her romance with Joey Lawrence packed up, Jennifer Love Hewitt began dating William Alan Friedle. An American actor who has voiced multiple animated characters, Will is also a comedian and a writer but he is best known for playing Eric Matthews in Boy Meet World, a television sitcom that aired from 1993 to 2000. From what we gathered, Will and Jennifer began dating after they were introduced to each other by a mutual friend in 1996.
Jennifer was quite enthusiastic about the relationship. She was quoted to have said that she loved being with Will because he was taking care of her as much as he does himself. The relationship could only survive a few months as they parted ways sometime in 1997. Will has been married to Susan Martens since 2016.
Andrew Keegan (1997 – 1998)
Date of Birth: January 29, 1979
Age: 44 Years Old
Occupation: Actor
Andrew Keegan Heying has always been one of such famous figures who prefer to keep their love life away from the prying eyes of the public. This may be the reason what he had with Jennifer Love Hewitt has been somewhat a mystery. All that is known is that he had something more than a platonic relationship with the popular actress between 1997 and 1998.
It has been many years since then but Andrew has been relentless about keeping his private life private. He has never been married, at least to the best of our knowledge, but he has a partner named Arista Ilona and a daughter named Aiya Rose.
Carson Daly (1997 – 1999)
Date of Birth: June 22, 1973
Age: 50 Years Old
Occupation: Producer and Media Personality
Within the same time it circulated that Jennifer was dating Andrew Keegan, she was also believed to be dating Carson Daly. Daly is probably best known for hosting the NBC late-night talk show, Last Call with Carson Daly. He reportedly began dating Hewitt in 1997 and the relationship ended in 1999 for reasons that have remained unknown to the public. But Jennifer once admitted that Daly was a good boyfriend.
After his relationship with Hewitt ended, Carson began dating actress Tara Reid the following year. This was after they met on the set of Total Request Live. They got engaged in 2001 but soon called it off. Daly later got married to a food blogger named Siri Pinter in 2015 and they have no fewer than four kids together.
Rich Cronin (1999 – 2001)
Date of Birth: August 30, 1974
Died: September 8, 2010
Occupation: Singer-songwriter
After Carson Daly came Richard Burton Cronin. The late American singer-songwriter is remembered for being the lead singer of the defunct hip hop group, LFO. Rich and Jennifer Love met in 1999 at the Blockbuster Entertainment Awards show where the actress gave Cornin her number. This marked the beginning of their relationship as they began dating afterwards.
Rich was so much in love with Love that he wrote his track titled Girl on TV for her. The actress also appeared in the music video of the song. Unfortunately, the relationship was meant to last only for a few months. They parted ways in 2000 and about a decade later, precisely on the 8th of September 2010, the singer passed on after suffering a stroke. He had been diagnosed with acute myelogenous leukaemia.
Patrick Wilson (2001 – 2002)
Date of Birth: July 3, 1973
Age: 50 Years Old
Occupation: Actor, Singer, and Director
Following the end of her relationship with the late LFO lead singer, Jennifer Love Hewitt began a relationship with Patrick Joseph Wilson, an American actor known for his exploits on stage and screen. Reports have it that Patrick and Jennifer met during the Broadway production of The Full Monty in 2001 and began dating thereafter.
Like the rest of her previous relationships, it only lasted for months as they went their separate ways in 2001. A few years later (sometime in 2005), the actor got married to Dagmara Dominczyk, a Polish-American actress. They now have at least two kids together.
Scott Austin (2004 – 2005)
Date of Birth: Undetermined
Age: Undetermined
Occupation: Music Executive and Record Producer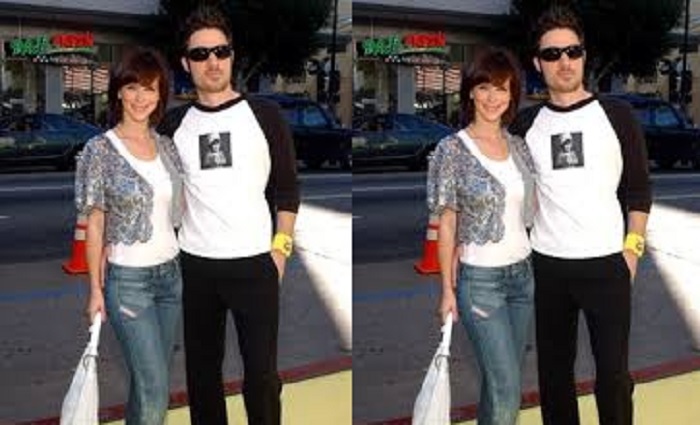 Following the end of her relationship with Patrick Wilson, it was difficult to tell who Jennifer Love Hewitt was dating in the few years that followed. This is because she was seen with John Cusack for a while in March 2003, and then Kip Pardue between May and October of the same year. From that same month to the next, the actress was believed to be dating Antonio Sabato Jr. Earlier, she was linked to the American singer-songwriter, John Mayer. He reportedly wrote a hit song for the actress but it didn't make what they had last for a long time.
Anyway, it was after Antonio that Scott Austin came along. Based on Jennifer's standards, their relationship lasted for a good while as they dated from 2004 to 2005. The two were seen together at several events until it became apparent that they had parted ways. Why the actress ended things with the music executive has remained unknown to the public.
Jamie Kennedy (2009 – 2010)
Date of Birth: May 25, 1970
Age: 53 Years Old
Occupation: Comedian, Actor, and TV Producer
After Scott Austin, the actress had her romance with Ross McCall before Jamie Kennedy came along. It was in 2008 that Jennifer and McCall called off their engagement. The following year, she began seeing Jamie. He is known as Randy Meeks in the Scream franchise and for films like Malibu's Most Wanted (2003), Bowfinger (1999), Finding Bliss (2009), and Good Deeds (2012). Jamie and Jennifer were co-stars in Ghost Whisperer and it was while they were working on the supernatural series that they fell in love.
As typical of the actress, the relationship lasted only from 2009 to 2010. But then, it was a relationship that she really found meaningful. We know this because, despite their split in 2010, Jennifer dedicated the book she published that year to Kennedy. Titled The Day I Shot Cupid, the book related what the actress had experienced in her love life. Based on what she said, Jamie Kennedy made her aware of the realities that surround being in love.
Alex Beh (2010 – 2011)
Date of Birth: Sometime in 1967
Age: 56 Years Old
Occupation: Actor, Writer, and Director
It was in July 2010 that Hewitt began dating Alex Beh. More than being an actor, Alex is a writer, director, and producer. He is famed for his work on Sugar (2008), Warren (2014), and Coffees (2012). Alex is known for evading the limelight. As such, details of his love life, including what he had with Jennifer have been hard to come by.
Nevertheless, it is known that he began dating the actress after her split from Jamie Kennedy. Just as their relationship began silently, they parted ways without people knowing they were no longer together. When it emerged that they had gone their separate ways, it was said that they had been apart for a while. Neither Hewitt nor Alex has ever talked about what came in-between them.
Jarod Einsohn (2011 – 2012)
Date of Birth: January 6, 1984
Age: 39 Years Old
Occupation: Actor, Producer, and Director
Based on the foregoing, it is clear that Jennifer Love Hewitt preferred dating people she can relate to career-wise. After her relationship with Alex Beh ended, she found herself another actor, writer, producer, and director.
Known for his work in popular projects like Hawaii Five-0, Blue Bloods, Eagle Eye, and CSI: NY, Jarod Einsohn dated the beautiful actress from 2011 to 2012. They made their red carpet debut sometime in October 2011. Less of them was seen before the year ran out and it was confirmed in 2012 that they were no longer together.