Catherine Bell is a British-American actress who set herself apart in the competitive movie industry with roles like Cassandra "Cassie" Nightingale in Hallmark's television film series, Good Witch, and a fantasy comedy-drama television series of the same name. 
She has been acting since 1990 when she pulled off her first acting role on Sugar and Spice, a short-lived sitcom. Bell has remained relevant in the business since then and has earned the admiration of thousands of moviegoers for being Lieutenant Colonel Sarah MacKenzie in the American legal drama television series, JAG, and Denise Sherwood in the Lifetime drama television series, Army Wives.
The actress has lived her life in the limelight for years and anyone who keeps up with her career ought to know a thing or two about her personal life. For instance, it's not a secret that she was once married to Adam Beason with whom she had two children.
Regardless, there are some facts about her personal life that are not known to many of her fans. For instance, not too many people know that the Agra catbellae, a species of carabid beetle was named after the actress. Thanks to the characters she has played, people have come to assume that Bell is crazy and reckless, well…nothing could be farther from the truth.
Profile Summary of Catherine Bell
Full Name: Catherine Lisa Bell
Nationality: British, Iranian, and American
Place of Birth: London, England, UK
Date of Birth: August 14, 1968
Age: 55 Years Old
Occupation: Model and Actress
Years Active: 1990 – Present
Father: Peter Bell
Mother: Mina Ezzati
Ex-husband: Adam Beason
Duration of Marriage: 1994 – 2011
No. of Children: Two (Gemma and Ronan Beason)
Height: 5 Feet 9 Inches (1.75 m)
The Army Wives Actress Was Born To A Scottish Father and an Iranian Mother
The famous actress has a mixed family background. As you would easily find, she was born on the 14th of August 1968 and her place of birth was in London, England, the United Kingdom. The 55 years old was born to a Scottish father named Peter Bell and an Iranian mother known as Mina Ezzati. It is said that her father is an architect. His career took him to Iran at some point where he worked for an oil company. There, he presumably met Mina who would later relocate to London to pursue her dream of becoming a nurse. It seems Catherine is the only child Peter and Mina had together as there are no records about her having a sibling.
Although she was born in England, Bell spent most of her childhood in the United States of America. From what we gathered, her parents ended their marriage two years after she was born. Peter left Catherine under the care of her mother who raised her with the help of her parents. Around the same time Bell's parents parted ways, she relocated with her mother to the United States where they settled in the San Fernando Valley of Los Angeles in California.
Catherine quickly adapted to her new home and would be greatly influenced by the lifestyle of the urbanized valley. She appreciates this as much as she is proud of the fact that she has a diverse background. She speaks the Persian language fluently as much as she speaks English and her maternal grandparents were Muslims.
The actress of Iranian and Scottish ancestry was thus exposed to the Islamic faith, Catholicism, and Protestant Christianity (Baptist). All of these have contributed in no small manner in shaping her identity; Bell is not afraid of being different and she has embraced a liberal approach to life.
Catherine Bell Pursued a Career In Medicine Before She Became a Model and Actress
Growing up, Catherine Bell was very active and appeared in multiple TV advertisements but that was that. Her dream was to become a medical professional, so after she graduated from high school, she moved on to the University of California, Los Angeles (UCLA) where she studied biology and pre-medicine.
Sometime during her second year at the university, she got a modeling offer from Japan. Thus, she dropped out of college and it marked the beginning of her career in showbiz. Bell worked as a model for a while in the East Asian nation and decided to spread her wings to the movie industry when she returned to the United States.
Knowing that she needed more than her zeal to thrive in the industry, Catherine decided to study acting at Beverly Hills Playhouse, one of the oldest acting schools in Los Angeles. While at this, she worked as a massage therapist. In 1991, she got her first major acting role; as Donna in the "Brotherly Love" episode of True Colors. In the years that followed, she was seen in other series, TV movies, and feature films like Dream On, Mother of the Bride, Vanishing Son, Men of War, The Naked Truth, Friends, and much more.
Bell has remained a part of the industry since then and has been seen in dozens of movies and TV shows. Her first major role on television was as Lieutenant Colonel Sarah MacKenzie on JAG, a legal drama series that revolved around the U.S. Navy.
She played the role from 1996 to 2005 before she landed her next significant role in Army Wives. In-between the two series, she was seen in Hot Line, Hercules: The Legendary Journeys, Penn & Teller's Sin City Spectacular, Cab to Canada, Thrill Seekers, Waking the Dead, The Triangle, Company Town, Threshold, Law & Order: Special Victims Unit, and Still Small Voices.
It was after Army Wives that she first played Cassandra "Cassie" Nightingale, a leading role on Hallmark's television film, The Good Witch; this was in 2008. Since then, she has co-executed and starred in subsequent installments of the franchise, including The Good Witch's Garden (2009), The Good Witch's Gift (2010), The Good Witch's Family (2011), The Good Witch's Charm (2012), The Good Witch's Destiny (2013), The Good Witch's Wonder (2014), and a TV series of the same title which has been aired from February 2015 to July 2021.
What Does The Actress Do Now?
Catherine Bell is still active in the entertainment industry but perhaps not as much as she used to. The last time she was seen in a feature movie was in 2016; as Joanne in The Bandit Hound and Dawn DiFazio in The Do-Over, a buddy action comedy film directed by Steven Brill. But one shouldn't conclude based on that as she has only featured in a handful of big-screen projects in her entire career.
Bell has always been more active on television and has been seen in a few projects in the past few years. Nonetheless, much hasn't been heard from her since the Good Witch series aired its last episode on the 25th of July 2021. Also, she has no project in the pipeline, at least to the best of our knowledge. This does not mean she has retired from being an actress; she is only taking fewer roles so that she can perhaps, commit more to being a mother and what's required of her as a Scientologist.
It's no secret that the actress who was exposed to various religions growing up embraced Scientology in the late 1980s and has been practicing the religion to date. While she is proud of being a Scientologist and committed to promoting the faith as seen in the church's human rights music video titled "United" in 2006, reports have claimed that leaders of the religion aren't a big fan of her.
The actress has subjected herself to teachings of the church over the years and has been able to attain the "Clear" level which means she no longer has a "reactive mind". However, the fact that she divorced her husband and thereafter moved in with a woman displeased with leaders of the church, thus she has reportedly been stuck at the Clear level.
Truth About Catherine Bell and Brooke Danielle's Relationship
Following her divorce from her husband, Catherine Bell moved in with a woman named Brooke Daniells and they have been living together since 2012. Also a Scientologist, Brooke Daniells is a portrait artist: a self-taught photographer whose specialty revolves around modern high school seniors, couples, commercial fashion, and destination/travel.
She was raised in Georgia and graduated from Auburn University. Following her graduation from college, she started working in the fashion industry and also as an event coordinator but photography had always been her true passion.
So, when she got married and became a stay-at-home mom, she turned to photography and has been taking pictures for a living since then. Brooke, who is a bit of an actress and former beauty queen, has two kids; a son and a daughter named Dane and Chapel with her husband whom she described as "the most courageous and hard-working man" she's ever known.
Although her website suggests otherwise, it is believed that Brooke Daniells is divorced from the man who is said to be a soldier. A while after Catherine Bell and her ex-husband announced their divorce in 2011, it circulated that the actress was dating the photographer.
A few months after she finalized her divorce, Bell moved in with Brooke Daniells in Los Angeles and they have been living together ever since. While it has been concluded in several quarters that the two are lovers; neither of them has ever confirmed or refuted this.
Be that as it may, we can confirm that the two have a lot in common. Growing up, Catherine Bell liked to skateboard and play football. She has kept up with most of such physical activities as she enjoys snowboarding, skiing, and what have you. The same goes for Brooke who played ice hockey and was a competitive figure skater for over a decade.
Meet Adam Beason – The Ex-Husband of The Army Wives Actress 
Full Name: Adam David Beason
Nationality: American
Place of Birth: Los Angeles, California
Date of Birth: August 25, 1969
Age: 54 Years Old
Occupation: Screenwriter and Producer
Before Brooke Daniells, who is believed to be the spouse of the actress at the moment, Catherine Bell was married to Adam Beason. Adam has been working in the movie industry for years in various capacities. As an actor, he appeared in "To Walk on Wings", "Ghosts of Christmas Past", and "The Adversaries", episodes of his ex-wife's famous show, JAG – this was between 1999 and 2001. His works in the industry have mostly been behind the scenes: as a screenwriter, producer, production assistant, camera operator, and assistant director.
As a screenwriter, he has worked on projects like the TV movie Last Man Standing, Deceived, and Airship Cowboys. Adam has also worked as a production assistant on Stone Cold, Keeper of the City, Of Mice and Men, Monkey Trouble, and Death Becomes Her. The latter is a 1992 satirical black comedy fantasy film produced and directed by Robert Zemeckis. It was on the set of the movie that he met Bell who was featured in the production as actress Isabella Rossellini's nude body double.
They started dating shortly after they met and a few years later, precisely on the 8th of May 1994, they officially became life partners.
The Former Couple Had Two Kids Before Their Divorce In 2011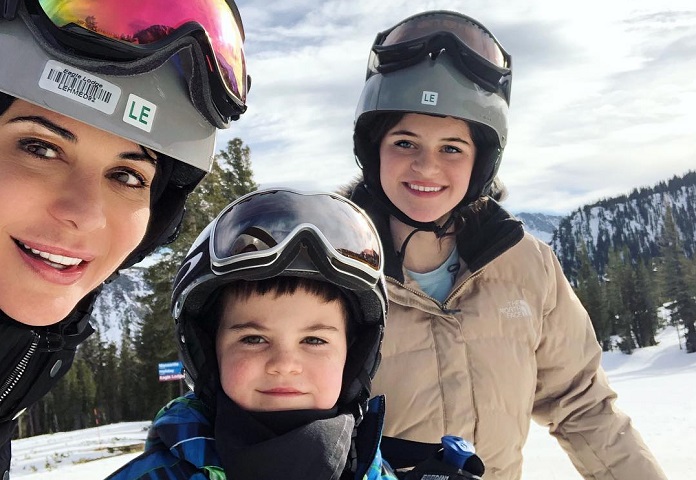 For many years, the Bell-Beason union flourished and a few times, the actress spoke highly of Adam. In an instance right before they separated and subsequently signed divorce papers, she described the screenwriter as a "sweetheart" as she offered that they had been married for 16 years. Based on what she said, they were friends and kept no secrets from each other, which helped them to maintain a happy marriage.
Given the foregoing, one might wonder what led to their divorce as they seemed to be a happy couple. Neither Bell nor Adam has commented on the failed marriage but reports have it that they parted ways amicably and remain good friends. The reason behind their divorce has been largely left to speculations but there seems to be some substance to the claim that the marriage ended because Bell is sexually attracted to women and wanted to embrace her sexuality. As she moved in with Brooke Daniells after they separated, it is hard for one to argue with this narrative.
Before the marriage collapsed, Bell and Benson lived in a 700-square-foot apartment in Calabasas, California. They sold the home where they had lived with their two kids in 2010. It was on the 16th of April 2003, almost a decade after they got married, that the former couple welcomed their first child together, a daughter named Gemma. The 20 years old has a younger brother named Ronan. He is 13 years old as he was born on the 21st of August 2010.
What is Catherine Bell's Net Worth?
Catherine Bell has amassed a net worth of $12 million, thanks to her career as an actress, model and producer.
Who is Catherine Bell's Husband?
The British-American actress has no husband at the moment. She was previously married to a screenwriter and producer named Adam David Beason who she married in 1994 and divorced in 2011.
Is Catherine Bell Gay or Lesbian?
After her failed marriage, Catherine got into a lesbian relationship with a woman named Brooke Daniells. She moved in with her in 2012 but till now, none of the women have confirmed their relationship.
How Many Kids Does Catherine Bell Have?
Catherine had two children with her ex-husband. Her first child, a daughter named Gemma, was born on the 16th of April 2003 while her second child, a son named Ronan was born on the 21st of August 2010.
What is Catherine Bell's Age?
The actress is 55 years old. She was born on August 14, 1968, in  London, England, UK.
What are Catherine Bell's Body Measurements?
Catherine has a hourglass body type that measures 34 (bust), 24 (waist), and 35 (hips) inches. She wears bra size 34D and shoe size 10.
How Tall is Catherine Bell?
At 5 Feet 9 Inches (1.75 m), Catherine Bell is taller than an average American woman, who is said to measure 5 feet 5 inches. She also weighs 67 kg (147 lbs).