Since she transitioned from a Disney child star to an adult Hollywood celebrity, Zendaya has dated several men, including Trevor Jackson February (2012 – 2016) and most recently, Jacob Elordi (2019 – 2020). There have also been rumors about her dating Odell Beckham Jr. (2016), Tom Holland (2016 – 2019), Spencer Boldman (2013 – 2014), Adam Irigoyen (2011 – 2012), and Leo Howard (2009).
Zendaya Maree Stoermer Coleman, better known as Zendaya, is one of Hollywood's recent sweethearts. The actress is best known for her role in the Disney series Shake It Up and K.C Undercover. Her notable film appearances are The Greatest Showman and Spiderman: Homecoming. She has also appeared in other popular TV shows such as Black-ish, Good Luck Charlie, and A.N.T Farm.
Born on the 1st of September 1996 to Claire and Samuel David Coleman (her father later changed his name to Kazembe Ajuma just to identify with his African roots), the actress is the only child of her parents. However, her father has five other children from his earlier marriage.
Her parents, who are both teachers, were initially skeptical about Zendaya's choice of career but eventually decided to support her. She was raised in Emeryville, where her father grew up. In August 2016, it circulated that Zendaya's parents were getting divorced due to irreconcilable differences; the actress was only nineteen at the time.
While her parents are no longer together, they remain a big part of Zendaya's life, especially her father who is said to be very protective of his famous daughter. He goes as far as joining Zendaya as the third wheel on her dates. It is believed that he is familiar with all the men that have dated his daughter over the years.
Zendaya's Last Known Relationship Was With Jacob Elordi
Full Name: Jacob Nathaniel Elordi
Date of Birth: June 26, 1997
Age: 26 Years Old
Occupation: Actor
Duration of Relationship: August 2019 – July 2020
Even though he's from Brisbane, Queensland, Australia, Jacob Elorid has become a popular face in Hollywood films, thanks to the Netflix teen film series, The Kissing Booth and Euphoria, the HBO series that has been airing since 2019.
It was on the set of Euphoria that Jacob became one of Zendaya's boyfriends. Even though the two never confirmed they were dating, several instances suggested so, beginning with their August 2019 vacation. The two were seen together touring Greece.
It quickly spread that the Euphoria co-stars might be dating but Jacob's claimed Zendaya was like a sister to him. This was in November 2019, by February 2020, the actor was seen kissing his "sister" in New York City. After that, it was reported in some quarters that the relationship between the two had morphed from being good friends to inseparable lovers. Yet neither of the two admitted they were dating.
While shippers were still waiting for the two to acknowledge they were in a relationship, it emerged that they were no longer together. This became obvious after the Australian actor was seen several times all over Kaia Gerber who confirmed she's Jacob's girl.
What happened to Zendaya and Jacob Elorid remains unknown but we can tell they are still friends and, that it has been suggested in some quarters that the COVID-19 lockdown drove them apart. While Jacob observed social distancing in his country, Zendaya did so in America.
Comprehensive List of People The Actress Dated In The Past
Zendaya is one celebrity who has always strived to keep her love life private. Nonetheless, her increasing fame and relevance in the competitive industry have made it hard for her to attain that goal. The media and her fans have relentlessly pried into her life in search of newsworthy stories and most times, they find something worth telling about her love life.
Given that, the actress has developed tough skin, she would rather allow the public to speculate and spread rumors about who she's dating rather than comment on any claim. Because of this, it hard to tell who the actress truly dated and those that are just rumored boyfriends. Either way, the following are all the people that have been romantically linked to the phenomenal actress.
Odell Beckham Jr. (Rumored) 
Full Name: Odell Cornelious Beckham Jr.
Date of Birth: November 5, 1992
Age: 31 Years Old
Occupation: American Football Player
Duration of Relationship: February 2016
The American football wide receiver has been playing in the NFL since 2014, first for the New York Giants and then for the Cleveland Browns since 2019. Outside of his career, Odell gets the attention of the media for his personal life, especially his relationship with popular figures.
He reportedly dated Amber Rose for about two years and then Polyxeni Ferfeli in 2018. In between them, the footballer has been romantically linked to Khloe Kardashian, Bella Hadid, and Zendaya.
The actress was rumored to have gone on a date with the NFL star. In February 2016 the two were seen together on several occasions, however, neither addressed the rumor. But Zendaya's father would squash the rumor, stating that there was no relationship and that the two were just friends.
Was Zendaya a Couple With Tom Holland?
Full Name: Thomas Stanley Holland
Date of Birth: June 1, 1996
Age: 27 Years Old
Occupation: Actor
Duration of Relationship: July 2016 – August 2019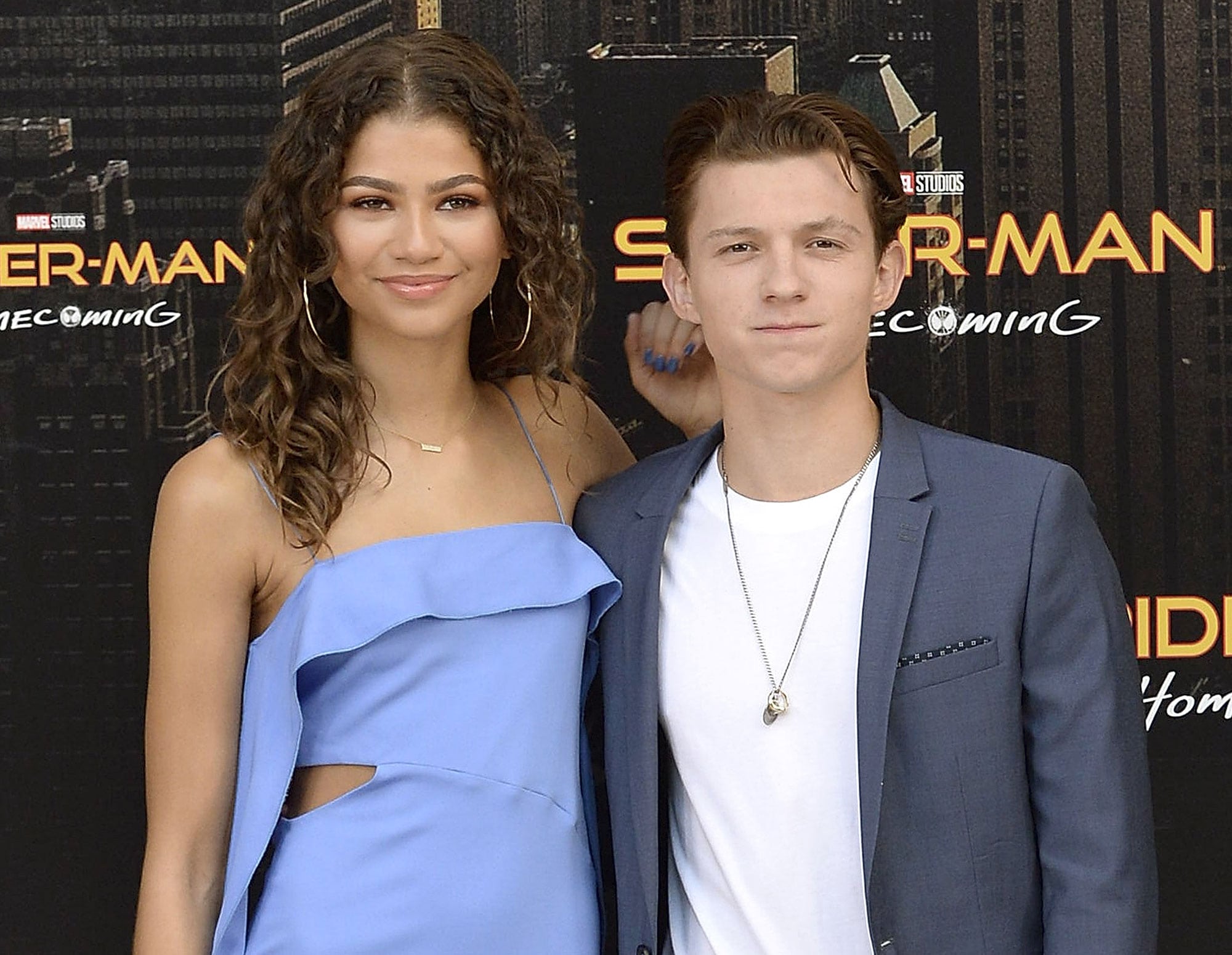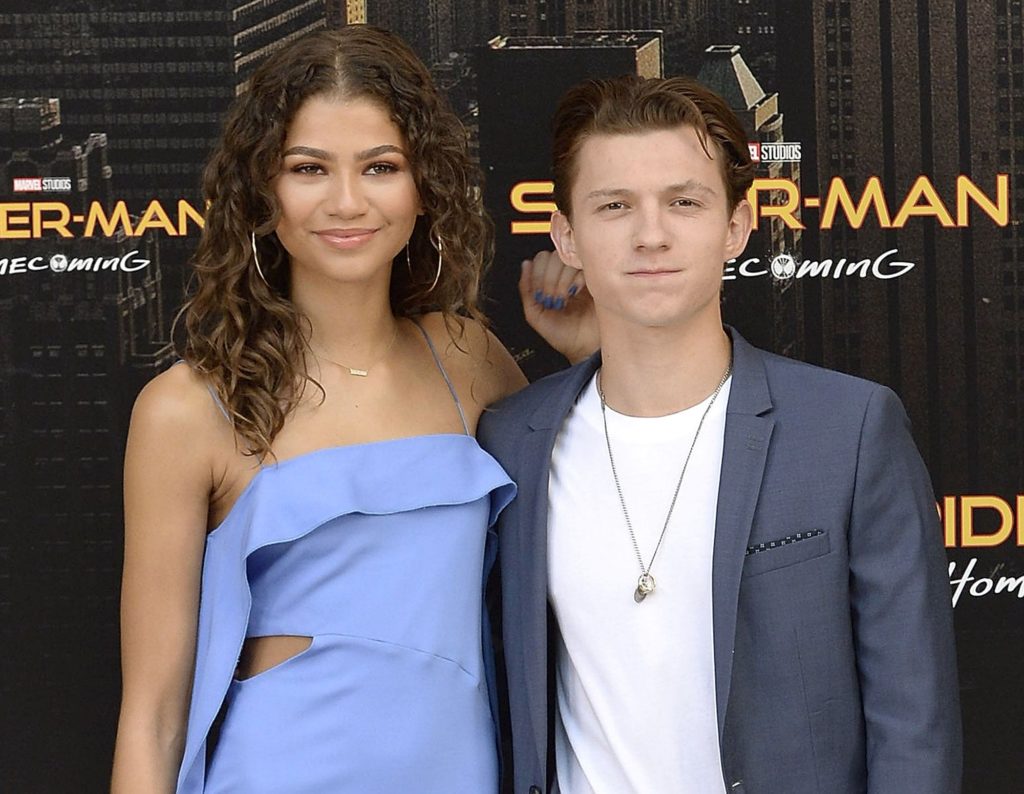 An English actor, Tom Holland has become a force to reckon with in Hollywood at a young age. He already has several box office hits in his resume, including Captain America: Civil War (2016), Spider-Man: Homecoming (2017), Avengers: Infinity War (2018), Avengers: Endgame (2019), Spider-Man: Far From Home (2019) and Spider-Man: No Way Home (2021).
Zendaya and Tom met in 2016 after they were cast in Spider-Man and since the summer of 2017, the two have been rumored to be dating.
Though their relationship has never been confirmed, they have been seen together on several occasions with many speculating that it is more than just a friendship. They were spotted attending The Avengers: Infinity War premiere which further fueled the rumors.
Zendaya would refer to the Spiderman actor as her friend but it wouldn't change a thing as the media continued to insist they were an item until Jacob Elordi came along. Even though Zendaya and Tom stated several times they were not lovers, it is hard for many to believe this, as they attended multiple industry events together and were always seen spending quality time together.
Trevor Jackson
Full Name: Trevor Howard Lawrence Jackson
Date of Birth: August 30, 1996
Age: 27 Years Old
Occupation: Actor and Singer-songwriter
Duration of Relationship: February 2012 – May 2016
In 2010, the former Disney star met Trevor Jackson, but the two did not start dating until 2012. Trevor Jackson is an American actor best known for his roles on Eureka, Let It Shine, Superfly, and Grown-ish. The actor also appeared in the Broadway Musical, playing a young 'Simba'. Like, Zendaya, Trevor was also born in 1996 and has a loyal fanbase.
The two were together for four years but sadly, the young lovers ended their relationship in May 2016. Not long after the breakup, both parties unfollowed each other on social media, which is as serious as it gets for millennials.
While the actress has been quite secretive about her love life, she has talked about a breakup with a boyfriend of four years that left her devastated. Zendaya divulged that she got over it by trying new things and forcing herself to have a lot more fun. She never said who the ex was but described him as her first love.
Based on that, people have come to conclude she was talking about Trevor Jackson.
Spencer Boldman (Rumored)
Full Name: Spencer Thomas Boldman
Date of Birth: July 28, 1992
Age: 31 Years Old
Occupation: Actor
Duration of Relationship: 2013 – 2014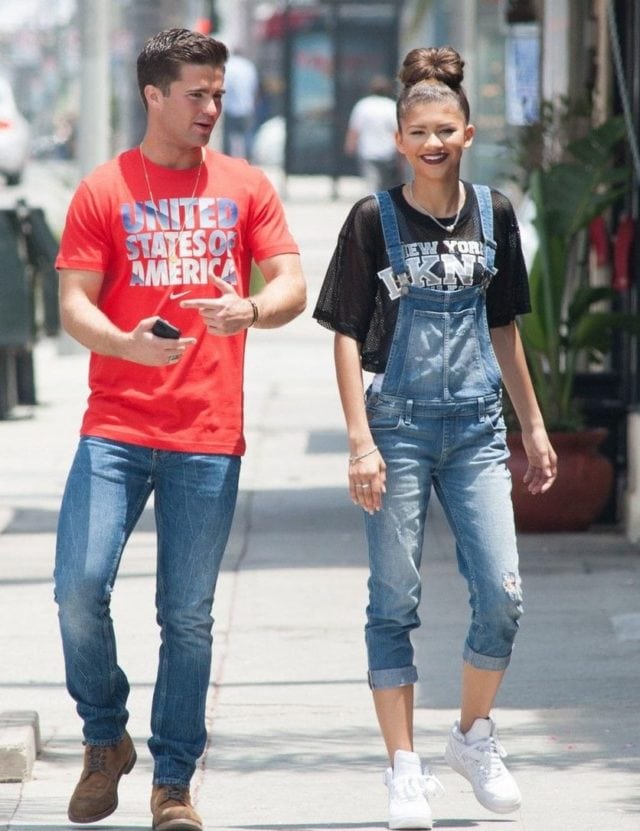 Spencer is best known for his role in the television series Lab Rats and the film Cruise, opposite Emily Ratajkowski. He is an American actor who has been active since 2009. Apart from Lab Rats and Cruise, his other popular projects include 21 Jump Street, iCarly, I'm in the Band, and Zapped.
He played Jackson in the latter, a television film made for Disney that also starred Zendaya. If we are not mistaken, Zendaya and Spencer met for the first time on the set of the television film and became friends. As time went by, it started circulating they were more than friends.
Soon enough, fans began regarding them as Spendaya or Spencaya. It was widely held that they were dating because apart from their romantic pairing onscreen, they often tweeted at each other, took a lot of pictures together, and were often seen having a great time in public.
In an interview, Spencer divulged he had lots of fun with the actress while they worked together. He also disclosed that they were in Canada together where they "kept each other pretty occupied". In all of the rumors and speculations, neither of the two publicly acknowledged they were in a relationship.
Adam Irigoyen (Rumored)
Full Name: Adam Matthew Irigoyen
Date of Birth: August 5, 1997
Age: 26 Years Old
Occupation: Actor, Singer, Rapper, and Dancer
Duration of Relationship: September 2011 – February 2012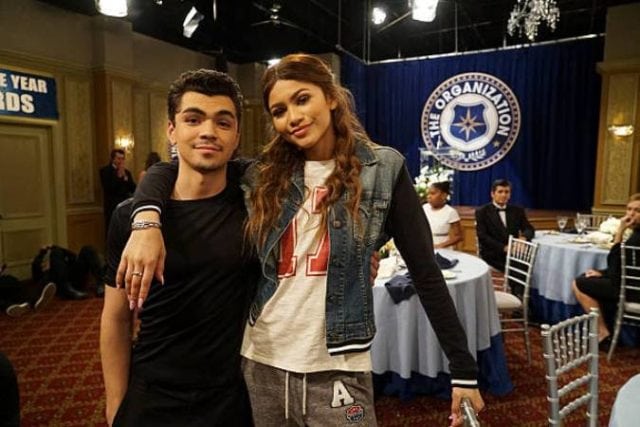 Adam Irigoyen is a very versatile entertainer who sings, raps, and dances, in addition to acting which has been earning him most of the attention he gets. He began his career when he was 11 years old, featuring in advertisements before he landed his first acting role in Wizards of Waverly Places, this was in 2009.
The following year, he got his breakthrough as he landed a major role as Deuce Martinez/Harrison in Shake It Up. It was through the Disney sitcom that had Zendaya play Rocky Blue that the two met and became friends.
After the actress and Adam met on the set of Shake It Up, they became very close and were believed to be friends in real life. But soon, it circulated that the co-stars had entered into a relationship, this was in September 2011. If they truly dated, it only lasted for several months and why they parted ways is not known.
We can only tell that it emerged in February 2012 that Adam Irigoyen was in a relationship with Caroline Sunshine whom he dated until August 2012. It is important to note that neither Adam nor Zendaya ever confirmed they were an item.
Leo Howard (Rumored)
Full Name: Leo Richard Howard
Date of Birth: July 13, 1997
Age: 26 Years Old
Occupation: Actor and Martial artist
Duration of Relationship: 2009
ok…who's gonna post a current picture of me and @iamLeoHoward? we were little babies here!! ???????? pic.twitter.com/XwcP9T32Q9

— Zendaya (@Zendaya) November 10, 2013
Born in Newport Beach, California, Leo Howard began learning martial arts when he was only four years old. He kept up with that for years and it would become one of the things that set him apart from other actors in the industry.
He began acting as a child and is known for productions like G.I. Joe: The Rise of Cobra, Conan the Barbarian, and Kickin' It. Leo has a recurring role as Logan Hunter in Shake It Up, and it was on the set of the sitcom that his relationship with Zendaya started.
Leo Howard is often counted as one of the Disney stars Zendaya dated, even though there is hardly any concrete indication that the two were more than friends. It is believed that Leo and Zendaya dated for a while at some point after they met on the set of Shake It Up.
Based on what has been reported on various quarters, the rumored relationship began and ended in 2009. Why it circulated they were dating isn't far-fetched: the two were pretty close and were often seen together. But then, Zendaya never commented on the rumor neither did Leo who has also been romantically linked to other popular figures like Bella Thorne, Olivia Holt, and Liza Koshy.
While we may never get to know if the two truly dated, they are still friends, so their breakup, if there was any, was an amicable one.
Is Zendaya Dating John David Washington?
Date of Birth: July 28, 1984
Age: 39 Years Old
Occupation: Actor and Producer
John David Washington was once an American football running back who had a professional career with the United Football League. But he is mostly known as the son of Hollywood superstar, Denzel Washington, and for his acting career. Some of his most popular projects include The Book of Eli, BlacKkklansman, Tenet. and most recently, Malcolm & Marie.
He and Zendaya starred as a couple in the 2021 romantic drama film Malcolm & Marie. Since then, people have wondered if their on-screen romance has become a reality. No, it hasn't.
Since Zendaya's relationship with Jacob Elorid came to an end, there has not been any reason to suspect she is in a relationship. If she is dating anyone at the moment, then she must have gone at length to keep it a secret.