Netflix is a public company and as such, is owned by many individuals and organizations. Nevertheless, Netflix's largest individual shareholder is Reed Hastings, co-founder, former CEO of the company, and now the company's Chairperson.
Although an American company, Netflix is a worldwide household name. It is the most popular streaming service globally with over 200 million subscribers (and counting) all over the world. Having created some of the most interesting, highest-grossing television shows of the past ten years, it is no surprise that Netflix is counted among the largest and richest companies in the world. But have you ever wondered who the brain behind this multi-billion dollar company is?
Breakdown Of The Ownership Of Netflix
While the production company was started by two men, it has since grown beyond that. It is now a publicly traded company on the Nasdaq Stock Market and as such is shareholder-driven. This simply means that Netflix is owned by many people, both institutions and individuals. As a result, no one man is in complete control of the company's affairs, instead, there is a range of investors who own the company.
Nevertheless, for the sake of running the company smoothly and ensuring that it keeps growing, there is a Chief Executive Officer in the person of Reed Hastings, who is one of the founders of Netflix. Reed has a 2.09% stake in the company which is worth about $4 billion. This makes him one of the largest individual shareholders in the firm alongside Neil Hunt, the company's former chief product officer,  and Ted Sarandosand, the chief content officer.
In all, insider shareholders have about 1.49% of Netflix shares while a greater percentage of the company's shares (about 82.16%) are owned by institutions. Among these institutions, which totals 2,479, a Malvern, Pennsylvania-based mutual fund company called Vanguard Group owns the largest stake.
Individual Insider Shareholders
| | | |
| --- | --- | --- |
| Shareholder | Stake | Shares Owned |
| Reed Hastings | 2.09% | 9,266,012 |
| Jay. C. Hoag | * | 4,325,015 |
| Ted Sarandos | * | 595,262 |
| Greg Peters | 0.01% | 13,090 |
| David Hyman | 0.01% | 31,610 |
| David Wells | * | 138,286 |
| Richard N, Barton | * | 73,033 |
| Leslie J. Kilgore | 0.02% | 35,196 |
| Spenser Neumann | * | 45,919 |
| | | |
| --- | --- | --- |
| Timothy M. Haley | * | 32, 326 |
| Kelly Bennett | * | 35,226 |
| Bradford L. Smith | * | 28,871 |
| Ann Mather | * | 15,366 |
| Anne M. Sweeney | * | 10,205 |
| Rodolphe Belmer | * | 5, 179 |
| Mathias Dopfner | * | 3,644 |
| All Directors and Executive Officers as a Group (19 Persons) | 3.40% | 15, 163,369 |
Top 10 Institutional Shareholders of Netflix Inc.
| | | | |
| --- | --- | --- | --- |
| Shareholder | Stake | Shares Owned | Total Value ($) |
| | | | |
| --- | --- | --- | --- |
| The Vanguard Group, Inc. | 7.07% | 31,334,786 | 15,755,443,749 |
| Capital Research & Management Co…. | 6.44% | 28,535,689 | 14,348,029,786 |
| T. Rowe Price Associates, Inc. (I… | 4.40% | 19,517,596 | 9,813,642,445 |
| BlackRock Fund Advisors | 4.29% | 19,006,495 | 9,556,655,751 |
| Fidelity Management & Research Co… | 4.16% | 18,422,019 | 9,262,775,373 |
| Capital Research & Management Co…. | 3.81% | 16,886,545 | 8,490,723,691 |
| SSgA Funds Management, Inc. | 3.57% | 15,842,738 | 7,965,887,094 |
| Capital Research & Management Co…. | 3.05% | 13,500,195 | 6,788,033,048 |
| Baillie Gifford & Co. | 1.85% | 8,187,881 | 4,116,948,446 |
| Jennison Associates LLC | 1.65% | 7,317,164 | 3,679,143,231 |
Top 10 Mutual Funds Holding Netflix
| | | | |
| --- | --- | --- | --- |
| Mutual Fund | Stake | Shares Owned | Total Value ($) |
| | | | |
| --- | --- | --- | --- |
| American Funds Growth Fund of Ame… | 5.29% | 23,439,492 | 11,785,610,973 |
| Vanguard Total Stock Market Index… | 2.82% | 12,499,718 | 6,284,983,208 |
| Vanguard 500 Index Fund | 2.03% | 9,012,499 | 4,531,574,622 |
| American Funds AMCAP Fund | 1.51% | 6,671,846 | 3,354,670,887 |
| Fidelity Contrafund | 1.41% | 6,240,801 | 3,137,937,151 |
| Invesco QQQ Trust | 1.24% | 5,481,107 | 2,755,955,411 |
| American Funds Investment Company… | 1.16% | 5,142,076 | 2,585,487,234 |
| T Rowe Price Blue Chip Growth Fun… | 1.02% | 4,523,413 | 2,274,417,291 |
| SPDR S&P 500 ETF Trust | 1.01% | 4,460,024 | 2,242,544,667 |
| Government Pension Fund – Global … | 1.00% | 4,441,280 | 2,233,119,997 |
Netflix Was Founded In 1997
The revolutionary entertainment service known as Netflix was established on August 29, 1997, by Reed Hastings and Marc Randolph in Scotts Valley, California. But it is still not clear how the co-founders came up with the idea for the company as they have different stories to tell about it.
Marc Randolph's Version of How Netflix Was Birthed
Narrating his own version of how Netflix started, Marc Randolph stated that the company kicked off when he and Hastings agreed to create "the Amazon.com of something." According to a report by The Washington Post, they then decided to find a large category of easily carried items they could sell over the internet just like is done on Amazon. They considered VHS tapes but dropped the idea because it was too costly to stock and too fragile to ship.
Just at that time, DVDs were brought into use for the first time in the U.S and they decided to give it a shot. To find out if it was okay for the kind of business they wanted to do (selling or renting DVDs by mail), the duo mailed a compact disc to Hastings's Santa Cruz home and it arrived in one piece. As a result of this, coupled with the customers' willingness to purchase them online, they decided to venture into the home-video sales and rental industry with the establishment of Netflix.
Reed Hastings Shares His Own Story
The original story Reed Hastings told a lot of news outlets was that the idea for Netflix came to him after Blockbuster slammed him with a $40 fee in 1997 for falling six weeks behind on his payment for the video "Apollo 13," which he rented. "I had misplaced the cassette. It was all my fault", he said during a 2006 interview with The New York Times.
On his way to the gym afterward, he observed that gyms operate a different business model, which was better than the Blockbuster model. In the gym, you could pay $30 or $40 and work out little or as much as you wanted. Hastings picked up the idea and in collaboration with the founding team, which included Randolph, he established Netflix that year.
Countering Reed's story, co-founder Marc Randolph, who quit the company in 2002, said that it was just a convenient fiction to explain how Netflix worked. This was revealed by Gina Keating, author of 'Netflixed.' While speaking with CNET in October 2012, she revealed that when she was gathering information for 'Netflixed', Reed explained that the story "was just a way to explain how the company worked. It was sort of a marketing tool."
Keating added that the story annoyed the founding team members because Reed Hastings would go out and just tell that story all the time. Asserting that there is something indicative that Hastings would never stop telling that story, she added that it was a case of excessive pride. According to her,  it has become a thing of "this company is me; I thought it up."
After a lot of people might have accepted Reed Hastings' story to be the truth, he decided to come up with another one, causing more confusion. He told a different story of how the idea for Netflix came in 2017 at the Mobile World Congress in Barcelona, Spain, saying that the idea emanated from a mathematics problem about the bandwidth of a station wagon carrying tapes. To get a solution to the problem, a person would have to find out the number of tapes that the vehicle could accommodate, the amount of data that could be stored in the tapes, and how fast the vehicle could arrive at a particular destination.
This, Hastings said, led him to brainstorm about the amount of data that could be stored in a DVD and how fast that information could be disseminated via the mail.
"When a friend told me about DVDs and I realized, well that's 5 gigabytes of data and you know you can mail that very inexpensively, I realized that is a digital distribution network. And from that original exercise, it made me think we can build Netflix first on DVD and then eventually the internet would catch up with the postal system and pass it," Hastings said.
The varying accounts of what prompted the establishment of Netflix notwithstanding, one thing remains true and that is the fact that it started by renting and selling DVDs. Following its launch, the company became the first online DVD-rental store in the world. It began operations with just 30 employees and 925 titles, made use of the pay-per-rent model, and adopted rates and due dates that were almost the same as that of its major competition, Blockbuster.
In addition to Hastings, who invested startup cash of $2.5 million into Netflix, Randolph's mother, Muriel Lipchik, and Steve Kahn, founder of Integrity QA, were among the first people who invested in Netflix.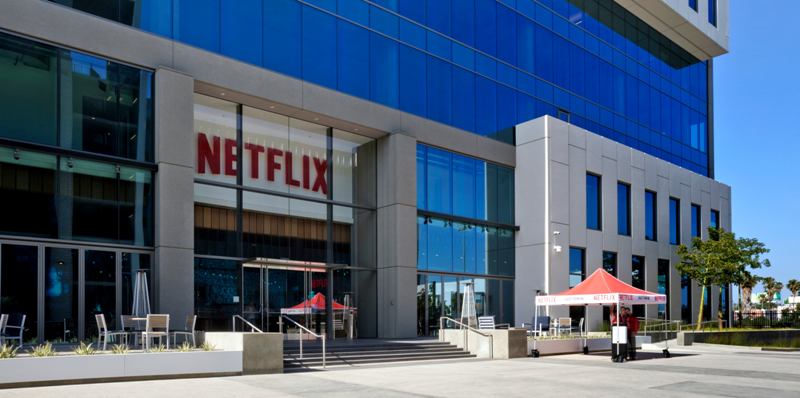 From DVD-by-Mail To Subscription-Based Online Streaming
Reed Hastings has always expressed his belief in online video streaming. In an article written on Inc. in 2005 as told to Patrick J. Sauer by Reed, he revealed that the firm was getting itself prepared for an internet-based future. He, however, explained that the company was still going to dominate the DVD industry for the next ten years, at least (which was supposed to be around 2015).
As recorded on Inc.com, Hastings said at the time, "Movies over the internet are coming, and at some point, it will become big business. We started investing 1 percent to 2 percent of revenue every year in downloading, and I think it's tremendously exciting because it will fundamentally lower our mailing costs. We want to be ready when video-on-demand happens. That's why the company is called Netflix, not DVD-by-Mail."
Surprisingly, it eventually took only two years before Netflix embraced the internet and introduced video on demand. This happened after the company concluded the delivery of its billionth DVD in February 2007. Since then, it has continued to grow by leaps and bounds. As revealed in a January 2013 report by the company, 2 million people from the United States subscribed to its services during the last quarter of the previous year, bringing its total U.S streaming customers to 27.1 million and its total streaming customers in the world to 29.4 million. Additionally, the company's revenue also went up to $945 million following an 8% increase at the same time.
By the final quarter of 2013, the number of Netflix subscribers in the United States alone had grown to 33.1 million. By September 2014, the company could boast of having paid streaming membership in more than forty nations, but that's nothing compared to the over one hundred and ninety countries it is currently in operations (over 150 more than 2014). As a result, its customer base also skyrocketed from 137 million worldwide in 2018 to 182.9 million as of Q1 2020 which ended on March 31, and is currently at over 200 million, according to the company's website. This makes Netflix the world's number one online subscription video service company.
Netflix Co-Founder Marc Randolph Left The Company In 2003
Netflix has millions of subscribers globally, but a good number of them know nothing about its co-founder and first CEO Marc Randolph because he left years before the company got to where it is now. He stepped down as the company's CEO in 1999 (and was replaced by Hastings) to focus on product development and eventually bid the firm goodbye after helping guide it through its IPO (initial public offering) in 2002.
In his book titled "That Will Never Work," published in 2019, Randolf implied that the company simply grew bigger than what his skills could handle. He also confessed that his talents were most appropriate for helping start-ups in their early years and not suited to billion-dollar multinational companies like Netflix.
"As you get older, if you're lucky, you realize two things: what you like, but also what you're good at," Randolph wrote in the book. "The answer to both of them [for me] is early-stage companies. I like the chaos. I like the fact that you're working on hundreds of things at once… Unlike me, Reed is not only a phenomenal early-stage C.E.O. — he's as good (or better) as a late-stage C.E.O."
During an interview with Robert Tuchman on The How Success Happens Podcast as reported by Entrepreneur in February 2021, the serial entrepreneur re-stated what he wrote in his book, explaining that his passion lies in problem-solving and as a result, he finds happiness "in the early stages of a company, discovering and overcoming and wearing different hats within an organization."
Consequently, as Netflix grew, it became very clear that its days of being described as a start-up were over "and that it had become the type of company that Reed had always enjoyed running," Marc explained. Therefore, it would make both of them happy if Reed took over while Marc withdrew, so they did just that.
His Life After Netflix
Following his withdrawal from Netflix, Marc started working as a mentor at MiddCORE. This is because, as he revealed in his book, mentoring affords him the opportunity of enjoying the excitement of the startup world without the round-the-clock lifestyle that comes with it.
He mentors not more than three founders per time to have in-depth knowledge about them on both professional and personal levels. "They're going to call you at two in the morning all panicky about something," Randolph says. "If you don't like them, or you're not too willing to talk on the phone, and when they have a crisis, you want to plunge in and help them because you're friends with them."
In line with his motto which says, "You can have my money or my time, but not both," Randolph made it a rule not to invest in start-up companies that he mentors its founders. However, he made an exception when he not only mentored the co-founders of a computer software company named Looker Data Sciences, Inc. from its inception in 2012, but also invested in the company, and became its first employee, with the title "ABC (Anything But Coding)." Although he quit the job in 2017, he remained among the company's board members until Google acquired it in 2019.
In addition to mentoring owners of young businesses, Randolph is also an entrepreneur in Residence for High Point University and its Entrepreneur Center in Belk. Thanks to his wealth of experience, he travels worldwide sharing his experience in co-establishing Netflix and the knowledge he gained from other of his start-up experiences. And from all these engagements, Mr. Randolph has garnered an estimated net worth of $500 million.
Reed Hastings' Life Before The Streaming Giant He Built
Born Wilmot Reed Hastings Jr. on the 8th of October 1960, in Boston, Massachusetts, the businessman is the son of Wilmot Reed Hastings (father) and Joan Amory Loomis (mother). His father served under the presidency of Richard Nixon as an attorney for the Department of Health, Education, and Welfare while his mother came from an aristocratic Boston family.
Hastings studied at Buckingham Browne & Nichols School, Cambridge, Massachusetts. After his graduation, he entered Bowdoin College from where he later bagged a degree in Mathematics. Meanwhile, as a university undergraduate, he joined the Marine Corps officer training and as a result, spent his summer holidays in the Marines. However, he abandoned the training mid-way and chose to pursue service in the Peace Corps instead.
Following his graduation from Bowdoin, Hastings embarked on a Peace Corps mission in a rural community in Africa (northwest Swaziland) in 1983 to teach mathematics at a secondary school with a population of about 800 students. On his return in 1985, he registered for his Master's Degree program at Stanford University and subsequently graduated in 1988 with an M.A. in Computer Science.
He Established His First Company, Pure Software, In 1991  
In a sabbatical year before he got into college, Reed Hastings sold vacuum cleaners door-to-door. The experience he got during the period, exposed him to the business world and kindled his interest to render services to people in exchange for money, but he didn't set out to do that until a few years later.
As a fresh graduate, he landed his first job at Adaptive Technology, where he was responsible for creating tools for debugging software. During his time there (in 1990), he met the founder and CEO of Adaptive Corp., Audrey MacLean, who influenced him greatly.
"From her, I learned the value of focus. I learned it is better to do one product well than two products in a mediocre way," Hastings told CNN in 2007. Armed with this knowledge, he quit his job at Adaptive Technology in 1991 to start up his first company named Pure Software together with Raymond Peck and Mark Box. The company, which was founded in October 1991 in Silicon Valley, Northern California, created products to troubleshoot software.
Owing to the fact that he had no managerial experience, Hastings found it very difficult to handle the company's growth, especially the rapid increase in the number of employees. In an attempt to save his company from himself, he asked his board to take over leadership while he took a step back. Sadly, the board rejected the idea and according to Mr. Reed, he learned to be a businessman.
Four years after it was founded, Morgan Stanley helped Pure Software sell shares in an initial public offering. In 1996, the company merged with Atria Software to form Pure Atria, and Hastings was made the Chief Technical Officer. The following year, Pure Atria was acquired by Rational Software Corporation for $700 million and the acquisition was, at the time, the biggest in the history of Silicon Valley. Not long after that, Hastings left the company.
He dedicated some time to think of how to keep the challenges he encountered with Pure Software away from occurring again at his next start-up. Crediting part of his entrepreneurial spirit to the experiences he gained while a member of Peace Corps, Hastings is quoted to have said that "once you have hitchhiked across Africa with ten bucks in your pocket, starting a business doesn't seem too intimidating."
At 200m, Rich, it was Denny's on Demand at home. pic.twitter.com/VKgr3qJ0So

— Reed Hastings (@reedhastings) January 20, 2021
What Is Reed Hastings' Net Worth?
According to Forbes, Hastings has an estimated net worth of $5 billion as of June 19, 2021. On December 28, 2020, the Hollywood Reporter reported that he would earn a salary of $34,650,000 in 2021 just as he did the previous year, citing a regulatory filing that was published on the aforementioned date. $34 million of this pay is tied up in stock options while $650,000 is his base salary. He also receives huge bonuses every year.
Although he makes most of his money from Netflix, the CEO is not entirely dependent on what he earns from the company. Hastings was a member of Facebook's board of directors for 8 years beginning from June 2011 to May 2019. In 2012, he purchased 47,846 shares of the social media company at $1 million, and by September 2016, it was reported that he owned more than US$10 million worth of shares. He also became a member of Microsoft's board in 2007. However, he eventually left in 2012 saying in a statement,  "I've decided to reduce the number of boards I serve on so that I can focus on Netflix and on my education work."
In September 2020, Reed Hastings co-wrote a book with Erin Meyer titled No Rules Rules: Netflix and the Culture of Reinvention. The book, which is about the culture and management principles of Netflix, features interviews from both former and current employees of the company. Thanks to its massive sale in one week of being published, the book became a New York Times bestseller and was featured on NPR, The Economist, and other publications. It was also shortlisted for the Financial Times and McKinsey Business Book of the Year Award.
New book. May 12th. "NO RULES RULES: Netflix & the Culture of Reinvention" @ErinMeyerINSEAD and I wrote it to share how Netflix culture helped us transform from DVD service to streaming entertainment pioneer. More at https://t.co/94HOHDad8U pic.twitter.com/p51QTSFWNm

— Reed Hastings (@reedhastings) February 19, 2020