Selena Gomez and Chris Evans dating rumors are not true. The two were never involved in a romantic relationship at any time. 
Selena Gomez is an American singer, producer, and actress famous for her hit songs, Come and Get It, Same Old Love, and many more. Chris Evans, on his part, is an actor known for the movie Captain America. These two Hollywood stars have found themselves in the midst of dating rumors but have wisely chosen not to legitimize them by responding.
Is Selena Gomez Dating Chris Evans?
Selena Gomez is not dating Chris Evans. The news swirling over their relationship is just based on rumors that started circulating after the duo was spotted in similar scenarios. Meanwhile, the news about the entertainers being in a relationship started circulating in October 2021, after Chris Evans started following Selena Gomez on Instagram.
Nevertheless, at this time, Selena Gomez and Chris Evans gave all their energy to their careers and never reacted. Their silence also made some of their fans believe the rumors. However, some emphasized the fact that Selena had millions of followers and may have not noticed that the actor started following her.
Selena Gomez Fans Have a Theory She's Dating Chris Evans
Since the dating rumors about Selena Gomez and Chris Evans started circulating, curious fans have advanced theories to try to prove that the rumors were true. One of these theories is about Selena wearing a white cable-knit pullover sweater while supporting her best friend, Taylor Swift, on Saturday Night Live. After Taylor uploaded videos on her TikTok that showed Selena, it raised some dust.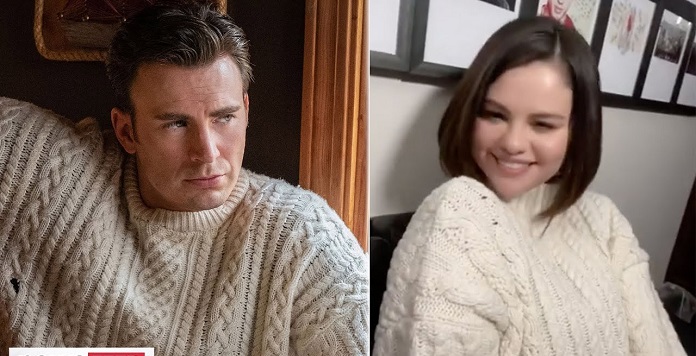 A picture of Chris Evans wearing the same sweater at Knives Out, a 2019 film, was uploaded. To show the similarities in the sweater, a picture collage of Selena Gomez and Chris Evans wearing the same sweater was shared on the internet.
The dating rumors between Selena Gomez and Chris Evans made headlines as some fans continued to put forward their findings. The actor once posted a video of himself playing the piano on his Instagram stories. A fan zoomed in on the video and saw a reflection that looked like Selena. The video was quickly uploaded on TikTok with the question, " Is that Selena?"
The fan continued, "who is the brunette filming the bottom right corner, Chris?" Coincidentally, at that time, Selena shared her first brunette bob cut on TikTok, which made many conclude that she may be the earlier mentioned brunette. However, as usual, she and Evans maintained their cool and did not react to the claims.
Were Selena Gomez and Chris Evans Spotted Together?
Selena Gomez and Chris Evans were never spotted together. Though they are active in the movie industry, they haven't appeared together in any movies. Also, the two of them have never been photographed together, which proves that the news of them dating is just a rumor.
In 2021, a fan posted separate pictures of the entertainers supposedly leaving the same recording studio and restaurant. The fan claimed that this was proof of their romance. However, this time, the rumors were debunked not by Selena Gomez and Chris Evans, but by Elle Magazine.
The magazine revealed that the uploaded pictures were old pictures of the entertainers. It pointed out that the picture of Gomez leaving the recording studio was shot in October 2019. It was also revealed that on that same day, she was with a female friend, whom she later hugged and bade goodbye. Meanwhile, the second picture of her leaving the restaurant was taken on November 2017.
The magazine further revealed that one of the pictures of Chris Evans, which showed him with Lily James, was taken in the summer of 2020. They also pointed out that the second picture of him was taken in October 2013. Basically, the pictures of Gomez and Evans had similar backgrounds but were taken in different places.
Why Rumors are Swirling About Chris Evans and Selena Gomez
As stated earlier, the rumors about Selena Gomez and Chris Evans began circulating after the Captain America actor started following Selena on Instagram. Though she did not follow him back, the news caused a buzz on the internet. It also pushed some of their fans to start digging up facts to prove that something was going on between them.
It was revealed that Selena Gomez once mentioned Chris Evans as her crush when she appeared in Watch What Happens Live in 2015. She stated that she had a crush on Evans, asking the host, Andy Cohen if the actor wasn't cute. The singer further shared that it was the first time she was revealing her crush on him.
She made other comments as well. All this further fueled the whole speculation that she was in a romantic relationship with Chris but has decided to keep it a top secret.
Despite the gravity of the rumors, neither Selena Gomez nor Chris Evans has reacted. This notwithstanding, the truth still remains that they never dated and are not dating at the moment.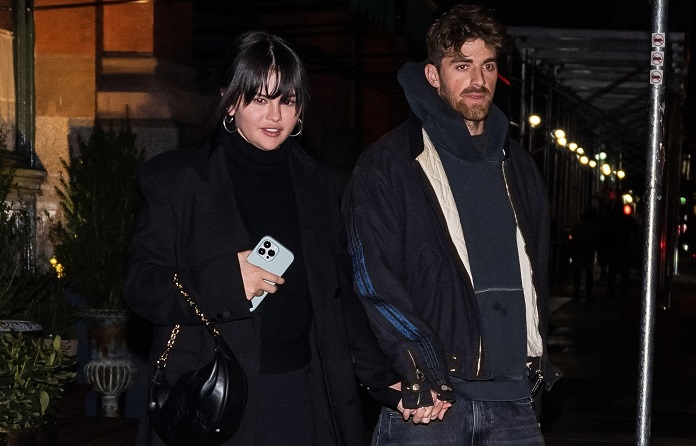 Who is Selena Gomes Dating?
Selena Gomez and Chris Evans have never dated but have naturally been in romantic relationships with other people.
Selena Gomez had a relationship with Canadian singer, The Weeknd. It ended in 2017 and ever since then, she has chosen to keep her love life on the low and has not revealed if she is in a relationship or not.
In 2021, she was rumored to be dating her co-star and on-screen lover, Aaron Dominguez, from the movie Only Murders. Selena Gomez debunked the rumors, stating that they were just working together. She further stated that this was the reason no one wanted to date her. The singer further stressed that she was grateful and not with anyone now.
In January 2023, she made yet another headline for being in a relationship with Chainsmokers DJ Drew Taggart. The duo is reportedly seeing each other in a low and casual way. Meanwhile, they have been spotted on dates in a rather intimate way.
Chris Evans is Dating a Co-Star Named Alba
Chris Evans is dating Alba Baptisrta, a Portuguese actress. The duo reportedly met while they were filming in Europe. According to a source, they started dating in 2022, and Chris has never been happier. It also revealed that his family and friends love and adore Alba.
In January 2023, Evans made his relationship with the Portuguese actress official by posting videos of the two of them scaring each other on his Instagram handle. He also posted pictures of themselves on Valentine's day, hiking and hanging out with his dog, Dodger. With their budding love, the duo might take the vows in no distant time.