Following the nasty end of LilyPichu's two-year high-profile relationship with Albert Chang, also known as SleightlyMusical, she has been in a relationship with American YouTuber and Twitch streamer Michael Reeves.
The American internet personality made this known in a live stream in March 2020 where she confirmed that she and her fellow OfflineTV content creator were now together.
Bio and Profile Summary
| Age/Date of Birth: | 31 years old (20 November 1991) |
| --- | --- |
| Height: | 5 feet 3 inches (1.6 m) |
| Ethnicity/Race: | Korean |
| Nationality: | American |
| Husband or Boyfriend: | N/A |
| Parents: | N/A |
| Net Worth: | $800,000 |
Who Exactly Is Lilypichu?
Lily Ki was born on the 20th of November 1991 in California, United States. She hails from a family of four which comprises her parents (of Korean origin) as well as a younger brother named Daniel and herself. The internet personality also had a much-beloved grandma who was unfortunately killed in a road accident. Lilypichu grew up in California and endured a tough childhood.
Her family moved around a lot and she found it hard to establish stable friendships. She also endured a lot of bullying in school and all of these threw the young girl into depression. Her grades plummeted and her parents had to get her professional help. While grappling with these struggles, Lilypichu found solace in music, gaming, and drawing. She spent copious amounts of time on the internet, exploring these interests, and soon bonded with other like-minded people online.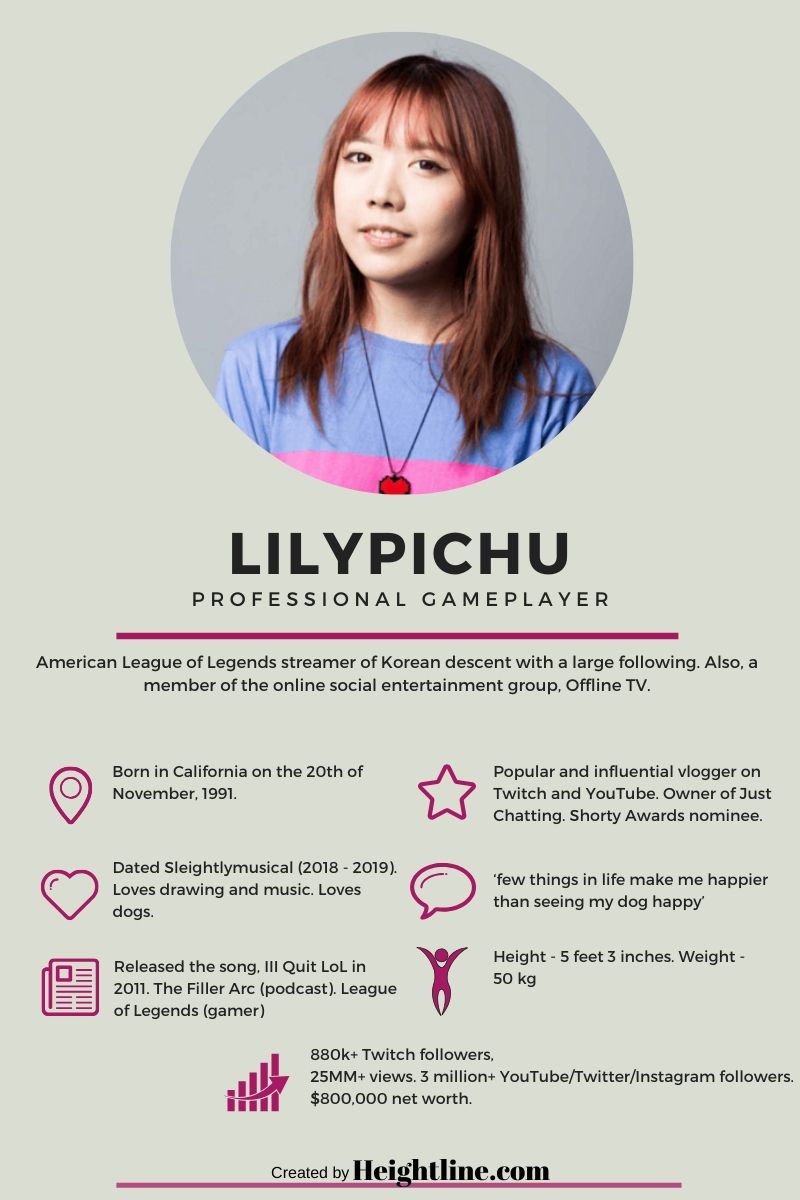 She has Over 2 Million Followers on Twitch
Lilypichu created her YouTube channel in March 2006. She, however, did not post any content until 2010 when she shared an anime skit. The skit received lots of views and this encouraged her to carry on. The California native continued sharing diverse content ranging from musical parodies, animations, and gameplay.
She subsequently became an internet celebrity in 2011 after her musical parody, I'll Quit LOL, became a viral sensation and garnered more than 6 million views. Since then, Lilypichu has extended her influence to other social media platforms such as Twitch, Twitter, and Instagram.
She now has more than 1.7 million subscribers, and 282 million views, on YouTube, 2.1 followers on Twitch which is now her primary platform, at least 1.3 million followers on Twitter, and over 1 million followers on Instagram.
Is LilyPichu Still Part of Offline TV?
Asides from her solo work, Lilypichu is also a principal member of the famous online collective, Offline TV. Offline TV is simply a group of social media personalities/friends who share living quarters and create content together. The group is based in Beverly Hills and their work range from gaming to prank videos.
Other members of Offline TV include Scarra (famous Twitch streamer and League of Legends Pro), Pokimane (Moroccan-Canadian gamer & YouTuber), Fedmyster (Twitch streamer/YouTuber), and Disguised Toast (Facebook gamer). Offline TV has been quite successful. They have at least 842,000 subscribers on YouTube and 127,000 followers on Twitch.
Her break up from Albert did not affect her membership in the group as she continues to be an official member of Offline TV since joining in 2017.
When did Lily and Albert break up and why?
Lilypichu previously dated fellow Offline TV member, Albert Chang. Popularly known as Sleightlymusical, Chang is a Korean-American musician/magician. He is renowned for his musical covers, magic trick clips, and gameplay. Lilypichu and Chang commenced their relationship around 2018. They took several vacations together and showcased their travels on Instagram.
The loved-up pair also created joint content which fetched them lots of fans. The couple's relationship, however, hit a snag in November 2019 after it emerged that Chang had cheated on his girlfriend with Twitch streamer, Sarah Lee best known by her online name avocadopeeled.
When members of Offline TV had confirmed this, they took to Twitter to post cryptic messages about the issue and it was not long until LilyPichu was forced to comment on what was going on.
I feel forced to make a statement and so here it is.

Read: https://t.co/G3N7WKhCUp

— lily (@LilyPichu) November 10, 2019
In the Tweet which had a link to her TwitLonger, Lily confirmed that Chang was cheating and that she hurt by his actions. Following this revelation, several members of Offline TV bashed Chang on Twitter with one describing him as a "massive snake". They were however forced to backtrack after several people accused them of getting mileage out of the issue.
What Happened To SleightlyMusical After The Cheating Scandal
In addition to posting cryptic messages on Twitter about Chang's cheating, the community did not hesitate to remove Chang from their social media outlets after LilyPichu confirmed that she was indeed no longer with Chang because he had cheated on her. As a result, Albert Chang from then on ceased to be a member of the thriving group of content creators.
Chang would later take to Twitter to release a statement about the cheating allegations. The Tweet read "I'm Sorry" and also had a link directing to his TwitLonger. Chang in his statement said that he had made the worst decision of his life by cheating on Chang. He also apologized for what he called "selfish behavior."
Sounding very remorseful, a part of Chang's statement read; "I don't know if I'll ever be able to atone for it." Sarah Lee, the person with whom Chang cheated, also released a statement apologizing for her actions, she apologized for the "extreme hurt" that she had caused Lilypichu. All three parties then opted to go on a break from social media, including Chang.
After about a year of being absent from social media, Albert Chang made the return in October 2020, his first post was a 24-minute long video that included clips of his addressing the aftermath of the cheating and how it affected him.
He also touched on finding self-value as well as his plans for the future.
Are LilyPichu and Albert Chang Still Friends?
Though nothing like what they were before, LilyPichu has severally made it clear that there is no bad blood between her and her ex-boyfriend Albert Chang. In the first statement she made about Chang's cheating, Lily first apologized for the way her friends had been bashing Chang on social media, and that though she was deeply hurt by his actions, she felt that he did not deserve it. Additionally, she called on her friends to apologize.
When Chang resumed his online activities in October 2020, Lily, in a video posted to her Twitch account pleaded with her fans not to send hateful comments his way and that she was not about that kind of stuff. She also added that she was on good terms with Chang.
Lilypichu Has Returned From Hiatus
I'm not in the best mental state right now. I'll be off social media for a bit. Sorry if I said anything wrong. Please don't attack anyone. In the end we'll all be okay.

— lily (@LilyPichu) November 10, 2019
A while after revealing that indeed she was no longer with Chang, the YouTuber also revealed that she was not in the best frame of mind and that she would be stepping away from social media for some time. She has since returned to entertaining her fans and is now active across all her social media platforms. LilyPichu has also gone on to achieve some amazing feats, proof that the hiatus did not in any way affect her craft.
In 2020, she became the 5th most-watched female Twitch streamer. Later that year, she appeared in an advertisement for 5 Gum, a brand of sugar-free chewing gum manufactured by Wrigley Company.
The Twitch Star Is Now Dating Michael Reeves
LilyPichu is not only thriving in her career but in her love life as well. She has now moved on from what was a very heart-breaking split from Chang and has now found love in the eyes of Michael Reeves a fellow OfflineTV member.
They both began sharing photos of themselves together on their respective Instagram pages and fans began suspecting that maybe there was romance brewing between them.
Lily would later take to her YouTube page to confirm the speculations in a video she titled "We're Dating Now, Right?!" The video features clips of them going out and having fun, holding hands, and doing what every regular couple does.
Reeves, who was previously a software contractor for the United States government, is best known for his robotics-focused videos. On his Twitch account which he started in 2020, Reeves posts videos about video games and technology work. He was in 2020 nominated at the 10th Streamy Awards in the Technology category.
Profile Summary
First Name:
Lilypichu
Last Name:
Ki
Also Known As:

Lilypichupichu
Sex/Gender:

Female
Profession:

Musician
Famous For:
Her incredible musical talent
Colleges/Universities Attended:

N/A
Educational Qualifications:

N/A
Religion:

N/A
Birthday & Zodiac

Age/Date of Birth:

31 years old (20 November 1991)
Zodiac Sign:
Scorpio
Birth Place:

Califonia, USA
Nationality:
American
Ethnicity/Race:

Korean
Country of Residence:

Unuted States of America (USA)
Physical Attributes

Height:

5 feet 3 inches (1.6 m)
Weight:

50 kg (110 lbs)
Eye Colour:

Dark Brown
Hair Color:

Dark Brown
Other Body Measurements:

N/A
Relationships

Marital Status:

Not Married
Spouse/Partner:

N/A
Family and Relatives

Father:

N/A
Mother:
N/A
Children:

N/A
Siblings:
Daniel - Brother
Other Relatives:

N/A
Net Worth
Estimated Net Worth:

$800,000
Salary:
N/A
Source of Wealth:

Social media