Veronica Bielik is a gorgeous Polish Instagram model and social media influencer who garnered fame through posting sizzling hot photos of her herself on Instagram. The model initially joined Instagram in 2014 and has so far gotten over 3.3 million Instagram followers to whom she uploads her fabulous pictures, flaunting her well-trimmed physique for their viewing pleasure.
It is also interesting to know that this damsel was not attractive during her formative years. However, Bielik revealed that she made a u-turn and the result is the sexy model we now have. Read her bio and learn other interesting facts about the Polish beauty in this piece.
Veronica Bielik's Bio
AGE: 30 Years Old
BIRTHDAY: September 18, 1993
BIRTHPLACE: Lower Silesian Voivodeship, Poland
BIRTH SIGN: Virgo 
ETHNICITY: White
SIBLINGS: Olivia
Veronica Bielik's Early Life and Family Background
Veronica is Bielik is an Instagram model whose birth details show that she was born on the 18th of September 1993 in Lower Silesian Voivodeship, Poland. It is known that the Internet celebrity usually spells her first name as 'Weronika'. With regards to her parents, there is no available detail about their identities but sources have it that Bielik has a sister who goes by the name Olivia.
More so, not much has been made public about her educational history aside from the fact that she holds a Master's Degree in Law according to her Instagram page. However, it is known that her journey as an Instagram model commenced in 2014 when Bielik uploaded her picture for the first time on the social media platform.
Veronica Bielik's Fact Sheet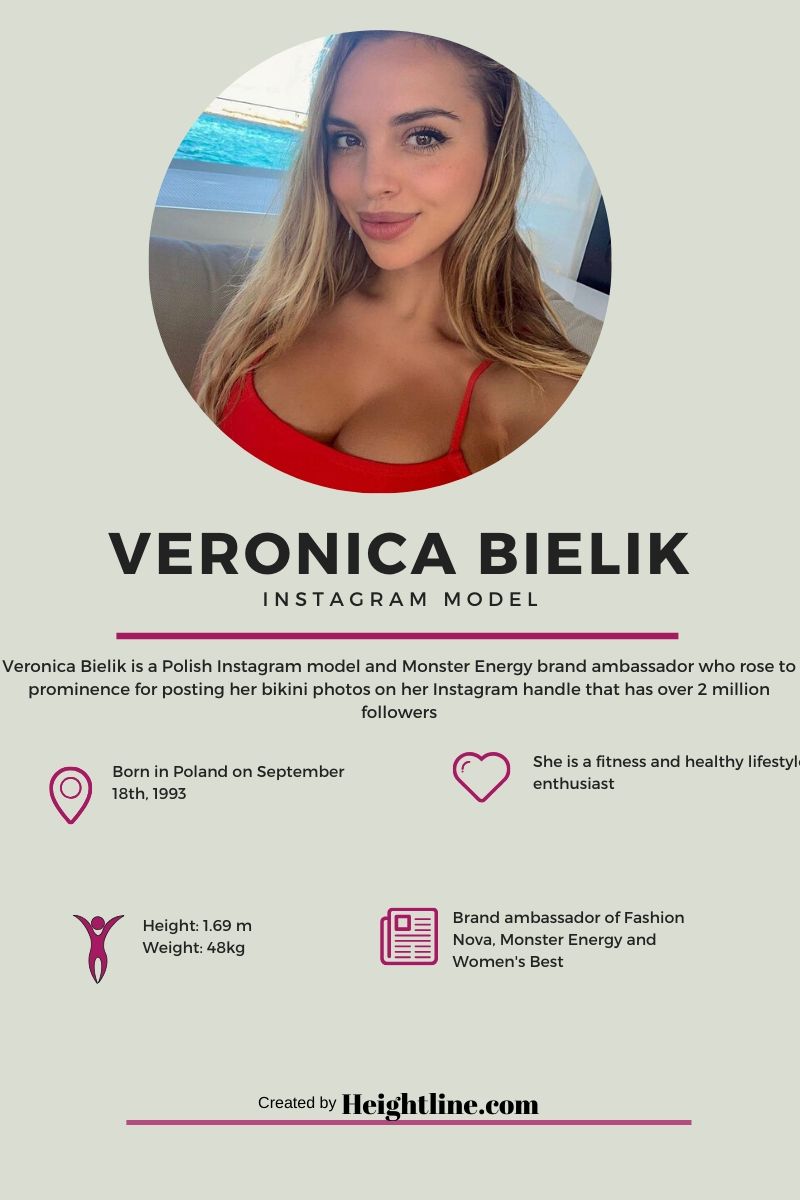 Interesting Details About The Polish Instagram Model
1.  Veronica Bielik is a high profile Instagram model
Since she joined the bandwagon of Instagram models, Veronica Bielik has seen her career soar to greater heights and it's evident with her huge fan base of over 2 million followers on Instagram. More so, she is known to represent brands like Women's Best a food supplement firm, and the energy drink firm called Monster Energy.
2. Plastic surgery controversy
Being a public image, no issue is off limit and the same applied to the Polish model as rumors have it that she enhanced her looks to better fit her image as a model.  It eventually turned out to be true as Bielik confirmed that she did plastic surgery, especially on her boobs and her reasons were because of her job as a model.
On the other hand, in a post the Nordic model made on Instagram sometime in January 2017, she gave a lot of insight into how she was able to totally transform herself to be someone we all admire today. As a 16-year-old, Veronica cared less about how she looked, what she wore, ate, and her shape. However, when she turned 19, she made life-changing decisions (losing fat, eating right, and working out) that she has lived by since then. The result is the charming Instagram model we all admire today.
3. Bielik still believes in natural looks
It is known that the Instagram model does a question and answer time on her page where she reaches out to young girls to embrace their natural looks. Notably, she told a guy who wanted his partner to have her looks that if his love is based on her looks, he actually does not love the girl.
Veronica Bielik added that most of her pictures are taken with optimum care to get the right effects as a model, sometimes she hardly eats and even uses apps to make her stomach look flatter. However, for other girls, this is not the case as they embrace their natural looks which they flaunt bravely.
Although some people call her a hypocrite for giving advice and not living by it, Bielik still has fans that love her wise words on embracing their natural side.
4. She is friends with Renata Kaczoruk
As a model, it is only ideal for Veronica Bielik to have a close circle of her fellow colleagues and this is where the popular Polish model Renata Kaczoruk falls. The lady who is in her early thirties is indeed someone the upcoming model should look up to.
Renata has not only graced the covers of notable publications which include the likes of Elle, but she has also worked with top fashion icons too. Moreso, she is known to have a very impressive social media followership with her various pages having tons of followers.
5. Veronica Bielik's body stats
It is no secret that the Polish model got a lot of attention when she launched on Instagram as a result of her physique. Bielik whose waist is very small when compared to her bust is often seen flaunting them in very sexy wares on her page.
However, she revealed that she has not been so bold about exposing her body as she was shy about her looks while growing up. She mainly wore big clothes to cover her shape but started her body transformation by losing some weight and then worked out to enhance her looks.
Veronica Bielik's body stats now read 35-23-35, which represents her 35 inches bust, 23 inches waist, and a hip size of 35 inches. The model is also known for her dark brown hair which complements her brown-colored eyes.
What is Veronica Bielik's Age?
Veronica Bielik is currently 30 years old. She was born in Lower Silesian Voivodeship, Poland, on September 18, 1993.
How Tall is Veronica Bielik?
Veronica Bielik stands at a height of 5 feet 5.5 inches, equivalent to 1.69 meters.
What is Veronica Bielik's Net Worth?
Veronica Bielik's net worth has been estimated to be $500 thousand. She made her wealth primarily from her modeling career and endorsements.