Paul Qualley is the ex-husband of Andie MacDowell, an iconic American actress. The couple was together from 1986 to 1999, and they had three children.
Qualley is a former Norwegian-American model and TV personality who has garnered much fame. His uber-popular ex-wife, Andie MacDowell, is a South Carolina-born actress who is best recognized for her roles in Sex, Lies, and Videotape, Mighty Fine, The Secret of the Sahara, Short Cut, Multiplicity, The End of Violence, Bad Girls, Just the Ticket, etc.
Paul and Andie's union lasted for a little over a decade, and they built a family together, which includes actress Margaret Qualley, who has gone on to establish herself in the film industry like her mother. It has been decades since their divorce, and the rise of Paul's daughter Margaret in the industry has made many become curious about his whereabouts and what he has been up to in recent times.
Biography and Profile Summary
Age/Date of Birth:

1959
Height:

6 feet (1.83m)
Ethnicity/Race:

White
Nationality:
American
Wife or Girlfriend:
Andie MacDowell (m. 1986–1999)
Parents:
Father: Lee James Qualley
Mother: Patricia Ann Rondou
Net Worth:
$100,000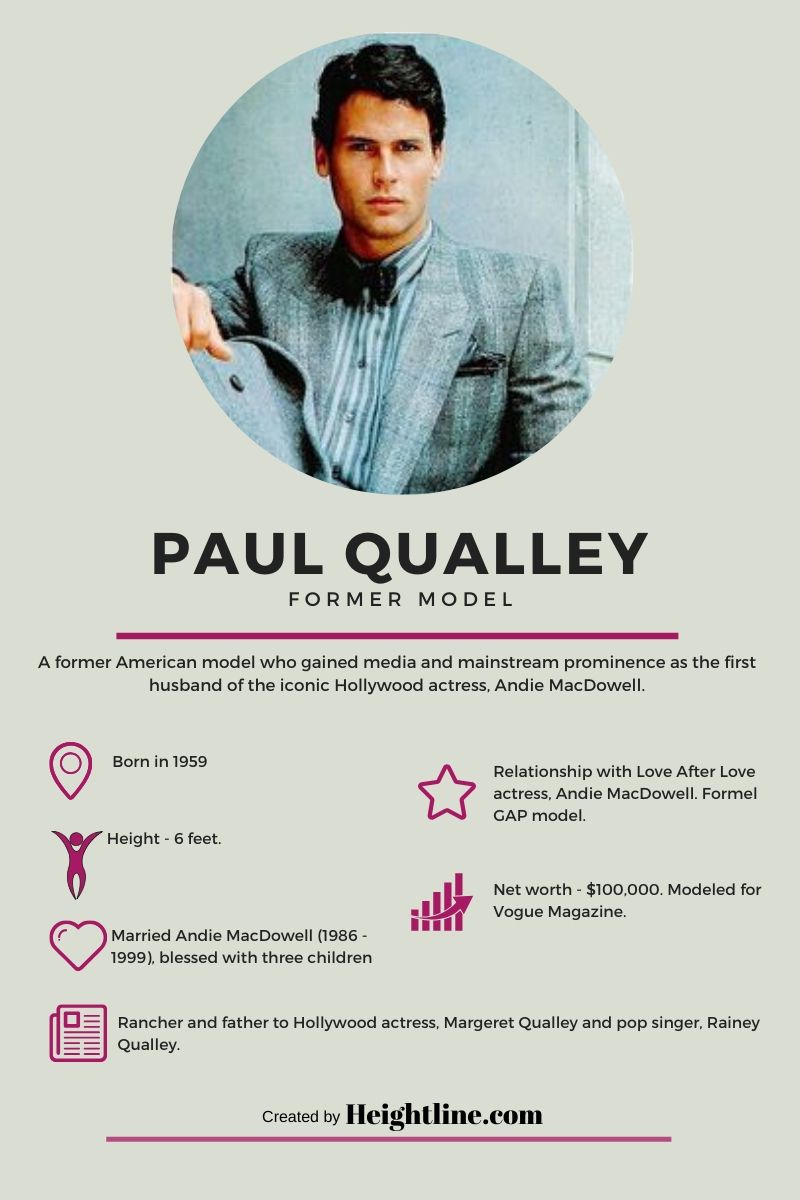 Who Exactly Is Paul Qualley?
Paul James Qualley was born in 1958 in the United States to his parents Lee James Qualley and Patricia Ann Rondou. Though not much information is available on his early life, it is an established fact that he is of Norwegian ancestry.
As a kid, young Paul Qualley had a passion for the entertainment industry, his friends who often pointed out to him that he had the face and body to pass for a model encouraged him to give modeling a try and he did. He began by booking advertisement gigs and grew his career until when he began shilling for top brands.
His subsequent marriage to actress Andie MacDowell also helped propel his career forward, but why did he not transition to acting like most models or last even longer in the field? This was because Paul would come to develop other interests. He quit modeling to start a ranching business and also works as a contractor. He now resides in Panama, according to W Magazine.
Modelling Brought Paul Qualley and Andie MacDowell Together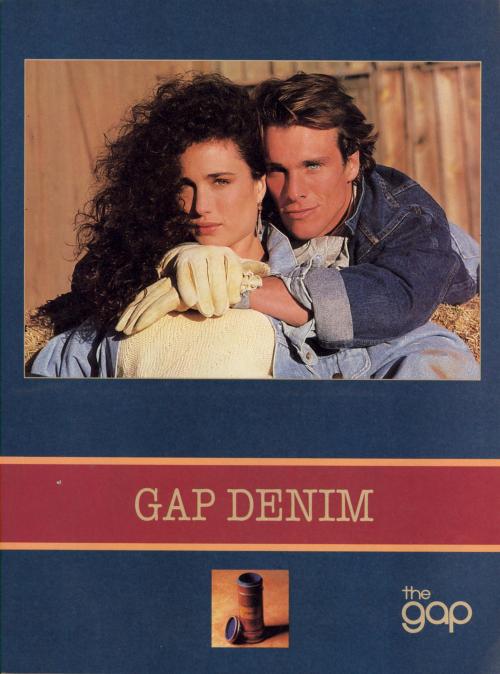 Paul Qualley's modeling career might not have brought him enormous fame but it did bring his path across that of famous model and actress Andie MacDowell who would become his wife. The two met while they were both modeling for GAP Denim in 1986.
After what seemed to have been a whirlwind romance, the two got married later that same year and were photographed together attending hand-in-hand several red carpet events in Hollywood. Their early years living together in Montanna were no doubt happy ones.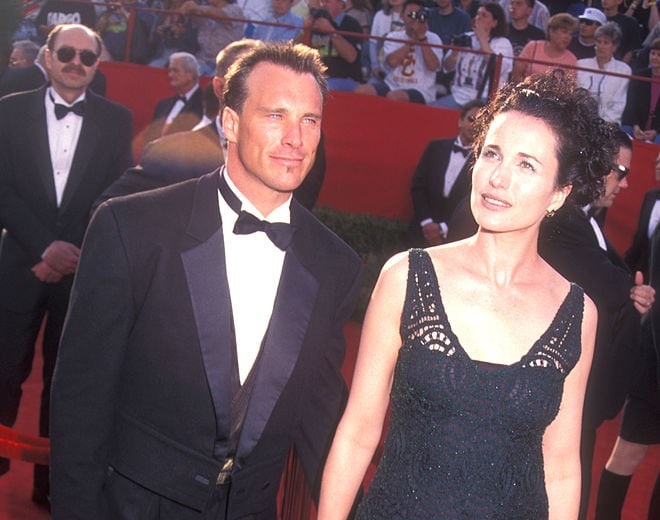 After 13 years of staying married, Paul Qualley and Andie MacDowell divorced in 1999. Their separation had come a few months after they left Montanna where MacDowell had begun building her acting career to live in Carolina very close to MacDowell's sister.
The actress had revealed that she was not ready to live her life in the middle of nowhere with people who were not her family. It would seem that this change in location would have a thing or two to do with their subsequent divorce.
Their separation was strange and came as a shock to many because just months beforehand, MacDowell was gushing about their happiness and praising Paul for being a house husband, she referred to him as a 'Mr. Mom.'
He cooked and cared for their then young children, while she was busy with the demanding film schedules of Hollywood. After they parted ways, MacDowell seemed to have eaten her own words when she said that Paul was not more of Mr. Mom than she was Mrs. Mom, as they had nannies.
Paul Qualley's Relationship and Love Life After The Divorce
Paul Qualley lived his life away from the spotlight after the divorce, thus making it difficult to tell the state of his love life after splitting from Andie. He is only known to have become a contractor and a rancher. On the other hand, his ex-wife Andie continued to actively chase her Hollywood career, thus making the details of her love life more accessible to the media.
Andie was first in a year-long affair with actor Dennis Quaid before she would later meet her next husband, businessman Rhett Hartzog through her sister Julia. Rhett Hartzog was her classmate in high school, according to People Magazine, he had a secret crush on her during their time at Gaffney High School in South Carolina.
She married him in November 2001 in a lavish 450-guest ceremony in Asheville, North Carolina. A year after their marriage, Paul Qualley made what seemed to be a cryptic remark saying that he was glad for her and that he hoped being married would put her in a position to be able to provide more security for the children they had together.
Paul Qualley's response did not sit well with his ex-wife Andie who responded, saying that she got married to her businessman husband because she loved him and that her stability the whole time was never in question. Unfortunately, MacDowell's marriage to the Atalanta Jewelry businessman was short-lived as it ended in October 2004 after lasting for barely three years.
The marriage did not produce any children, but this was not because MacDowell did not want them, in her forties at the time, she admitted that she was scared of IVF but was open to adopting.
The Former Model Fathered Three Children With His Ex-wife, Andie – Meet Them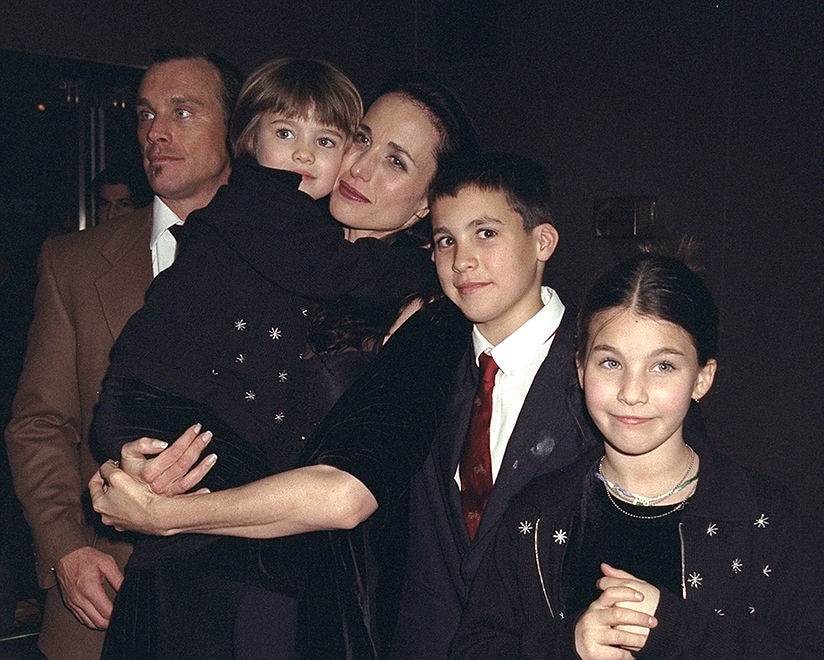 Paul Qualley and Andie MacDowell's 13-year union produced three children – a son named Justin and two daughters named Rainey and Sarah. Despite being divorced, custody of the children had never been an issue for the former couple as both of them reached a mutual agreement to be collectively responsible for their children.
However, it was with their mother that the kids first grew up first in Montana before she later moved to Asheville in North Carolina. Qualley might have long been away from the spotlight but details have surfaced via the lips of his daughter Margaret that the former model has maintained a good relationship with his kids.
Name: Justin Qualley 
Born: 1986
Occupation: Real Estate
Justin Qualley is the least popular of Paul Qualley's kids, which is because of his career which does not involve the entertainment industry. He was born in 1986, the same year that his parents met, and eventually got married. He works as a real estate agent in Montanna where his family owns a ranch.
It is highly likely that he has worked alongside his father, Paul. Justin may not be popular in entertainment but did get his own share of artistic genes from his parents; he showcases his love for photography on his Instagram feed. Like his father, he lives his life away from the media light.
However, he has accompanied his mother alongside his siblings to a couple of red carpet events, including the Women Making History Awards 2020 where both his sisters took turns on stage to honor their mother Andie for her outstanding career in Hollywood as well as her activism over the years. The mother-daughter trio was once featured on the cover of "Town and Country" as the fantastic three.
Name: Rainey Qualley
Born: March 11, 1990
Birthplace: New York City, New York
Alias: Rainsford
Occupation: Actress and Singer-songwriter
Height: 5 feet 6.5 inches
Rainey Qualley is Paul Qualley's first daughter and second child with Andie MacDowell. She was born in 1990 in New York City but was raised in Asheville, North Carolina. Exposed to the entertainment world from an early age Rainey grew to chart the same path as her superstar mom.
She got her professional start in the entertainment industry in 2012, the year she appeared in the comedy-drama, Mighty Fine alongside her mother Andie. That year, she was named Miss Golden Globe. However, before then, she participated alongside her sister Margaret in Paris's Le Bal des Débutantes, which was immortalized on The Hills.
She has appeared in other films such as Falcon Song and Perfect and appeared as herself in 2018's Ocean's 8. Rainey made her small screen debut in Mad Men before booking her first major part in a TV show in Love in the Time of Corona. She is simultaneously pursuing an acting and music career. She sings under the name Rainsford and released her debut EP, Emotional Support Animal in 2018.
Name: Sarah Margaret Qualley
Born: October 23, 1994
Birthplace: Kalispell, Montana
Occupation: Actress and Model
Margaret is the one who followed the exact career path as their mother Andie. Though she was barely 5 years old when her parents divorced, this did not seem to affect her relationship with either parent as she has maintained a very close relationship with each one. Margaret would later reveal that she had hoped her parents would get back together after their divorce, but she became stunned after her mom chose to date Dennis Quaid at the time.
After appearing in Paris's Le Bal des Débutantes, Margaret Qualley pursued her interest in dancing before deciding on a modeling career. She worked with brands like Chanel and Ralph Lauren before adding acting to her repertoire. Her debut film appearance came in 2013's Palo Alto. Her acting career has enjoyed a rapid rise as her portfolio now includes Queen Tarantino's Once Upon a Time in Hollywood and her main role in the TV show, The Leftovers.
Margaret seems to be the closest one to their father Paul Qualley. She once spoke of how he (Paul) had magically predicted that she was going to get a part in a Queen Tarantino film when she was even yet to speak to him about it. She had complained to him about getting rejected for a couple of roles and he asked her to book a flight and come visit him in Panama then she'd get a role in a Queen Tarantino film.
She did go to visit him and on her third day in Panama, she got a call that she should come for a chemistry read with Hollywood sweetheart, Brad Pitt who also starred in the film. Ultimately, she earned a part in the film which propelled her career to another level as it earned her a Screen Actors Guild Awards nomination for Outstanding Performance by a Cast in a Motion Picture.
She told W Magazine that it made her feel like her father had magical powers. Margaret Qualley is so fond of her dad that she occasionally posts photos of him on her Instagram feed. Some of the posts (like the one below) give a hint into what Paul Qualley is like, a side of him that has never made it to the media light.
Obviously, his daughter Margaret considers him one of his biggest inspirations. She admits that her dad serves as a source of strength but also adds that he is an emotional man who cries more than any man she has ever known, a part of him she says she greatly loves.
It is Margaret's huge admiration for her father and being able to understand him for who he truly is that made her stunned when her mother decided instead to date a certain Dennis Quaid instead of getting back with her father Paul as she had hoped.
Well, considering the fact that Margaret was only 5 years old at the time when her parents divorced, there is only so much that young Margaret could have been able to process and understand about the state of her parent's relationship. However, when she did grow and became the superstar that she is now celebrated for, Margaret told the media that her mother's taste in men did surprise her.
However, her father is not the only one she shares a close bond with, she has described her sister Rainey as "my idol, my best friend in the whole world." The Qualley sisters once lived together in Los Angeles and shared a dog named Books.
How Much is Paul Qualley Worth? 
Paul Qualley did not become the most successful or popular model of his time. However, he gained his fair share of recognition, and these days, he is focused on his business as a rancher and contractor. Though the details of his finances have never been made public, it is expected that he is living an above-average lifestyle
Some sources have placed his net worth at an estimated $100,000, however, there are chances that the model cum rancher could be worth more than that.
Profile Summary
First Name:
Paul
Last Name:
Qualley
Also Known As:

Paul
Sex/Gender:

Male
Profession:

Model
Famous For:
His relationship with Andie MacDowell
Colleges/Universities Attended:

N/A
Educational Qualifications:

N/A
Religion:

Unknown
Birthday & Zodiac

Age/Date of Birth:

1959
Zodiac Sign:
N/A
Birth Place:

United States of America (USA)
Nationality:
American
Ethnicity/Race:

White
Country of Residence:

United States of America (USA)
Physical Attributes

Height:

6 feet (1.83m)
Weight:

N/A
Eye Colour:

Blue
Hair Color:

Light Brown
Other Body Measurements:

N/A
Relationships

Marital Status:

Divorced
Spouse/Partner:

Andie MacDowell (m. 1986–1999)
Family and Relatives

Father:

Lee James Qualley
Mother:
Patricia Ann Rondou
Children:

3 children- Justin Qualley - Son,
Rainey Qualley
- Daughter
Sarah Margaret Qualley

Siblings:
N/A
Other Relatives:

N/A
Net Worth
Estimated Net Worth:

Andie MacDowell (m. 1986–1999)
Salary:
N/A
Source of Wealth:

Modelling career