Elena Moussa is the wife of Greg Gutfeld, an American author and TV personality. Gutfeld and Moussa dated for 5 months before they tied the knot in December 2004. They don't have any kids.
Gutfeld's wife is a Russian fashion designer, former model, and photo editor of Maxim Russia. She is also the founder of the design company known as The Moussa Project.
Elena Moussa's Life Before Marrying Greg Gutfeld
Moussa was born on the 4th of March 1982 into a Russian family. She lived in Russia with her family for sometime before she later relocated to London. She grew up with a passion for fashion which led her to become a runway model in Russia.
She walked the runway for a handful of prestigious brands. After a while strutting her stuff on the runway, Moussa decided to pursue a career in fashion, this would later lead her to study at the Fashion Institute of Technology in New York City, United States.
Moussa has successfully grown her fashion business and has received rave reviews from industry greats like Mark Rosario. Some of her works have also been recommended by well-known celebrities. Fashion was not Moussa's only interests after she ceased to walk the runway, the former model also had interests in photography and began working for Maxim Russia as a photo editor.
Maxim Magazine Is The Cupid That Brought Moussa and Greg Gutfeld Together
By 2004, Elena Moussa had begun working as a fashion editor for Maxim Russia while halfway across the world in the UK, Gregfeld also began working as an editor for the magazine the same year.
On Gregfeld's first day on his job, Maxim called a meeting of all editors worldwide in London and Moussa was in attendance, it was here that Gregfeld was immediately attracted to the former runway model.
Per his 2015 interview with Daily Beast, he would spend the next three days hitting on her and all the while getting the cold shoulder from the Russian beauty. However, his persistence soon wore off her resistance as she soon began to fancy him as well.
Moussa's subsequent acceptance of the TV personalities wooing could have had something to do with something tricky that Greg did; being a writer, Greg penned an article about Elena, taking time to illustrate her black hair and her beautiful brown eyes. It worked! Shortly after they began dating, Moussa left Russia to live with Gutfeld in London, and the rest is history.
The Couple Dated For Five Months Before Getting Married in December 2004
Gutfeld revealed in his 2008 book Lessons from the Land of Port Scratchings: A Miserable Yank Finds Happiness in the UK, that he dated the Russian beauty for 5 months before they tied the knot in December of 2004. The marriage ceremony was a simple one and had in attendance, their families and very close friends.
So far, their marriage has been blissful and scandal-free. Before they walked down the aisle, Greg was seen as gay, probably because of his numerous acts on TV. Anyway, that perception got erased after he tied the knot with Elena. In 2018, the couple moved to New York City.
They Are Yet To Have Kids
While the couple prefers to keep a lot of details about their marital life away from the media, it is a confirmed fact that they are yet to have kids, at least not yet, at the time of this publication.
However, a trip to her Instagram page where she has at least 16 K followers could make you doubt this as she is often seen sharing photos of kids, the fact however is that these are not her kids but those of family and friends. If anything, this gives a hint that Moussa does love kids and just maybe won't mind having some of her own someday.
Marriage To Gutfeld Has Not Hindered Moussa's Career Nor Her Husband's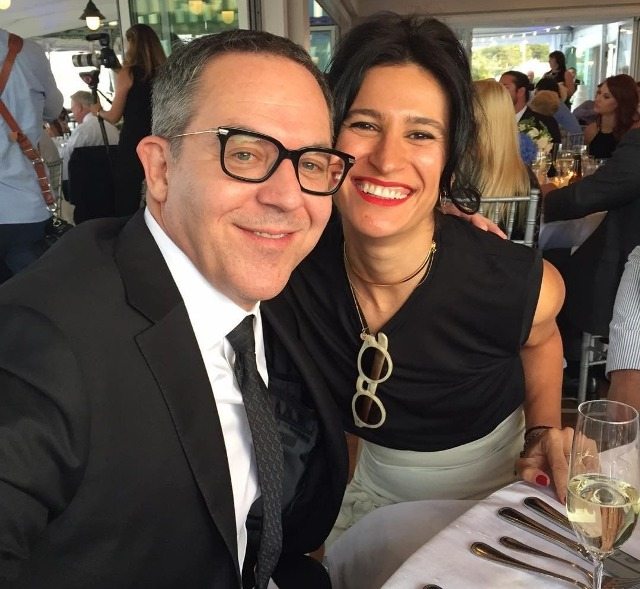 Two good heads, they say, are better than one, and this saying indeed holds true for the couple Elena and Greg. Following their marriage in 2004, the couple has gone ahead to achieve greater things in their individual field of endeavor.
While Gutfeld lost his job with Maxim UK in 2008 following a dip in readership, it did not halt his career. His next high-profile job was with the Fox News Channel where he hosted the late-night program, Red Eye w/ Greg Gutfeld.
In 2011, he landed yet another gig with Fox as one of the co-host/panelist of the political opinion discussion program The Five. He would then host a couple more shows with the channel before launching his own late-night show on Fox News called The Greg Gutfeld Show. It premiered on May 31, 2015, and airs at 10:00 p.m. ET on Saturdays, the show has remained successful since its premiere.
On the other hand, Elena Moussa has been achieving great things as well. In 2011, she launched Moussa Project, a showroom located right at the center of Moscow which deals in high fashion clothing and accessories. The business's social media page has a lot of traction, an obvious proof of its success.
Constantly committed to improving on her knowledge of fashion, Moussa in 2015 graduated from Parson School of Design, one of the world's prestigious art and design institutes where she studied Fashion and Apparel design. In addition to her fashion business, she also continues to pursue her passion for photography, she frequently shares her works on her Instagram page.
Quick Facts About Greg Gutfeld
Greg was born on 12 September 1964 in San Mateo, California.
His parents are Alfred Jack Gutfeld and Jacqueline Bernice.
In 1987, he graduated from the University of California with a Bachelors Degree in English.
His first job as a writer was with the Prevention magazine, and he has also, in the past, worked with Huffington Post.
He is an American television personality, blogger, editor, as well as an author.
As a blogger, one of his most popular blogs is The Daily Gut.
As an editor, he once worked at Maxim magazine in the UK (2004-2006).
As an author, one of the books he published is How to Be Right: The Art of Being Persuasively Correct. 
As a TV star, he works with the Fox News Channel.
FAQs
What is Elena Moussa's height?
Elena Moussa is 5 feet 7 inches or 170 cm tall. She also weighs 121 pounds or 55 kgs, has broun eyes and dark brown hair.
Who Is Elena Moussa's Mother?
Owing to her preference for privacy the fashion stylist is yet to disclose a lot of personal information among which are details about her mother. While we do not know a lot about her, we do know that she is among those displaced in Ukraine following the ongoing war, according to Elena's husband, Greg Gutfeld. As a result, she is now being housed in Lviv.
Who is Elena Moussa's Father?
Information about Elena Moussa's father is currently unavailable and as a result, his name among other details are not known.