Stephen James does not have a regular story. He is a model who has become popular both offline and on social media where he has come to amass a massive followership. Before modeling, he started his career as a footballer but was forced to quit after suffering from an injury. Having made a name for himself as a model and worked with some major brands, here is all to know about him.
Who Is Stephen James? Bio And Age
It was in Hammersmith, London that the model was born on 4th December 1990 as Stephen James Hendry. Of Scotish and Jewish descent, there is only a little that is known about his family and education.
He grew up in Barcelona, but he also spent some time in India, which has later got to influence his religious beliefs as he studied Hinduism, being the reason why he has a Kali tattoo. Nonetheless, he doesn't believe in any religion.
Having described himself as a very shy individual, he is extending himself from modeling into the business world with the start of a bar and barbing saloon in Barcelona.
Football And Modeling Career
Although he has come to be very popular as a model, Stephen James began as a footballer who played as a midfielder. Looking at his youth career, he played for Queens Park Rangers in 2005, and by 2006, he moved to the youth team of Brentford with which he remained until 2008 when he moved to the senior team only to move to AFC Wimbledon in the same year. After spending a year with the team, he moved to Cyprus to play for Nea Salamis Famagusta. He was supposed to move to Superleague Greece and play for Asteras Tripoli F.C. in 2010, but the move did not materialize. More so, he played for the Scotish under-18 team in 2007.
While he was still a footballer based in Spain, many people always came to him asking him if he would want to be a model, but because of his career as a footballer, he did not give that a thought. That was until he suffered an injury and he was operated on both sides of his groin. As he recovered, he decided to try a modeling agency in Barcelona. Soon enough, he got to work as a model for Spanish clothing retailer company, Bershka. From there, it is as the cliché goes, all history.
Known for his body covering tattoos, when he started modeling, he had only a little tattoo, but as he continued, he increased his tattoos to now cover his entire body. Even though that is something that may make it hard for others to succeed in the industry, it has stood him out and has helped him to succeed. That doesn't mean he gets to do all type of adverts as there are some that prefer people with no tattoos.
James has worked with many agencies and brands such as ASOS, Men's Health Magazine, Diesel, XTI, GQ Germany, Takeshy Kurosawa, Philipp, and Calvin Klein which he described as the best modeling he has done after working for Calvin Klein Fragrance.
Stephen has a great social media followership with more than 2.3 million followers on Instagram as at 2018.
Dating, Wife, And Daughter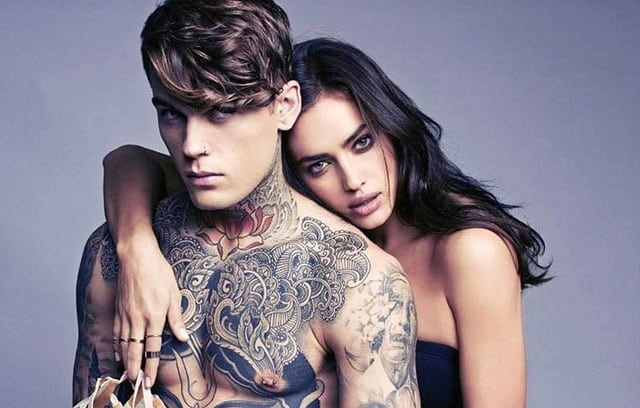 As regards his relationship life, as in the second half of 2018, he is still not married. However, the supermodel is linked to Irina Shayk who has dated people like Cristiano Ronaldo, but there seems to be nothing between them. Also, he has shared a video with an unknown woman believed to be his girlfriend.
See Also: Who Is Nick Bateman? His Girlfriend, Height, Age, Is He Gay?
Still, there are many people who still talk about his daughter. The irony is that Stephen James has never had any daughter or any child in his life thus far.
Height And Weight
Apart from his good looks, one of the most important things that have helped him to succeed as a model and also a sportsperson is his good body build. He has a good height and the body of an athlete. In numbers, he measures 6 feet 1 inch (185cm) in height and his body weight is 156.53 lbs (71 kg).
More so, he has brown hair, green eyes and he wears shoe size 9.5 (UK), 43.5 (EU), and 10 (US). His chest measures 39.5 inches, his waist is 30 inches, while his collar is 15.5 inches. To maintain his fitness, he reveals that he eats protein, visits the gym, and goes on holiday.