Selena Gomez is the only child of her parents, Ricardo Joel Gomez (father) and Amanda "Mandy" Teefey (mother) who divorced when she was 5 years old. The couple went on to marry other people and the relationships resulted in the birth of Selena's half-sisters: Gracie Elliot Teefey from her mother's side and Victoria "Tori" Gomez from her father's side.
Selena Gomez has been popular since 2002 when she appeared in "Barney & Friends". She began her career as an actress but is now mostly known for her songs. With millions of albums sold, the versatile American entertainer has been nominated for no fewer than 340 awards and has won almost half of that number.
Named among the 100 most influential people by Time magazine in 2020, Selena has undoubtedly had a successful career but the same can't be said about her personal life.
It's no secret that she had a dramatic, long, on-and-off relationship with Justin Bieber who ultimately moved on and got married to Hailey Baldwin. Just like her love life, her family life has also not been devoid of dramas.
Her parents had her at a very young age and as a result, she spent a lot of time with her grandparents who took care of her so that her parents could continue schooling. Sadly, things didn't get any better for young Selena as the couple parted ways when she was still very young.
It was a frustrating experience for the singer who wanted her parents to be together and she took it out on her mother whom she blamed for the situation. She now sees things differently as an adult and is eternally grateful to the woman who made many sacrifices to raise her.
Selena Gomez Was Born To a Father of Mexican Descent and a Mother of Italian Ancestry
Being one of the most popular names in the entertainment industry, it is known across the globe that Selena Gomez is a citizen of the United States of America. What many don't know is that she is of mixed ethnicity, of Mexican and Italian descent.
Named Selena Marie Gomez, the singer was born on the 22nd of July 1992 in Grand Prairie, Texas. She was born to Ricardo Joel Gomez and Amanda "Mandy" Teefey. From what we gathered, her father Ricardo is also a citizen of the United States. He was born in the country after his parents immigrated from Mexico in the 1970s.
As it is with Selena, Mandy was born in Texas. Records have it that she was adopted and that her biological parents have Italian roots. Over the years, the singer has made it clear that she is proud of her Hispanic heritage.
She describes herself as a third-generation American-Mexican and has kept up with her Mexican roots through her music career even though she is not fluent in Spanish. For instance, she has collaborated with famous Latin artists like J Balvin and Ozuna.
In addition to that, she re-released some of her popular songs like "Who Says?" and "A Year Without Rain" in Spanish. Selena has also become passionate about promoting the welfare of people of her heritage in America.
This should have something to do with the racism she experienced growing up because of her father's identity. She appreciates her Latin surname and has always been vocal about her background.
The singer once asserted that her goal is to "humanize my people" who are "being called aliens [and] criminals", acknowledging that she wouldn't have been born if her grandparents didn't illegally immigrate to the United States.
Meet Her Parents Who Divorced When She Was Five Years Old
Serena Gomez's parents fell in love as teenagers when they were in high school. When they were both 16 years old, their love morphed into a family as they had a baby girl they named after Selena Quintanilla, the late Tex-Mex singer. Ricardo and Mandy decided to get married thereafter but it was only going to last for a few years.
When the child who would become a Hollywood star was only five years old, her parents parted ways for reasons that are not clear. But considering they were very young when fate nudged them towards becoming a family, one can as well conclude that the marriage came to an end because the two were young and not ready for marriage.
Selena wanted her parents to live together, so the divorce was difficult for her to bear. She took her frustration out on her mother, blaming her for the end of the marriage. It is said that she would yell at Mandy who would apologize and assure her that she would  understand why things are the way they were.
Mandy was right. In retrospect as an adult, Selena regrets that she was that mean to her mother. She now understands that having her at 16 was a huge responsibility for Mandy, and, that she had to sacrifice many of her aspirations to provide and care for her.
Selena Gomez's Mother Took On The Responsibility of Raising Her After The Divorce
Birth Name: Amanda Dawn Cornett
Place of Birth: Dallas, Texas, USA
Date of Birth: April 16, 1976
Age: 47 Years Old
Occupation: Former Actress, Talent Manager, and Producer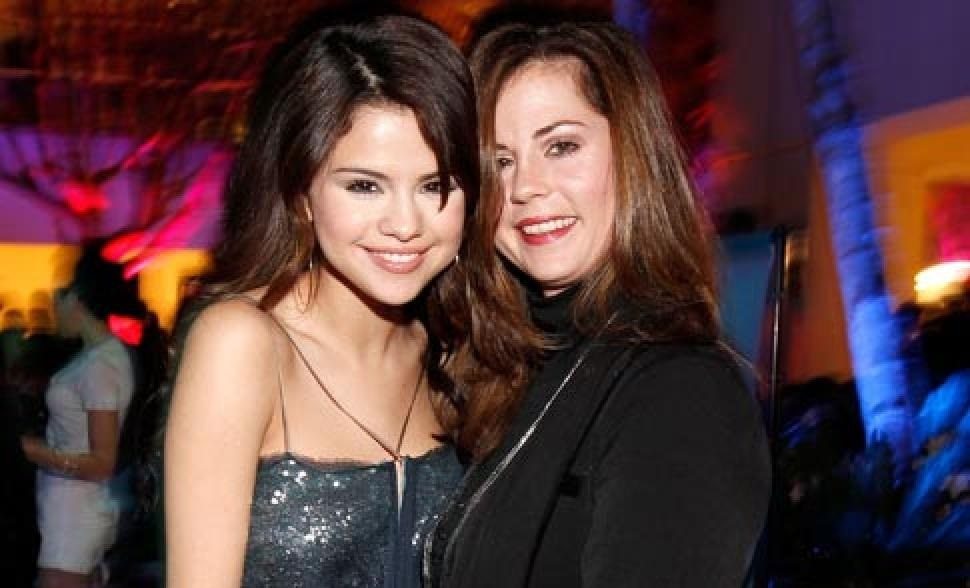 Following the end of Ricardo and Mandy's marriage, Selena Gomez was left in the care of her mother who had to work three jobs to provide for her daughter.
While she served a Podunk modeling agency, she also worked with Starbucks and Dave & Buster's. Amanda struggled financially but Selena hardly felt it as her mom was all out to keep her happy and satisfied.
The singer has a great bond with her mother and has often, publicly expressed her gratitude to her for raising her and helping her become who she is. Selena also got the inspiration to pursue a career in entertainment from her mother.
The older woman was once a stage actress and watching her perform influenced Selena, motivating her to aspire for a career as an entertainer. As a child, Selena Gomez would watch her mother rehearse for her theater productions. With that, her passion for entertainment grew over time to the point that she began auditioning for different roles.
During one of the auditioning, Selena met Demi Lovato, the two were selected to appear in the children's series, Barney & Friends. They later became good friends and eventually, Disney stars.
Amanda has also helped her daughter remain level-headed since she found famed. At the early stage of her career, she made Selena do her laundry. The singer has also revealed that Amanda had a heart-to-heart talk with her when they were getting set to leave Texas for California so that she can have better career opportunities.
According to the singer-cum-actress, her mother told her that a lot of people would let her have her way on many things because of her fame. Stressing that she would be different, Amanda explained that she wouldn't hesitate to disagree with Selena on issues because she loves who she was and wouldn't want her child to change from being a decent human.
Amanda Is Currently Married to Brian Teefey
After almost a decade her first marriage came to an end, Selena Gomez's mother decided to get married again, this time to a talent manager named Brian Teefey. They got married in 2006 and are still together. Their family has been blessed with a daughter named Gracie Teefey.
Before they had Gracie, Mandy and Brian were expecting a baby girl named Scarlett Teefey. But as fate would have it, she suffered a miscarriage and lost the child at 16 weeks of pregnancy: this happened sometime in December 2011. It was a profound loss for the family. Selena had to cancel two of her scheduled concert to be with her mother.
From what is obvious, Selena Gomez gets along with her stepfather. She has often been seen hanging out with her mother alongside Brian and Gracie. But as you would soon learn, this does not mean their relationship has been perfect and without any strife.
Selena Fired Her Mother and Step Father As Her Manager 
It is not a secret that Selena Gomez's mother, Mandy, and her current husband, Brian Teefey, had been in charge of managing her career since she emerged as a Disney star. In April 2014, it circulated that the pop star had permanently axed her parents from the role.
If what several celebrity gossip platforms reported was true, the singer relieved her parents of the duty because she felt she had out-grown being under their management. As claimed, Selena was convinced she had attained the level of popularity that requires the service of a seasoned professional manager with robust experience in managing the career of A-list entertainers.
Based on that, one can conclude that parting ways with her parents as her manager was not out of any malicious intent. The singer was only looking out for what's best for her.
Understandably, Mandy and Brian were not happy with the decision. They nevertheless didn't allow it to cause a serious strain in their relationship with the famous singer.
Where Is Selena Gomez's Father Now?
Full Name: Ricardo Joel "Rick" Gomez
Place of Birth: Grand Prairie, Texas, U.S.A.
Date of Birth: March 6, 1975
Age: 48 Years Old
Occupation: Unknown
Although Mandy Teefey became the custodian of Selena after she parted ways with her ex-husband, Ricardo Joel Gomez, the man has always been a part of Selene's life. Of course not as active as Mandy, but he has been involved in her life and they have a good relationship.
Based on what the singer has shared on her social media platforms, it is obvious that she is fond of her father and it has always been so – which explains why she was hard on her mom when she and her father broke up.
Back in 2013, the singer fondly recalled that she used to visit Hooters to watch Spur games with her father. She was seven years old then and her presence used to attract the waitresses who would spend time with her and Ricardo.
It is hard to tell what Ricardo does for a living but we know he is a loving father and husband. Many years after his first marriage packed up, Ricardo fell in love with Sara Gomez, a Mexican-American media personality.
Records have it they got married on the 9th of November 2012 and are still together. Their union has been blessed with a daughter named Tori Gomez. As it is with the family her mother has built with her current husband, Selene Gomez gets along with her step-mother and her half-sister, Tori.
Selena Gomez Is The Only Child Her Parents Had Together But She Has Two Half-Sisters
Based on the foregoing, it is clear that Selena Gomez doesn't have any full-sibling. She is the only child her parents, Ricardo Joel Gomez and Mandy Teefey, had together before their marriage fell apart.
Many years after the marriage ended, Mandy and Ricardo respectively got married to Brian Teefey and Sara Gomez. Through these marriages, the famous singer would come to have two half-sisters.
Gracie Elliot Teefey
Date of Birth: June 12, 2013
Age: 10 Years Old
Father: Brian Teefey
Mother: Mandy Teefey
Occupation: Undetermined
Gracie is the first sibling of Selena, she was born to the singer's mother and her current husband, Brian Teefey. In the fullness of time, more would be learned about Gracie and what she intends to do with her life. For now, she is mostly, only known for being the half-sister of a superstar entertainer.
Victoria "Tori" Gomez
Date of Birth: June 25, 2014
Age: 9 Years Old
Father: Ricardo Joel Gomez
Mother: Sara Gomez
Occupation: Undetermined
Victoria, fondly called Tori, is one of the half-sisters of Selena Gomez and that's her claim to fame. Selena Gomez's father had her with his current wife, Sara, roughly two years after they got married.
Much isn't known about Tori as she is still young and has a lot of growing up to do. But from her pictures that have been shared on social media by her parents, one can tell she is a sweet soul, and that Selena is fond of her.
Does The Famous Singer Have a Brother?
Since Ariana Grande began dated Dalton Gomez, a Los Angeles real estate agent to whom she now engaged, people have been wondering if Dalton is related to Selena. No, he isn't: They are not related in any way. Selena is known to have two half-sisters, Tori Gomez and Gracie Teefey.
Apart from Tori and Gracie, there is also Marcus Gomez who is one of the children Selena's father has with his current wife Sara. However, we are yet to confirm if Marcus is a half-brother or step-brother to Selena.
Who is Selena Gomez's Dad?
Selena Gomez's dad is Ricardo Joel Gomez. Although he is an American citizen as he was born in the United States following his parents' immigration from Monterrey in the 1970s , he is of Mexican descent.
Who is Selena Gomez's Mom?
Selena's mom is a Dallas, Texas-born 47-year-old former stage actress named Amanda 'Mandy' Teefey. She is now a producer known for co-producing the Netflix television series 13 Reasons Why with her daughter and also the owner of Kicked to the Curb Productions. Mandy also served as Selena's manager alongside her stepfather until 2014.
Who are Selena Gomez's Siblings?
While the entertainer has no full siblings, she has two younger half-sisters: Gracie Elliot Teefey (through her mom, Mandy, and her second husband, Brian Teefey) and Victoria "Tori" Gomez (through her dad, Ricardo, and his second wife, Sara). She also has a younger stepbrother named Marcus Gomez trough her father.