American hip-hop history cannot be complete without the mention of Sean Combs. Aka Puff Daddy, P Diddy, Brother Love, et al, Combs is a hip-hop mogul who has achieved a huge success that many in the industry can only dream about. P Diddy has got a fortune estimated at over $820 million and speculations are that he could become one of the first hip-hop billionaires. True, Diddy became a phenom as a result of his musical endeavors but instead of withering away like the rest when he stopped making music, Combs showed the world that he's got quite the business acumen. Besides his jaw-dropping wealth, another aspect of Sean Combs' life that attracts a lot of attention is his personal life which this article aims to discuss.
Age and Early Life
Sean John Combs was born on November 4, 1969, in Harlem, New York City, New York. He was born to Melvin Earl Combs and Janice Combs (nee Smalls). Sean's dad Melvin died when he was just 2 years old. His mom had told him that he died in a car accident but Sean in his adulthood would come to discover that his dad was murdered due to his involvement in a drug deal gone wrong at 33.
Janice worked several jobs to put Combs through school all the way to college at Howard University. Combs was raised as Roman Catholic and attended the all-boys Catholic high school, Mount Saint Michael Academy, graduating in 1987. His nickname Puff Daddy originated from his childhood days. It was given to him by peers due to the anger issues he had. Diddy would huff and puff to make his body bigger when he was angry.
Sean Combs (Puff Daddy) Family; Wife, Girlfriend, Kids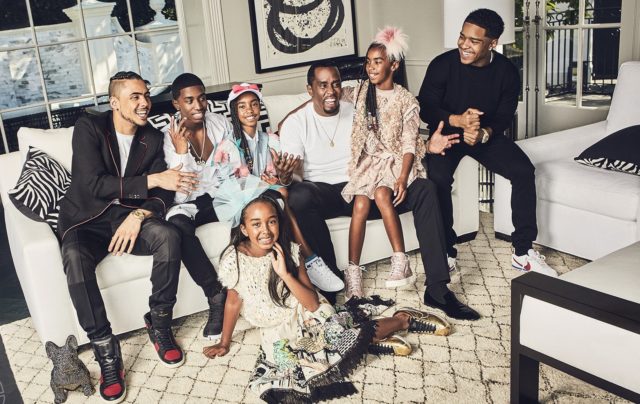 He is uber rich, good looking and famous and there is one thing synonymous with such men – multiple women and Seam Combs has had his fair share of girlfriends over the years. Though in recent years, Cassie Ventura is the one woman who comes to mind anytime the topic of Seam Comb's romantic life is mentioned, the hip-hop mogul has had many other women in his life.
Three of these women have made Combs a father of 6, including an adopted son. The first woman the media knew Sean Combs for was Misa Hylton-Brim a designer who was his high school sweetheart. She birthed his first son Justin in 1993. Justin Combs schooled at UCLA and played in the varsity football team. Combs was charged for assault in June 2015 for confronting Justin's football coach.
Up next, Combs began a relationship with stylist Kimberly Porter. Combs and Porter were in a longterm relationship that lasted for about 13 years from 1994 to 2007, albeit off-and-on. Before they had begun dating, Kim had a son named Quincy who was born in 1991 with her former flame, a 3-time Grammy nominated artist Al B. Sure. Sean would come to adopt Quincy after getting serious with Kim. In 1998, about four years into their relationship, Sean and Kim welcomed a son named Christian and on December 21st, 2006, they welcomed twin daughters D'Lila Star and Jessie James.
Sean Comb's relationship with Kim Porter wasn't always smooth. When they split sometime in the late 1990s, Combs began dating pop star Jennifer Lopez, a relationship that was heavily publicized. They were even engaged but the relationship began to turn sour after they were both involved in a shooting incidence in a Manhattan nightclub. J Lo claimed that Combs was cheating on her. The same offense would come to ruin Combs' relationship with Kim Porter.
Read Also: Saint West: 6 Quick Facts About Kim Kardashian and Kanye West's Son
In February of 2006, about five months before Kim had birthed their twin daughters, Combs had fathered a daughter named Chance with Sarah Chapman. The news of his lovechild would bring an end to his romance with Kim Porter.
In his July 2017 appearance on the Wendy Williams Show, Combs revealed that he met all three mothers of his kids in the same year.
Sean Combs has never been married to any of the mothers of his kids. However, many suspect that he would finally walk the aisle with his on-and-off girlfriend Cassie Ventura whom he began seeing in 2006 after ending things with Kim Porter.
They initially broke up in 2008 but came back together in 2015 and have appeared inseparable since. Only time would tell if she would become the first official Mrs. Combs. He did reveal in January 2018 that he wants more kids with Cassie. He joked that he is trying to get 10. Well, he has the fortune to cater for them all. He is famed for throwing lavish parties for his kids and gifting them with luxury cars.
Though it appears that Cassie now has Combs' heart, the rapper remains on good terms with the mother of his kids. In an exclusive interview with People in June 2017, Combs referred to the mother of his kids as his best friends and we are in no doubt. He celebrated Halloween 2017 with Kim Porter and their son and Cassie did well to give them space.
Is He Gay?
Apparently, the answer to that question is no. However, 50 Cent gave a few folks a reason to be skeptical about Diddy's sexuality when he threw a jab at his fellow rapper via a now-deleted Instagram post in January 2018 suggesting that Diddy was gay.
Diddy responded to 50's allegations during his appearance on the Breakfast Club saying that he doesn't take 50's jokes personally. "I don't even think of no other man," Diddy said during the interview. He added; "If I'm thinking about another man, I'm thinking about uplifting," thus clarifying his sexuality.