Hip-hop magnate, Sean Combs aka Puff Daddy, P Diddy, Brother Love, et al, has registered his name in the memory lane of American hip hop history through his successful endeavors in the music industry. Not only has he achieved huge success as a rapper and record label owner, but he has also made a name for himself in the business world.
His uncanny business acumen has made him go into multiple business ventures from which he has racked up millions of dollars that earned him the number one spot on the 2017 Forbes Celebrity 100 list, with a whopping annual earnings of $130 million. Beyond being famous as a music mogul, Combs has constantly made headlines as a result of his personal life and blended family. Discover more details about the celebrated entrepreneur below.
How Does Sean Combs Make His Money?
Earnings from his music label
Sean Combs is a rapper, actor, record producer and businessman who took the music industry by storm since the establishment of his record label, Bad Boy Entertainment alongside Arista Records in 1993. His special knack for identifying talents and lucrative business opportunities had him sign then-newcomer, Notorious B. I. G aka Biggie Smalls. This eventually paid him out and further paved a way for the numerous achievements he made in his musical career.
Through his record label, several hit tracks and albums were released including Biggie Small's 'Ready to Die' album that was certified 6x platinum by the Recording Industry Association of America (RIAA). The record label which later became Diddy's sole business venture in June 2001, having ended his partnership with Arista Records, has been home to eminent artists such as French Montana, Mase, Day 26, Machine Gun Kelly, Elephant Man, Faith Evans, Mary J. Blige, to mention a few.
Commercially successful singles and albums he released in his name
More so, Sean Combs on his own part as a rapper has released several successful albums. Throughout his musical career, he has dropped six studio albums, one remix album, thirty-three singles as a lead artist and thirty-nine singles as a featured artist; thereby making it a total of 72 singles. His first studio album, 'No Way Out' sold more than 7 million copies in the United States.
His other commercially successful albums include 'Forever' (RIAA Platinum), 'The Saga Continues' (BPI Silver) and 'Press Play' ( RIAA Gold). As a record producer, Sean Combs often organize musical tours for his artists including the Bad Boy Family Reunion Tour which had a sold-out show at the 19,000 seat Barclays Center.
His investments in the fashion industry
Having been in business since the age of 12 as a paperboy, the famed musician couldn't resist the urge to lay his eggs in diverse baskets as he began a clothing line called Sean John in the year 1998.  The previously sportswear brand which has now become a full range label incorporating perfumes, accessories, men, women and kids' clothing caught the attention of billionaire businessman, Ronald Burkle, five years later as he invested $100 million in the company.
Similarly, in 2017, Global Brands Group purchased a majority stake in the clothing company worth about $70 million, thereby, leaving Combs with only a 20% stake in the company. Nevertheless, the music star still enriches his pocket from nearly a billion dollars sales the company makes annually. Still determined to build an empire in the fashion world, Sean Combs purchased Enyce, a sportswear oriented clothing label from Liz Claiborne for a staggering $20 million in the year 2008.
Sean's investment in the beverage industry
The accomplished businessman also assembles huge earnings from his investments in multiple companies in the beverage industry where he has major equity stakes. One of such investments includes Aquahydrate – a calorie-free high performance bottled water.
That's not all, in 2007 Diddy partnered with Diageo Plc to help develop the Cîroc vodka brand. This is said to be his major source of income as he receives a 50% profit share from the company.
Since the partnership, the vodka brand which was previously selling 30,000 cases annually now gathers up to 2 million cases sales per year, and thus, becoming the second-largest ultra-premium brand in the country. It's now apparent that Sean Combs' success hasn't come by chance as the proficient entrepreneur has a knack for spotting profitable ventures.
Following the numerous business gains he made with Ciroc, Sean Combs was in the news in 2013 following reports that he would become a partner in DeLeón tequila. As days went by, it was revealed that he in fact bought over the company with Diageo. As it stands now, the duo owns 50% of the company.
He also earns from films and TV shows as an actor and producer
Additionally, Combs has a thriving career as an actor and reality TV show producer. He has scored roles in films like Get Him To Greek, Monster's Ball and equally in a play titled, A Raisin In The Sun which earned him NAACP Image Award for Outstanding Actor in a Television Movie, Mini-Series or Dramatic Special. He also produced and has overseen the production of several reality TV shows including I Want To Work For Diddy, Making The Band and P. Diddy's Starmaker.
In the past, he opened two restaurants (one in New York and the other in Atlanta) which he named Justin's after his son. However, after being in business for many years during which they got famous for hosting a good number of celebrities, the New York branch of the restaurant closed down in September 2007 while the other in Atlanta folded up in 2012.
This is How Sean Combs Spends His Money
Despite huge expectations of him becoming hip hop's first billionaire, Sean Combs lost the race to fellow music mogul and close friend, Jay Z in June 2019, and thus, taking up the second place with a jaw-dropping net worth of $855 million as of 2019. Interestingly, the skilled producer has cited that he doesn't want to be remembered as the man who made the most money, rather, he wants to be known as the man that gave the most money away.
With that, the Sean Combs has spent some of his fortunes on charity works. In 2005, he made a donation of $1 million alongside Jay Z to assist victims of Hurricane Katrina. More so, he has invested some proportion of his finance in real estate. In 1999, he purchased an apartment building at 807 Park Avenue, New York valued at $12 million.
Four years later, he bought his Star Island House in Miami, Florida for $14.5 million. He also purchased an apartment at Park Imperial, Manhattan at $5 million; a 17,000 square feet hilltop mansion in Alpine, New Jersey at $7 million; and a Georgian style mansion in Toluca Lake, California for his baby mama, Kim Porter at $5.25 million.
Combs has further spent his money on his exotic car collection which includes Lamborghini Gallardo Spyder and Rolls Royce Phantom Drophead, not forgetting Maybach 57 he gifted his son Justin on his 16th birthday, as well as Quincy's birthday gifts; 1964 Lincoln Continental and Range Rover.
What We Know About His Kids and Their Mothers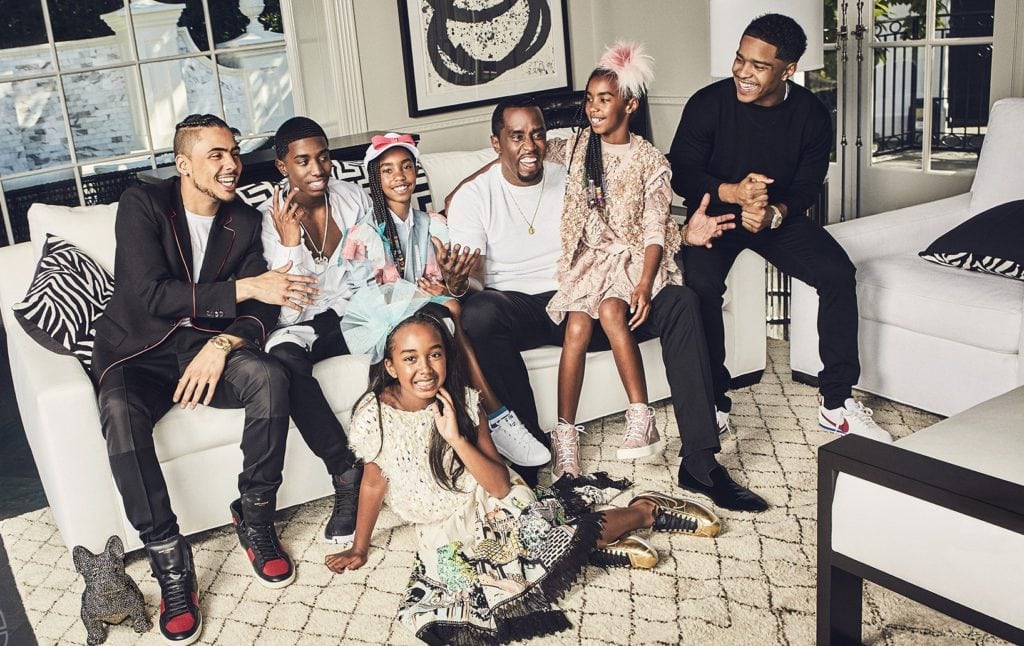 Being famous, uber-rich and good looking, Sean Combs has been with a lot of beautiful models and actresses. He has dated several women over the years during which some became the mothers of his 6 children. He first got acquainted with Misa Hylton-Brim, a stylist in 1984 at the age of 15, while studying at Howard University. After dating for a while, the pair welcomed a son named Justin Dior in December 1993.
Soon after the birth of his first son, Sean Combs got romantically involved with late-model and actress, Kim Porter in 1994. The two had an on-again and off-again relationship that lasted for more than a decade. During the course of the affair, the legendary rapper became adoptive father to Kim's son, Quincy Taylor Brown (born in 1991), whom she had from her previous affair with Grammy Awards nominated singer, Albert Joseph Brown, known professionally as Al B. Sure!
Later in 1998, the two welcomed their first child together, Christian Casey, followed by the birth of their twin daughters, D'Lila Star and Jessie James Combs in December 2006. Meanwhile, prior to the birth of the twins, Sean Combs had an encounter with Ms. Sarah Chapman which resulted in the birth of his first daughter, Chance Combs in July 2006.
He later revealed that he has known Chapman for over 25 years while celebrating his baby mama's birthday in 2018. The two have remained close friends and co-parent since the birth of their daughter whom Combs took legal responsibility for in 2007. In like manner, he has also forged a strong bond with his first baby mama and sometimes, they hang out together as a family.
Despite establishing a long-term friendship with his other baby mamas, Kim Porter was his best friend. Though they parted ways as lovers in 2007, she was the love of his life according to the music magnate. Sadly, she passed away on 15th November 2018 at the age of 47; having battled with lobar pneumonia for several weeks prior to her demise. Her sudden departure left Sean Combs devastated and he didn't fail to pay tribute to his one-time love during her one-year memorial in November 2019 alongside his kids.
Here's a List of Women Sean Combs has Dated 
The famed music artist who is reportedly single and focused on his family has always had a beautiful damsel to share his success with over the years. Although he shared some of his sweet romantic experience with the public, there are quite a few he kept secret. Here's a glimpse at the women Sean Combs has dated in his life.
Jennifer Lopez
Sean Combs and Jennifer Lopez met for the first time on the set of a music video and afterward, they kicked off a romantic relationship in 1999. The then-power couple gained lots of attention on the media as they attended several events together. Having called off his affair with Kim, Diddy and JLo dated from 1999 to 2001 when they got separated after getting involved in a gunshot controversy at NYC nightclub, for which Combs was arrested and charged with four weapons-related charges. He was eventually found not guilty 2years later after a highly publicized trial with Kim Porter standing by his side.
Cameron Diaz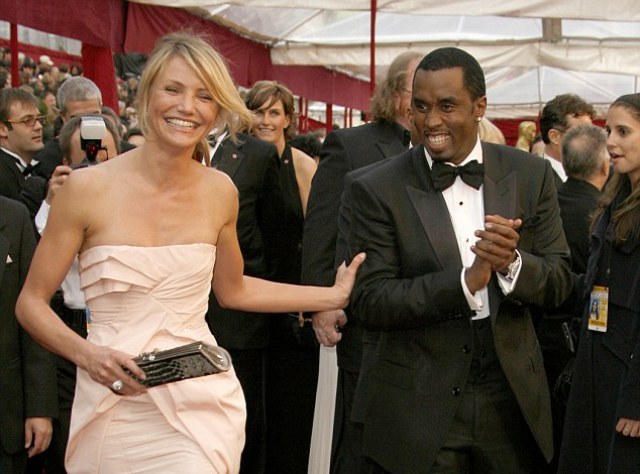 The esteemed actress had an encounter with the record label owner in the year 2008. During that time, they were seen at several places spending time together. Such places include Dream Downtown Hotel, Scarpetta in Beverly Hills and Meatpacking District hot spot Catch. Although they only had a brief moment together, Combs and Cameron still maintain a good relationship.
The former model got married to American guitarist, Benjamin Madden in 2015. They welcomed their first child, a daughter christened Raddix Madden on 3rd January 2020.
Cassie Ventura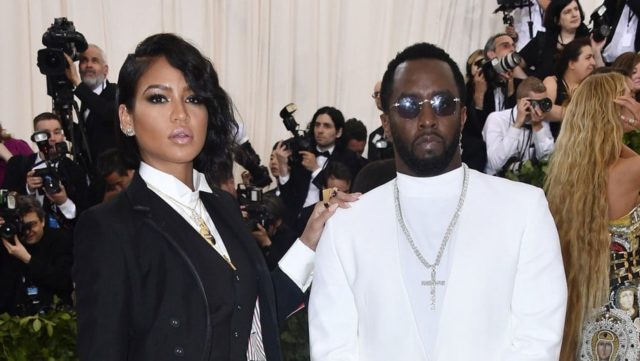 Cassie Ventura and Sean Combs made headlines for years as a result of their on and off relationship that was surrounded by multiple cheating scandals. The two first came in contact in 2006 before Diddy signed her to his record label at the age of 17. Soon after his split with Kim Porter in 2007, Combs and Cassie became an item.
They graced several red carpet events together, and many thought they would make it to the altar following their engagement in the year 2014. But after being in a long-term on-again and off-again affair, they finally called it quits in 2018. Currently, Cassie Ventura who is a famed model and actress is married to Alex Fine, a fitness trainer with whom she shares a daughter Frankie, born in December 2019.
Gina Huynh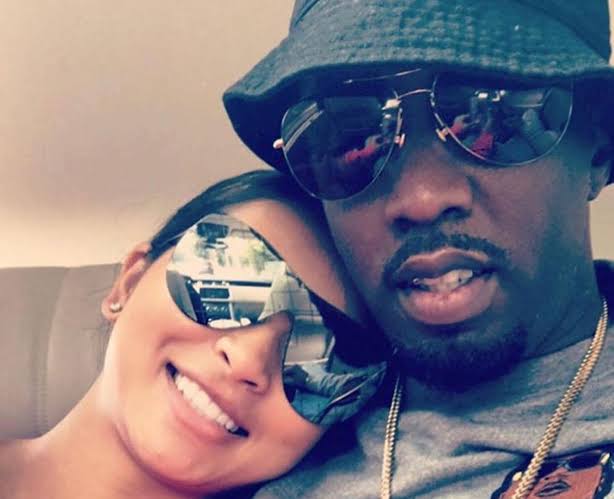 Gina Huynh is the model who Sean Combs dated from 2014 to 2018 while still in a relationship with his ex-girlfriend, Cassie. She allegedly caused the rift that led to their multiple breakups as well as their final split. More so, Combs and Gina were spotted together in June 2019, even though the businessman has been romantically linked to several women since his break up with Cassie Ventura.
Jocelyn Chew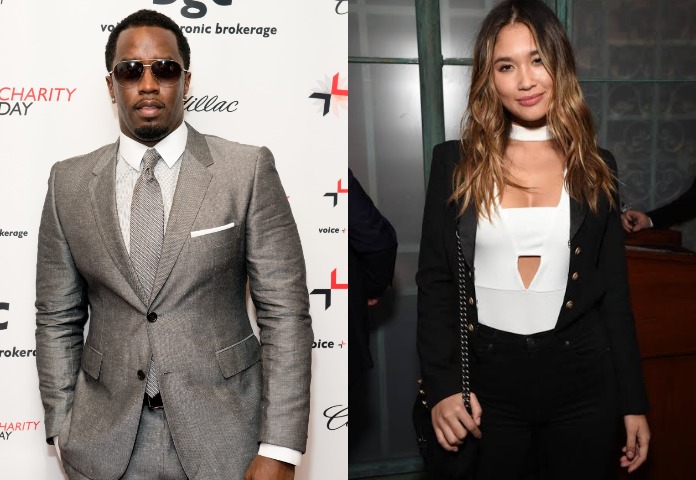 Sean Combs hooked up with Jocelyn Chew in early 2019. Jocelyn is a young model associated with Vision Models, Wilhelmina and MGM. The duo was seen in Los Angeles during Drake's opening show at Staples Center and also in Miami. This, of course, sparked the dating rumor of which both parties never commented on. They are currently said to have separated for good.
Lori Harvey
Steve Harvey's daughter, Lori Harvey is another beautiful model on Sean Combs' dating history. The two reportedly became an item in March 2019, though, the runway model has been a longtime friend of the Combs'family and equally his son, Justin's ex-girlfriend. They were first sighted together at a reggae festival in Miami, and later, in Malibu where they were having lunch. Afterward, they were spotted strolling in New York in July 2019; rocking matching outfits. However, the pair's alleged romance was reported to have ended in October 2019.