Sasha Obama is the second daughter and last child of the 44th President of the United States, Barrack Obama and his wife Michelle. Being 7 years of age at the time she moved with her parents into the White House, the younger Obama daughter made history as the youngest child to reside in the official residence and workplace of the president of the United States since JFK junior in 1961.
Sasha Obama's boyfriend was believed to be Chris Milton, with who she went to prom in May 2019 but there's this rumor about her dating Matt Metzler. Is she really dating Matt Metzler? What is Sasha Obama's relationship status and who is her boyfriend?
Many people expect children of the first family to have the time of their lives at 1600 Pennsylvania Avenue. This is due to the fact that they are afforded basic and luxury amenities.
Despite this, however, a few first children have found it daunting and frustrating to live such a high profile life, as people like Chelsea Clinton, daughter of President Bill Clinton would testify after being the subject of attack and ridicule by critics of her parents.
With this in mind after being duly warned by their parents and those that came before them; Jenna Hager and Barbara Bush, the twin daughters of President George W. Bush and wife Laura, Sasha Obama and her older sister Malia have made sure to live exemplary lives. They have since become a huge inspiration to young girls across America who look to copy aspects of their lives.
Sasha Obama at a Glance
Is Sasha Obama Dating Anyone?
After becoming a teenager and enrolling in a university, the public has grown curious to know if Sasha Obama is dating anyone, and who her boyfriend is.
In the summer of 2015, it was reported that she had a boyfriend but the identity of the said boy was kept hidden. Later in 2017, reports went out saying that she was in a relationship after she was reportedly seen kissing a guy named Matt at the Lollapalooza Music Festival in Chicago. It was later reported that the two were not dating.
Since that time, Sasha, whose celebrity crush is Ryan Renolds, has been linked by the media to a number of guys who she has either been seen out with or are of similar high profile standing.
In May 2019, a boy named Chris Milton took Sasha to prom. It is not clear if the two have since begun dating each other or are just friends.
Sasha's sister Malia on the other hand has a boyfriend. Malia's beau is a British young man named Rory Farquharson, whom she met during her freshman year at Harvard and kissed at a football game.
Life Before Moving into the White House
On the 10th of June, 2001, in Chicago, Illinois, Sasha was born Natasha Obama at the University of Chicago Medical Center. At the time of her birth, her father was a member of the Illinois Senate from the 13th district while her mother served as the Associate Dean of Student Services at the University of Chicago.
At about three months old, Sasha was said to have suffered from a severe case of meningitis which caused her parents so much stress and grief until she recovered. She went on to be raised alongside her sister Malia who was born three years before her in 1998.
By the time she turned 3, Sasha Obama's dad ran for the U.S. Senate and won. The family was supposed to move to Washington as a result of this but instead chose to keep their residence in Chicago as they felt it was better for their daughters. Like her sister, Sasha went on to attend the private University of Chicago Laboratory School. She was further enrolled in gymnastics, piano, tennis, and tap dance classes all through her formative years.
Living as the Daughter of a U.S President
Sasha Obama was eight years of age when her father became US president and she had to move into the White House. For her education, she attended Sidwell Friends School in Washington. Her mother tried as much as possible to make sure her daughters had a normal life despite the glaringly obvious. She did so by keeping them on a strict schedule that included a routine of daily chores.
In the mid-2010s, Sasha joined her mother on a trip to Liberia and other countries where she helped promote the 'Let Girls Learn Peace' initiative.
In August 2016, the daughter of the president began work at Nancy's, a seafood restaurant in Martha's Vineyard, Massachusetts. Her duties here included working the cash register, busing tables, and prepping the restaurant before it opens for lunch.
Like every other kid, she went for sleepovers at her friends' houses and attended parties, however, all these activities had to be done with a number of secret service agents around to watch her.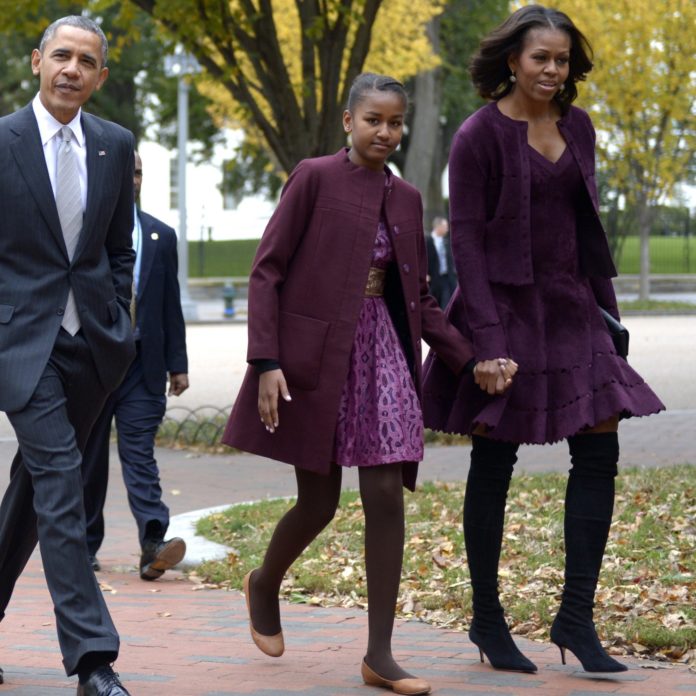 What Sasha Obama Has Been Up To After Her Father's Tenure In Office
After Barrack Obama completed his two terms in office in 2017, Sasha Obama quickly moved out of the spotlight. She was nowhere to be seen on the day of his farewell speech in Chicago as she reportedly had a science test scheduled for the morning after the speech.
Breaking tradition, the Obama family continued to stay in Washington D.C after moving out of the White House in order to allow their young daughter to finish high school. In 2019, Sasha graduated from Sidwell Friend and then enrolled at the University of Michigan, becoming the first member of the family to not attend an Ivy League school.
Does She Have an Income?
Sasha Obama is currently a college student. The only money she would have at the moment is whatever her parents give her as an allowance and what she might make from any of the part-time jobs she may hold.
In the long run, however, Sasha will definitely get to enjoy the finer things of life as she is set to inherit a huge chunk of cash from her parents. Outside of this, just being the child of a former president increases one's odds to become successful. She can mirror the paths of a few of those that came before like Chelsea Clinton and Jenna Bush who are both worth a fortune.