Sarah Huckabee Sanders is a name that became popular on the national scene after the bearer was named White House Press Secretary to President Donald Trump. A former campaign manager and political advisor, Sanders took over the reins in July 2017 when Sean Spicer resigned. Sarah Huckabee was named one of Time's 40 under 40 in politics in 2010. She is a fan of fantasy football, New Kids On The Block, and the television show Mad Men.
Beginning of Sarah Huckabee Sanders' Political Career
Sarah Huckabee Sanders was born on the 13th of August 1982 into a politically inclined family. Her dad Mike Huckabee was the governor of Arkansas and a two-time contestant for the presidential ticket under the Republican Party. She is the youngest child and only daughter in the family with two older brothers; John Mark and David Huckabee.
She attended Little Rock Central High School in Little Rock, Arkansas, and matriculated at Ouachita Baptist University in Arkadelphia, Arkansas; which happens to be her dad's alma mater as well. Through her activism in school, Sarah soon got elected as student body president but was also active in Republican organizations and many other groups before she graduated in 2004.
Huckabee got introduced to politics as a child when her father ran for the United States Senate in 1992. The campaign was unsuccessful, she had described the campaign to The Hill, stating that her father did not have a lot of staff, so, the family had to be engaged and support him. Her father also described her childhood as one where she will be seen sitting at the kitchen table and listening to political commentators analyze poll results instead of jumping rope as most kids her age would do.
She went on to get her start in politics as a field coordinator for her father's 2002 re-election campaign for Arkansas Governor. After graduating from the University in 2004, Sarah Huckabee moved to Washington and took a job with the Department of Education under the Bush administration. She also worked for President Bush's re-election campaign in Ohio as a field coordinator in 2004.
Appointment As White House Press Secretary
At the inception of the Trump administration, Sanders was appointed deputy White House press secretary. During Trump's campaign, she had served as a senior communications adviser focused on wording communications and engaging support groups for Mr. Trump, she was in charge of communications with coalition groups which included faith leaders, military groups, and gun rights, supporters.
As Deputy White House Press Secretary, Sarah Huckabee held her first White House press briefing on the 5th of May 2017, holding forte for Sean Spicer who was serving on Naval Reserve. After the dismissal of James Comey, the controversies following it made her stand-in for Sean Spicer again. During this period, Sarah's defense of the actions of the Trump administration brought about speculations that Trump was considering promoting her to take Spicer's position.
On the 21st of July 2017, after Spicer's resignation announcement, the newly appointed White House Communications Director, Anthony Scaramucci announced Sanders as the new White House Press Secretary. This made her the third woman in history to hold this position after Dee Dee Myers in 1993 and Dana Perino in 2007.
Sarah Huckabee shares President Trump's disdain for media outlets, especially CNN. During a White House press briefing, she once accused journalists of spreading fake news and argued that Americans deserve better. Recently, in January 2018, to defend President Trump, she had criticized the media networks that made multiple claims against his mental health and cognition.
After almost two years on the job, Sanders resigned from her role as White House Press Secretary effective from June 30, 2019. Since leaving the White House, Sarah joined Fox News as a contributor. She has been touted as a possible candidate for Governor of Arkansas, following in the footsteps of her father. She is yet to make a formal declaration to run, but from all indications, her move back to her state sets the stage nicely for her run.
Sarah Huckabee Sanders is Married To Bryan Chatfield Sanders With 3 Kids
Sarah is married to Bryan Chatfield Sanders a political strategist whom she met during her father's 2008 presidential campaign. While Sarah was working on her father's presidential campaign as the national political director, Bryan was hired as a media consultant.
Sanders was born and raised in Mission Woods, Kansas, he moved to Maine in 2002 to attend Colby College, and received a degree in campaign media.
They eventually got married at the Nazareth Lutheran Church in Cruz Bay on the Island of St. John, in the U.S. Virgins Islands on the 25th of May 2010. Together, they have three children.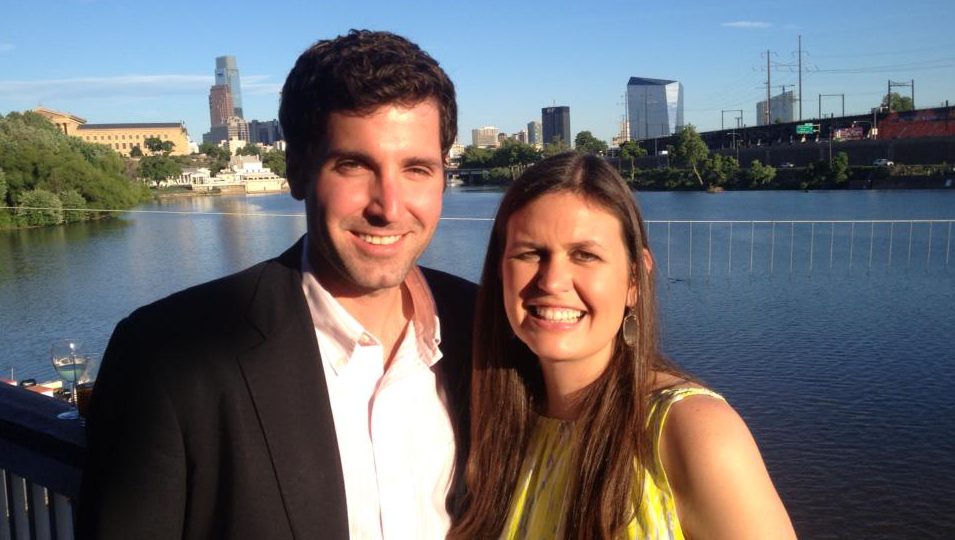 To be part of the Trump administration, Sarah Huckabee Sanders had to move her young family; her husband, Bryan Sanders, and three children (Scarlett Wiles, George and William Huckabee Sanders) to Washington where they currently reside.
Sarah Huckabee Sanders' Fact Card
Second Street Strategies
In February 2016, Sarah Huckabee and her husband, Bryan Sanders founded Second Street Strategies in Little Rock, Arkansas. Second Street Strategies is a consulting firm that provides general consulting services for Republican campaigns. She was also the vice president of Tsamoutales Strategies, a business, management, and government consulting firm.
Huckabee has worked as a political consultant on several campaigns. She was the national political director for her father's presidential campaign in 2008. Sarah Huckabee managed the successful run of Arkansas Republican John Boozman for Senate in 2010.
She has also served as the senior adviser to former Minnesota Governor Tim Pawlenty in his 2012 presidential run and Arkansas Senator, Tom Cotton's 2014 election. Sarah was the national campaign manager for the ONE Campaign, the international organization involved in ending global poverty and preventable diseases.
Sarah Huckabee Sanders is running for governor of Arkansas
On Jan. 25, 2021, Sarah Huckabee Sanders revealed that she'll be running for the governor of Arkansas. According to what she posted on Twitter "With the radical left now in charge of Washington, your governor is your last line of defense. In fact, your governor must be on the front line. So today, I announce my candidacy for governor of Arkansas."